Iraq......
http://www.alliraqnews.com/en/index.php/component/content/article/41-2011-11-19-15-21-19/53928-sadr-rejects-involving-his-followers-in-war-created-by-qwrongq-political-actions
Sadr rejects involving his followers in war created by "Wrong" political actions
Baghdad (AIN) –The head of the Sadr Trend, Muqtada al-Sadr, rejected involving his followers in a war created by "Wrong" political actions.
In a press statement received by AIN, Sadr said "To preserve the unity of Iraq, we decided not to involve the Iraqis in a war created by the wrong political actions, but to create Peace Brigades to protect the mosques and churches in Iraq where they must be within the formal security system and run by us." /End
http://www.alliraqnews.com/en/index.php/component/content/article/41-2011-11-19-15-21-19/53935-urgent-isil-clash-with-peshmerga-in-dohouk-
Urgent ……ISIL clash with Peshmerga in Dohouk
Dohouk (AIN) –The clashes erupted between the Kurdish Peshmerga forces and the elements of the Islamic State in Iraq and Levant at the borders of Dohouk province in Kurdistan Region on Wednesday.
Security source from KR reported to AIN "The Peshmerga elements clashed with the ISIL gunmen on the borders of Dohouk for the first time since the control of the ISIL on Nineveh province two days ago and today when ISIL controlled Salah-il-Din province."
Meanwhile Turkish sources reported that "Turkish air jets bombed sites controlled by the elements of the ISIL in Mosul city after kidnapping Turkish citizens working in Mosul city." /End
http://www.alliraqnews.com/en/index.php/component/content/article/42-2011-11-19-15-21-51/53929-hayes-denies-escaping-abroad
Hayes denies escaping abroad
Baghdad (AIN) –The head of the Sahwa Forces in Iraq, Mohammed al-Hayes, denied escaping abroad.
Security source stated to AIN "Hayes denies escaping abroad and he is in the battle field fighting the ISIL elements." /End
http://rudaw.net/english/middleeast/iraq/110620142
Peshmerga Only Bulwark Against ISIS Sweep, Former Iraqi Officer Says
By
Adel Fakhir
9 hours ago
Families fleeing the fighting in Mosul stop at a Kurdish checkpoint. Photo: AFP
BAGHDAD, Iraq – Because of their long experience in guerrilla warfare, the Kurdish Peshmerga forces are the only bulwark that can thwart the sweep of Islamic militants further across Iraq, according to a former Iraqi army officer.

Iraq's Shiite-led government has been in shock since days ago losing control of the country's second-largest city, Mosul in the northwest, to Sunni jihadists from the Islamic State of Iraq and Syria (ISIS).

All of this year, the government has been unsuccessfully battling al-Qaeda and its splinter ISIS, in three other provinces, Diyala, Salahaddin and Anbar.

The former Iraqi officer, who is now a security analyst, said the Islamic fighters are taking shelter in civilian areas, where the army cannot confront them openly.

"To regain control and minimize civilian casualties, the government must stage urban warfare with mechanized infantry squads in residential neighborhoods," said the former officer, who was speaking in Baghdad, and did not want his name used.

He said that some Iraqi officials were right in "seeking the help of Peshmerga forces in their war on terrorists, because of their experience, expertise and knowledge of urban warfare."

He added that the Peshmerga forces, which are controlled by the autonomous Kurdistan Regional Government (KRG) in northern Iraq, are well suited to confront the jihadist advance because of their "knowledge of the area's geography, as well as their proximity to them."

The fall of Mosul came just days after Iraq took delivery of its first F-16 fighter plane from the United States. Iraq's Shiite Prime Minister Nouri al-Maliki had appealed for the fighters -- and other equipment that Washington is delivering under a multibillion dollar deal -- to crush the insurgents.

But the security expert said that air power cannot bring the militants to heel.

"Relying on the air force and setting siege to cities in order to crack down on militants is not only inefficient, it has widened the reach of ISIS to include the three provinces," he said.

He added that the ISIS sweep through Mosul and other northwestern territories "proves that the military tactics of the Iraqi security agencies are wrong, ineffective and have not limited the movement of ISIS."

Mosul in Nineveh province, 400 km north of Baghdad, has been gripped in fear and chaos since Iraqi forces largely abandoned their positions, left behind their weapons, tore off their uniforms and disappeared in the face of an ISIS advance.

"Thousands of people in Mosul are trying to flee from the city toward either Baghdad or Kurdistan," said Mohammed al-Shammari, 35, a displaced resident of Mosul who escaped to Baghdad. "The majority need housing and immediate resettlement."

Al-Shammari warned of a humanitarian catastrophe, "Unless the government responds to the human waves fleeing from Mosul to escape the ISIS."

Iraq's Parliament Speaker Osama al-Nujaifi called the fall of Mosul a foreign invasion by fighters of different nationalities.

"There is support for these groups, but currently we must focus on defeating them and putting the country on the path of recovery. After that, we can investigate the source of their support," said Nujaifi, referring to suspicions that the Sunni insurgents enjoy some local support.

Maliki, the embattled prime minister who is opposed by the country's Sunnis, Kurds and many fellow Shiite parties, urged "everyone who can carry a gun" to start resisting against "terrorists."

But in Mosul, more anger was vented at Maliki's government than at the vicious militants, whose rapid advances in the city have raised questions about the competence of an army long supported and trained by the United States.

Many Iraqis have been left wondering how their army, equipped with heavy weapons, just fell apart before a guerrilla force with light weaponry, giving up without much of a fight.
http://www.zerohedge.com/news/2014-06-11/al-qaeda-jihadis-loot-over-400-million-mosul-central-bank-seize-saddams-hometown
Al-Qaeda Jihadis Loot Over $400 Million From Mosul Central Bank, Seize Saddam's Hometown
Submitted by Tyler Durden on 06/11/2014 12:54 -0400
As
reported yesterday
, in yet another humiliating blow to US foreign policy and the State Department, Al Qaeda-linked ISIS (Islamic State of Iraq and al-Sham) militants took over the key northern town of Mosul, where an unknown number of US-made Black Hawk helicopters were parked and have been captured by Al Qaeda (potentially the same forces that have been trained by the US across the border in Syria).
The Islamic State of Iraq and al-Shams (Isis) has become the richest terror group ever after looting 500 billion Iraqi dinars - the equivalent of $429m (£256m) - from Mosul's central bank, according to the regional governor.




Nineveh governor Atheel al-Nujaifi confirmed Kurdish televison reports that Isis militants had stolen millions from numerous banks across Mosul. A large quantity of gold bullion is also believed to have been stolen.




Following the siege of the country's second city, the bounty collected by the group has left it richer than al-Qaeda itself and as wealthy as small nations such as Tonga, Kiribati, the Marshall Islands and the Falkland Islands.




The financial assets that Isis now possess are likely to worsen the Iraqi governement's struggle to defeat the insurgency, which is aimed at creating an Islamic state across the Syrian-Iraqi border.
In other words, now that it is armed with US-made weapons, this particular al-Qaeda group also happens to be the world's richest terror force!
And so with all disposable cash it needs for a long time and armed to the teeth, what is Al Qaeda to do? Why continue expanding of course. Moments ago, via Reuters, we got confirmation that the "insurgents" have just captured yet another symbolic Iraqi town, Tikrit: the birthplace of none other than Saddam.
Sunni insurgents overran parts of the Iraqi city of Tikrit on Wednesday, security sources said.




Tikrit, which is located 150 km (95 miles) north of Baghdad, is the hometown of former Iraqi dictator Saddam Hussein
And on the map:
Will they stop here? Of course not. Expect the ISIS force to continue south until finally it overruns Baghdad itself and until all of Iraq, courtesy of a crippled army, officially belongs to Al Qaeda. America's job is done here.
One can't wait until Al Qaeda is also in charge of all the other countries recently liberated by the US and/or CIA.
USAID in action, supporting ISIS
US-supplied humvees captured by Islamic insurgents in the battle for Mosul
http://www.debka.com/article/23991/Al-Qaeda-forms-up-to-march-on-Baghdad-gathering-up-Iraqi-Sunni-rebels-Maliki-cries-treason
Under its commander, Abu Bakr Al-Baghdadi, Al Qaeda's Islamic State in Iraq and Levant – ISIS - formed up Wednesday night, June 6, to march on Baghdad in two columns – one from Tikrit, which fell a few hours earlier, to Taji, just 20 km from the capital; the second from Tuz Khormato, 55 km south of the northern oil center of Kirkuk.

The Shiite Prime Minister Nuri al-Maliki ordered the last two divisions and six mechanized brigades, totaling 50,000, still operational out of his million-strong army, to build a defensive line to save Baghdad and the seat of Iraqi government from the enemy.
But it remains to be seen how these units perform, given the way the 3rd and 4th divisions supposed to have defended Mosul and the central Salahuddin province melted away under Al Qaeda onslaughts Tuesday and Wednesday, June 10-11.
Al-Baghdadi has assigned the second column heading for Baghdad the additional task of wrapping up Islamist control of the eastern province of Diyala on the Iranian border.
The first column will approach the capital from the north; the second from the east. Suicide bombers have meanwhile fanned ahead of the columns to smash the roadblocks and military posts set up in their path to check their advance

This week, Muslim extremists worldwide acclaimed the ISIS chief their hero.
DEBKA
file
's military and intelligence sources report that al Qaeda's march of conquest at incredible speed, while causing havoc and misery across Iraq, is also beginning to mutate from a terrorist assault into an insurgency. It is gathering up a growing following of disaffected Sunnis ready for revolt against the Shiite-led government in Baghdad.
Sunni Muslims account for around one-third of the Iraqi population of 35 million and their numbers are therefore in the region of 12 to14 million.
Wednesday alone, in a lightening push, ISIS fighters captured the Iraqi oil refinery and electricity power center of Biji (Baiji), 200 km southeast of Mosul, torched the court and police buildings and warned local police and soldiers not to challenge them. They next moved south to seize Hawajah and Tikrit, Saddam Hussein's birthplace, 140 km northwest of Baghdad.
With the Mosul refinery, the Islamists now control Iraq's northern oil refining facilities as well as the Biji power center which supplies Baghdad and Kirkuk with electricity.

Our military sources found various Sunni militias, who had never before followed al Qaeda - not during the American occupation, or even last year when al ISIS began moving fighting strength from Syria to Iraq - flocking to the ISIS campaign against Nuri al-Maliki.
Among them are not only demoralized army commanders, but adherents of the dictator Saddam Hussein's secular Baath Party, who have come out of retirement to join the jihad against Shiite rule.

Wednesday night, the panic-stricken Al- Maliki accused Sunni politicians and army chiefs of "betraying the Iraqi motherland." He refused to believe that Al Qaeda had been able unaided to conquer northern and central Iraq in a two-day blitz, unless it was the fruit of a long conspiracy carried out between the Islamists and Sunni leaders behind his back. The Iraqi prime minister alleged that the Sunni plotters against the government had provided Al-Baghdadi with intelligence, funds and arms caches ready for his fighters to use.
http://www.moonofalabama.org/2014/06/a-syrian-war-spillover-isis-attacks-mosul.html
A Syrian War Spillover: ISIS Attacks Mosul
While the Islamic State of Iraq and Syria (ISIS) is
fighting
other Islamists in Syria's east it has gained enough resources to also launch capable attacks in Iraq. In January it captured Fallujah, a conservative Sunni city. Last week it attacked Samara and threatened to capture the Shia shrine of Imam Al-Hassan Al-Askari. The Iraqi army reinforced there. But that attack on Samara seems to have been a diversion.
Today ISIS set out to
capture
Mosul, Iraq's second biggest city. The government troops there were, allegedly, told to not resist or deserted and fled. ISIS took over prisons and police stations and released some 3,000 of the prisoners - many of whom will now join its ranks. It robbed banks and replenished its already large financial resources. It captured tons of new weapons, ammunition and trucks. The civilian airport is in its hands. Civilians are fleeing the city.
Prime Minister Maliki, with a yet unstable coalition after he won a recent election, has little capabilities to fight back. The Iraqi army alone is unlikely to be able to take on ISIS and the Sunni Anbar tribes that support it. The Iraqi air force is too small to make a difference. Maliki will have to resort to sectarian Shia militia and will have to arrange a new coalition with the Kurds. ISIS has helped him there as it recently
attacked
political offices of President Talabani, one of the two major Kurd leaders.
Iraq will need further support to push ISIS back. We may soon see some rather weird coalitions growing against it: Iraqi Kurds allied with Shia Iraqi Arabs and the more secular Iraqi Sunni tribes; the U.S. air force riding shotgun for the Iraqi military in coordination with special forces from the Iranian Revolutionary Guard.
Without its bases in east Syria ISIS would be incapable to achieve such gains. This spillover of the Syrian conflict should be an alarm signal even Washington can not deny. The Syrian government troops will be needed to tear ISIS down. The U.S. must now turn away from the insurgents in Syria and support the Syrian government troops in their fight against the common enemy. Unless that happens the ISIS problem will only fester and threaten more states in the Middle East including Jordan and Turkey.
Posted by b on June 10, 2014 at 05:38 AM |
Permalink
http://www.debka.com/article/23987/After-Mosul-Al-Qaeda-seizes-38-000-sq-km-of-Iraqi-territory-division-size-armored-vehicle-fleet-
After occupying the oil town of Mosul in northern Iraq, Al Qaeda's ISIS (Islamist State of Iraq and the Levant) went on to seize more slices of Nineveh province. By Wednesday, June 11, they were in control of some 38,000 sq. km. or one-tenth of Iraqi territory – the size of Portugal - and 3.5 million inhabitants, around ten percent of the country's national population.
The Islamists also took over the main crossing from Iraq to Syria at Yaaroubiyeh.
They rode out of the Mosul battle Tuesday with 260 new armored vehicles of various types – enough to equip a full division - taken booty from the Iraqi army. The roads out of the city are clogged with an estimated half a million refugees in flight from the bloodshed and chaos with no means of support.

Although he declared a national state of emergency, Prime Minister Nuri al-Maliki has no illusions about his army standing up to the ferocious al Qaeda fighters. And indeed the tens of thousands of troops stationed in Mosul turned tail Tuesday and fled under the onslaught.
The Iraqi government has therefore started handing out firearms to civilians at special distribution centers and asked people to come and collect them.
The initial popular response was very slow. People are not prepared to confront al Qaeda and, anyway, most were happy to see the backs of the troops stationed in their areas, especially in the north. In the autonomous Kurdistan Regional Government capital of Irbil in northern Iraq, no distribution stations were to be seen.
Read
DEBKA
file
's first report on the fall of Mosul Tuesday, June 10, below
Al Qaeda in Iraq (ISIS: Islamist State of Iraq and Syria), captured the northern Iraqi oil city of Mosul, capital of Nineveh Province, Tuesday, June 10, after the Iraqi military defenders caved in and fled. Mosul is Iraq's third largest city after Baghdad and Basra with a population of around two million.
Ministers in Nuri al-Maliki's government have sent desperate appeals to the Obama administration for help to save Baghdad and Iraq from doom.
DEBKA
file
's military sources report that the Iraqi army's command facilities and bases in Mosul are ablaze and many bodies of Iraqi soldiers are lying in the town's streets. Convoys of fleeing troops were ambushed by the invaders and destroyed.

The fall of Mosul with heavy casualties is the worst disaster suffered by the Iraqi army in its feeble attempts to fend off the deep inroads Al Qaeda has been making in the country for more than a year. ISIS now controls two major Iraqi cities, after capturing Fallujah earlier this year, has overrun parts of Ramadi and Tikrit, as well as eastern provinces bordering on Iran, Diyala province and parts of the town Baquba, where just Tuesday, 20 people were killed in two explosions.
The loss to Islamist terrorists of Mosul, home to Arab, Assyrian, Christian, Turcoman and Kurdish minorities - and the site of Old Testament prophets such as Jonah - is critical for six additional reasons outlined here by
DEBKA
file
's counter-terror and military sources:
1. Mosul's conquest gives ISIS the key to the highway to Baghdad, enabling its fighters to advance on the capital from three directions: the west from Fallujah and Ramadi, the east from Diyala and now the north, from Mosul.
2. ISIS can merge its Iraqi and Syrian fronts and move its forces freely between them.

3. Mosul straddles the two banks of the vital Tigris-Euphratest river system shared by Iraq, Turkey, Syria and Iran. The Iraqi Islamists now have their hand on its flow.

4. With Mosul's capture, Bakr Al-Baghdadi, commander of ISIS, had taken a flying leap towards his avowed goal of establishing an independent Islamist state in the heart of the Middle East. No army has been able or willing to stem his steady advance, including the United States, although his state would present a direct threat to Saudi Arabia, Jordan, Turkey and Israel.
5. Mosul is a vital link in Iraq's northern oil trade; one third of its exported crude is pumped past this city from Kirkuk and it also has a refinery.

6. Iran and Hizballah face a second front in Syria opened by Al Qaeda from Iraq. To save their proudest strategic gains in Syria, Tehran will have to send troops into Iraq to save Baghdad from falling to the Islamists, or else see Syria falling into another abyss, this one of vicious Sunni-Shiite warfare.
Maliki Declares 'State of Emergency' After Troops Routed
by Jason Ditz, June 10, 2014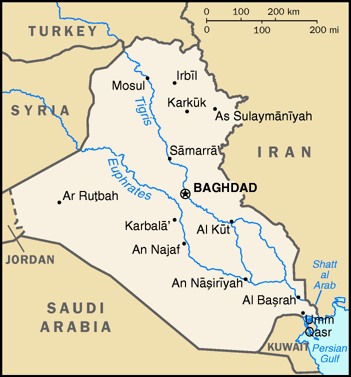 Months of fighting in Anbar Province hadn't gone well, but troops in the north seem even less up to resisting the militants,
as many simply dropped their weapons
and fled in the face of the offensive.
Prime Minister Nouri al-Maliki is
calling
for an immediate declaration of a state of emergency by parliament, accompanied by an Interior Ministry statement confirm Mosul is entirely outside of government control now.
The situation in Iraq's Sunni Arab regions had been growing more and more dire for months now, but now seems to be at a tipping point, where AQI is in a position to seize territory wholesale, and Iraq's military seems to be struggling mightily to do anything about it.
The territory in Iraq is only part of AQI's holdings now, which also include a broad swath of northern and eastern Syria, giving them a more or less contiguous empire from the outskirts of Aleppo to Fallujah and Mosul.
http://www.hurriyetdailynews.com/isil-takes-more-turkish-drivers-hostage-in-northern-iraq-as-500000-flee-mosul.aspx?pageID=238&nID=67649&NewsCatID=352
ISIL takes more Turkish drivers hostage in northern Iraq as 500,000 flee Mosul
Civilian children stand next to a burnt vehicle during clashes between Iraqi security forces and al Qaeda-linked Islamic State in Iraq and the Levant (ISIL) in the northern Iraq city of Mosul, June 10, 2014. Radical Sunni Muslim insurgents seized control of most of Iraq's second largest city of Mosul early on Tuesday, overrunning a military base and freeing hundreds of prisoners in a spectacular strike against the Shi'ite-led Iraqi government. REUTERS/Stringer
The number of Turkish truck drivers taken hostage by the Islamic State of Iraq and the Levant (ISIL) in northern Iraq has risen from 28 to 32 on June 11. Islamist militants continue their offensive one day after they effectively took control of Mosul, the country's second-largest city as reports said that fighting resulted in a high number of casualties, with half a million people displaced.
Officials in Suleiman Bek town in Saladin province said that scores of ISIL militants had poured in as police forces abandoned their posts, Anadolu Agency reported. Iraqi security sources who spoke to Reuters, on the other hand, told that
Sunni
militants have pushed into Iraqi town of Baiji, which is the site of a major oil refinery.
Taleb al-Biati, a local official, told Anadolu Agency that an unspecified number of policemen were killed and injured in clashes with the militants near the road connecting Baghdad and Kirkuk, which is another oil-rich town in the north.
A police commander in the nearby Tuz Khormato town, also in Saladin, said that enforcements of Kurdish peshmerga forces were deployed to defend the town against any possible attack by ISIL gunmen.
Meanwhile, the International Organisation for Migration said around half a million Iraqis had fled their homes in Mosul following the city's fall, fearing increased violence.
The Geneva-based organisation said its sources on the ground estimated the violence leading up to ISIL's total takeover "displaced over 500,000 people in and around the city."
The violence in Mosul "has resulted in a high number of casualties among civilians," the IOM added.

UN expresses 'great concern'
The ISIL now poses a threat across the Middle East, according to AFP. Known for its ruthless tactics and suicide bombers, ISIL has already controlled the Iraqi city of Fallujah for five months, and is also arguably the most capable force fighting President Bashar al-Assad inside Syria.
Its takeover of Mosul on June 10 prompted the United States to voice deep concern about the "extremely serious" situation and warn the jihadist
Sunni
group poses "a threat to the entire region."
U.N. chief Ban Ki-moon's spokesman said he was "gravely concerned by the serious deteriorating of the security situation in Mosul."
ISIL is led by the shadowy Abu Bakr al-Baghdadi and backed by thousands of Islamist fighters in Syria and Iraq, many of them Westerners, and it appears to be surpassing
Al-Qaeda
as the world's most dangerous jihadist group.
Western governments fear it could eventually emulate al-Qaeda and strike overseas, but their biggest worry for now is likely the eventual return home of foreign fighters attracted by ISIL and Baghdadi.
The Soufan Group, a New York-based consultancy, estimates that 12,000 foreign fighters have travelled to Syria, including 3,000 from the West.
And ISIL appears to have the greatest appeal, with King's College London Professor Peter Neumann estimating around 80 percent of Western fighters in Syria have joined the group.
Unlike other groups fighting Assad, ISIL is seen working towards an ideal Islamic emirate that straddles Syria and Iraq. And compared with Al-Qaeda's franchise in Syria, Al-Nusra Front, it has lower entry barriers.
ISIL has also sought to appeal to non-Arabs, recently publishing two English-language magazines, having already released videos in English, or with English subtitles.
The jihadist group claims to have had fighters from the Britain, France, Germany and other European countries, as well as the United States, and from the Arab world and the Caucasus.
Much of the appeal also stems from Baghdadi himself -- the ISIL leader is touted as a battlefield commander and tactician, a crucial distinction compared with
Al-Qaeda
chief Ayman al-Zawahiri.
"For the last 10 years or more, (Zawahiri) has been holed up in the Afghanistan-Pakistan border area and hasn't really done very much more than issue a few statements and videos," said Richard Barrett, a former counter-terrorism chief at MI6, Britain's foreign intelligence service.
"Whereas Baghdadi has done an amazing amount -- he has captured cities, he has mobilised huge amounts of people, he is killing ruthlessly throughout Iraq and Syria.
"If you were a guy who wanted action, you would go with Baghdadi," Barrett told AFP.
Baghdadi apparently joined the insurgency that erupted in Iraq soon after the 2003 US-led invasion.
In October 2005,
American
forces said they believed they had killed "Abu Dua," one of Baghdadi's known aliases, in a strike on the Iraq-Syria border.
But that appears to have been incorrect, as he took the reins of what was then known as the Islamic State of Iraq, or ISI, in May 2010 after two of its chiefs were killed in a US-Iraqi raid.
Since then, details about him have slowly trickled out.
In October 2011, the
US
Treasury designated him as a "terrorist" in a notice that said he was born in the Iraqi city of Samarra in 1971.
And earlier this year, Iraq released a picture they said was of Baghdadi, the first from an official source, depicting a balding, bearded man in a suit and tie.
At the time Baghdadi took over, his group appeared to be on the ropes, after "the surge" of
US
forces combined with the shifting allegiances of
Sunni
tribesmen to deal him a blow.
But the group has bounced back, expanding into Syria in 2013.
Baghdadi sought to merge with Al-Nusra, which rejected the deal, and the two groups have operated separately since.
Zawahiri has urged ISIL to focus on Iraq and leave Syria to Al-Nusra, but Baghdadi and his fighters have openly defied the
Al-Qaeda
chief and, indeed, have fought not only Assad, but also Al-Nusra and other rebel groups.
http://www.hurriyetdailynews.com/second-tanker-of-kurdish-oil-leaves-turkey-despite-baghdads-warning.aspx?pageID=238&nID=67604&NewsCatID=348
Second tanker of Kurdish oil leaves Turkey despite Baghdad's warning
In this May 31, 2009 file photo, employees work at the Tawke oil field in the semiautonomous Kurdish region in northern Iraq. AP Photo
A second shipment of Iraqi Kurdish crude has sailed from the Turkish port of Ceyhan, industry and government sources said, increasing the stakes in a battle with Baghdad over control of oil sales from the autonomous region.
The United Emblem suezmax tanker, carrying 1 million barrels of crude, sailed from the harbor on Turkey's Mediterranean coast on June 10, Reuters AIS Live ship tracking showed.
The shipment is the second to leave Ceyhan in three weeks after arriving by pipeline. At least 2 million barrels of Kurdish crude are now at sea, despite protests from Baghdad that only the central government has the right to sell Iraqi oil.
Iraq's oil minister condemned the exports. "What happened in my view was the biggest mistake that has been made by the Kurds and the Turks... and the Iraqi government will take severe measures," Abdul Kareem Luaibi told a news briefing in Vienna on June 9.
He repeated that Baghdad would sue the Turkish government and Turkish state owned pipeline operator Botaş for facilitating the sale of the crude. Baghdad was in the process informing the United Nations about Ankara's role in the shipment, he added.
"We have no choice but to go to arbitration and they [Turkish government] have been informed," Luaibi said.
The Kurdish Regional Government has said the oil shipments are designed to show Baghdad it will exercise control over its own oil sales, but so far it has failed to find a buyer for its first tanker shipment, which left Ceyhan over two weeks ago.
The hunt for buyers
Last week the first tanker, the United Leadership, sailed away from Morocco after the North African country declined to let the vessel unload its 1-million-barrel crude cargo at the Mohammeddia refinery.
Italy has also warned oil traders they face potential legal action if they buy the Kurdish crude, after discussions with the Iraq central government at its embassy in Baghdad.
The regional government originally said the oil would be sold to
German
or Italian refiners, but so far the United Leadership has not sailed towards those destinations. On Monday, it remained about 48 km off the Moroccan coast.
The United Leadership and the United Emblem are listed in tanker tracking as "For Orders," an industry term indicating that a final buyer of the crude has not yet been arranged.
Until last month, Kurdish oil exports were constrained to a small volume sent by truck to two Turkish ports on the Mediterranean. Iraq's state marketer made threats of legal action but did not follow through.
But the start of deliveries on a new Kurdish pipeline that currently pumps around 100,000 barrels per day to Ceyhan means significantly higher revenues for the region.
Iraq and Kurdistan have been trying to reach a political agreement over oil sales, but five months after the pipeline started up there had still been no final decision, prompting the regional government to go it alone.
Kurdish crude stored at Ceyhan had reached 2.8 million barrels at the end of last week, Turkish Energy Minister Taner Yıldız said on June 6.
Syria......
http://www.reuters.com/article/2014/06/10/us-syria-crisis-rebels-idUSKBN0EL10R20140610
Hundreds killed as ISIL insurgents gain ground in east Syria
(Reuters) - A six-week offensive by the Islamic State in Iraq and the Levant (ISIL) against rival Islamists in eastern Syria has killed 600 fighters and driven 130,000 people from their homes, a monitoring group said on Tuesday.
ISIL, which is battling to control a huge area of east Syria and western Iraq, has advanced along the Euphrates River in the oil producing Deir al-Zor province, driving back militants from al Qaeda's Nusra Front and other Islamic brigades.
The Syrian Observatory for Human Rights said ISIL now controls most of the northeast bank of the Euphrates from close to the border with Turkey down to the town of Busayra nearly 200 miles (320 km) to the southeast.
It aims to extend that control all the way to the town of Albukamal on the Iraqi border, strengthening links between its Syrian and Iraqi wings, the Observatory's Rami Abdelrahman said.
Across the border, ISIL has made stunning gains, overrunning the headquarters of the provincial government in Iraq's northern city of Mosul late on Monday.
The group follows al Qaeda's jihadist ideology but its leader Abu Bakr al-Baghdadi has defied orders by al Qaeda leader Ayman al-Zawahri to stop fighting in Syria and focus on Iraq.
Baghdadi fought first in Iraq before expanding into Syria when the 2011 uprising against President Bashar al-Assad was crushed by force and descended into civil war.
His enemies say ISIL has almost exclusively targeted rival rebels - including the Nusra Front which Baghdadi originally nurtured - rather than Assad's forces, as it exploits turmoil in Syria and insecurity in Iraq to carve out territory.
HUNDREDS KILLED
The UK-based Observatory said 241 fighters from ISIL and 354 from Nusra and other Islamic brigades had been killed in fighting since ISIL launched its offensive in Syria's Deir al-Zor province, seizing four oilfields from its rivals.
Another 39 civilians have been killed, including five children, said the Observatory, which relies on a network of medical and military sources and activists across the country to monitor the violence in Syria.
The internecine fighting among Assad's mainly Sunni Muslim opponents, who include foreign jihadi fighters, has prevented any coordinated rebel military campaign against him and helped his forces consolidate control in the center of the country.
Backed by the militant Lebanese Hezbollah movement and Shi'ite Iraqi fighters, his troops have pushed back rebels from the edge of Damascus and border areas with Lebanon - a vital supply line for rebels - as well as the city of Homs.
Syria's northern and eastern provinces remain largely beyond Assad's control, although his forces still hold part of Deir al-Zor's provincial capital and have been making advances around the disputed northern city of Aleppo.
Last week he won re-election in a vote held in government-controlled parts of the country. Opponents dismissed it as a charade in the midst of a conflict which started with protests against the president. Authorities said it gave him a democratic mandate to rule for another seven years.
More than 160,000 people have been killed in Syria's civil war. Nearly three million refugees have sought sanctuary abroad and six million people have been displaced inside the country, the
United Nations
says.
SYRIA DIRECT: NEWS UPDATE 6-10-2014
ISIS seizes government headquarters in Iraq
The Islamic State in Iraq and a-Sham (ISIS) stormed the Iraqi city of Mosul overnight Monday,

seizing

the entire western section of the majority-Sunni city as hundreds of Iraqi security forces withdrew, Iraqi news agency a-Sumeria reported.
Using rocket-propelled grenades, sniper rifles and machine guns, the al-Qaeda splinter group gained control of the Iraqi government's provincial headquarters, parts of Mosul Airport and three prisons, freeing between hundreds and

thousands

of prisoners.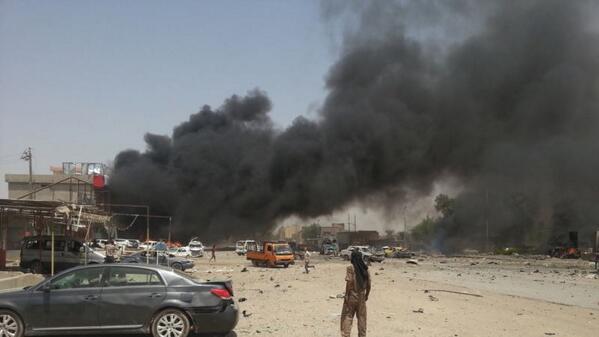 Smoke rises in Mosul after ISIS militants storm the city Monday night. Photo courtesy of

@FarsiCC.
Meanwhile, according to Turkey's Dogan News Agency, ISIS forced hundreds of Iraqi security personnel and Provincial Governor Atheel Nujeifi

to flee

the city. On Twitter, ISIS militants and supporters celebrated the seizure, using hashtags for "the Islamic State liberates Mosul" and "the opening of Mosul."
ISIS, which controls Syria's a-Raqqa province and is battling other Syrian rebel groups from Aleppo to Deir e-Zor, controls wide parts of Iraq's Anbar province, including the city of Fallujah.
Activists launch awareness campaign in Deir e-Zor
A group of opposition activists and journalists

launched

a Facebook campaign Tuesday called "Deir e-Zor Needs Your Help" to raise awareness of what they call a "crippling siege" on the city.
Opposition forces in the city face a double blockade from the Syrian regime and the al-Qaeda splinter group Islamic State in Iraq of Iraq and Sham (ISIS) after the closing of all crossings into the city leading to widespread displacement and a shortage of food supplies, the campaign wrote.
While fighters associated with Jabhat a-Nusra, the Islamic Front and Free Syrian Army-affiliated battalions control the city, ISIS has controlled the rebel entrance to it since it captured a strategic bridge on the Euphrates River on the northern side of the city on May 18.
Since April 30, the eastern, oil-rich province has been a battle ground between ISIS and Jabhat a-Nusra led-opposition groups. The monitoring group Syrian Observatory for Human Rights

announced

Tuesday that 634 people have been killed in the clashes and more than 130,000 have fled,

including

38 on Sunday and Monday.
Assad announces 'general amnesty'
President Bashar al-Assad announced a "general amnesty" on Monday for all crimes committed before June 9, 2014,

according

to official state news agency SANA. The announcement specified reduced sentences for the crimes of association with terrorist organizations, kidnapping, arms smuggling and escape from military service.
The amnesty is a "part of the political solution to raise the Syrian country out of its crisis and begin the process of rebuilding," pro-government newspaper al-Watan

reported

.
The statement did not indicate whether the amnesty would include the thousands of prisoners that human rights activists say are being held without charges.
Assad has announced several previous amnesties before, most recently in April 2013, which ostensibly reduced the sentences of criminals, including those convicted of joining the opposition. A prior amnesty in 2011 led to the release of former members of the Muslim Brotherhood, many of whom later joined extremist groups.
Coalition dismisses Brahimi: Genocide, not civil war
The Syrian National Coalition (SNC) criticized former United Nations Special Envoy to Syria Lakhdar Brahimi on Monday for calling the Syrian conflict a "civil war."
"Syria is not a civil war, but a genocide," said Noura Al Ameer, SNC Vice President, in a statement.
"Brahimi's remarks equate the criminal and the victim and contradict the remarks he made after the Geneva II conference when he blamed the failure of the talks on the intransigence of the Assad regime," Al Ameer said. The former envoy spoke in an interview published Saturday in the German newsweekly Der Spiegel.
Citing his frustrations with the Geneva II process, Brahimi

resigned

from his position on May 13th, claiming he was

thwarted

in his efforts to convince "Bashar al-Assad to become the kingmaker instead of staying on as president."
Brahimi warned that Syria was headed in the direction of Somalia: toward a failed state dominated by warlords.
Iran......
Iran questions nuclear deal deadline as talks 'hit wall'
(Reuters) - Iran, after talks with senior U.S. officials, questioned whether a July deadline for a nuclear deal with world powers will be met, fueling doubts on the outcome as France spoke out, saying talks on curbing Tehran's uranium enrichment had "hit a wall".
Iran's talks with six major powers on curbing its nuclear program in exchange for an end to Western sanctions could be extended for six months if no deal is reached by a July 20 deadline agreed by all parties, a senior Iranian official said.
While an extension is possible under the terms of the talks, experts believe both Iran and the international powers may face domestic political pressures to argue for better terms during this extra time period, further complicating negotiations.
The Iranian official, Deputy Foreign Minister Abbas Araqchi, said it was "too soon to judge" whether more time was needed.
"But the good thing is all parties are seriously committed to meet that goal," he said of the July 20 target. "Whether we can do it or not is something else," he told Iranian media in Geneva. A recording of his remarks were reviewed by Reuters.
After holding bilateral talks with U.S. officials, Araqchi was quoted as saying that differences remained.
"An exchange of views will continue," he told Iran's Fars news agency. "The talks were useful, especially before the next round of talks in Vienna. However, a diversity of opinions still exists."
The six powers and Iran will meet again in Vienna for another round of negotiations June 16-20.
Araqchi had earlier spoken of a possible half-year extension to the talks. Western and Iranian officials have already said an extension appears increasingly likely.
Singling out a big gap in negotiating positions that will be difficult to overcome in less than two months, France's foreign minister said Iran should drop a demand to have thousands of uranium enrichment centrifuges.
Instead it should restrict itself to a few hundred of the machines used to increase the concentration of the fissile isotope of the metal - a process that can make a weapon, though Iran denies it wants to do that.
Iran - which says its nuclear program is peaceful and mainly aimed at generating electricity - has around 19,000 centrifuges, of which roughly 10,000 are operating, according to the U.N. nuclear agency. Enriched uranium can have both civilian and military uses, depending on the degree of refinement.
"UNREALISTIC DEMANDS"
Reporters in Washington asked State Department spokeswoman Jen Psaki about Fabius' comments. She said the focus should be on the actual negotiations taking place behind closed doors, not on what parties to the talks are saying publicly.
"I've seen those remarks," she said. "We feel our efforts should be directed towards the negotiations happening behind the scenes on the tough issues and not on public demands."
French Foreign Ministry spokesman Romain Nadal said the priority was not the July 20 deadline, but to achieve a deal to guarantee that Tehran would not obtain a nuclear weapon.
Western officials say Iran wants to maintain a uranium enrichment capability far beyond what it currently needs for civilian purposes. Iran says it wants to avoid reliance on foreign suppliers of fuel for planned nuclear reactors.
The negotiations ran into difficulty last month with each side accusing the other of making unrealistic demands, raising doubts about prospects for a breakthrough next month. This week's bilateral talks between U.S. and Iranian officials were aimed at breaking the deadlock.