Russia and Ukraine discuss ceasefire
Putin and Ukraine's President-elect Poroshenko call for halt to bloodshed, as deadly clashes continue in Ukraine's east.
Last updated:

06 Jun 2014 19:18
US President Obama and Russia's Vladimir Putin also talked at the sideline of the D-Day commemoration [Reuters]
The American, Russian and incoming Ukrainian leaders have discussed, in separate meetings in France, a ceasefire and other possible steps to de-escalate the ongoing crisis in Ukraine, reports said.
Russian President Vladimir Putin held brief one-on-one talks on Friday with his US counterpart Barack Obama and Ukraine's Petro Poroshenko, in a possible diplomatic breakthrough that played out amid continuing violence in eastern Ukraine.
In remarks to reporters, Putin said the meetings with Poroshenko and other Western leaders were positive, and described talks with Obama as "substantial".

"I think the exchange of views was very positive," he said after attending the ceremonies marking the 70th anniversary of D-Day alongside US, British, French and German leaders.
Putin, however, said that Poroshenko, who will take his oath as president of Ukraine on Saturday, must first stop "punitive" operations in the eastern part of his country.
"Ukraine must demonstrate its good will. The repressive operation must be stopped."
It was the first meeting between the two men since pro-Western chocolate tycoon Poroshenko won Ukraine's presidential election on May 25.
Poroshenko welcomed the start of a dialogue with Putin and said it has "a good chance" of succeeding.
"The dialogue has begun, and that's a good thing," he said on Ukrainian television.
"A Russian representative will travel to Ukraine, and we will discuss with him the first steps towards a plan [to resolve] the situation... We have a good chance of implementing it."
The talks will take place on Sunday, he said.
Meanwhile, US Deputy National Security Advisor Ben Rhodes told the AFP news agency that during their separate meeting, Obama told Putin he must de-escalate tensions in Ukraine, or face deeper international isolation.
Russia's annexation of Crimea in March and the continuing standoff between pro-Russian fighters and the Ukrainian army the country's east have plunged Moscow's relations with the US and the European Union to a post-Cold War low.
D-Day commemoration
Hollande's office have been planning for weeks to use the World War II anniversary celebration to try to break the ice in the crisis.
World leaders and veterans earlier on Friday paid tribute to soldiers who fell in the liberation of Europe from Nazi German rule, at a series of ceremonies around the Normandy beaches where allied forces landed on June 6, 1944.


Our victory in that war decided not just a century, but shaped the security and well-being of all posterity.

Wreaths, parades and parachute-drops honoured history's largest amphibious assault, in which 160,000 US, British and Canadian troops waded ashore to confront German forces, hastening its defeat and the advent of peace in Europe.
Flanked by war veterans, Obama joined Hollande to commemorate the victory and reaffirm US-French solidarity before the marble headstones of fallen US soldiers at the Normandy American Cemetery.
"Our victory in that war decided not just a century, but shaped the security and well-being of all posterity," Obama said.
He sought to link the sacrifices of World War II to US servicemen killed in combat since the September 11, 2001 attacks on the US by al-Qaeda.
Twenty-one foreign leaders attended the commemorations, including Britain's Queen Elizabeth

.


More fighting in Ukraine
Meanwhile in Ukraine, Al Jazeera's David Chater reported that a government supply plane was shot down by pro-Russian rebels in Slovyansk.
A Ukrainian police officer was also killed, and two others were injured in Slovyansk after pro-Russian rebels launched a mortar attack on a checkpoint, Deputy Interior Minister Serhiy Yarovy said.
Earlier on Friday, Anton Herashchenko, an aide to Ukraine's interior minister, said government troops have killed a group of armed men, who came from Russia in trucks and an infantry vehicle, and tried to cross the border at the village of Marynivka late on Thursday.
Herashenko said the attackers were supported by about 100 rebels who came from the Ukrainian side of the border.
Al Jazeera's Kim Vinnell, reporting from the town of Marynivka, also quoted Ukrainian military sources as saying that soldiers were wounded in the attack.
Government troops have for weeks been clashing with pro-Russian rebels who dismiss the Kiev government as illegitimate.
On Thursday, the Group of Seven industrial nations warned of tougher sanctions against Russia , if it continues to arm separatist rebels in Ukraine.

Source:
Al Jazeera and agencies
Anti War....
Outgoing Interim President Endorses Declaration
by Jason Ditz, June 05, 2014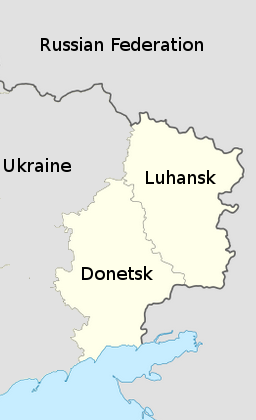 Outgoing Interim President Oleksandr Turchinov, who will be replaced on Saturday with the inauguration of President Petro Porchenko, urged the leaders of all security-related agencies and ministries to
begin "urgently" to consider
the declaration.
A statement from Turchinov's office said martial law was needed to "stop the further spread of and put an end to an armed conflict in Ukrainian territory," and could cover both Donetsk and Luhansk Oblasts.
Shortly after Turchinov's interim government took power, protests against their rule erupted in the eastern oblasts, where the majority is ethnic Russian and supported the ousted elected government. Eventually, this has resulted in a full-scale separatist movement, which the interim government dubbed "terrorists," and a military invasion of the regions to bring them back under the control of Kiev's central government.
The fighting has mostly centered around the cities of Kramatorsk and Slovyansk in the northern portion of Donetsk Oblast, and yesterday the military claimed to have killed "
more than 300
" rebels in Slovyansk alone in 24 hours. The mayor of Slovyansk denies the claim, and said only 12 fighters were lost.
While the military's offensive centers of northern Donetsk, the rebels seem to be gaining a lot of ground in Luhansk, where they have taken several military bases in recent days, conducting protracted gunbattles until the troops therein were forced to flee.
US Insists on End to Eastern Ukraine Protests
by Jason Ditz, June 05, 2014
Continuing to escalate tensions with Russia, President Obama and British Prime Minister David Cameron today laid out an ultimatum, giving Russia's President Putin a series of demands
he has to meet by the end of a month
or face major sanctions.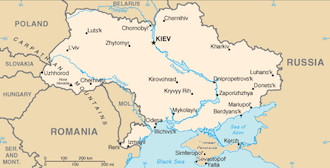 The
new "thresholds" are familiar demands
, including blocking all arms from crossing the border into Ukraine, ending all public support for the ethnic Russian protesters in the eastern portion of Ukraine, and "recognizing Petro Poroshenko's election as the new leader in Ukraine."
The last demand is particularly bizarre, because Russia already recognized the election virtually as soon as the results came in, and has been pushing for talks with Poroshenko on ending the violence in the east.
The State Department
has made clear that the current sanctions
will remain in case no matter what Russia does, and that there isn't even a consideration of a deal to end the growing sanctions war. Rather, the ultimatum offers a choice between the status quo of sanctions or further escalation at a faster pace
On a rhetorical front, the State Department also made clear that under no circumstances would the US ever consider the situation in Ukraine a "civil war," arguing that they believe the whole eastern situation is Russia's fault and that therefore it can't be an internal conflict.


Itar Tass....





June 06, 14:59
UTC+4
Ukraine plans to redeem its whole debt for 2013 at the next round of talks, the source said
MOSCOW, June 06. /ITAR-TASS/. Russia and Ukraine will resume bilateral gas negotiations this weekend, Reuters reported Friday, citing a government source.
"The negotiations will last through Saturday, Sunday and Monday. We expect the decision to surface on Tuesday," the source said.
Ukraine plans to redeem its whole debt for 2013 at the next round of talks, he said.
On Tuesday, Gazprom and Naftogaz of Ukraine agreed to negotiate bilaterally, without further mediation by the EU. Ukraine insists on the recalculation of its debt for the gas supplied in 2013 on the basis of a discounted price of $268.5 per 1,000 cubic meters for January-March.
RIA Novosti....
DONETSK, June 6 (RIA Novosti) - Ukrainian forces are using tanks for the first time in the course of the two-month standoff between self-defense forces in the city of Slaviansk and the Ukrainian army, a source in the headquarters of the independence supporters told RIA Novosti Friday.
"Tanks are currently attacking Slaviansk in two directions – from Krasnyi Liman (a city north of Slaviansk) and Semyonovka (Slaviansk eastern suburb)," the source said.
According to independence supporters three or four tanks are currently stationed in Semyonovka which was earlier attacked with self-propelled mortars. The tanks are trying to attack activists that are forced to constantly switch positions to avoid fighting.
Several other tanks were seen near Krasnyi Liman. Independence supporters claim they managed to damage one of the armored vehicles.
Ukraine's Slaviansk has been the epicenter of running battles over the past weeks. On Tuesday the fighting near Slaviansk and Krasnyi Lyman claimed the lives of 300 self-defense officers and left about 500 injured, according to the national Special Forces.
The Ukrainian side lost two fighters. 45 soldiers were injured.
MOSCOW, June 5 (RIA Novosti) – US Secretary of State John Kerry has urged Ukrainian President-elect Petro Poroshenko prove that Russia is involved in the independence movement in the eastern regions of Ukraine, according to The New York Times.
During a meeting in Poland on Wednesday, Kerry asked the newly elected president to provide evidence of a connection between Moscow and Ukraine's independence supporters, according to the media outlet.
The politicians also discussed the democratic development of Ukraine. Kerry expressed admiration for the people of Ukraine and congratulated Poroshenko on his victory in the May 25 presidential election.
After talks with Kerry, the president-elect met US President Barack Obama to discuss US help in training Ukrainian military forces, and Ukraine's energy security.
The US secretary of state is due to meet his Russian counterpart, Sergei Lavrov, in Paris on Thursday to discuss Syria and Ukraine.
Washington recently claimed that the US has proof Russia intervened in the conflict, by sending troops and supplying weapons to the independence movements in the Luhansk and Donetsk regions of Ukraine.
Russian President Vladimir Putin dismissed these claims in an interview Wednesday with French broadcasters Europe 1 and TF1. The West does not have reliable evidence of Moscow's involvement in the violent standoff between the Kiev authorities and independence supporters in eastern Ukraine, Putin said.
MOSCOW, June 5 (RIA Novosti) – Kiev does not intend to refund Moscow's prepayments for Russian defense orders placed with Ukrainian enterprises, Russian Deputy Prime Minister Dmitry Rogozin said Thursday.
Rogozin, who oversees Russia's space and defense industry, said the Ukrainian partners "are late with deliveries of [ready-made] products [and] are not returning the advance payments."
"Note that Ukraine hasn't paid and is no longer going to pay for the orders placed with these enterprises," the deputy prime minister emphasized.
Rogozin stressed, referring to the conditions under which Russia and Crimea's defense industries have to work, that Western sanctions against Moscow will only become tougher.
In this regard, Rogozin expressed dissatisfaction with the pace of execution of defense procurement directives by Crimean enterprises.
"The rate of execution of these orders is not impressive," the deputy prime minister said.
Rogozin added that the reason for the delays was the lagging pace of a number of federal agencies, which has resulted in a lack of the necessary documentation for the Crimean enterprises to recommence production of arms and military equipment.
Following Crimea's reunification with Russia, Ukraine's monopoly arms maker Ukroboronprom has barred all exports of weaponry and military equipment to Russia. Ukraine previously produced helicopter engines, aviation radar, missiles and other goods for Russia.