Civilians Fleeing City as Attacks Move Into Second Day
by Jason Ditz, June 04, 2014
Reports of
fighting yesterday in Slovyansk
have continued to grow, with reports that the Ukrainian ground troops that invaded the city are escalating their offensive, and civilians are
fleeing
en masse.
Ukraine's military has claimed
"more than 300″ rebels were killed and at least 500 others wounded
in and around Slovyansk in the last 24 hours, a figure that seems dramatically higher than anything supported by rebel comments.
Bizarrely, though battles raged throughout Tuesday and into Wednesday, the military's claim of enormous rebel deaths did not come with any new reports of casualties on their own side, which as of yesterday amounted to two killed and a few dozen wounded. Likewise, they reported all the slain as "pro-Russian militants," with no indications of what the civilian toll in such enormous violence in an urban area would have to be.
Slovyansk and neighboring Kramatorsk are the first major cities on the border between the separatist-held portion of Ukraine and the cities held by the central government, and are on a major highway linking government-held Kharkiv with the eastern oblasts. Several previous offensives against the cities failed, but this time the reports are of much more serious fighting.
Troops Ran Out of Ammo, Surrendered Bases
by Jason Ditz, June 04, 2014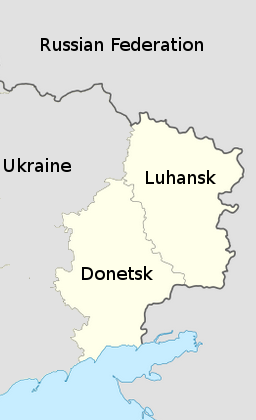 During that time, fighters loyal to the People's Republic of Luhansk have fought against border troops
in and around Luhansk
, and finally seized the border guard's main headquarters today, after the troops inside ran out of ammunition and surrendered.
Despite hours of fighting, the surrender appears to have been fairly amicable, and the troops were allowed to leave with their weapons after handing over the case to the secessionists.
The two other bases, one of the outskirts of Luhansk itself and one in the nearby town of Sverdiovsk, both told similar stories, with troops eventually running short on supplies and being forced to abandon the battle.
NATO Plans Massive 'Joint Exercise' in Poland
by Jason Ditz, June 04, 2014
British Prime Minister David Cameron has confirmed his government has offered an armored battle group to be sent to Poland later this year as part of a massive planned "show of force" against Russia.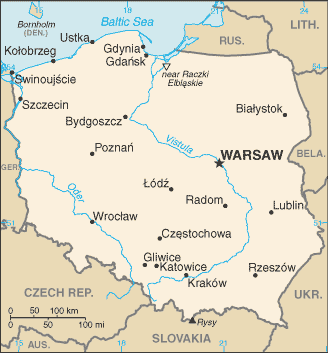 The armored battle group would
include some 1,000 soldiers, along with 25 tanks and 40 armored fighting vehicles
. Britain's Defense Ministry presented it as part of an effort to "re-assure our NATO Baltic allies."
The Poland exercise appears to be part of NATO's announced "
readiness action plan
," which aims to build up military forces in Eastern Europe, and to speed reaction time of Western European nations to a war with Russia.
There's no indication that an actual war with Russia is likely anymore, though hawkish rhetoric from months ago surrounding the Crimean referendum and its subsequent Russian annexation has many military leaders in NATO salivating at the idea of a "new Cold War," with the same run-away military spending as the last one.
June 05, 11:34
UTC+4
On Wednesday, the Ukrainian troops delivered several strikes at Semyonovka, while also shelling Sloviansk and adjacent areas
SLOVIANSK, June 05. /ITAR-TASS/. Ukrainian fighters have resumed artillery strikes at the settlement of Semyonovka on the outskirts of east Ukraine's Sloviansk in the Donetsk Region, a representative of the people's militia told ITAR-TASS on Thursday.
The representative said that the night was relatively calm, though gunfire and explosions could be heard in some areas of the town.
On Wednesday, the Ukrainian troops
delivered several strikes at Semyonovka
. Ukrainian troops were also shelling Sloviansk and adjacent areas, damaging the water- and power supply lines in several districts.
On Tuesday, June 3, people's militia in the city of Sloviansk
have downed a fighter plane Su-25 and a Ukrainian helicopter gunship
as well as four armored personnel carriers (APC), Sloviansk People's Mayor Vyacheslav Ponomarev told ITAR-TASS. Ponomarev said that Ukrainian troops lost two planes, two helicopters and four armored vehicles on June 3 and June 4.
According to Ponomarev, nine militiamen were killed and 12 more were wounded in this week's clashes.
June 05, 10:18
UTC+4
Chief Cabinet Secretary Yoshihido Suga says Japan sets hopes on a solution to the problem through talks
TOKYO, June 05. /ITAR-TASS/. Japan's government sets hopes on a dialogue between Russia and the new authorities of Ukraine and speaks against an immediate enhancement of sanctions against Moscow, Chief Cabinet Secretary Yoshihido Suga told a press conference on Thursday.
"Russia expresses an intention to have a dialogue with Ukraine's new authorities, and we shall closely follow that. Sanctions should not be enhanced immediately. We set hopes on a solution to the problem through talks," Suga said.
In this connection, the Chief Cabinet Secretary highly appreciated the results of the G7 summit in Brussels, which had been also attended by Japanese Premier Shinzo Abe. "The statement issued by the Meeting clearly conveyed the idea that our countries (G7) come out against any attempts at changing the situation in the world through the use of force," Suga pointed out.
June 05, 4:54
UTC+4
German Chancellor said the issue "requires extra discussions and thorough analysis of the situation"
BRUSSELS, June 5. (Itar-Tass) - Leaders of the Group of Seven most industrialized countries (G7) decided to abstain for the moment from imposing further sanctions against Russia and intend to discuss situation concerning conflict-hit Ukraine with Russian President Vladimir Putin in France this week, German Chancellor Angela Merkel said.
"At the upcoming meetings in Normandy we intend to send a signal to the Russian president concerning the necessity of de-escalation in Ukraine," Merkel said following the first day of the G7 summit in Brussels. "If this [the de-escalation] does not take place then in the future we intend to consider again the possibility of imposing the third set of sanctions."
The European Union jointly with the United States declared two sets of sanctions against Russia earlier in the year, particularly after the republic of Crimea seceded from Ukraine and later merged with Russia.
Speaking at a news conference late on Wednesday night, Merkel said the G7 leaders agreed to discuss three key issues with Ukrainian newly-elect President Pyotr Poroshenko and Russian President Putin in France.
Firstly, she said, the leaders intend to stress the importance that Russia must provide "measures for de-escalation in Ukraine." Secondly, to call on the Russian authorities to begin joint work with the Ukrainian president. Thirdly, Merkel said, Russia needs to put an end to flow of volunteers and weapons to the east of Ukraine.
Asked whether further sanctions would follow against Russia, Merkel said the issue "requires extra discussions and thorough analysis of the situation."
"We need to see the results of talks with the Russian president and evaluate the further development of the situation," Merkel said. "Basing on this, we might gather again to discuss the issue of sanctions."
"Today's meeting was devoted not only to relations with Russia, but the situation in Ukraine on the whole, the constitutional reformations and provision of minorities' rights, and we intend to look for constructive ways to settle the situation in the country," she said commenting on the first day of the summit.
Russia is currently holding the rotating chair in the Group of Eight (G8) most industrialized countries, which besides Russia include France, the United States, Britain, Germany, Japan, Italy and Canada. However, on March 24, 2014, G7 leaders announced they would not attend the Sochi Summit in Russia and would instead hold a G7 meeting in Brussels on June 4-5, 2014.
The announcement came after Putin signed on March 21 the federal constitutional law on accession of two new constituent members to the Russian Federation - the Republic of Crimea and the federal city of Sevastopol.
The Russian president arrives in France on Thursday and will attend celebrations on the occasion of the 70th anniversary of the D-Day Landings of Allied forces on the Normandy coast on June 6. This will be Putin's first visit to Western Europe after the start of the crisis in Ukraine.
Putin has repeatedly dismissed Western claims that Russia could in any way be involved in protests in Ukraine's Southeast.
Massive protests against the new Kiev authorities, propelled to power during a coup in Ukraine in February, erupted in Ukraine's southeastern territories, mainly the Donetsk and Lugansk regions, after Crimea's reunification with Russia following a referendum in March.
Demonstrators in the Southeast, who have been demanding Ukraine's federalization, seized some government buildings. A punitive operation by Kiev against federalization supporters has already claimed dozens of lives, including civilian.
June 05, 11:56
UTC+4
Ukraine insists on the recalculation of its debt for gas supplied in 2013 on the basis of a discounted price of $268.5 per 1,000 cubic meters for January-March
KIEV, Jun 5. /ITAR-TASS/. Russian gas giant Gazprom and Ukraine's energy company Naftogaz have agreed that if they do not reach a long-awaited deal on the gas price by Friday, Kiev
will pay its debt no earlier than June 10
, a Naftogaz official said late Wednesday.
"The parties have also agreed that if they find no compromise by June 6, the payment of overdue debt for supplied natural gas will take place no earlier than June 10," the official said.
EU Commissioner for Energy Gunther Oettinger, who mediated in the talks earlier, said that Ukraine is to repay its debt for November-December 2013 and part of its debt for April and May, the period when Gazprom doubled the price to around $500. Some part of the debt will remain unpaid until Moscow and Kiev fully agree on the price.
Ukraine insists on the recalculation of its debt for gas supplied in 2013 on the basis of a discounted price of $268.5 per 1,000 cubic meters for January-March.
The Naftogaz official also said it is now Gazprom's turn to put forward contract amendments.
Al Jazeera.....

G7 leaders warn Russia of more sanctions
President Obama and other leaders threaten fresh sanctions if Russia continues to undermine Ukraine's sovereignty.
Last updated:

05 Jun 2014 19:23
Leaders of the G7 said they were ready to intensify targeted sanctions against Russia [Reuters]
Barack Obama and leaders of the G7 group of nations have threatened Russia with more sanctions if it continues to undermine the sovereignty of Ukraine and fund separatists in the east of the country.
The US president issued the warning on Thursday and urged his Russian counterpart Vladimir Putin to hold direct talks with the Ukrainian president-elect Petro Poroshenko to end the crisis.
"The kinds of destabilising activities funded and encouraged by Russia are illegal and not constructive," Obama said in Brussels following a meeting of G7 leaders.

"There is a path in which Russia has a capacity to engage directly with President Poroshenko now. He should take it."
Obama said Russia must help stop the flow of arms into Ukraine, and exert its influence to stop further separatist operations.
"If Mr Putin takes those steps, then it is possible for us to begin to rebuild trust between Russia and its neighbours and Europe," Obama said. "We will have a chance to see what Mr Putin does over the next two, three, four weeks, and if he remains on the current course, then we've already indicated that kinds of actions that we are prepared to take."
The British prime minister, David Cameron, said Putin must meet the conditions in the next month.
"If these things don't happen, then sectoral sanctions will follow," he said.
"The next month will be vital in judging if President Putin has taken these steps," said Cameron, who later met with Putin in France.
Al Jazeera's James Bays, reporting from Brussels, said: "The G7 leader are talking here again about tougher sanctions on Russia. But they are talking about the same tougher sanctions they have been talking about for months now."
Border posts seized
Meanwhile, pro-Russian fighters are said to have taken control of all border posts in the eastern Ukrainian town of Luhansk.
Al Jazeera's David Chater, reporting from the town said that government forces had been "outgunned, outnumbered and overwhelmed" and had been cut off from their chain of command.
"This is humiliating for Ukraine," Chater said, adding that the eastern borders were now unguarded, allowing the flow of arms.
Ukrainian authorities have closed three checkpoints along the border with Russia after nightly assaults by separatists.
The authorities said three checkpoints - at Chervonopartyzansk, Dolzhansky and Chervona Mogyla - had been temporarily closed, and that the Russian side had been notified.