Sunday, June 01, 2014 12:24 PM
News media reporting of the situation in Ukraine has nearly vanished in the past couple of weeks. Here is an update from reader Jacob Dreizin, a US citizen who speaks Ukrainian and Russian.
Mish,

Just wanted to give you an update on Ukraine. A lot has happened since I wrote you last.

The rebels in the eastern regions are clearing their hinterland of minor government positions, and securing their supply lines from Russia. The Russian government has started to allow volunteers and weapons to move across the border without interference from its side.

Whether intended or not, it is the classic insurgent battle plan. Once this stage is completed, the remaining government forces in Donetsk and Lugansk regions will be so isolated as to have no choice but to "temporarily redeploy and regroup", that is, to retreat.

The rebels now have MANPADS, Man-Portable-Air-Defense-Systems as suggested by the below photo.



Keep in mind that the average Ukrainian soldier is being paid around $100 per month, which often arrives late. Most of these people have no motivation to risk their lives in a prolonged war of subjugation and occupation in the eastern regions. So far, Kiev has been compensating for this with its better-paid special police detachments as well as with various yahoo militias funded by the oligarch Igor Kolomoisky, owner of Ukraine's largest bank.

This cannot last. At some point, the body count will be such that a critical mass of the security forces will simply refuse to fight or even to be deployed in the war zones. We are already starting to see this. According to the Ministry of Interior, 13 west Ukrainian paramilitary police were fired today for refusing deployment to the eastern regions. There was also a recent case where around 100 soldiers in one reserve unit refused call-up orders.

Moreover, it is well known that the military is poorly fed, subsisting on donations as well as shipments of American MREs (meals ready to eat). There is a lot of grumbling in the ranks, and at some point we are going to start seeing mutinies and mass desertions.

Eventually, the Ukrainian war effort will grind down and then collapse. Meanwhile, the rebels grow stronger by roughly 100 men each day, on average. If Russia cuts off the gas in a few days, as threatened, this will be a huge blow, as it will degrade European support for Kiev.

Finally, please take a look at the video below of a pre-funeral memorial service for five rebel militiamen in a small city in the east. Pay special attention to the segment between 1:48 and 2:07. It looks to me like around two thousand people turned out for this event. So when you read that these rebels are "terrorists" and that theirs' is not a popular movement, and that the recent independence vote was a total fraud, and that it is all the work of Russia, you know you are reading Western media bias.

If you want, I can start sending you photos of destroyed homes and dead civilians, just to show that it is happening, and the media here couldn't care less.

All the best,

Jacob Dreizin
For Jacob's previous email, please see
Inside Ukraine: Mish Reader Who Speaks Ukrainian and Russian Challenges Western Media View of Events
Alternative Viewpoints
Clearly Jacob's point of view is completely different than that presented by Western media.
Is it accurate?
I really do not know. However, it certainly is possible even though some may even consider the his viewpoint to be nothing but pro-Russian propaganda.
In a propaganda-war, the truth is frequently somewhere in the middle. But where in the middle? I will leave that for the reader to decide.
Meanwhile, my own opinion has been the Eastern regions will not become part of Russia for the simple reason Russia does not want the associated problems.
Will the issue of natural gas supply bring the crisis to head sooner rather than later? We will find out shortly.
Mike "Mish" Shedlock
KIEV, June 01, /ITAR-TASS/. A rally, which is being held on Sunday in Kiev's central Independence Square, known as Maidan, have supported the idea of the UDAR party leader, Vitali Klitschko, who is winning mayoral elections in Kiev, to hold early elections to Ukraine's parliament.
"Maidan has done what it was to do - the dictator has been ousted and the country has held democratic elections of the president," Klitschko said, addressing several thousands of activists who gathered in the square.
Activists who took the floor after Klitschko called on those present not to leave the square.
"We have been here to change the system of power. But we see no changes so far. Maidan must stand firm until the goal is achieved," they said.
Participants in a rally decided to continue their actions until all their demands were satisfied, according to a manifesto adopted by the Maidan activists.
"Maidan will be there until all its demands are satisfied," the manifesto said.
"Our demands are punishment to criminals, lustration, a package of laws to change the system of power, re-establishment of the constitutional system in a number of communities, and punishment to those responsible for the deaths and tortures of activists."
The manifesto called for "structural changes in the Maidan," and a "system of the dialogue with the authorities." It also called to establish municipal police from among Maidan activists.
May 31, 16:00
UTC+4
Under the current conditions, the Russian side has not considered a correction of gas price
PETROPAVLOVSK-KAMCHATSKY, May 31 /ITAR-TASS/. Ukraine has been requesting maximum gas supplies, but its approach to payments is not constructive, Gazprom's CEO Alexei Miller told the Vesti on Saturday television programme on Saturday.
"As yet, we can see that for over six months already the supplies of gas to Ukraine are performing properly. Ukraine has been requesting maximum supplies under the contract, and as for the amount in May, it will make over three and a half billion cubic metres," he said.
At the same time, he continued, Kiev "is taking a non-constructive position in payments for the supplies." Under the current conditions, the Russian side has not considered a correction of gas price.
"Clearly, there is no discussing any price correction, whether via the export duty; and, once again: the question remains - why at all should we do so; of course, not," Miller said.
"Till today, Ukraine's position contradicted with the suggestions Russia has made, or Gazprom and the European Commission," he continued. "Thus, clearly, it is a question: why to discount?"
Gazprom commented on Ukraine's gas problem saying its reasons came from the low payment discipline of the consumers in the country.
""The problem with Ukraine's gas debts is that Ukraine is bankrupt," he said. "Consumers cannot afford payments. The payment discipline is low. And, of course, the general economic problems in addition.
Voice of Russia ......
Maidan activists refuse to go home, vow to stay on until their demands are met
The manifesto calls for "changing the structure of Maidan", "developing a system for dialogue with the authorities" and creating municipal police made up of Maidan activists.
The document was said to have secured the backing of several dozen public organizations.
A People's Veche (assembly), the first in two months, has convened in Maidan Nezalezhnosti (Independence Square) in Kiev to decide the destiny of a tent camp put up there by Maidan activists more than six months ago. Several thousand people, residents and guests of Kiev, are taking part in the Veche which began at noon with a traditional prayer, an Interfax correspondent reports. Many people are holding the national flags of Ukraine and the flags of various public organizations and Maidan self-defense units.
Leader of the UDAR party Vitali Klitschko, who won more than 50 percent of the votes in Kiev's mayoral election, according to the preliminary results, addressed the gathering from a makeshift stage along with other speakers.
Klitschko voiced readiness to take the oath of office in front of the city residents as soon as the Central Elections Commission announces the official results.
He suggested creating a permanent representation of Maidan at the Kiev City Administration and renaming the street "where people died" (apparently referring to Institutskaya Street where over 100 people were killed in Maidan protests in late February) the Street of the Heroes of the Heavenly Hundred.
Klitschko, a former boxing champion, called for early elections to the Verkhovna Rada.
Tires are burning again in Kiev's Khreshchatyk, near the TsUM building, the Gromadske TV website says on Saturday. Earlier, famous boxer Vitali Klitschko, who according to preliminary data, is leading Kiev's mayoral election, stated that the barricades in the Maidan (Independence Square) had served their purpose and should be dismantled. On Tuesday, he went to the Kiev city council building, where self-defense fighters are still living and asked them to vacate the premises.
"About 30 people in camouflage declare that they do not want a "mopping up" of the Maidan. Several participants in the action cover their faces," informs the site.
Two fires are burning in Khreshchatyk so far; with around 10 tires in each, new tires are periodically added. There are constant debates with people who disapprove of what is happening.
Earlier, it was reported that the Maidan activists had promised to vacate the city administration building, which they have occupied since December, by the time the elected mayor of the capital takes office. Inhabitants of the tent town on Independence Square have also promised to dismantle some of the barricades and the tented-town in order to clean up the square by the day of the president's inauguration.
The tent camp in the center of Kiev's Independence Square will remain. The protesters explained it by announcing their intention to observe Poroshenko's early work, according to the latest data he has won the presidential election in Ukraine.
"We are not going to go away. We have to give him (Poroshenko) a chance. Let's take one month," one of the inhabitants of the camp said. In addition, the protesters say that they are not going to break down the camp.
The situation on the area is quiet today, TASS correspondent reports. The activists began to prepare breakfast, and music was there. Local merchants laid out their tables for souvenirs. This part of city is now one of the most popular among tourists. Only group of 'self-defenders' of 8-10 people appeared. There was one additional barricade.
Earlier Vitali Klitschko who won Kiev mayor elections said that the protesters in the square would be asked to dismantle the barricades and leave. In addition, he turned to "self-defense Maidan" to release the City council building for the new city authorities.
Six killed as self-defense forces come under attack at Donetsk airport
"During an attempt to take away the bodies of self-defense militiamen, the Ukrainian army fired at an ambulance and self-defense fighters, killing six people," the press office of the Donetsk People's Republic said.
The leaders of the self-proclaimed Donetsk People's Republic are going to turn to the International Committee of the Red Cross with a request to help remove the bodies from the territory adjacent to the airport, the press office said.
Prime Minister of the self-proclaimed Donetsk People's Republic Alexander Borodai earlier said that about 60 self-defense forces and around 20 civilians had been killed in battles with the Ukrainian military near the Donetsk international airport.
Borodai said there were snipers near the airport controlled by the Ukrainian law-enforcers.
"Civilians continue to be killed every day. No one can give exact figures because access to the airport area is now impossible. We still can't take away all the bodies and give the exact figure of how many people were killed," Borodai said.
Ukraine has been in turmoil since a coup occurred in the country in February and Viktor Yanukovych had to leave it for security reasons.
Massive protests against the coup-imposed Ukrainian authorities erupted in Ukraine's southeastern territories, mainly the Donetsk and Lugansk regions. Demonstrators in the Southeast have been demanding Ukraine's federalization.
A punitive operation by Kiev against federalization supporters has already claimed dozens of lives. The Donetsk and Lugansk regions held referendums on May 11, in which most voters supported independence from Ukraine.
http://www.bloomberg.com/news/2014-05-31/ukraine-fights-separatists-in-east-approaches-russian-gas-deal.html
Ukraine
stepped up fighting pro-Russian separatists in the east of the country as it moved closer to a deal with Russia that would keep gas flowing to
Europe
.
One Ukrainian soldier and several insurgents were wounded as government troops repelled an attack on the Donetsk Airport, Vladyslav Seleznyov, spokesman for Ukraine's anti-terrorist operation, said by phone today. Russia urged the Vienna-based Organization for Security and Cooperation in Europe to step up presence of international monitors as fighting in the east has intensified, the Foreign Ministry in Moscow said on its website.
"Pro-Russian separatists attack Ukrainian forces check-points all the time in Slovyansk," Seleznyov said. "They are trying to find their way out as they feel that the circle around them is tightening. They attacked Donetsk airport several times today. All attacks were repelled."
The Ukraine conflict escalated after the toppling of a pro-Russian government by protesters in February, and President
Vladimir Putin
's annexation of Crimea a month later. Leaders in
Kiev
and their U.S. and European Union allies accuse Putin of encouraging tumult in the eastern regions, while Russia says Ukraine's army should stop targeting its own citizens.
Gas Talks
After talks brokered by the European Union in Berlin, Ukraine made yesterday its first payment in months to Russia's
OAO Gazprom (OGZD)
, transferring $786 million to pay for gas received in February and March. While debts and future payments remain in dispute, EU Energy Commissioner Guenther Oettinger welcomed the move as "building blocks for a package that, given the evident goodwill of all parties today, doesn't seem out of reach." Talks are due to continue on June 2 and Ukraine doesn't rule out arbitration as a solution.
"Those talks will end either with a signing of an agreement or with filing for an arbitrage," Ukrainian Prime Minister Arseniy Yatsenyuk said at a cabinet meeting in Kiev yesterday. Ukraine "will never accept" Gazprom's "price of almost $500" per 1,000 cubic meters.
In eastern Ukraine, about 80 pro-Russian insurgents attacked a border guard base in the Dyakove village in the Luhansk region, wounding three servicemen, the border guard service said on its website today. A government forces' Su-27 fighter jet helped repel the attack. Rebels probably used the night assault to distract attention while guns were being smuggled from
Russia
across other sections of the border, according to the statement. Two days earlier, the separatists downed a military helicopter, killing a general and 13 soldiers.
OSCE Teams
The OSCE lost contact with two teams of monitors in the Luhansk region in the past few days and still hasn't heard from them, Iryna Gudyma, OSCE spokeswoman in Kiev, said by phone today.
Fighting in the east has taken its toll on civilians as well, a 47-year-old man was shot into his shoulder yesterday and a 53-year-old woman was wounded by an explosion, Donetsk police said on its website today. It warned people to avoid the area around the airport "as it is dangerous for their life." Ukraine banned flights to Donetsk airport until June 6, according to the Infrastructure Ministry in Kiev.
Russia has withdrawn at least two-thirds of the tens of thousands of troops it massed near the Ukraine border, U.S. Colonel Steve Warren, a Pentagon spokesman, told reporters yesterday. He said remaining forces also "appear to be packing up."
'National Catastrophe'
Russia still hasn't taken the necessary steps to ease tensions, and should "use its influence" over the rebels, Deputy National Security Adviser
Ben Rhodes
said in
Washington
.
His comments mirrored a call by Russia's Foreign Ministry for the U.S. and other countries to use their influence over the Kiev government to stop Ukraine from "sliding into a national catastrophe."
Rhodes said President
Barack Obama
will meet with Ukrainian President-elect Petro Poroshenko during a trip to Europe next week. Poroshenko, who won elections on May 25 with 55 percent of the vote, has vowed rapid action to suppress the separatists.
"Ukraine's most pressing problems include insurgency in the east, the dispute with Russia over gas payments, adhering to its International Monetary Fund program, and maintaining reserves while meeting external funding needs,"
Fitch Ratings
said yesterday. It estimated Ukraine's economy would contract 5 percent this year.
Kiev Square
In Kiev today, protesters, who have set up camp on the capital's main square, set on fire several tires to oppose efforts by the city authorities to remove the tents and barricades that were used by demonstrators to oust President
Viktor Yanukovych
in February after he broke off a European integration pact.
While there's no indication the conflict will end as fast as Poroshenko has pledged, there were signs this week of infighting among the rebels.
A group of heavily armed gunmen seized control of the headquarters of the self-declared independent authority in Donetsk from another faction. Alexander Maltsev, a spokesman for separatist leader Denis Pushilin, said by phone that the move was "a cleanup of our ranks" intended to prevent a repeat of recent looting in the city.
Russian Reinforcements
The allegiances of the groups aren't always clear, and Ukraine's government has pointed to a growing number of Russians involved in the conflict, including some from the Caucasus. The U.S. has expressed concern that the separatists are receiving arms and reinforcements from Russia.
The gas talks in Berlin highlight one of the areas where the Russia-Ukraine dispute may have a wider impact. Ukraine carries about 15 percent of Europe's annual demand through its Soviet-era pipelines.
Ukraine accuses Russia of using gas as a political weapon by ramping up prices, and says it may seek international arbitration.
Gazprom says Ukraine has run up $5.2 billion in debt and must pay $1.7 billion in advance for next month's gas or risk a shutdown. That would tighten the economic squeeze on a country that's facing a 7 percent contraction this year, according to the European Bank for Reconstruction and Development, and has sought a $17 billion IMF bailout.
Russian Energy Minister Alexander Novak said after yesterday's talks that there's "very little time left to reach an agreement."
http://econbrowser.com/archives/2014/05/russian-forex-reserves-and-balance-of-payments-vulnerabilities
Russian ForEx Reserves and Balance of Payments Vulnerabilities
Russian foreign exchange reserves, while large, are declining. Since reserve holdings (or lack thereof) are one of the best predictors of balance of payments/currency crises, it's worth taking a look at their trajectory. (See
Frankel and Saravelos, 2012
for a recent example)
First, consider a long span of quarterly data (through end-2014Q1):
Figure 1: Russian international reserves ex.-gold, bn.USD (blue, left scale), and end-of-quarter exchange rate, USD/RUB (red, right line), down is depreciation of rouble. Dashed line denotes beginning of sample in Figure 2 below. Source: IMF, IFS.
Next consider a shorter span (corresponding to the period after the dashed line in Figure 1, ending April 2014), at a monthly frequency.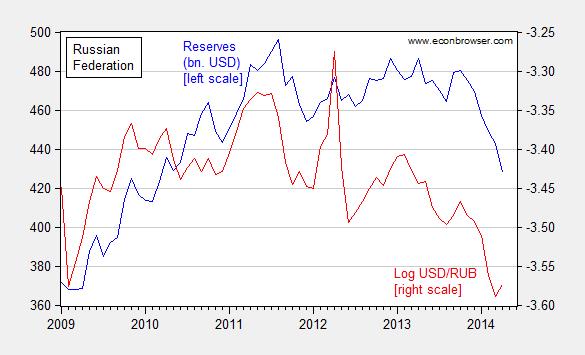 Figure 2: Russian international reserves ex.-gold, bn.USD, end-of-month (blue, left scale), and end-of-month exchange rate, USD/RUB (red, right line), down is depreciation of rouble. Source: IMF, IFS.
Both series correspond to end-month. Note the rapid decline in reserves ($14.8 billion in April), even as the ruble has stabilized (note further the policy rate has been raised to 7.5% already). Are Russian reserves high or low? That depends on the context. Figure 3 plots the time series of reserves to short term debt (an important variable for determining whether a country suffered a big growth deficit during the global financial crisis, according to
Bussiere et al. (2013)
), and relative to M2.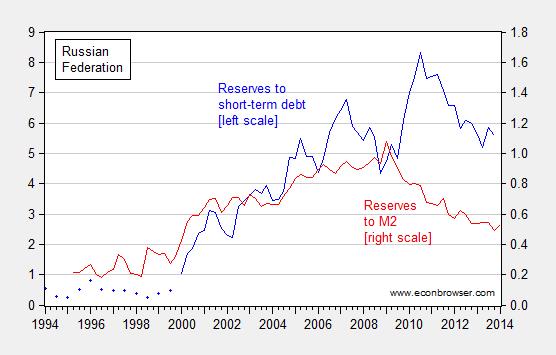 Figure 3: Russian international reserves ex.-gold, bn.USD to short term debt (blue, left scale), and reserves to M2 (red, right line). Source: IMF, IFS, and author's calculations.
The reserves to M2 ratio is of interest because (following Calvo) M2 is approximately the amount of bank deposits that are sufficiently liquid that they could leave the country.
The reserves to M2 ratio has been declining, just like the reserves to short term debt ratio. The reserves to M2 ratio is now below 60%. Now, it's hard to say whether this is a "low" number. By the standards of the countries embroiled in the East Asian crises of 1997, the 60% is pretty high (Thailand was at about 27% at end of 2006, Korea at 16%). On the other hand, capital account openness (as measured by the
Chinn-Ito financial openness index
) is higher in Russia today than it was in either of those two crisis countries in 1996. The fact that the capital outflow is so marked
[1]
is consistent with this view.
So, on the basis of short term debt coverage, Russia seems fairly secure. The fact that it runs a current account surplus is also very helpful. On the other hand, if the ratio of M2 to reserves continues to decline, then the situation might be come more worrisome for Russian economic policymakers (and a heightening of the VIX would probably not help).