http://www.zerohedge.com/news/2014-06-06/giant-sucking-sound-russian-money-yanked-us-banks
Giant Sucking Sound: Russian Money Yanked From US Banks
Submitted by Tyler Durden on 06/06/2014 19:44 -0400
US Banks enjoyed more or less steadily climbing, or rather soaring, deposits by Russian institutions and individuals, having tripled in just two years
to $21.6 billion by February, according to the
US Treasury
.
It may seem a bit counterintuitive that in times of ZIRP anyone would put any money in any US banks, and it may seem even more counterintuitive that Russians who have other opportunities with their money would voluntarily subject themselves to the Fed's financial repression.
But from the Russian point of view, earning near-zero interest on their deposits in the US and losing money slowly to inflation must have seemed preferable to what they thought might happen to their money in Mother Russia. Money that isn't nailed down has been fleeing Russia for years, even if it ends up in places like Cyprus where much of it sank into the cesspool of corruption that were the Cypriot banks, which finally collapsed and took that Russian money down with them. By comparison, the US must have seemed like a decent place to stash some liquid billions.
But in March, the Ukrainian debacle burst into the foreground with Russia's annexation of Crimea, which wasn't very well received in the West. The US and European governments rallied to the cause, and after vociferously clamoring for a sanction spiral, they actually imposed some sanctions, ineffectual or not, that included blacklisting some Russian oligarchs and their moolah.
So in March, without waiting for the sanction spiral to kick in, Russians yanked their moolah out of US banks.Deposits by Russians in US banks suddenly plunged from $21.6 billion to $8.4 billion. They yanked out 61% of their deposits in just one month! They'd learned their lesson in Cyprus the hard way: get your money out while you still can before it gets confiscated.
They certainly didn't wait long to move the bulk of their money to other jurisdictions, those they believe perhaps erroneously to be beyond the reach of the long and sinewy arm of the US government.
Will Russians bring their deposits in US banks to zero? The Treasury will publish the April numbers in a few weeks, but zero seems unlikely because they'll need some pocket money to operate in the US.
Is this Russian run on American banks going to cause the collapse of the US financial system? Or at least of a bank? Or at the very least make that bank shudder at its foundations? Um.... These $21.6 billion in deposits represent about 1% of the nearly $2 trillion in foreign non-negotiable deposits at US banks and an even more minuscule share of domestic deposits, some of which end up parked at the Fed as excess reserves. Heck, the Fed, in its infinite wisdom, printed $4 trillion over the last five years, so that measly $21.6 billion isn't even a rounding error on that scale.
Not that these sanctions are working all that well.
Despite moves by the West to isolate Russia, ExxonMobil, BP, Total, and other oil majors are doubling down in Russia; they just signed mega-contracts with state-owned Russian oil companies – sanctions be damned. Read....
Exxon, BP Defy Obama; Extend Partnership with Russia
http://www.zerohedge.com/news/2014-06-06/russian-bear-celebrates-bull-market
Russian Bear Celebrates Bull Market
Submitted by Tyler Durden on 06/06/2014 11:52 -0400
In case you were wondering why US equities are charging higer yet again today on mediocre news (while bonds shrug), we offer another potential reason... Russian stocks are now in bull market territory off the mid-March "sanctions" lows... not exactly the "costs" that the US had in mind and thus even more curcial that S equities are lifted (by any nunber of visible and invisible hands) to show just how powerful the status quo of the West still is (the S&P is up 5% in the same period).Perhaps even more importantly, this refutes any thesis that bonds are higher only due to Russian capital outflow (i.e. flight to safety).
Russian stocks are surging post-sanctions...
Dramatically outperforming the US...
Charts: Bloomberg
http://en.itar-tass.com/economy/735083
June 06, 16:07
UTC+4
Nine of ten consumers had agreed to switch to euros, may be later contracts will be switch to roubles, the oil company's head Alexander Dyukov says
MOSCOW, June 06./ITAR-TASS/. Gazprom Neft had signed additional agreements with consumers on a possible switch from dollars to euros for payments under contracts, the oil company's head Alexander Dyukov told a press conference.
"Additional agreements of Gazprom Neft on the possibility to switch contracts from dollars to euros are signed. With Belarus, payments in roubles are agreed on," he said.
Dyukov said nine of ten consumers had agreed to switch to euros.
ITAR-TASS reported earlier that Gazprom Neft considered the possibility to make payments in roubles under contracts. Some contracting parties agree to switch from dollars to euros and Yuans.
"The so-called Plan B is already partially worked out. The switch of dollar contracts to euros and Yuans is agreed on with some of our contracting parties. Under consideration is the possibility to switch contracts to roubles," Dyukov said at the St. Petersburg International Economic Forum.
June 06, 23:03
UTC+4
He added that Ukraine need an additional seven billion cubic metres of gas to live through the next winter
KIEV, June 06 /ITAR-TASS/. Ukraine is not ready to do without Russian gas, Ukrainian Prime Minister Arseniy Yatsenyuk said on Friday.
"I could have made a populist statement but it is not true. We cannot refrain from using Russian gas," he told the First National TV Channel, adding that Ukraine need an additional seven billion cubic metres of gas to live through the next winter.
"I would like our relations with Russia to be normalized," he told. "I believe that the Russian people also wants it," Yatsenyuk added.
http://en.itar-tass.com/economy/735165
DEAUVILLE, June 06 /ITAR-TASS/. Russian President Vladimir Putin said on Friday he was sure that Russia's gas giant Gazprom will easily raise money on the market against the long-term contract with China.
One of the options, according to Putin, is to increase Gazprom's capital. "It is one of the possible options of using the gold and currency reserves," he told journalists. "There are other options against such a long-term, 30-year, contract. Gazprom will easily raise money from the market.
Apart from that, Putin noted, there was an agreement with the Chinese partners about advance payments that would considerably reduce the cost of the project. "Various options are possible, such as an increase of the company's authorized capital," he added.
Definition of insanity ?
http://news.antiwar.com/2014/06/05/obama-cameron-issue-demands-give-russia-one-month-ultimatum/
US Insists on End to Eastern Ukraine Protests
by Jason Ditz, June 05, 2014
Continuing to escalate tensions with Russia, President Obama and British Prime Minister David Cameron today laid out an ultimatum, giving Russia's President Putin a series of demands
he has to meet by the end of a month
or face major sanctions.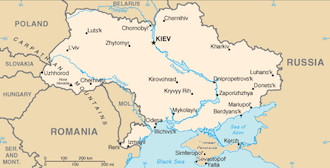 The
new "thresholds" are familiar demands
, including blocking all arms from crossing the border into Ukraine, ending all public support for the ethnic Russian protesters in the eastern portion of Ukraine, and "recognizing Petro Poroshenko's election as the new leader in Ukraine."
The last demand is particularly bizarre, because Russia already recognized the election virtually as soon as the results came in, and has been pushing for talks with Poroshenko on ending the violence in the east.
The State Department
has made clear that the current sanctions
will remain in case no matter what Russia does, and that there isn't even a consideration of a deal to end the growing sanctions war. Rather, the ultimatum offers a choice between the status quo of sanctions or further escalation at a faster pace
On a rhetorical front, the State Department also made clear that under no circumstances would the US ever consider the situation in Ukraine a "civil war," arguing that they believe the whole eastern situation is Russia's fault and that therefore it can't be an internal conflict.