Tracey.....
Tracy Morgan in rehab after car crash: He 'has a long way to go'
Tracy Morgan released from hospital two weeks after serious car wreck
Comedian Tracy Morgan is moved to rehab: "Still has a long way to go" in recovery from car crash
Tracy Morgan was released from a New Jersey hospital on Friday, two weeks after the comedian was seriously injured in a highway crash that left one man dead.
Hospital spokesman Peter Haigney told the Los Angeles Times that Morgan had been released and he confirmed details of a statement circulated by Morgan's publicist.
"While he is continuing to show signs of improvement, he still has a long way to go," the statement from publicist Lewis Kay read. "He and [fiancee] Megan wanted to publicly express their deepest gratitude to everyone at Robert Wood Johnson University Hospital for the unbelievable care and attention they provided him."
The statement said Morgan was being relocated from the Brunswick, N.J., hospital to an undisclosed rehabilitation center.
Morgan will likely be in rehab for weeks, Kay's statement said.
On June 7, Morgan and several others were headed north on the New Jersey Turnpike after a performance in Delaware when their chauffeured van was struck from behind by a tractor-trailer. The limousine
spun out of control and flipped over
, according to the New Jersey State Police, and the crash left 63-year-old James McNair, better known as comedian Jimmy Mack, dead.
Three others were injured in the crash. Ardie Fuqua Jr. and Jeffrey Millea, among the injured, remain hospitalized, Haigney told The Times. Fuqua is in serious condition and Millea is in good condition, according to Haigney.
Kevin Roper, a 35-year-old Georgia man who was
driving the Walmart tractor trailer
that caused the wreck, has been charged with McNair's death and four counts of assault by auto.
Roper had not slept for nearly 24 hours before the crash, according to a warrant for his arrest.
He pleaded not guilty last week, and multiple calls to his attorney seeking comment have not been returned.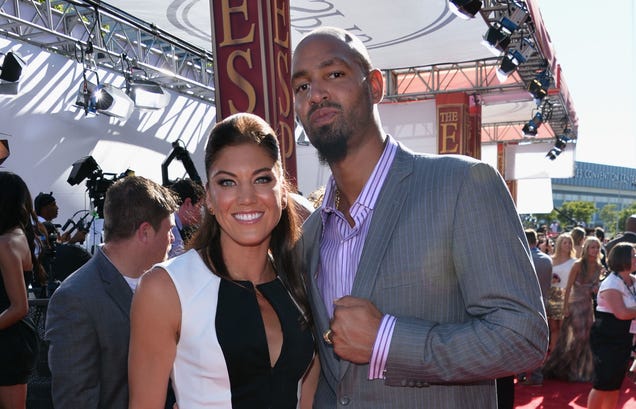 EXPAND
USWNT and Seattle Reign FC goalkeeper
Hope Solo was arrested
early Saturday morning following an altercation with her sister and 17-year-old nephew at a family party in the home she shares with husband and serial shithead Jerramy Stevens. She is being held without bail on two counts of domestic violence assault.
Kirkland police responded to calls related to a noise disturbance and happened upon what Lt. Mike Murray described as a "big party" and an "out-of-control scene." Solo was allegedly drunk and left visible injuries on both her sister and nephew. Here is the police description of the events, via The Seattle Times.
On June 21st 2014 and just before 1:00 am, Kirkland Police Department Patrol Units responded to a 911 call of a disturbance in the 10600 block of 124th AVE NE. The male caller stated that a female at the residence was "hitting people" and they could not get her to stop or to leave the house. Officer arrived and immediately heard the sounds of the disturbance inside the residence. They entered and contacted several persons; one being Hope A Stevens (Solo) who appeared intoxicated and upset. As officers made contact, they observed visible injuries on Solo's 17-year-old nephew and on Solo's sister. After receiving statements of the persons involved, Officers determined that Solo was the primary aggressor and had instigated the assault.
If this sounds weirdly familiar, but for Stevens's lack of involvement (
which is weird
), that's because Solo found herself in Kirkland Municipal Court following a similar party/fight situation involving a stun gun, her brother Marcus, and
very
soon-to-be husband, Jerramy, that left Solo a little bloodied
hours before her wedding
.
Solo will be back in Kirkland Court Monday June 23rd for a mandatory appearance.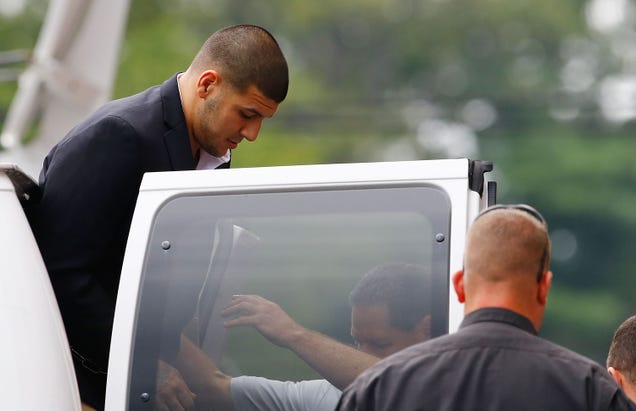 EXPAND
Attorneys for former Patriots tight end Aaron Hernandez, who is charged with
three homicides
, have
filed papers requesting a transfer
out of Bristol County Jail. Hernandez's attorneys want him closer to Boston to cut down on travel time, but also claim Bristol County Sheriff Tom Hodgson has a clear conflict of interest due to allegations that Hernandez threatened to kill a guard.
The motion also accuses Sheriff Hodgson of collecting evidence for the prosecution. His attorneys say Hodgson, "Abandoned his role as a professional jailer, and instead, energetically embraced a role as a full-time agent of the District Attorney."

There are also safety concerns. The attorneys say it's not safe at the Bristol County Jail because Hernandez is now accused of threatening to kill a guard there. "The Sheriff clearly has an actual conflict of interest," his attorneys say. "While charged with ensuring Hernandez's safety and well-being as a pretrial detainee, the Sheriff is now Hernandez's accused and alleged victim."
Hernandez, who was investigated for allegedly making machine gun noises and threatening to kill a guard in 2013, obviously denies those allegations but argues that his jailers might look the other way should anyone try to hurt him, or otherwise fail to treat him fairly.
TMZ
also notes that the motion papers accuse Hodgson of "self-promotion and virtually non-stop publicity of every imaginable kind," echoing earlier claims that potential jurors are being
influenced by the spectacle
.
Hodgson says his guards understand they are dealing with a high-profile prisoner and that they've gone above and beyond to protect Hernandez's safety. He also told TMZ he would "absolutely not" care if Hernandez was moved.
Donald Sterling Accused of Groping Men's Muscles
by
Josh Dhani
| Posted on Saturday, June 21st, 2014
This might be one of those times to bring out Ron Burgundy to say, "Well, that escalated quickly."
Disgraced Los Angeles Clippers owner definitely has a shady history, and it looks like there is a major creepy side to it.
ESPN's Ramona Shelburne wrote
a big piece about Sterling, and it details one very interesting part.
Take a look:
Many people tell you the same detail about meeting Sterling: He likes to grab the crook of your elbow when he's making a point. He does not let go easily. It's more creepy than endearing. One noted NBA agent recalls Sterling grabbing one of his biceps, saying, "You're so strong." A longtime owner says Sterling once came up to him during a cocktail party at an NBA Board of Governors meeting and stuck his hand inside his shirt to feel his chest muscle. "It's the only time in my life I said to anyone, 'Take your hands off me or I'll punch you in the face,'" the owner says. Sterling backed away. He did not apologize.
I'm really hoping that owner was Michael Jordan.