http://english.alarabiya.net/en/News/middle-east/2014/06/24/U-S-planes-bombs-ISIS-positions-on-Iraqi-Syria-border.html
ISIS positions in Iraq bombed by unknown planes
Staff Writer, Al Arabiya News
Tuesday, 24 June 2014
The positions of the Islamic State of Iraq and Syria (ISIS) in the northern Iraqi city of al-Qaim were bombed by unknown fighter planes on Tuesday.
The White House denied U.S. planes carried out the airstrikes after an Iraqi television station reported that U.S. jets were behind the bombings.
Tribal sources told Al Arabiya News that Syrian fighter planes carried out the raids.
Meanwhile, Iraqi Prime Minister Nouri al-Maliki's air force has bombed Baiji - about 200km north of Baghdad, where ISIS fighters seized an oil refinery, according to Al Arabiya's correspondent.
Also on Tuesday, Iraq's ambassador to Tehran said that the Iraqi government has not asked Iran for help against Sunni militants, Agence France-Presse reported.
The remarks by Mohammad Madjid al-Sheikh came after Iranian leaders repeatedly said they were ready to assist Baghdad against the insurgency that has taken control of a large swathe of Iraqi territory.
Meanwhile, U.S. Secretary of State John Kerry held crisis talks with leaders of Iraq's autonomous Kurdish region on Tuesday urging them to stand with Baghdad in the face of the waves of insurgency gripping the country.

During his visit, Kerry was warned by Kurdish President Massoud Barzani that the rapid advances made by insurgents had already created "a new reality and a new Iraq," signaling that the U.S. faces major difficulties in its efforts to promote unity among the country's divided factions, the Associated Press reported.

The U.N., meanwhile, said more than 1,000 people, most civilians, have been killed in Iraq so far this month, the highest death toll since the U.S. military withdrew from the country in December 2011.
http://www.zerohedge.com/news/2014-06-24/wti-crude-spike-higher-us-deploys-special-ops-troops-iraq-obama-eases-oil-export-ban
WTI Crude Spikes Higher: US Deploys Special Ops Troops In Iraq, Obama Eases Oil Export Ban
Submitted by Tyler Durden on 06/24/2014 18:33 -0400
It is unclear for now what the catalyst for the $1.70 spike in oil prices is butWTI just touched $107.50 in a hurry. It appears a combination of a WSJ story reporting the Obama administration has quietly cleared the way for the first exports of unrefined American oil in four decades, allowing energy companies to chip away at the long-standing ban on selling U.S. crude overseas (which could theoretically enable them to buy crude -bid price up- and sell for higher prices abroad as we show below); and and Reuters reports that the U.S. military began deploying assessment teams to Iraq with about 40 special operations personnel already in the country (which could mean risks are rising).
The Obama administration has quietly cleared the way for the first exports of unrefined American oil in four decades, allowing energy companies to chip away at the long-standing ban on selling U.S. crude overseas.




Federal officials have told two energy companies that they can legally export a kind of ultra-light oil that has become plentiful as drillers tap shale formations across the U.S. With relatively minimal processing, oil shipments could begin as early as August, according to one industry executive involved in the matter.




Using a process known as a private ruling, the U.S. Commerce Dept.'s Bureau of Industry and Security is allowing Pioneer Natural Resources Co. of Irving, Texas, and Enterprise Products Partners LP of Houston to export ultra-light oil known as condensate to foreign buyers who could turn it into gasoline, jet fuel and diesel.



The U.S. military began deploying assessment teams in Baghdad on Tuesday to evaluate the state of Iraqi security forces and decide how to help them counter an Islamist insurgency that has overrun part of the country, the Pentagon said.




Rear Admiral John Kirby, the Pentagon press secretary, said about 40 special operations personnel already in the country and assigned to the U.S. Embassy's Office of Security Cooperation had been deployed as part of the first two assessment teams.




About 90 additional troops arrived in Iraq to begin helping establish a Joint Operations Center in Baghdad with Iraqi forces. Another 50 U.S. military personnel working in the region are expected to arrive within the next few days to create four additional assessment teams, Kirby said.
Remember, there's more than one price for crude around the world...
Which may explain this...
http://vineyardsaker.blogspot.com/2014/06/june-24th-iraq-sitrep-by-mindfriedo.html
TUESDAY, JUNE 24, 2014
June 24th IRAQ SITREP by Mindfriedo
22nd June: Rouhani's warning to the West and Saudi/Turkey: "feed terrorists by their petrodollars...Rest assured, tomorrow will be your turn. The barbarous terrorists will go after supporters of terrorism in the future."

23rd June: A twitter mobile link to a Daash promotional photo. It compares the corpses of a burnt out Shia Iraqi government soldier and a Daash fighter supposedly at peace after death.

The photo:

23rd June: A popular Shia banner:

The war was intensifying near his sister Zainab (sa) (Her shrine is in Syria). Abbas (as) grabbed the enemies and brought them to Iraq (near his Shrine)

*(Abbas, brother of Hussain was fiercely protective of his sister. Shia lore has it that he was unstoppable and Hussain was forced to ask Zainab to stop him from fighting the enemies on several occasions. The proud warrior Abbas used to bend his neck and obey)

23rd June: Hadi Al Amiri, the transport minister of the Iraqi government and the head of the Iran backed Badr Brigade, currently heading the governments offensive, has said "if the Americans do not back us with airstrikes now, we will turn for assistance to Iran."

23rd June: A suicide bomber targets an army checkpoint in a Shia suburb of Beirut. Part of the blast injures football fans at a nearby cafe.

23rd June: Jordan has sent reinforcements to its border with Iraq. Troops, armoured vehicles and rocket artillery pieces were being sent to fortify the Jordanian border. The Jordanians have rubbished claims that their Air Force targeted militant vehicles heading for Amman. Jordan's safest border is now the one it shares with Israel.

24th June: Baiji refinery has fallen to the rebels. The rebels have handed over day to day operations to local tribes. The Government is denying that the refinery has fallen. The number of Government soldiers at the refinery is around 460. The rebels had offered safe passage to the security personnel. The government spokesperson, Qassem Atta, claims that an attack on the 23rd was repulsed. He claims the assault involved 11 vehicles of which 9 were destroyed in air strikes. The militant assault had left three dead.

24th June: An airstrikes carried out by the Iraqi government on Baiji has resulted in civilian casualties. There were 22 fatalities and an additional 12 injured. The fatalities included children between 1 to 5 years of age.

June 24th: Reports are now coming in that around 75 security personnel guarding the Baiji refinery have fled. They were given safe passage by rebels and have fled to Iraqi Kurdistan.

24th June: Iraqi Army's aviation wing carries out sustained air strikes against Rebel positions in Tal Afar. Casualties amongst the rebels are expected to be high. Tribal fighters and government security forces had withdrawn from the city without a fight earlier in the week.

24th June: Clashes in Tal Afar are on going. The government's Maj Gen Abu Waleed claims to have taken back the southern part of the city after reorganising his forces.

24th June: Rebels have entered Al-Alam east of Tikrit. The Jabour clan fighting the rebels reached an agreement and has allowed the rebels to enter the town. Umaya Jbara the woman advisor to the governor was killed fighting the rebels.

24th June: The security services, local tribes, and volunteer militias have cleared Al-Atheem of militants. It lies 60 km north of Baqouba. Fighting had been fierce and the government forces were backed by air support.
24th June: Over 4000 families have fled various parts of Diyala and taken refuge in Kurdish controlled Khanaqin. The local authorities are overwhelmed and so is red crescent.
24th June: Riyadh Al Athath the head of the Baghdad provincial government claims that security forces around Baghdad are sufficient to confront Daash and that all necessary precautions have been taken.
24th June: Security forces have taken Al-Atheem in Diyala province but found that almost every house had been professionally booby trapped in anticipation of security personnel. It is now uninhabitable by its 25000 plus refugees who had fled to Kurdistan.
24th June: Vitaly Churkin, the Russian permanent representative to the United Nation has criticised the double standard of Countries that are promoting terrorism in Syria and claiming to fight it in Iraq. The Kremlin announces that Putin and Obama discussed the threat of Daash on Monday.
24th June: John Kerry arrives in Iraqi Kurdistan. He is asking local officials to participate in government formation in Baghdad. Local officials are expected to raise the issue of an independent Kurdistan.
24th June: a third shipment of oil has left Iraqi Kurdistan for Turkey. The Kurds are currently pumping 120000 barrels of oil a day through their pipeline to Turkey. This figure is expected to increase to 400000 barrels by year end. The spice must flow.
Further reading:
From "read in the name of your lord" to "war for the pleasure of God," something seems to be very wrong with the UK, maybe the girls are not pretty enough:
A future dream for Daash. An image doing the rounds on jihadi cell phones, and it's flaws:
An American solution, fight Daash in Iraq and Syria, but remove both Maliki and Assad. Elections are irrelevant, a democracy is as America does:
An analysis on RT that points the finger at the Jordanians, amongst the other usual suspects:
Kerry: No Decision on Airstrikes Until New Govt Formed
by Jason Ditz, June 24, 2014
The Obama Administration appears to be of two minds about the Iraqi military intervention, and which position their taking seems mostly a function of where officials happening to be visiting. Yesterday, Secretary of State John Kerry was visiting Baghdad, and hyping imminent "
intense and sustained
" military intervention for the Maliki government.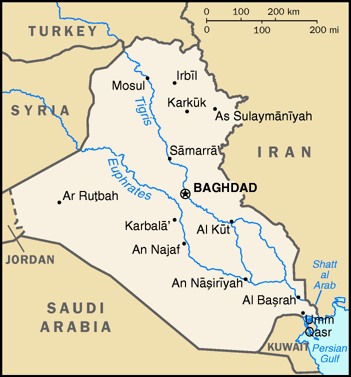 Today, as the first US troops
arrive
in Baghdad to assess the state of Iraq forces, Kerry has gone northward to the Kurdish capital of Irbil, and is now insisting no serious US military action will take place until the formation of the next government in Iraq.
Though the administration continues to move pieces into place for a military intervention in Iraq, they appear to be dangling the prospect in front of Iraqis as conditional on ousting Maliki.
At the same time, ISIS
continues to shore up its control
over the country's north and west, and is parading US-made vehicles through Mosul, captured when the Iraqi Army fled.
The US "advisers" on the ground are taking stock of what the Iraqi military has left, but at this point the answer seems to be unclear, as their morale is in tatters after repeated routs and analysts are saying much of the force is "combat unready."




http://www.hurriyetdailynews.com/video-iraqi-turkmen-politician-killed-in-kirkuk-after-distributing-turkish-aid.aspx?pageID=238&nID=68236&NewsCatID=352
VIDEO: Iraqi Turkmen politician killed in Kirkuk after distributing Turkish aid
61-year-old Münir Kafili was shot in the head after unidentified gunmen attacked his vehicle in the military district of Kirkuk, June 23
An Iraqi Turkmen Front's executive council member, who was in the committee that distributes humanitarian aid coming from Turkey, was killed after being shot in the northern Iraqi city of Kirkuk on June 24.
61-year-old Münir Kafili was shot in the head after unidentified gunmen attacked his vehicle in the military district of Kirkuk, according to officials. Kafili died at the scene.
Münir Kafili, who was also the chairman of the Kirkuk district council, was in charge of distributing Turkish humanitarian aid in the city. He was jailed during the rule of Saddam Hussein for being a "Turkish spy."
"As Turkmens, we are now in an ineffable sorrow. The situation is very tense in Kirkuk. Armed groups are everywhere, but they should know that we will fight until the last Turkmen falls a martyr," Turkmeneli Health Council chair Aydın Beyatlı told daily Hürriyet, stressing Kafili was killed moments after participating in a meeting for the distribution of the aid that came from Turkey two days ago.
Tensions remain high in the Kirkuk district as clashes are ongoing between Iraqi forces and militants of the Islamic State of Iraq and the Levant (ISIL).
ISIL militants, backed by tribal fighters, seized Iraq's second-largest city Mosul on June 10 and have captured a number of other cities in the north including Tikrit and Telafer. They also reportedly control al-Qaim, Rawah, Anah, al-Ratba and Haditha in the western province of al-Anbar.
ISIL forces also extended their grip along Iraq's Syrian and Jordanian border June 23 after taking control of border crossings, according to Farhan Ftikhan, the mayor of al-Qaim.
http://www.theguardian.com/world/middle-east-live/2014/jun/24/iraq-crisis-kerry-visits-irbil-live-updates
John Kerry's flying visit to Irbil is coming to an end.
http://rudaw.net/english/kurdistan/24062014
Kerry in Erbil for Tough Sell to Iraq's Kurds
2 hours ago
Kerry and Barzani exchange greetings before going into a meeting. Photo: AFP
By Raed Asad Ahmed and Rekar Aziz
ERBIL, Kurdistan Region – US Secretary of State John Kerry arrived in Erbil Tuesday to try to urge the autonomous Kurds not to quit the political process in Baghdad, after promising "sustained and intense" support to counter a blitz by Sunni militants that threatens to splinter Iraq.
Iraq has been plunging deeper into turmoil since insurgents that include the radical Islamic State of Iraq and Syria (ISIS) captured Iraq's second-largest city, Mosul, a fortnight ago, starting a juggernaut that has seen the Iraqi army collapse and large cities and territories falling to the rebels.of S
In Baghdad on Monday, embattled Iraqi Prime Minister Nouri al-Maliki promised Kerry he would form a new government by July 1, following recent elections that preceded the current crisis, as militants reportedly captured the Baiji refinery, the country's largest.
There were still conflicting reports about whether government forces or the rebels were in control of the oil facility in the country's north.
In Erbil, Kerry went into a meeting with Kurdistan Region President Massoud Barzani to urge the Kurds – who have no love lost for the Shiite Maliki and have said he must step down instead of seeking a third term -- to help in the formation of a new Iraqi government.
Kurdish support will be key to hold Iraq together.
The Kurdistan Regional Government (KRG), on the other hand, has moved its Peshmerga military into vast territories outside its official borders to secure Kurdish-inhabited areas left vacant by a wholesale retreat of the Iraqi army.
That includes the oil city of Kirkuk, which the Kurds consider the capital of a future state.
Convincing the Kurds will be a tough sell for Kerry, because for years Erbil has had nothing but problems with Baghdad. In a CNN interview aired Monday, Barzani said "it is time now for the Kurdistan people to determine their future," the strongest statement he has made regarding independence.
"Iraq is obviously falling apart anyway, and it's obvious that a federal or central government has lost control over everything," Barzani told CNN.
In Baghdad, Kerry said US support would work only if Iraq remains together.
"The support will be intense and sustained and if Iraq's leaders take the necessary steps to bring the country together, it will be
effective," Kerry told reporters.
Although the Kurds have Kirkuk, whose oil revenues would surpass anything they could get from staying part of Iraq, their Peshmerga forces also have been facing attacks in areas they recently moved into.
On Monday morning, two Improvised explosive devices (IEDs) went off on the Rabia border crossing between Iraq and Syria, killing one Kurdish soldier and injuring six of his colleagues, Peshmerga officer Muzaffar Silkayi said.
Peshmerga forces took over the checkpoint after the Iraqi army deserted its positions. ISIS militants, who are fighting both in Iraq and Syria, are already in control of two Iraqi border crossings to Syria. The goal of the rebels is to establish an Islamic state that straddle Iraq and Syria.
"The situation in the rest of the Kurdistan Region is calm, but the deployment of the Peshmerga forces to new areas is a new experiment for us," said Peshmerga spokesman Halgurd Hikmat. "It will take some time before we can stop these attacks against our forces," he told Rudaw.
Later Monday, another IED targeted Kurdish forces in Rabia, killing three more Peshmerga soldiers and injuring two.
The Kurds, who appear to be emerging as the only winners from the turmoil threatening to drown Iraq, have received other threats from Shiite militias and radical leaders, who have accused them of being behind the unfolding crisis, an allegation Erbil has denied.
Abu Waris Musawi, spokesman of a militia formed during the Syrian crisis to protect sacred Shiite shrines in Iraq and Syria, sent a televised warning to Barzani over the weekend against annexing Kirkuk.
"We have rockets capable of reaching the center of Erbil city," he said Saturday on al-Anwar TV.
"We do not listen to these threats and the Kurdistan Regional Government has its own strategy for protecting the Kurdistan Region," said Jabbar Yawar, secretary general of the Peshmerga ministry.
The Asaib Ahl al-Haq militia, the first to respond to calls by Maliki and Iraq's highest Shiite authorities to take up arms, last week vowed to fight the Kurds as well as the Sunni extremists.
The Kurdistan Region, which has its own government, parliament, army and constitution, remains the only peaceful and economically prospering portion of Iraq.
http://rudaw.net/english/kurdistan/23062014
Barzani Sends Strongest Signal for Kurdish Independence from Iraq
By RUDAW

12 hours ago
Kurdistan Region President Massoud Barzani speaking to CNN.
ERBIL, Kurdistan Region – The president of Iraq's autonomous Kurdistan Region signaled Monday that the country's Kurds are ready to seek independence, as Sunni insurgents gained greater ground and Iraq slid toward civil war.
"It is the time now for the Kurdistan people to determine their future, and the decision of the people is what we are going to uphold," Massoud Barzani said in an interview with CNN's Christiane Amanpour, the strongest statements he has made regarding independence.
"During the last 10 years we did everything in our ability, we made every effort and we showed political stability in order to build a new democratic Iraq, but unfortunately the experience has not been successful they way that it should have," he said.
"That's why I believe that after the recent events in Iraq it has been proven that the Kurdish people should seize the opportunity now," he pointed out.
Iraq's northern Kurdistan Region, comprising the three Kurdish provinces of Erbil, Sulaimani and Duhok, has been autonomous for more than 20 years. It has an estimated population of five million, and its own government, parliament, constitution and army.
Independence has been a perennial Kurdish aspiration.
In less than a fortnight when they began their blitz, insurgents that include the radical Sunni Islamic State of Iraq and Syria (ISIS) have captured several key cities and are closing in on Baghdad, where they want to topple the Shiite-led government.
The rebel blitzkrieg began with the capture of Iraq's second-largest city, Mosul, by the rebels. Its collapse started a dominoes-fall of cities and territory that has the rebels in control of Iraq's vast central Sunni territories, from the Syrian border to Jordan.
Iraq's army largely collapsed when the rebels began their onslaught on Mosul.
The Kurdistan Regional Government (KRG), which has had serious issues with the Shiite Prime Minister Nouri al-Maliki, moved in its Peshmerga forces into Kurdish territories outside its official borders that were abandoned by Iraqi forces.
The Peshmerga have been in control of just about all of the Kurdish territories that they claim, including Kirkuk, the prize oil city that the Kurds see as the capital of their future state.