6/22/14.....
http://vineyardsaker.blogspot.com/2014/06/june-22th-iraq-sitrep-by-mindfriedo.html
( wrapping up a hectic weekend of news... )
SUNDAY, JUNE 22, 2014
Some tweets to consider....
Massive explosions rocking Brigade 90 in
#

Quneitra
as we speak..
#

Golan
#

Syria
#

Israel
#

IAF
#

IDF
http://www.zerohedge.com/news/2014-06-22/iraq-update-air-force-runs-out-missiles-isis-controls-border-shiite-clerics-threaten
Iraq Update: Air Force Runs Out Of Missiles, ISIS Controls The Border; Shiite Clerics Threaten US Troops
That wraps up the military deployments (or lack thereof) in the past 48 hours.
Parallel with the fighting, perhaps an even more important development were the statements by the regional religious leaders, those of both Iran and Iraq.
The warning comes days after President Obama announced he was sending 300 U.S. military advisers to Iraq to bolster government security forces and help combat Sunni militant members of the Islamic State in Iraq and Syria (ISIS).
The British Telegraph also reported that tens of thousands of heavily armed fighters from al-Sadr's militia, the Mahdi army, paraded through the streets of Baghdad Saturday.
So much for a friendly third welcome of the US "liberators."
The threats from al-Sadr supporters could potentially open a second front for U.S. forces heading to Iraq.
Well, he is right after all.
As a reminder, Shiite Iran supports the Shiite-led government in Baghdad, and has said it would consider any request for military aid.
Which covers the religious influence of both Iran and Iraq. But what about that other staple in everything "middle-east"- Israel? Well, they too made an appearance this weekend when it was revealed that the surprise winner from the ISIS surge, the Kurdish Regional Government, which suddenly finds itself as a major oil producer and exporter, has found its first buyer of oil. None other than Israel.
The U.S. State Department confirmed the delivery, criticizing the semiautonomous region's unilateral sale without Baghdad's approval and warning buyers of its oil. "The export or sale of oil absent the appropriate approval of the federal Iraqi government exposes those involved to potentially serious legal risks," a State Department official told The Wall Street Journal.
Iraq already boycotts Israel, and won't sell oil to the Jewish state, so Israel is not overly concerned with Iraqi threats of sanctions, unlike other countries who have oil contracts with Iraq.
* * *
Finally, president Obama, in an interview with CBS' "Face the Nation" airing Sunday, warned that the al-Qaida-inspired militants in Iraq could grow in power and destabilize the region. He said Washington must remain "vigilant" but would not "play whack-a-mole and send US troops occupying various countries wherever these organizations pop up." Why not, one wonders? What has changed from US' "whack-a-mole" policies, all "beyond successful" to date?
And that concludes the weekend Iraq event roundup.
http://www.zerohedge.com/news/2014-06-22/judge-who-sentenced-saddam-hussein-death-has-been-executed-isis-local-media-reports
Judge Who Sentenced Saddam Hussein To Death Has Been Executed By ISIS, Local Media Reports
http://www.aljazeera.com/news/middleeast/2014/06/sunni-rebels-seize-more-towns-iraq-2014622542922219.html
Sunni rebels seize more towns in Iraq
Fighters led by ISIL capture more territory as Prime Minister Nouri al-Maliki comes under growing pressure.
Last updated:

22 Jun 2014 08:56
Sunni fighters led by the Islamic State in Iraq and the Levant (ISIL) have expanded their offensive in Iraq, capturing more territory from the government.
ISIL, an al-Qaeda breakaway group active in Syria and Iraq, has taken the towns of Qaim, Rawah and Anah in Anbar province. Qaim, located on the border with Syria, hosts a key crossing between the two countries.
Fighters also claim to be in full control of the northern city of Baiji, which hosts Iraq's biggest oil refinery, though the military denies the rebels control the refinery itself.

The vast Anbar province stretches from the western edges of the capital, Baghdad, all the way to Jordan and Syria to the northwest. Fighting in the predominantly Sunni region has disrupted use of the highway linking Baghdad to the Jordanian border, a key artery for goods and passengers.
In January, fighters in Anbar overran the city of Fallujah and parts of Ramadi.
The latest gains by ISIL are a further blow to Nouri al-Maliki, Iraq's Shia prime minister, whose grasp on his job is coming under increasing pressure as the rebels try to push the country towards a sectarian showdown.


The capture of the town of Rawah on the Euphrates River and the nearby town of Anah appeared to be part of a march towards a key dam in the city of Haditha. Any d

estruction of the dam would have a serious impact on the country's electrical grid and cause major flooding.


Military officials said more than 2,000 troops were quickly dispatched to the site of the dam to protect it against a possible attack, the AP news agency reported.

Al Jazeera's Imran Khan, reporting from Baghdad, said there is significant

ISIL

movement in Anbar on Sunday, adding that

the province is increasingly coming under the control of fighters.

"After taking over Qaim, Rawah and Anah, armed groups are now advancing to the next town, Haditha in the west of Ramadi city, and are negotiating with tribal leaders to enter there peacefully," he said.




"Army forces have left Haditha and have moved to the town of Khan al-Baghdadi

and the military base of Ein al-Asad."

On Saturday, Shia armed groups

rallied

across the country vowing to protect religious sites and making a very deliberate show of force against ISIL.

The biggest of the rallies, which were called for by powerful religious leader Moqtada al-Sadr, took place in the northern Baghdad suburb of Sadr City, where hundreds of men dressed in combat fatigues and carrying assault rifles marched in military formation. Sadr's Mahdi Army militia is believed to have as many as 100,000 fighters.
Prime minister pressured
Maliki's Shia-led government has struggled to defeat the rebels who have seized large swathes of the country since taking control of the second-largest city of Mosul on June 10 after government forces melted away.

Maliki, who has led the country since 2006, has increasingly turned to Iranian-backed Shia fighters and volunteers to bolster his beleaguered security forces.
His State of Law party won the most seats in an April parliamentary election but a new government has not yet been formed, and rivals have started to challenge him from within the broader Shia alliance.
To stay in power, his bloc, which won 92 seats, must form a majority coalition in the 328-seat legislature, which has to meet by June 30.

http://rudaw.net/english/interview/22062014
Ahmad Dabash: 'Allah has ordered us all to defend ourselves'
Ahmad Dabash, a founding leader of the Islamic Army of Iraq that fought the 2003 US invasion, denies that the turmoil in Iraq is caused by the military advance of Sunni insurgents, led by the Islamic State of Iraq and Syria (ISIS). He says the war is really an uprising by ordinary Sunnis, who are standing up in "self-defense" against an ongoing campaign by the Shiite-led government of Prime Minister Nouri al-Maliki. In an interview with Rudaw, Dabash says that Iraq should be divided into Shiite, Sunni and Kurdish regions, where the provinces would have extensive autonomy to run their own affairs. "Allah has ordered us all to defend ourselves," says Dabash, whose group has been listed as a terrorist organization by the Iraqi government and he is wanted for trial in Baghdad on terrorism charges. Here is an edited transcript of his interview with Rudaw:
Rudaw:
How do you assess the situation in Iraq today in light of the recent attacks by the ISIS?
Ahmad Dabash:
Allah has ordered us all to defend ourselves. Every Muslim has the right to defend his life and honor when attacked. When the government of Nouri al-Maliki attacks us and destroys us, we have the right to self-defense.
Rudaw:
So you think the ISIS attacks as a right thing?
Ahmad Dabash:
What has happened over the past 10 years has created a vacuum that is responsible for reaching the point of terrorism. After the American withdrawal the Iraqi government started killing the Sunnis in the name of fighting terrorism. So the people you see on the fronts today are ordinary Sunni people who have been persecuted and attacked by Maliki, and they are defending themselves and their people.
There is no doubt that Maliki and his forces are doing this. If you look at the hospitals, the morgues and graveyards, you will see that Maliki has subjected the Sunni people, and people are reacting to him. It is not only the Sunnis, but the Kurds and even some Shiites. Like the Sadrists, they are against him, too.
Rudaw:
Is the ISIS war against Maliki a correct war?
Ahmad Dabash:
Without a doubt. As I said, in all Sunni provinces, all along the border areas, Maliki has extended his terror against the Sunni people. The world knows that it is a lie when Maliki's government says that Sunnis live freely under his rule. That is why in Anbar, in Mosul and everywhere else, people and tribes have taken up arms against him in self-defense. And there are different groups who try to protect the Sunnis.
We do not think there is such a thing as ISIS. What we have is repression in our areas. If there is ISIS, we should ask who they are, how many they are and what is their influence in the Sunni areas. They make up a small group. The people who fight in those areas are ordinary Sunnis and tribal chiefs, as well as former soldiers and officers. In fact, the government has often tried to blame its own killing of the Sunnis on the ISIS. Last week, at a prison, the government killed 60 to 70 Sunni inmates. In Diyala it killed 63 prisoners. They were killed under the pretext that they were terrorists.
Rudaw:
You say that the Iraqi army is the army of Maliki? But in that army there were Sunnis, Kurds and Shiites.
Ahmad Dabash:
I am asking you, what was the percentage of Sunnis and Kurds in the army? The Sunnis didn't reach even six percent and the rest were all Shiites. They wanted to keep the Sunnis away.
Rudaw:
But after the regime change, it was the Sunnis' own fault when they didn't join and participate in Iraq's political process.
Ahmad Dabash:
As the people of Iraq we wanted a government that wasn't under any foreign influence, whether American or anyone else. We wanted to be part of a genuine process. The current Iraqi constitution that was written by Maliki's government and under American supervision does not represent the Sunnis in any way. We rejected the constitution and it was only imposed on us by force.
Rudaw:
But the Americans came and rid the country of Saddam Hussein's dictatorship. Do you prefer Saddam's dictatorship?
Ahmad Dabash:
The dictatorship we see today is 10 times worse than Saddam's dictatorship. It is true that Saddam killed our Kurdish brothers in Halabja and Dujail, but today 10 times that number of people is getting killed.
Rudaw:
How come you knew so early on that one dictator was being replaced by another and immediately took up arms against the Americans? Did you have some kind of revelation?
Ahmad Dabash:
We are sure that America had come to destroy Iraq with a clear plan. They created the Governing Council, where the Kurds and Sunnis had little representation, and the rest of the power was given to the Shiites. America came and handed Iraq over on a golden plate to Iran. So what we see today is a complete failure of Iraq's political process, and it will only be solved by giving the country back to its people. Both Iran and America have had a hand in destroying Iraq and leading it to what we see today.
Rudaw:
You call this Shiite government dictatorial. And in the past there was a Sunni dictator. Who should the people of Iraq believe? Can both Shiites and Sunnis be dictators?
Ahmad Dabash:
The dictatorship of the past cannot be compared to the one of now. I know you Kurds had your own fight against Baghdad then, but today the killing, repression and terror is a hundred times more. And Sunnis didn't really join the political process because we don't believe in an illegitimate government. The government in the past 10 years has run on fraud, suppression and terror. Those few Sunnis who joined the process were opportunists. The real representatives of Sunnis were the ones who fought the foreign occupation.
Rudaw:
What do the Sunnis want today? A separate region of their own or do they want to run all of Iraq again?
Ahmad Dabash:
Today, taking into account the circumstances and the way things are with the population divide, there must be a system of regions. Iraq can stay under one system, but three separate Kurdish, Sunni and Shiite regions. There is no better solution than that. What has happened between people in the past 10 years in terms of killing and repression makes it impossible to go back to how things were before 2003.
Rudaw:
Where would the borders of the Sunni region be, especially with the Shiite south?
Ahmad Dabash:
It is clear where the Sunni provinces are. Then there are the disputed territories with the Kurds and Shiites, where we should be able to reach an agreement that would satisfy all sides in order to create a stable Iraq. There could be a central government in Baghdad to run the affairs of the country, but the provinces should be able to run their own religious, political and economic affairs.
Rudaw:
Why are you wanted by the Iraqi government for terrorism?
Ahmad Dabash:
It is an honor that I am a wanted person by Maliki's government. Our group fought Maliki's government and the occupying forces. What our group did in standing in the face of the biggest occupation for several years is something to be proud of. It is an honor for me to have been part of that resistance.
Rudaw:
You had someone who was known as the "Sniper of Baghdad" who is said to have killed 643 American soldiers in Baghdad. Do you really think that was a right thing to do?
Ahmad Dabash:
We are proud that the Sniper of Baghdad was from the Islamic Army. He became the legend of the resistance. He is known and talked about the world over.
Rudaw:
What do you think of the Peshmerga forces and their move into the disputed territories?
Ahmad Dabash:
First of all, I should thank the Kurdish leaders for their great position against the government of Baghdad and their support for the Sunnis in the past year-and-half by opening their borders to our people who had to flee. It was an honorable act. As regards Kirkuk, it is a disputed territory where Arabs, Kurds, and Turkmen live. The people there should be able to live in peace and decide the affairs of their city. We do not care who becomes governor or ruler of the city as long as people, especially Sunni Arabs, feel security and everyone lives in harmony.
Rudaw
: There are some groups in those areas who are attacking the Peshmerga forces daily. Who are they?
Ahmad Dabash:
Whoever they are, I tell them from here that they should not attack the Peshmerga because it is not in our interest. I hope they are rational and refrain from any acts that could be exploited by our enemy.
Warns Iraqis 'Will Become Time Bombs' if US Returns
by Jason Ditz, June 21, 2014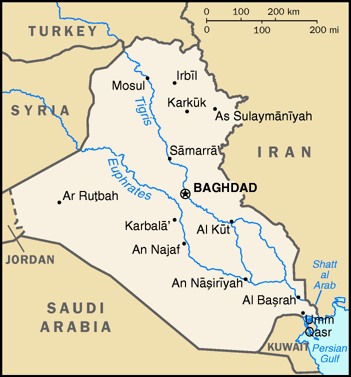 Saedi, a close ally of Moqtada al-Sadr, insisted that Iraq "can deal with ISIS ourselves" and doesn't need or want US military involvement in the fight, saying Shi'ites "will be ready for you if you are back."
Though the ISIS takeover of major parts of the west have some members of the Iraqi government, primarily Prime Minister Nouri al-Maliki, hoping a US deployment can bail them out, Saedi's comments underscore that many Iraqis remain strongly averse to another US operation so soon after the decade-long occupation.
The Mehdi Army, the militia of supporters of Sadr, resisted the US occupation, and is in the process of being reformed to fight ISIS. They seem willing to transition to fighting US troops, however, if they arrive.
Rebels Approach Key Hydroelectric Dam
by Jason Ditz, June 21, 2014
The Islamic State of Iraq and Syria (ISIS) is expanding its control over the Anbar Province today,
seizing four more towns,
including the border
town of al-Qaim
along the main highway into Syria.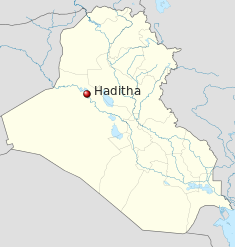 Control over al-Qaim will give ISIS even more control over the border between Iraq and Syria, though at this point they control so much of both sides of the border that the boundary itself is virtually meaningless.
Haditha is the home of the Haditha hydroelectric dam, which produces 1,000 megawatts of power, and is a key portion of Iraq's electrical grid. In addition to giving ISIS some control over energy generation, control of the dam would allow them to flood regions downstream.


http://english.alarabiya.net/en/views/2014/06/22/Moscow-seeks-to-play-negotiator-Riyadh-holds-the-keys.html
Moscow to play negotiator, Riyadh holds the keys
Sunday, 22 June 2014
A flurry of
diplomatic activity
is occurring between Riyadh and Moscow over not only Iraq but Syria. Russia is seeking to play the role of negotiator on all questions and Saudi Arabia holds the keys. If successful, Russia stands to gain substantially at the expense of the United States. The Kingdom engagement policy with the Russians may indeed produce peace dividends and further alter the geopolitical landscape.
Russian Foreign Affairs Minister Sergei Lavrov arrived in Jeddah two days ago discussing the Levant crisis with senior Saudi officials. The talks follow a meeting on June 3 between Saudi Foreign Minister Prince Saud Al-Faisal and Russian President Vladimir Putin in Sochi. On June 9, Lavrov and Prince Saud held a telephone conversation on ways to resolve the crisis in Syria. On June 20, Putin called embattled Iraqi President Nouri al-Maliki to give him support in the attempts by Iraqi parties and other countries to force him to step down. Putin confirmed Russia's "full support for the Iraqi government's action to quickly free the territory of the republic from terrorists." This flurry of activity shows that the Kremlin wants to play a major role in settling the situation in the Levant that leaves America out of the picture.
Russia proves its point
Russia's role as a mediator in the Near East and in other conflict zones is not new. During the air war over Serbia, then Russian Prime Minister Viktor Chernomyrdin negotiated a halt to America's air campaign that raised the ire of Moscow. For more than a decade, Russian foreign policy has ostensibly been against intervention of foreign powers in the affairs of other sovereign nations and it has increasingly viewed the Middle East as a good example to prove its point, highlighting the chaos and violence following direct U.S.-Western military action or support in various states. In addition, the Kremlin has positioned itself as a peacemaker, trying to avert the same Western mistakes in Syria by pushing for a solution to the country's internal conflict that does not involve U.S. military action and making America and Western Europe the villains. Notably, Russia's role in finding a solution to the use of chemical weapon in Syria and halting "American aggression" is seen as a diplomatic win for the Kremlin by some Arab officials.
Riyadh sees Moscow as a future security and economic partner who is an honest broker; much more than other Western powers

Dr. Theodore Karasik
The Kingdom and the Kremlin agreed to return to the Geneva 1 process which is to find a political transition in Syria. This is a significant development that signals that Syrian President Bashar Assad's election on June 3 for another term is cemented as Russia wants and which Riyadh now appears to see as critical for Syria's stability. Iran will be happy with this outcome because their efforts supporting Assad with military and financial aid are paying off. Iran is close to the Kremlin, and Russia will be able to negotiate between Riyadh and Tehran in a way to please both parties in the Syrian outcome. Time will tell what that political transition will look like.

Riyadh's distrust of America
ISIS's tidal wave in Iraq played right into Kremlin arguments about how the failures of "global color revolutions" led by the "American-Atlantist Community" wreck countries and leave them wide open to terrorist infiltration. Russia's fresh diplomatic offensive is based on the new conceptual, doctrinal outlook from Moscow and is now being presented to the Saudis as a reason for the Levant's woes and especially the unfolding catastrophic debacle in Iraq. The Kingdom seems to be buying the argument, and well they should, based on Riyadh's distrust of America.
ISIS's activity in Iraq is reminding the Saudis how opposed they were to American invasion and occupation of Iraq. Consequently, the events are giving the Kingdom "a ground-hog day moment" according to an Arab official.
During their meeting in Jeddah, Lavrov and Saud also said efforts should be made to "maintain the integrity of Iraq and the unity of all the components of the Iraqi people, who should benefit from equality of rights and duties". Clearly this is a signal that the Kingdom and the Kremlin want to find a middle ground for Iraqi state stability while at the same time finding a possible solution to the leadership crisis in Baghdad. According to an Arab official, Riyadh and Moscow agree that Ayad Allawi is the best candidate to run Iraq as he has had close ties to Kingdom and Kremlin in the past. In addition, the key is Assad: All sides now see that Assad and the stability of Syria is now key and is part of the deal to getting Alawi into power in Baghdad. Clearly, the Saudis see the Russians are able to exercise their good ties with Iran and Iraqi Shiites to accept Allawi.
Also of critical importance during this sequence of events is King Abdullah's visit to Egypt. This visit to Egypt to support Egyptian President Sisi is full of significance and importance because Saudi Arabia sees Egypt as the core of the Middle East. The Kingdom also sees that Al-Sisi represents a model that needs to be emulated in the Levant: a strong ruler who is able to stifle the Muslim Brotherhood and Islamic extremists. Moscow's support for Egypt is also at play and taken together, the Kingdom and the Kremlin see eye to eye across the region. As such, this cooperation may be acceptable to Iran since such activity does not hurt the Islamic Republics interests—at least for the time being given the threat of Sunni extremists.
Overall, Saudi Arabia is acting quickly to help resolve regional security issue. Russia sees her historical mission coming to fruition by rushing into the debacle of the Levant and coming up with solutions that will perhaps firmly place the Near East within Moscow's orbit and influence. The move is smart and timely. As such the status and prospects for the Saudi-Russian bilateral relationship are growing, and both the Kingdom and the Kremlin stressed their readiness to intensify it, including trade, economic and energy cooperation which has a solid potential for growth. On June 18, Saudi Arabia and Russia agreed on a draft intergovernmental framework agreement on cooperation in peaceful uses of nuclear energy and subsequent steps in preparing the agreement for signature. All of these developments come on the heels of Putin's praise for King Abdullah a few months ago and the resumption of Lukoil's drilling efforts in the Eastern Province. Clearly, Riyadh sees Moscow as a future security and economic partner who is an honest broker; much more than other Western powers.
Tweets of note......
6/21/14.......
http://english.alarabiya.net/en/News/world/2014/06/21/Saudi-Arabia-Russia-focus-on-crisis-in-Syria-and-Iraq.html
Saudi Arabia, Russia focus on crisis in Syria and Iraq
http://vineyardsaker.blogspot.com/2014/06/june-21th-iraq-sitrep-by-mindfriedo.html
SATURDAY, JUNE 21, 2014
Baiji falls to Iraq Opposition....
http://www.aljazeera.com/news/middleeast/2014/06/rebels-capture-iraq-largest-oil-refinery-20146219406492925.html
Reports: Rebels capture Iraq oil refinery
Local sources say country's biggest oil refinery has fallen but the military denies it.
Last updated:

21 Jun 2014 11:17
Iraqi security forces have slowed the initially rapid advance by ISIL-led rebels [Reuters]
Sunni rebels have captured Iraq's biggest oil refinery after overnight clashes with Iraqi security forces, according to local sources, but a military spokesman denied it.
A journalist in Saladin province told Al Jazeera that Sunni rebels, led by the Islamic State in Iraq and the Levant (ISIL), had seized the refinery at Baiji, 43km north of Tikrit, on Saturday.
An unknown number of soldiers had been taken prisoner by the rebels after the fall of the facility, the journalist said.

The oil ministry did not comment on the report, and referred all enquiries to the defence ministry.
Rebels had withdrawn from the refinery on Friday after heavy clashes and retreated to Baiji's main town, which they already control.
State TV reported that Iraqi forces, backed by combat aircraft, had repelled four attacks on the refinery by ISIL fighters.
Iraqi security forces have largely halted the initial rapid advance by ISIL-led fighters, but the rebels continue to make gains.
On Friday, Sunni fighters captured the Qaim border crossing with Syria, 320km west of Baghdad, after a day of clashes that killed about 30 Iraqi soldiers.
The most recent gains by the Sunni rebels come as Shia fighters loyal to the powerful religious leader Moqtada al-Sadr rallied across Iraq, vowing to protect the capital Baghdad, and religious sites.
Both civil and religious leaders, including Grand Ayatollah Ali al-Sistani, have called on citizens to volunteer in the battle against ISIL-led groups, which have taken large parts of the country.

http://www.aljazeera.com/news/middleeast/2014/06/iraqi-shia-groups-rally-show-power-20146216504615669.html

Iraqi Shia groups rally in show of power
Thousands parade across country after powerful cleric Moqtada al-Sadr calls on supporters to turn out in force.
Last updated:

21 Jun 2014 11:14
Cleric Moqtada al-Sadr is believed to have command over more than 10,000 fighters [AFP]
Thousands of Shia Muslims are taking part in rallies across Iraq vowing to protect their religious sites in a show of power that had been called for by influential Shia leader Moqtada al-Sadr.

The largest rally took place in the northern Baghdad suburb of Sadr City, where hundreds of men dressed in combat fatigues and carrying assault rifles marched in military formation.
Sadr is believed to have command of more than 10,000 fighters, most of whom have volunteered to fight alongside Iraqi security forces against Sunni rebels led by the Islamic State in Iraq and the Levant (ISIL) group.
Al Jazeera's Imran Khan, reporting from Baghdad, said Sadr was keen to emphasise that his fighters would only serve as a defensive force to protect Baghdad, but there are fears of a reestablishment of the Mahdi Army, which was disbanded in 2008.

The reemergence of the Mahdi Army, which was accused of involvement in Iraq's sectarian conflict between 2006 and 2008, would heighten fears of a broader war between Sunni and Shia Muslims.
Both the Iraqi government and Shia religious authorities have called on Iraqis to volunteer to fight a Sunni rebellion that has taken over big chunks of the country, including the cities of Mosul and Tikrit.
On Saturday, rebels led by ISIL seized a border crossing with Syria near the town of Qaim about 320km from Baghdad, leaving about 30 Iraqi soldiers dead, the AP news agency reported.
AP also reported that the town of Rawah in Anbar province had been captured by ISIL fighters later the same day, citing the town's mayor. He added that local army and police forces had pulled out when the fighters took control.
Pressure on Maliki
Many Sunni Muslims in western Iraq have supported the rebellion led by the fiercely anti-Shia ISIL, because of perceived anti-Sunni policies by Iraq's Shia-dominated government.


Al Jazeera's Imran Khan reports from Baghdad

Iraqi Prime Minister Nouri al-Maliki has faced pressure from inside and outside the country to form an inclusive government, to prevent Sunni Muslims from joining forces with ISIL.
In a thinly veiled rebuke of Maliki, the country's highest Shia authority, Grand Ayatollah Ali al-Sistani, called for a "broad" government that would "avoid past mistakes."
Such criticism from Iraq's most revered religious leader could force Maliki to step aside.
On Thursday, US President Barack Obama all but called on Maliki to resign, saying only a leader with an "inclusive agenda" could end the crisis.
Maliki, whose State of Law electoral slate won most seats in April's election, has yet to form a majority coalition in the new 328-seat legislature, which must meet by June 30.

Tweets of the day...
and......
http://rudaw.net/english/kurdistan/210620141
Maliki twists in the wind while the Regional aspect of the Iraq / Syria War looms larger.....
http://www.unz.com/pcockburn/iraq-crisis-malikis-days-in-power-numbered-as-iran-and-us-lose-faith/
( Just waiting for the first call for Obama's days are numbered too ... )
http://news.antiwar.com/2014/06/20/isis-overruns-key-towns-in-east-syria/
( Regional War... )
6/20/14 - later afternoon / evening updates......
https://news.vice.com/article/now-even-isis-has-its-very-own-whistleblower?utm_source=vicenewstwitter
Now Even ISIS Has Its Very Own Whistleblower
You know you have made it as a para-government when you get your very own leakers — and ISIS, which aspires to set up an Islamic State of Iraq and Syria in the growing swathe of territory it controls, has been having some problems containing the spill of sensitive and strategic secrets.
While the group
mastered the art of social media
, they have yet to figure out a way to control the information they do not want shared online — from the identity of its leaders to its alliances with other groups across the region.
There is one Twitter account in particular, @wikibaghdady, which seems to have access to a whole lot of information about the group, the Daily Beast reported
yesterday
.
Nobody knows who's behind it — whether one, or many, disgruntled former member of ISIS, a rival Islamist, or a foreign government's intelligence agent. But the handle @wikibaghdady has been on the radar of those monitoring the Syrian war on social media for several months.
'He's someone close to the group, providing the kind of details that only come from intimacy.'
The account, active since last December, has been spewing details ISIS would presumably prefer to keep confidential to its nearly 38,000 followers.
Among its leaks, @wikibaghdady reportedly outed the identity of ISIS' mysterious leader Abu Bakr al-Baghdadi. More recently it highlighted the group's connection with Iraq's Baathists — Saddam Hussein's former party.
"In the event that Baghdad falls there's an agreement that Izzat al Douri will become the de-facto leader as an alternative to ISIS that the international community cannot refuse," the account, which seems to have a penchant for predicting ISIS's next moves, tweeted as late as last week.
Al Douri, a former army commander under Saddam Hussein who has escaped American and Iraqi capture, has been missing in action for years, and is now reportedly leading ex Baathists in an alliance with the ISIS.
http://www.zerohedge.com/news/2014-06-20/russia-reignites-proxy-war-putin-offers-complete-support-iraq-prime-minister-scorned
Russia Reignites The Proxy War: Putin Offers "Complete Support" To Iraq Prime Minister Scorned By Obama