Russia Today....
http://rt.com/business/162296-kiev-gazprom-/
Ukraine's final gas plea: Lower prices, then we pay debt
Published time: May 29, 2014 14:34
Friday is Kiev's last change to transfer $2 billion to Gazprom or risk a "gas war" with Moscow and a halt to gas deliveries not only to Ukraine but Europe. European customers get about 50 percent of Russian gas via Ukraine.
By June 7, Ukraine's total debt for supplied gas will be $5.2 billion if it continues to avoid payments, state-owned Gazprom CEO Aleksey Miller said Wednesday in a meeting with Russian President Vladimir Putin and other government advisers.
" There is not much time left. The next consultations are scheduled for Friday in Berlin. Mr. Novak [Russia's Energy Minister] and I will take part in these trilateral talks with the European Commission and the heads of Ukraine's energy sector and Naftogaz Ukraina," said Miller.
Earlier on Thursday, Prime Minster Arseniy Yatsenyuk said Ukraine will either agree on a lower price that "reflects market conditions" or continue moving forward with the lawsuit against Gazprom at the International Court of Arbitration in Stockholm.
"If we agree in this issue, we will pay all of our debts in the course the next ten days," Yatsenyuk said in an interview with the German newspaper Bild, published Thursday.
In May Ukraine used 3.5 billion cubic meters of Russian gas costing $1.7 billion, Miller said Wednesday in his
meeting
with President Putin.
The matter will not be discussed until tomorrow's trilateral energy meeting between Russia, Ukraine, and the EU in Berlin, a source close to the proceedings told RIA Novosti said on Thursday.
"There will be no official information [about Ukraine's decision] today. Possibly, [the announcement will be made] after a meeting on Friday," the source said, as quoted by RIA Novosti.
Russia said it will only consider lowering the price of gas to Kiev if it begins paying off its gas debts.
Following Moscow's suggestion, the EU proposed Ukraine begin repaying its debt to Russia using some of the $3.2 billion from its first IMF loan which it received earlier this month.
The first $2 billion tranche is part of an
agreement
brokered by the European Commission that would help resolve the conflict. Naftogaz, Ukraine's state oil and gas company could transfer $2 billion by May 30 and another $500 million by June 7, which will cover unpaid gas bills from November to April.
Russia's Energy Minister Aleksandr Novak said that Russia will only move forward with talks as long as Kiev pays the first part of its debt by Friday.
On Wednesday, Ukrainian Energy Minister Yury Prodan reiterated Kiev is ready to pay Russia as long as Gazprom lowers its current rate of $485 per 1,000 cubic meters down to $268.50 per 1,000 cubic meters, a rate it enjoyed under a discount for the first three months of 2014.
"The price of Russian gas to Ukraine doubled for only one reason - Ukraine made its own choice in favor of a free state, having signed the agreement with the EU," Yatsenyuk said in an interview.
Ukraine and Naftogaz haven't paid their gas bills in full since July 2013, Putin said at this year's St. Petersburg Economic Forum.
Europe sources about one third of its energy supply from Russia, 50 percent of which flows through Ukraine. Any disruption will not only affect the country hosting the pipeline, but much of Europe as well.
Itar Tass......
May 29, 14:37
UTC+4
"Russia wants to sell gas to Ukraine for $500. Well, but Ukraine will not buy this gas, the country does not need it," the president-elect said
KIEV, May 29. /ITAR-TASS/. Ukraine will not buy Russian gas at its high price, said Ukrainian business tycoon Petro Poroshenko, who is winning at snap presidential elections in the country. He has added that instead of this, Kiev hopes for reverse supplies from Europe and LNG supplies from the United States.
"Russia wants to sell gas to Ukraine for $500 (for 1,000 cubic meters). Well, but Ukraine will not buy this gas, the country does not need it," local media quoted Poroshenko as saying on Thursday.
After a round of the trilateral Russia-Ukraine-EU consultations on gas issues on Wednesday, EU Commissioner for Energy Gunther Oettinger said EU proposed Ukraine to repay half of its debt for gas supplies in April-May until Moscow and Kiev agree upon a new gas price.
Russia and Ukraine have officially settled all disagreements over the price for gas supplied between November 2013 and March, when it stood at $268 per 1,000 billion cubic meters, Oettinger said. However, Kiev still insists that the price for April-May, after Gazprom cancelled all discounts for the country and set the price at $500, is unfair.
Alternative gas supply routes
Oettinger said that the EU will not introduce limits against Russian investments in the European power industry.
The EU is engaged in negotiations with Turkmenistan and Iraq over their participation in the Southern Gas Corridor pipeline which runs from the Caspian Sea and is a competitor of the South Stream pipeline run by Russia's Gazprom, Oettinger said.
According to Oettinger, Turkmenistan and Iraq could boost the overall gas supplies via the pipeline by about 10 billion cubic meters annually.
The European Commission is still considering introducing a united gas price for the EU or a united gas purchase system, Oettinger said.
May 29, 15:50
UTC+4
A general of the Ukrainian Armed Forces is among those killed
KIEV, May 29. /ITAR-TASS/. Fourteen Ukrainian servicemen were killed in a special operation conducted against federalization supporters in eastern Ukraine on Thursday, parliament-appointed Acting President Oleksandr Turchynov told a parliament meeting.
A general of the Ukrainian Armed Forces is among those killed, he said. "Our servicemen were in the helicopter that was shot down. They were to replace other servicemen in rotation," Turchynov said.
RIA Novosti......
KIEV, May 29 (RIA Novosti) – The active phase of the special operation launched by Kiev's authorities in Ukraine's east last month has been put on hold in the cities of Slaviansk and Kramatorsk, according to Ukraine's UNIAN news agency.
"The active phase of the antiterrorist operation has been put on hold in Slaviansk and Kramatorsk," the agency said.
No shooting or explosions have been reported from Kramatorsk on Thursday, but Slaviansk has been shelled for several days. Several dozen houses came under fire in the nearby towns of Andriivka and Serhiivka. Local residents hid in the basements of their homes, and several dozen people were injured.
Two Ukrainian military helicopters were downed in Slaviansk earlier on Thursday, witnesses told RIA Novosti. A total of 14 Ukrainian servicemen, including a general, were killed when one of the helicopters was downed, acting President Oleksandr Turchynov said.
Fierce clashes between Kiev regime loyalists and federalists have plagued Ukraine's east and south in recent weeks and intensified after the Donetsk and Luhansk regions declared independence from Ukraine earlier this month.
The active military phase was put on hold during last Sunday's presidential elections, but resumed Monday.
KIEV, May 29 (RIA Novosti) – Ukraine is planning to discuss the timeline for signing the economic portion of an EU association agreement with European representatives, Ukraine's interim Foreign Minister Andrii Deshchytsia said Thursday.
"President-elect Poroshenko said that he wants to sign the agreement soon. We have to consult with the EU to learn how soon we can sign the document," he said.
The signing of the remaining part of the agreement was initially planned for an EU summit on June 27, Deshchytsia added.
Poroshenko's press office said Wednesday evening that the billionaire considered it essential not to delay the signing of the economic provisions of the association agreement between Ukraine and the EU. He said he wanted to sign the deal immediately after his inauguration as head of state.
Chocolate tycoon Petro Poroshenko took nearly 55 percent of the vote in Ukraine's early presidential election last Sunday, according to the Central Election Commission. The inauguration ceremony for the new Ukrainian leader is expected to be held June 8-10.
Last November, then-Ukrainian President Viktor Yanukovych decided to suspend all preparations for the completion of the agreement with the European Union.
The move triggered pro EU-integration protests that later resulted in violent clashes and a regime change when the country's parliament, backed by far-right movements, voted to strip Yanukovych of his powers.
On March 21, the EU and Kiev interim authorities singed the political provisions of the agreement.
http://rt.com/news/162136-ukrainian-soldiers-surrender-lugansk/
All of the 80 Ukrainian troops holed up at a Lugansk military base have surrendered to self-defense forces who stormed the military installation hosting the Ukrainian National Guard.
There are conflicting reports on casualties and the outcome of the attack, which took place on the territory of an Air Force academy. Earlier, at least one Ukrainian soldier was reported to be seriously injured.
According to RT's Paula Slier, one anti-government protester was killed in the gunfight and there have been several injures on both sides.
All of the 80 Ukrainian soldiers holed up at the base surrendered, reported RIA Novosti. The servicemen were escorted out of the building as the other side applauded.
Self-defense commander Gennady Tsepkalo also confirmed to journalists that all troops have surrendered. He promised that all soldiers will be sent home shortly.
It had earlier been reported that only ten troops surrendered and others barricaded themselves inside the base, with some of the soldiers saying that their captain had forbidden them from surrendering.
These events come as Kiev has intensified military operations in eastern Ukraine. On Wednesday, Kiev mortar shells
hit
a school and a kindergarten in Slavyansk, injuring at least nine civilians.
Rebels Claim National Guard Using Banned Explosive Bullets
by Jason Ditz, May 28, 2014
The National Guard's statement confirmed "losses on both sides" but offered no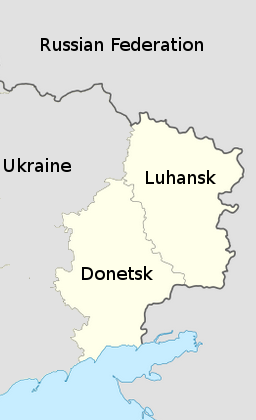 additional details. The separatists accused the
guard of using banned explosive bullets
in their retaliatory strikes against the city of Rubizhne.
Tensions in both Luhansk and the neighboring Donetsk Oblast are soaring after a Monday attack by the military on the Donetsk international airport, and subsequent attacks that left around 100 separatists dead.
Separatist leaders, overwhelmingly ethnic Russians, have been urging Russia to intervene to avoid a "
humanitarian catastrophe.
" The Russian government has urged Ukraine to stop the offensive, and offered to negotiate a settlement.