Anti War --
Updates on Kiev's Actions in the South East ...
State Dept: Ukraine Has Right to Invade East to 'Maintain Calm'
by Jason Ditz, May 30, 2014
Another phone call between Secretary of State John Kerry and his Russian counterpart, Sergey Lavrov, has centered on the ongoing Ukrainian military invasion of a pair of breakaway provinces in the nation's far east.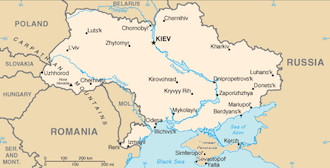 Lavrov insisted that the US should use their influence with the interim Ukrainian government to
urge them to begin direct negotiations
with the leaders of those regions, and to stop military attacks until the negotiations happen.
Though exactly what Kerry said is unclear, the
State Department insisted
that their position is that Ukraine has every right to invade the region to "maintain calm and order," saying they further commend Ukraine for its "restraint" against the civilian population of the region.
The State Department went on to claim Russia was recruiting Syrian rebels to go to Ukraine to fight against the central government. They offered no evidence to back this claim, and Russia's support for the Syrian government makes it unclear why the rebels would suddenly be pro-Russian, but the allegation seemed to satisfy State Department officials as a way to avoid any talk of negotiations.
Vows to Continue War 'Until There Is Peace'
by Jason Ditz, May 30, 2014
Ukrainian acting DM Mykahailo Koval offered an unusually upbeat assessment of the ongoing military invasion of the eastern oblasts of Donetsk and Luhansk today, insisting the
troops had "cleared" large portions
of the region of separatists.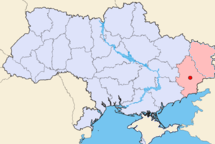 Koval's report conspicuously covered the northernmost parts of Luhansk and the southwest of Donetsk, two places where the separatist movement was never particularly strong, while glossing over the large number of rebel fighters in Donetsk itself, as well as cities like Slovyansk and Kramatorsk.
He also claimed Russian forces were carrying out "special operations" against them in the east, and vowed to continue the invasion of the eastern regions "
until there is peace.
"
Donetsk and Luhansk have declared themselves autonomous "People's Republics," and fighters in the major cities continue to vow to resist the Ukrainian military. Repeated attacks on Slovyansk have failed to take the city.
Right Sector Insists They Would Never Plan Terrorist Attacks
by Jason Ditz, May 30, 2014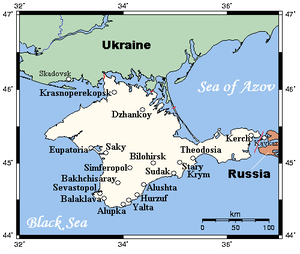 Russia annexed Crimea in March, after the peninsula held a referendum splitting itself from Ukraine and asking for accession into the Russian Federation. Ukraine has not recognized the move.
The Right Sector denied any involvement in any bomb plots, saying they "never will plan terrorist acts," and claiming the entire plot was made up by the Russian government.
This stance appears starkly different to
their stance in early March,
in which Right Sector leaders were openly calling for the central government to recruit terrorists to attack Russia, dubbing the Crimea dispute a "unique chance" for such attacks.
Businesses Report Looting, But Residential Neighborhoods Calm
by Jason Ditz, May 30, 2014
A city of about 1 million people that has found itself smack in the middle of a growing Ukrainian civil war, reporters in Donetsk are finding a situation of contrasts, with rebel officials struggling to maintain control in the city's big business districts, but life going on more or less as normal elsewhere.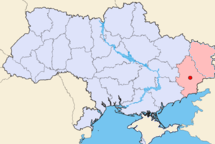 There are
reports of tension in the city's residential neighborhoods, but
nothing extreme for a city that just saw its own military attack its airport days prior, killing 100 people. People are keeping a closer eye on their children, fearing the situation may rapidly worsen, but are largely going on about their lives.
Clearly many of the looters are just claiming to be with the rebellion to coerce the shopkeepers, but the rebel leadership in Donetsk conceded they found stolen merchandise in some offices and had arrested some officials for extorting the stores.
The airport remains inaccessible, naturally, and many of the Ukrainian banks have closed up shop, saying it is too dangerous to operate in the east.
Natural Gas situation....
RIA Novosti....
BERLIN, May 30 (RIA Novosti) – Kiev may sue Russia in the Stockholm-based international arbitration court amid the ongoing dispute of gas prices, Ukrainian Energy Minister Yuriy Prodan said Friday.
Speaking to journalists ahead of the three-party gas meeting in Berlin, Prodan said his country may file the suit "soon, quite possibly today."
The minister also confirmed the position of the Ukrainian government that the payment of the debts is possible only after Russia agrees to cut down the price.
Kiev's decision to take the Russian gas giant to court is another attempt to seek the revision of its debt and the gas price, which Kiev finds excessive.
The gas price for Ukraine surged from $268.5 to $485.50 per 1,000 cubic meters in April after Russia annulled two discounts granted previously to the country.
Kiev keeps rejecting the new price saying it was ready to clear its debt if Moscow agreed to sell gas at the old price, whereas Moscow says it is ready to discuss possible discounts only after it receives first payments.
Earlier this week EU Energy Commissioner Günther Oettinger said that Ukraine's gas debt to Russia had reached $4 billion upgrading the previous figure of $3.5.
Simultaneously the Gazpom CEO announced that Ukraine would owe Russia about $5.2 billion for natural gas as of June 7 if it makes no payments by that date.
According to Gazprom, Ukraine's Naftogaz halted all payments in November.
Russia Today.....
Naftogaz transfers $786mn of gas debt to Russia
Published time: May 30, 2014 15:20
Edited time: May 30, 2014 23:01
Ukraine has transferred $786 million of its $3.5 billion gas debt to Russia, Ukraine's coup-appointed Prime Minister Arseniy Yatsenyuk said in Berlin on Friday.
Ukraine's coup-appointed Prime Minister Arseniy Yatsenyuk said Ukraine closed all of its"indisputable" gas bills for Russian gas supplied in February and March.
"We paid for the gas that was priced at $268 per 1,000 cubic meters…These are indisputable bills in our relations with Gazprom. Overall, there's $786 million in such bills," he said, as Russia, Ukraine and the EU are holding a third round of energy talks in Berlin.
Ukraine will never pay for Russian gas at a price of
almost $500 per
1,000 cubic meters, Yatsenyuk added.
He also added Kiev was ready to go to the
Stockholm Arbitration
Court if gas negotiations on June 2 fail.
However, Russia's energy minister, Aleksandr Novak, said that Gazprom hadn't received any money transfers from Ukraine's Naftogaz by the end of the day on May 30.

As far as Moscow is concerned, Ukraine has failed to fulfill its obligations from May 26 to repay its gas debt to Russia, the minister stressed.

Therefore, the possible introduction of a pre-payment system in Russian-Ukrainian gas relations isn't off the table yet, he added.

According to Novak, Russia is also seriously concerned about the financial aspect of the crisis in Ukraine and Kiev's inability to pay for the gas it receives.

"As part of our consultations, we discussed the issue of providing financial assistance to Ukraine by EU and international credit institutions," he said.

"Such failures to pay don't lead to an increase of trust between partners," the minister said, urging Kiev to "at least that the part of the debt, which isn't disputed by the Ukrainian side."

Instead of threatening Moscow with judicial proceedings, Ukraine should focus on repaying its existing debt to Russia, Natalya Timakova, the press secretary for Russia's prime minister, said.

"If the debt is not paid on time, we won't be talking about the prospect of lawsuits, but about a practical transition to a system of advance payment for gas," she explained.
Earlier in May, the head of Russia's Gazprom said that Moscow will
cut
supplies to Kiev already on June 3 if they don't pay its debt to Russia.
However, talking from Berlin, Russia's Prime Minister Dmitry Medvedev said that if Gazprom receives the money, they will examine the nature of the funds, and after that the situation may change.
"First we need to make sure they [Ukraine] want to pay. Any other way of posing the question is impossible. When I hear people saying 'give us another price and then we'll pay'… that's rudeness," Medvedev said.
European Energy Commissioner Gunther Oettinger said Ukraine has enough money to pay for Russian gas.
On Monday, Ukraine and Russia will hold a new round of talks that will result in either a new gas agreement or Ukraine's application to international arbitration, Yatsenyuk said.
The previous trilateral talks on May 26 resulted in a compromise
agreement
under which Naftogaz should have paid $2 billion to Gazprom, and another $500 million no later than June 7.
Previously, Yatsenyuk said that Ukraine wants Gazprom to sign an additional agreement that will establish the price of gas at $268.5 dollars per 1,000 cubic meters as it was defined in the first quarter of 2014.

If the two sides were to sign such an agreement, Kiev would repay the whole of its gas debt to Russia within 10 days, he added.
Meanwhile, Kiev wants to receive a cheaper price from Europe in a scheme called reverse gas. The general director of Russia's National Energy Security Fund, Konstantin Simonov, explained the idea - and its shortcomings - to RT.
"It's a very popular theory in Ukraine that reverse gas flows can save and protect Ukraine from the consumption of Russian gas, but really it's a problematic story," Simonov said.
"In reverse scheme, European companies must sell gas to Ukraine, but Ukraine isn't ready to pay – to Russians, to Europeans, Ukraine is not ready to pay for gas. It means that very soon there will be a serious debt not to Gazprom, but to European companies, and these European companies will stop exporting gas to Ukraine.
Itar Tass...
May 30, 20:20
UTC+4
Advance payment regime for Russian gas supplies to Ukraine in June is not ruled out as of yet
BERLIN, May 30. /ITAR-TASS/. Gas talks Russia held with Ukraine and the European Commission were "constructive", Russian Minister of Energy Alexander Novak said on Friday after the third round of gas consultations in Berlin.
Advance payment regime for Russian gas supplies to Ukraine in June is not ruled out as of yet, Novak added. Russia is worried over Ukraine's financial situation, bearing in mind its debts for Russian gas, he stressed.
"We discussed the issue of financial aid to Ukraine from the European Union, international crediting organizations," he said. "The Russian side expressed serious concern over the financial aspects of the Ukrainian crisis."
"Payment arrears do not add trust to the relations between partners, steps are needed to re-build it," Novak said, adding that Russia waited for Kiev to repay "at least those debts it does not challenge."
Ukraine not going to pay $500 per 1,000 cu m
On Monday, Yatsenyuk said that gas talks with Russia would end with either signing of a new gas agreement or with Kiev's appeal to the international court of arbitration. Ukraine, in his words, had prepared a package of documents for that.
Ukraine says it repaid part of gas debt
"Liabilities are considered discharged not at the moment of money transfer but at the moment of its passing to the account of the creditor, that is to the Gazprom account," Medvedev said.
"When Gazprom receives the money, we will see it, and that will be a different story. But today we must make sure that Ukraine is willing to pay," he stressed. "Any other presentation of the problem is impossible: when I hear them saying 'give us other price and then we will pay,' I think that's preposterous, reliable partners do not behave that way, and even less reliable partners never do that."
He said he hoped Ukraine would finally pay what it owed for the Russian gas.
May 30, 22:17
UTC+4
Ukraine's parliament-appointed Minister of Energy said that Kiev was ready to file a suit against Russia to the court of arbitration in Stockholm to make Gazprom revise its contract prices for gas
BERLIN, May 30. /ITAR-TASS/. Russia's gas utility Gazprom has much more grounds to seek arbitration on the gas dispute that Ukraine, Russian Energy Minister Alexander Novak said on Friday after the gas consultations involving Russia, Ukraine and the European Commission.
"We think Gazprom has more grounds to appeal to arbitration court that the Ukrainian side," he told journalists. "It is a long procedure and we don't think it is constructive. It would be right to try to reach an agreement off arbitration bodies."
Earlier on Friday, Ukraine's parliament-appointed Minister of Energy and Coal Industry Yuri Prodan said that Kiev was ready to file a suit against Russia's Gazprom to the court of arbitration in Stockholm to make Gazprom revise its contract prices for gas.
WSJ....
http://blogs.wsj.com/economics/2014/05/30/even-with-pullback-russia-holds-huge-financial-sway-over-ukraine/?mod=WSJBlog
Even With Pullback, Russia Holds Huge Financial Sway Over Ukraine
Agence France-Presse/Getty Images
First, Moscow can use the price it charges for natural gas supplies Ukraine relies on to fuel its economy, a power that gives it unprecedented to make or break the country's finances. Ukraine's turn to the West coincides with an escalation in the price dispute. The more Kiev looks to Europe as its future trade partner, the higher the natural gas bills seem to head.
Second, Moscow may be able to use a special clause in the $3 billion in Ukrainian bonds Russia bought in December to trigger a system-wide debt meltdown, says a Georgetown University law professor and debt expert Anna Gelpern. That financial nuclear option could pressure Ukraine's new pro-West government from embracing a full-fledged European integration and a turn away from its former Soviet masters.
Financial levers are part of the broader battle being waged over Ukraine, says
Jacob Kirkegaard
, a senior fellow at the
Peterson Institute for International Economics
. Mr. Putin not only wants the country's strategic assets such as the Black Sea naval port in Crimea, but
he also wants Ukraine to be part of a Eurasian trade bloc
and to prevent the country from becoming another member of the North Atlantic Treaty Organization, analysts say.
"We see the IMF's growth forecasts for Ukraine and Greece not as forecasts at all, but rather as assumptions necessary to justify the IMF's interventions," say
Benn Steil
and
Dinah Walker
in
a Council on Foreign Relations blog post
.
In fact, the natural gas price problem is such a problem that the IMF wouldn't be able to lend to the country under its rules if it didn't keep the country's 100%-state owned
Naftogaz
company off the federal balance sheets because of the debt the firm owes to Russia's
Gazprom
OGZPY
-2.39%
. The IMF calls those debts "
quasi-fiscal losses
," a technical move that also prevents the IMF from requiring a debt restructuring.
Although the IMF has no idea the extent of Naftogaz's obligations to Russia's Gazprom because it's not allowed to see the contracts, the fund assumes only $2.2 billion in Naftogaz arrears to the gas giant and a natural gas price of $385 per thousand cubic meters. That's mid-range in the price dispute and at the low end of the arrears Moscow alleges that Kiev owes.
"A slightly higher or lower price would be handled through an adjustment to IMF financing, but a significantly higher price for gas would outstrip Western financing and raise serious concerns about fiscal and debt sustainability," says Robert Kahn, an international economics fellow also at the Council on Foreign Relations.
Meanwhile, Ukraine's Prime Minister
Arseniy Yatsenyuk
said the country "won't pay the high political price" on the table to keep Russian natural gas flowing into his country, nor will it pay Gazprom its arrears
until a new price is agreed
. Those gas arrears, says Ms. Gelpern, who's also a senior fellow at the Peterson Institute, gives Moscow additional leverage over Kiev.
A small, unusual clause in the $3 billion in bonds Moscow bought as part of its ditched effort to prop up the former pro-Russian government in December gives the Kremlin power to destabilize Ukraine's debt markets and boosts its bargaining power in the current political conflict, Ms. Gelpern said.
The Russian bond allows cross-defaults to "any indebtedness … owed to the Noteholder or to any entity controlled or majority-owned by the Noteholder,"
the bond prospectus reads
.
That clause,
she argues
, allows the bondholder to call the debt in default if Ukraine has any other debt unpaid, such as the Naftogaz arrears.
It's an open question whether a court would uphold such a reading.
But in the meantime, other holders of Ukrainian debt would be forced to decide whether to also call the debt in default, and the uncertainty created by the act would potentially send the country's borrowing costs rocketing to unsustainably high levels.