Thai court orders Yingluck Shinawatra to step down as PM
Constitutional court finds PM guilty of abuse of power over transfer of senior civil servant to another position in 2011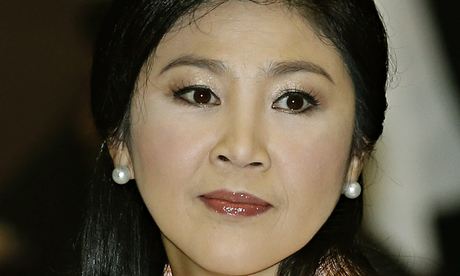 Thailand
's caretaker prime minister, Yingluck Shinawatra, has been ordered to step down after a court found her guilty of abusing her power – a decision that could result in huge protests after six months of political impasse.
The constitutional court ruled that Yingluck had acted with a hidden agenda when she transferred a senior civil servant to another position shortly after taking office in 2011.
"The prime minister's status has come to an end," one of the court's judges read out in a statement broadcast live on television. "Yingluck can no longer stay in her position acting as caretaker prime minister."
The commerce minister, Niwatthamrong Boonsongpaisan, is expected to replace Yingluck as prime minister. A general election is planned for 20 July.
Yingluck's Pheu Thai party released a statement soon after the decision, calling the court's ruling a conspiracy to remove the democratically elected government from power and a virtual coup, according to the
English-language Nation newspaper
.
Yingluck's supporters – who mainly come from Thailand's rural north – have vowed to hold a rally on Saturday and argue that the courts have sought to topple her at the behest of anti-government protesters, who have tried since November to remove her from office.
The protesters accuse her of acting as a proxy of her brother Thaksin, the former PM who was removed from government in 2006 and now lives in self-exile in Dubai. They have staged various rallies and sit-ins at government buildings.
Liam McCarthy, an expert on south-east Asia at Nottingham Trent University, said: "What is interesting is how such a bureaucratic, or intellectual, tactic will play with the rural communities of Thailand. They may see such a play as tricking them out of their chosen leaders."
On Tuesday Yingluck appeared in court to deny the charges against her.
Yingluck stood accused of removing Thailand's then chief of national security, Thawil Pliensri – who had been appointed by the opposition – in order to promote her brother-in-law in another post, as national police chief.
Although such a move was legal, the court ruled, it was done too quickly and without "moral principles".
The court also ruled that the nine current cabinet ministers who were in office at the time of the transfer must also step down – among them the labour minister, finance minister and foreign minister, Thai media reported.
Another ruling against Yingluck is expected on Thursday when Thailand's national anti-corruption commission decides whether she failed to act against corruption in a £14.5bn rice-pledging scheme.

Thai PM found guilty of abuse of power
Court orders Yingluck Shinawatra to step down, saying her transfer of a civil servant violated the constitution.
Last updated:

07 May 2014 09:07
Thailand's constitutional court has ordered Yingluck Shinawatra to step down as prime minister after finding her guilty of abusing her power.
The court on Wednesday ruled that Yingluck had abused her authority by transferring a senior civil servant in 2011 to another position. It said the transfer was carried out with a "hidden agenda" to benefit her politically powerful family.
The court also ruled that nine members of her cabinet were complicit in the abuse.
Niwatthamrong Boonsongphaisan, the commerce minister, was named as Thailand's acting prime minister in place of Yingluck.
Thailand has had an acting government since Yingluck dissolved the lower house of parliament in December in a failed attempt to defuse anti-government protests. That election was disrupted and then annulled. A new election is planned for July 20.
Protest fears


Yingluck's supporters accuse the courts of toppling her through unfair use of the legal system. Threy have vowed to hold a major rally on Saturday, which many fear could spark violence.

On Tuesday Jatuporn Prompan, the chairman of Yingluck's "Red Shirt" supporters said: "I expect the verdict will not be good for the government.... I heard they want to sack the entire cabinet.".
His group has vowed to come out on the streets if Yingluck is toppled, kindling fears of clashes between rival political sides.
The constitutional court oversees cases of violations of Thailand's charter, which was rewritten after the removal of Thaksin Shinawatra from government in an army coup in 2006. Thaksin lives overseas to avoid jail for corruption convictions.
Yingluck has also been charged by anti-corruption officials with neglect of duty in connection with a costly rice subsidy scheme that critics say fomented rampant corruption.
An unfavourable ruling by that body could also lead to her impeachment and a five-year ban from politics.