Some question where semi-automatic weapons will be heading
Paul Joseph Watson
Infowars.com
May 15, 2014
The United States Department of Agriculture is set to purchase an unknown quantity of submachine guns, leading to questions about where the weapons will be heading and for what purpose they will be used.
"The U.S. Department of Agriculture, Office of Inspector General, located in Washington, DC, pursuant to the authority of FAR Part 13, has a requirement for the commerical (sic) acquisition of submachine guns, .40 Cal. S&W, ambidextrous safety, semi-automatic or 2 shot burts (sic) trigger group, Tritium night sights for front and rear, rails for attachment of flashlight (front under fore grip) and scope (top rear), stock-collapsilbe (sic) or folding, magazine – 30 rd. capacity, sling, light weight, and oversized trigger guard for gloved operation."
Hopefully, those operating the semi-automatic weapons will be better skilled than whoever is writing solicitations on behalf of the USDA, but the fact that the law enforcement division of the United States Forest Service, which operates under the USDA, is not mentioned in the request
has prompted some to question
where the guns will be going.
"They will no doubt attempt to justify their purchase of military hardware by explaining that they conduct criminal investigations and may need to do armed raids,"
writes Bob Owens
, adding, "This is part of a trend to arm every branch of federal government, whether the individual agency has a legitimate need for a paramilitary force or not."
Concerns over large ammunition purchases by the Department of Homeland Security have raged over the past two years, although a recent
Government Accountability Office investigation
downplayed the issue as nothing out of the ordinary.
More pertinent than the amount of bullets purchased has been the type of ammunition and the DHS' insistence that companies be able to supply them quickly if needed, which some have linked to the federal agency's preparations for domestic unrest in the United States.
In May last year
, the DHS sent out a request for information asking companies if they could provide 2 million bullets within a 30-60 day turnaround period.
In February last year
, Law Enforcement Targets Inc., a contractor that had previously done $2 million dollars worth of business with the DHS, was forced to apologize after producing "no more hesitation" shooting targets which depicted pregnant women, children, and elderly gun owners in residential settings as "non-traditional threats."
Have you ever given food to a homeless person? Well, if you do it again in the future it might be a criminal act depending on where you live. Right now, there are dozens of major U.S. cities that have already passed laws against feeding the homeless.
As you will read about below, in some areas of the country you can actually be fined hundreds of dollars for just trying to give food to a hungry person. I know that sounds absolutely insane, but this is what America is turning into. Communities all over the country are attempting to "clean up the streets" by making it virtually illegal to either be homeless or to help those that are homeless. Instead of spending more money on programs to assist the homeless, local governments are bulldozing tent cities and giving homeless people one way bus tickets out of town. We are treating some of the most vulnerable members of our society like human garbage, and it is a national disgrace.
But on Wednesday, the Jimenezes said that without warning, they and four other volunteers were accosted by police, fined and told that they could be thrown in jail if they continue their program, according to NBC News.

Each of the six was fined $373 and were given 10 days to either pay up or go to court.
Don't the police down in Daytona Beach have something better to do with their time?
And what the city of Camden, New Jersey just did is even worse than what happened in Daytona Beach.
Hazmat teams showed up at the camps in the early morning to search for syringes. A drug-sniffing dog followed a police officer around the area. And bulldozers tossed trash and discarded belongings into dumpsters before razing the premises.

Over the past few weeks, flyers had warned people in the tent cities that this was going to happen. Yet it still seemed surreal to many of them that their communities were about to be demolished for good.
Aaron Howe, the "mayor" of a tent city that had 12 tents the night before eviction day, said he had called every shelter in town and not a single place had room for him and his girlfriend.

"There's no available spots, and the city is saying if we pitch a tent somewhere else they're gonna rip it down," he said. "It's not gonna look good when there's a bunch of homeless on the streets."
When her Greyhound bus pulled into town 6 months ago, Maria Castillo got off with two bags and dream.

"Start over, start a new life," said the 42-year-old.

Castillo had been homeless in San Diego when a social worker offered her a one-way bus ticket to Portland.

"They said come here because all the opportunities in Portland, Oregon," she said.

But Castillo said life isn't much better in her new town. She's still homeless. A Unit 8 investigation found several cities from

San Diego

to

San Francisco

are providing one-way bus tickets to the homeless.
In the past two weeks residents in Hawaii noticed what appeared to be a crazed individual carrying a sledgehammer through the streets of Honolulu, a state lawmaker looking to rid the city of homeless people by targeting their belongings.

State Representative Tom Brower (D) is currently dedicated to dealing out his own personal brand of "justice" by seeking out homeless people and destroying their possessions. Brower estimates that he has used the sledgehammer to smash at least 30 shopping carts, rendering them useless by bashing in the front wheels.

"I got tired of telling people I'm trying to pass laws. I want to do something practical that will really clean up the streets," he told Hawaii News Now. "I find abandoned junk, specifically shopping carts, and I remove them."
Is this how our society is going to treat those that are down on their luck from now on?
Where is the love?
Where is the compassion?
Why can't we seem to be able to take care of these people?
Employees at an ObamaCare processing center in Missouri with a contract worth $1.2 billion are reportedly getting paid to do nothing but sit at their computers.

"Their goals are set to process two applications per month and some people are not even able to do that," a whistleblower told

KMOV-TV

, referring to employees hired to process paper applications for ObamaCare enrollees.

The facility in Wentzville is operated by Serco, a company owned by a British firm that was awarded $1.2 billion in part to hire 1,500 workers to handle paper applications for coverage under the law, according to

The Washington Post

.

The whistleblower employee told the station that weeks can pass without data entry workers receiving even a single application to process. Employees reportedly spend their days staring at their computers, according to a

KMOX-TV

report.
So we have millions upon millions of dollars to waste on that, but we can't take care of our homeless population?
And it is going to get a whole lot worse. This is only just the beginning.
What is going to be needed in the years ahead is a tremendous amount of love and compassion.
But instead, it appears that hearts are becoming colder in America with each passing day.
While many Americans understand why the NSA is conducting mass surveillance of U.S. citizens, some are still confused about what's really going on.
The perception that invasive surveillance is confined only to a marginalised and deserving group of those "doing wrong" – the bad people – ensures that the majority acquiesces to the abuse of power or even cheers it on. But that view radically misunderstands what goals drive all institutions of authority. "Doing something wrong" in the eyes of such institutions encompasses far more than illegal acts, violent behaviour and terrorist plots. It typically extends to meaningful dissent and any genuine challenge. It is the nature of authority to equate dissent with wrongdoing, or at least with a threat.

The record is suffused with examples of groups and individuals being placed under government surveillance by virtue of their dissenting views and activism – Martin Luther King, the civil rights movement, anti-war activists, environmentalists. In the eyes of the government and J Edgar Hoover's FBI, they were all "doing something wrong": political activity that threatened the prevailing order.

The FBI's domestic counterintelligence programme, Cointelpro, was first exposed by a group of anti-war activists who had become convinced that the anti-war movement had been infiltrated, placed under surveillance and targeted with all sorts of dirty tricks. Lacking documentary evidence to prove it and unsuccessful in convincing journalists to write about their suspicions, they broke into an FBI branch office in Pennsylvania in 1971 and carted off thousands of documents.

Files related to Cointelpro showed how the FBI had targeted political groups and individuals it deemed subversive and dangerous, including the National Association for the Advancement of Colored People, black nationalist movements, socialist and communist organizations, anti-war protesters and various rightwing groups. The bureau had infiltrated them with agents who, among other things, attempted to manipulate members into agreeing to commit criminal acts so that the FBI could arrest and prosecute them.

Those revelations led to the creation of the Senate Church Committee, which concluded: "[Over the course of 15 years] the bureau conducted a sophisticated vigilate operation aimed squarely at preventing the exercise of first amendment rights of speech and association, on the theory that preventing the growth of dangerous groups and the propagation of dangerous ideas would protect the national security and deter violence."

These incidents were not aberrations of the era. During the Bush years, for example, documents obtained by the American Civil Liberties Union (ACLU) revealed, as the group put it in 2006, "new details of Pentagon surveillance of Americans opposed to the Iraq war, including Quakers and student groups". The Pentagon was "keeping tabs on non-violent protesters by collecting information and storing it in a military anti-terrorism database". The evidence shows that assurances that surveillance is only targeted at those who "have done something wrong" should provide little comfort, since a state will reflexively view any challenge to its power as wrongdoing.

The opportunity those in power have to characterise political opponents as "national security threats" or even "terrorists" has repeatedly proven irresistible. In the past decade, the government, in an echo of Hoover's FBI, has formally so designatedenvironmental activists, broad swaths of anti-government rightwing groups, anti-war activists, and associations organised around Palestinian rights. Some individuals within those broad categories may deserve the designation, but undoubtedly most do not, guilty only of holding opposing political views. Yet such groups are routinely targeted for surveillance by the NSA and its partners.

One document from the Snowden files, dated 3 October 2012, chillingly underscores the point. It revealed that the agency has been monitoring the online activities of individuals it believes express "radical" ideas and who have a "radicalising" influence on others.

***

The NSA explicitly states that none of the targeted individuals is a member of a terrorist organisation or involved in any terror plots. Instead, their crime is the views they express, which are deemed "radical", a term that warrants pervasive surveillance and destructive campaigns to "exploit vulnerabilities".

Among the information collected about the individuals, at least one of whom is a "US person", are details of their online sex activities and "online promiscuity" – the porn sites they visit and surreptitious sex chats with women who are not their wives. The agency discusses ways to exploit this information to destroy their reputations and credibility.

The NSA's treatment of Anonymous, as well as the vague category of people known as "hacktivists", is especially troubling and extreme. That's because Anonymous is not actually a structured group but a loosely organised affiliation of people around an idea: someone becomes affiliated with Anonymous by virtue of the positions they hold. Worse still, the category "hacktivists" has no fixed meaning: it can mean the use of programming skills to undermine the security and functioning of the internetbut can also refer to anyone who uses online tools to promote political ideals. That the NSA targets such broad categories of people is tantamount to allowing it to spy on anyone anywhere, including in the US, whose ideas the government finds threatening.
People are aware of J. Edgar Hoover's abuses. The nature of that series of events is that the United States government looks at people who oppose what they do as being, quote-unquote, "threats." That's the nature of power, is to regard anybody who's a threat to your power as a broad national security threat.
***
There has already been reporting that shows that—the document, for example, in the book that shows the NSA plotting about how to use information that it collected against people it considers, quote, "radicalizers." These are people the NSA itself says are not terrorists, do not belong to terrorist organizations, do not plan terrorist attacks. They simply express ideas the NSA considers radical. The NSA has collected their online sexual activity, chats of a sexual nature that they've had, pornographic websites that they visit, and plans, in the document, on how to use this information publicly to destroy the reputations or credibility of those people to render them ineffective as advocates. There are other documents showing the monitoring of who visits the WikiLeaks website and the collection of data that can identify who they are. There's information about how to use deception to undermine people who are affiliated with the online activism group Anonymous.
Recent stories show that Greenwald is right:
And it's not just spying …
No matter what the Obama administration may say to the contrary, actions speak louder than words, and history shows that the U.S. government is not averse to locking up its own citizens for its own purposes. What the NDAA does is open the door for the government to detain as a threat to national security anyone viewed as a troublemaker. According to government guidelines for identifying domestic extremists—a word used interchangeably with terrorists, that technically applies to anyone exercising their First Amendment rights in order to criticize the government.
Within 30 minutes after the President signing the order, Addington placed it into his office safe, and he showed it to very few people, only on a need-to-know basis.
How, for example, could American voters intelligently evaluate the Republican and Democratic Presidential candidates' respective positions on warrantless wiretapping? A political game was being played here, and voters were the ultimate chips to be won or lost in this game. They weren't the ultimate deciders; the ultimate deciders were the players of the game. It was no democracy.
Just Hmmm.....
ANTI-SURVEILLANCE MASK CAN HIDE YOU FROM BIOMETRIC FACE SCANNERS
"An Alternative Identity When in Public"
The U.S. government is spending billions of dollars to ensure that they can monitor and track every single activity in which you engage, be it online of off. The latest attempt to infringe on the personal anonymity comes in the form of what has been referred to as
Real I.D.
, essentially a social security number for the internet which would be used to follow your every move in cyberspace. Coupled with technologies that include email mining, global positioning systems,
predictive behavioral analysis
,
drones over America
, and even eavesdropping via microphones on our cell phones, the ultimate goal is a surveillance state so expansive that Adolf Hitler and Josef Stalin would be jealous.
But just as quickly as government introduces the technologies that are supposed to keep us safe from terrorists and ourselves, enterprising rebels across the country are working to counter them.
In the realm of biometrics, where literally hundreds of thousands of cameras now
watch our every move
and plug in directly to data mining
Fusion Centers
where our activities are analyzed, aggregated and dispatched according to our perceived threat, some might think the system itself has become unbeatable.
Short of plastic surgery, how can we modify our faces to disappear from prying government eyes when we step out of our front doors?
If Leo Selvaggio has his way, you'll be able to assume an alternative identity by using an age old low-tech strategy made possible by modern-day 3-D printers.
It's so simple that it's brilliant, especially considering the fact that Selvaggio's innovation is capable of compromising multi-billion dollar face recognition surveillance systems with the use of an easily obtainable personal prosthetic mask.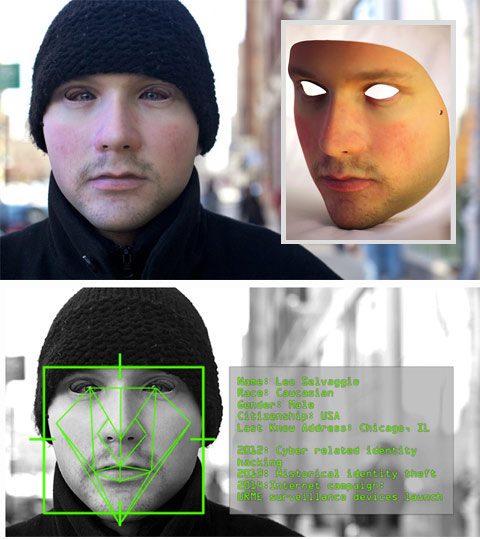 His rubber mask aimed at foiling surveillance cameras features his visage, and if he has his way, plenty of people will be sporting the Personal Surveillance Identity Prosthetic in public. It's one of three products made by the Chicago-based artist's URME Surveillance, a venture dedicated to "protecting the public from surveillance and creating a safe space to explore our digital identities."
"Our world is becoming increasingly surveilled. For example, Chicago has over 25,000 cameras networked to a single facial recognition hub," reads the URME (pronounced U R Me) site. "We don't believe you should be tracked just because you want to walk outside and you shouldn't have to hide either. Instead, use one of our products to present an alternative identity when in public."
The 3D-printed resin mask, made from a 3D scan of Selvaggio's face and manufactured by ThatsMyFace.com, renders his features and skin tone with surprising realism, though the eyes peeping out from the eye holes do lend a certain creepiness to the look.
…
"When you wear these devices the cameras will track me instead of you and your actions in public space will be attributed as mine because it will be me the cameras see," the artist, who's working toward his MFA at Chicago's Columbia College, says on a recently launched Indiegogo page for the products. "All URME devices have been tested for facial recognition and each properly identifies the wearer of me on Facebook, which has some of the most sophisticated facial recognition software around."
(Cnet)
The anti-face recognition tech is currently only available in Leo Selvaggio's image, so government systems spotting anyone wearing the mask will flag him as the culprit. But the implications are so broad that somewhere inside the Department of Homeland Security surveillance personnel are undoubtedly scrambling to thwart it, because it presents a serious hiccough to the surveillance state.
With the ease of 3-D printing any technophobe with the ability to mimic someone else's face via 3D graphing software will have the ability to literally assume a person's identity by simply printing their face and wearing it.
In a the world of biometric surveillance, that means anybody can disappear from view and essentially become a 21st century
Silence Dogood
.
Real ID? How about Alternative ID instead?