Retaliation ?
Today I refunded all the supports (up to 60days ago) that people expected to change the world.
The Paypal account of Fukushima Diary has been suspended since last week.
Today, they decided to close it.
The only "reason" was this (From their last email)
"Dear IORI MOCHIZUKI,
Important information:
We regret to inform you that we're initiating the closure of your Paypal account because of certain activity that took place relating to your account. This measure is necessary to protect us from potential financial losses."
In short, they will hold up the balance for 180 days. Meanwhile, I cannot withdraw / send / accept any money.
Because it was a business account, it's impossible to have another account though I actually don't want to open another account. I cannot use a personal one cause I pay tax as Fukushima Diary SRL.
so I lost "our" money, and lost the means of accepting your supports.
It started with one phone call.
This day of last week, I was at a lawyer's office in Cyprus. I and a few other Japanese people are trying to incorporate in Cyprus and Netherlands, and I went there to make a contract.
Exactly when I held the pen, I received the call. It was from Paypal. The guy said my account was under review.
So I couldn't make a contract that day. I apologized to other Japanese people and also explained the situation to Paypal.
They required me some documents, but these were shipping proof, supplier invoice, profit and loss & Balance sheet of Fukushima Diary. Also the proof of company registration.
The only document that I could send was the proof of company registration.
I'm not the type of "merchant" to send box. Because this is still the first year, Fukushima Diary hasn't published P/L or B/S yet. and I submitted the proof of company registration last year when I opened the account.
I did my best to get it fixed before I left Cyprus but it didn't work.
Their treatment was far from being organized. I called them several times a day, but some of the agents say the reviewing takes 24 ~ 72 hours. Others say it's 4~5 business days. One of the agent even sent me an email so say "I'm glad to know your case was resolved.". and it wasn't resolved actually.
When the first 72 hours passed, they called me to say "it takes up to 14 days."
The reason of "reviewing" and suspending my account wasn't clear. They picked up 5 transactions for the "shipping proof" but because I refunded them immediately, they mustn't have any reason to investigate it anymore.
They said it doesn't lead to closure of an account or anything, everything is ok, it was just a routine investigation, until this week.
I came back from Cyprus to Bucharest last night though I couldn't make a contract with the lawyers.
Just before the flight, I called them again. and the agent said,
"The case wasn't under review."
I had called them more than everyday, and they always said the case was under review, they even escalated it.
I asked the agent "so were you telling a lie ?". They started saying "I don't know, I don't have an access to the information.".
Today I had a meeting with my Romanian lawyer and accountant. I called Paypal again and asked the lawyer to have a say on the phone. The agents sounded scared.
The email was sent 1 hour after the phone call to say they are initiating to close the account.
This is not just a loss of a Paypal account.
In addition to the fact that I cannot make alternative account, I lost my first salary until April of 2015.
I have been receiving donations from many people since I left Japan.
I "donated" it to the business account to start up the company, and I wasn't paid anything from my own company through 2013.
Because I'm supposed to be a sole shareholder, my only income is "dividend". It's paid only in April.
Today, 5/6/2014, was supposed to be my first "payday", and the dividend was supposed to be my one year living expense until April of 2015.
Paypal is going to hold the fund up to 180 days. I can't survive that long.
I don't even trust that Paypal would release "our money" then, from the communication since last week.
People say I should have moved money to the bank.
Easier said than done.
I thought I shouldn't put too much money in the bank from looking at the financial crisis.
The reason why they put the account under review suddenly is not clear.
In the beginning, I thought that was because I receive larger sum of money for the capital of new company in Cyprus and their algorithm detected it.
Anyway, their sudden decision to close the account has no reason.
One of my readers said, "You were Assanged."
Unfortunately, I have no evidence to deny it.
Energy News ......
Fukushima Diary.......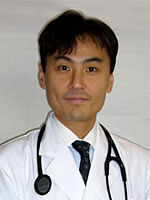 One of the major Fukushima newspapers reported that Fukushima citizens cannot have nosebleed due to the radioactive contamination.
It was "Fukushima Minpo". They referred to
Professor. Takamura
from Nagasaki University (The picture above).
In the contributed article, Takamura commented that people can have unstoppable nosebleed when exposed to over 500 mGy (=500 mSv) at once, however Fukushima citizens haven't had such exposure dose since 311.
He concluded, "It cannot be related to radiation exposure that Fukushima citizens have nosebleed. There are variety of reasons to have nosebleed.".
M6.2 hit Kanto region at 5:18AM of 5/5/2014 (JST) according to Japan Meteorological Agency.
The epicenter was near Izu-ohshima, south offshore of Kanto area. The depth was 160km.
The seismic intensity was 5- in Tokyo 23 wards.
16 minutes before the M6.2, M4.2 also hit north Kanto region. The epicenter was south part of Ibaraki prefecture. The depth was 50km.
2 major earthquakes occurred in Kanto region. Fukushima Diary advises Kanto area residents to be as careful as possible.
A Japanese citizen posted on a forum that the person had 3 teeth fall out within a day.
People are posting on various places on the internet that their teeth came out increasingly frequently, but there is no official statistics. Fukushima Diary posts this as a typical case.
It was posted on a Japanese forum on 4/25/2014 with the picture below.
The person comments the first one fell out in the morning when eating dried potato. The second one was broken when having lunch at work.
The last one was broken when drinking coca cola.
As back ground information, Strontium-90 is known to accumulate in bones.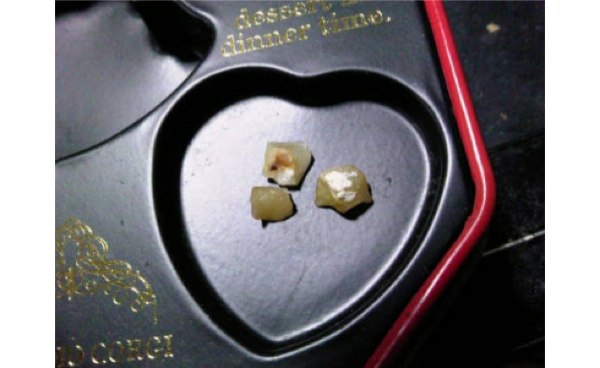 Related article.. Fukushima citizen "Everybody is having cancer, cancer and cancer.. what is going on ? I'm afraid it is that…" [
URL
]