FBI arrests 100 hackers over Blackshades malware
After a dozen raids around the world, police are detaining the hackers behind 'RAT' software, which lets attackers take over Facebook accounts and infect computers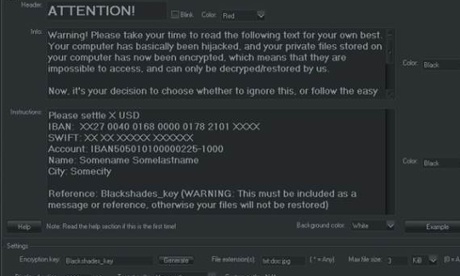 More than 100 people worldwide have been arrested following an FBI-led crackdown on hackers linked to a "remote administration tool" called Blackshades.
Raids took place in more than a dozen countries,
according to officials who spoke to Time magazine
, and involved law enforcement agencies in Europe, Asia, Australia and North America. According to the UK's National Crime Agency, 17 of those arrested were based in Britain.
The charges are still sealed, but US prosectors are expected to announce some of the results at a press conference midday in New York.
Known as a RAT or backdoor, Blackshades and other software like it allows attackers to remotely seize control of a users' computer, turning on webcams, stealing passwords and personal information, and launching further attacks on other computers. The software itself is not illegal, and can be bought for as little as $40, but installing it on a victim's computer without their knowledge is against the law in most countries.
In 2012, an FBI sting
resulted in the arrest
of more than 20 people involved with the programme, including Michael Hogue, allegedly the software's lead coder under the name xVisceral. Despite the arrest,
researchers from Symantec
saw a rise in infections over the second half of 2013.
Troy Gill, senior security analyst at AppRiver, thinks that these arrests are linked to Hogue's. "Even though these busts have come a little later than might be expected," he says, "it is not inconceivable to think that information or access gleaned in the author's arrest could have been instrumental in facilitating this coordinated effort."
Credit Suisse Admits Guilt In Aiding US Citizens Evade Taxes - Live Eric Holder Press Conference
Submitted by Tyler Durden on 05/19/2014 17:58 -0400
As expected and discussed earlier in the day, Credit Suisse has become the first major bank to admit to doing anything wrong (though obviously unrelated directly to the financial crisis):
U.S. FILES CRIMINAL CASE AGAINST CREDIT SUISSE IN FEDERAL COURT
CREDIT SUISSE AGREES TO PLEAD GUILTY IN TAX CASE SAYS U.S
CREDIT SUISSE PLEA WOULD END THREE YEAR U.S. INVESTIGATION
U.S. ALLEGES CREDIT SUISSE AIDED U.S. CITIZENS IN TAX EVASION
Expectations are for a $2.6 billion settlement ($1.9bn to DoJ & $0.7bn to NY)- notably more than the ~$475 million CS has reserved for the settlement - but Eric Holder's due to speak at a press conference at 6pmET to cover the details (but will anyone go to jail?)
Some details:
*CREDIT SUISSE SAID TO PAY $715 MILLION TO NEW YORK IN TAX CASE
*CREDIT SUISSE PAYMENT TO NEW YORK REGULATOR PART OF U.S. ACCORD
*CREDIT SUISSE NEW YORK AGREEMENT INCLUDES MONITOR, TERMINATIONS
Remember - Holder told us there was no such thing as too big to jail...
xxxxxxxxxxxxxxxxxxxxxxxx
Credit Suisse's guilty plea to U.S. criminal charges is likely to be announced after the market closes on Monday, three sources said.




Under a settlement, Credit Suisse is expected to pay over $2 billion to U.S. authorities to resolve charges it helped Americans evade taxes. The Swiss bank has been in negotiations with the U.S. Department of Justice, the U.S. Federal Reserve, and the New York State Department of Financial Services.




Spokesmen for Credit Suisse and the New York State Department of Finance as well as a spokeswoman for the U.S. Federal Reserve all declined to comment. A representative from the Department of Justice was not immediately available for comment.




A criminal guilty plea would be unusual for a financial institution. Authorities have not often sought criminal convictions against a company, fearing the action would put the firm out of business and result in lost jobs for employees that had nothing to do with any crime.




The Wall Street Journal reported on Monday that Chief Executive Officer Brady Dougan and Chairman Urs Rohner will retain their jobs under the settlement, citing a source.




Last week, sources told Reuters the settlement was expected to be about $2.5 billion, with about $2 billion going to the U.S. government, while the New York's Department of Financial Services potentially would get another $500 million or more. The bank feared that a bigger settlement would threaten its credit rating, a source said.
The criminal case follows a Senate subcommittee investigation that found the bank provided accounts in Switzerland for more than 22,000 US clients totalling up to $12bn.




The report said Credit Suisse sent Swiss bankers to recruit American clients at golf tournaments and other events, encouraged US customers to travel to Switzerland and actively helped them hide their assets.




In one instance, a Credit Suisse banker handed a customer bank statements hidden in a Sports Illustrated magazine during a breakfast meeting in the United States.



DOJ Accuses Chinese Hackers Of "Penetrating" US Companies - Live Press Conference Feed
Submitted by Tyler Durden on 05/19/2014 10:07 -0400
In the first case of its kind, US Attorney General Eric Holder has broght charges against five Chinese military officals on charges of economic espionage and other offenses related to computer hacking of US nuclear power, metals, and power industries:
*FIVE CHINESE MILITARY OFFICERS CHARGED BY U.S. WITH ESPIONAGE
*JUSTICE DEPARTMENT SAYS CHINA HACKERS PENETRATE U.S. COMPANIES
*DOJ SAYS ESPIONAGE TARGETED WESTINGHOUSE ELECTRIC, U.S. STEEL, ALCOA, SOLARWORLD
Holder added that the "range of trade secrets and other senstivive business information stolen in this case is significant and demands an aggressive response."
As BBC reports:
The US has charged Chinese officials with hacking private-sector companies, in a first of its kind cyber-espionage case.




Attorney General Eric Holder will announce charges against five Chinese hackers, saying they broke into US companies to gain trade secrets.




The US and China have previously sparred over cyber attacks, with the US accusing China of being behind attacks on companies and US military targets.
In detail:
"This is a case alleging economic espionage by members of the Chinese military and represents the first ever charges against a state actor for this type of hacking," U.S. Attorney General Eric Holder said in a statement.




"The range of trade secrets and other sensitive business information stolen in this case is significant and demands an aggressive response. Success in the global marketplace should be based solely on a company's ability to innovate and compete, not on a sponsor government's ability to spy and steal business secrets."




The Justice Department said the U.S. victims included:

Westinghouse Electric Co.;
U.S. subsidiaries of SolarWorld AG;
United States Steel Corp.;
Allegheny Technologies Inc.;
the United Steel, Paper and Forestry, Rubber, Manufacturing, Energy, Allied Industrial Services Workers International Union; and
Alcoa Inc.
Additionally, Preet Bharara noted an additional push to be discussed later
*U.S. MALWARE PROBE SAID TO YIELD DOZENS OF ARRESTS WORLDWIDE
But note China's retorts as to the cyber hack indictments.....
China Publishes Data Claiming US Is World's Largest Cyber Attacker
Submitted by Tyler Durden on 05/19/2014 21:45 -0400
Well that didn't take long. Having already responded angrily to the US charging 5 military officers with cyber espionage, China has published details of the US cyber attacks:
*CHINA CALLS U.S. THE BIGGEST ATTACKER OF CYBER SPACE: XINHUA
From 3/19 to 5/18, they claim to have found 135 host computers in the US carrying 563 phishing pages targeting Chinese sites that directly controlled 1.18 million computers. But Jay Carney said earlier that "the US does not engage in economic espionage."
As Xinhua reports,
A spokesperson for China's State Internet Information Office on Monday published the latest data of U.S. cyber attack, saying that China is a solid defender of cyber security.




The U.S. is the biggest attacker of China's cyber space, the spokesperson said, adding that the U.S. charges of hacking against five Chinese military officers on Monday are "groundless".




Latest data from the National Computer Network Emergency Response Technical Team Coordination Center of China (NCNERTTCC) showed that from March 19 to May 18, a total of 2,077 Trojan horse networks or botnet servers in the U.S. directly controlled 1.18 million host computers in China.




The NCNERTTCC found 135 host computers in the U.S. carrying 563 phishing pages targeting Chinese websites that led to 14,000 phishing operations. In the same period, the center found 2,016 IP addresses in the U.S. had implanted backdoors in 1,754 Chinese websites, involving 57,000 backdoor attacks.




The U.S. attacks, infiltrates and taps Chinese networks belonging to governments, institutions, enterprises, universities and major communication backbone networks. Those activities target Chinese leaders, ordinary citizens and anyone with a mobile phone. In the meantime, the U.S. repeatedly accuses China of spying and hacking.




China has repeatedly asked the U.S. to stop, but it never makes any statement on its wiretaps, nor does it desist, not to mention make apology to the Chinese people.




After the Prism program leaked by Edward Snowden, the United States was accused by the whole world. However, it has never made retrospection, instead, it accuses others.




The spokesperson said the Chinese government opposes any kinds of cyber crimes, and any groundless accusations against the country.




If the United States goes its own way, China will take countermeasures, the spokesperson said.
Of course, the real way the Chinese can quiet down the US is by signing that Russian "holy grail" gas deal this week.
and....
China Responds To "Ridiculous" Hacking Charges, Warns "Will Harm Relations With US", Demands US "Rectify Mistake"
Submitted by Tyler Durden on 05/19/2014 11:28 -0400
While we wait (in vain) for the US to lob sanctions at China for doing what Russia has done and amass a military presence on its border with Vietnam, here is what China had to say about the earlier announcement by the DOJ charging China with espionage and "penetrating" US companies (if having nothing to add regarding the NSA). From the wires:
CHINA FOREIGN MINISTRY SAYS CHARGES HARM RELATIONS WITH U.S.
CHINA FOREIGN MINISTRY SAYS CHINA HAS ALREADY PROTESTED TO U.S., URGES U.S. TO IMMEDIATELY RECTIFY MISTAKE
CHINA FOREIGN MINISTRY 'STRONGLY REFUTES' U.S. CHARGES
CHINA FOREIGN MINISTRY SAYS U.S. MADE UP FACTS IN SPYING CASE
CHINA FOREIGN MINISTRY URGES U.S. TO `CORRECT ITS MISTAKES'
CHINA SAYS U.S. VIOLATES BASIC PRINCIPLES OF INTL RELATIONSHIPS
CHINA FOREIGN MINISTRY CALLS CHARGES `BASELESS,' `RIDICULOUS'
CHINA FOREIGN MINISTRY URGES U.S. TO `WITHDRAW CHARGES'
And the enigmatic:
CHINA TO MAKE FURTHER RESPONSES ACCORDING TO DEVELOPMENTS
May 19, Foreign Ministry Spokesman Qin Gang's Remarks on the US Justice Department announced the indictment of five Chinese military officer, expressed their conversation follows:




May 19, the United States fabricated Facts, the so-called Network Theft grounds stands in five Chinese officers to the Move Announced aserious violation of the Basic Norms of international relations, Damage Sino-U.S. Cooperation and Mutual Trust. China has protested to the United States for the first time, urged the US side to correct the error immediately revoke the so-called prosecution.




Chinese Government's stance on the Network Security issue is consistent and Clear. China is a staunch defenders of Network Security, the Chinese Government and Military and associated Personnel never Engaged in Theft of Trade secrets or Participate in activities through the Network. Chinese Officials accused the United States on a purely fictitious, extremely absurd.




For a long time, the U.S. departments of foreign dignitaries, corporate, personal conduct large-scale, organized theft and network monitoring, control activities, this is obvious. China is the U.S. theft and monitor network, victims of serious monitoring. According to a lot of information publicly disclosed, the relevant U.S. agencies have been spying on the Chinese government departments, agencies, businesses, universities, individuals and network intrusion monitoring, surveillance. China thereon repeatedly made solemn representations to the U.S. side. Once again, we strongly urge the U.S. side to make a clear explanation, immediately stop such activities.




Given the United States for cooperation to solve network security problems through dialogue lack of sincerity,China has decided to suspend the activities of Sino-US Network Working Group. China will develop according to the situation, the prosecution called on the U.S. to further reaction.
Because if there was anything China needed in the week in which it is finalizing its "holy grail" gas deal with Russia, is more anatagonism from the Obama administration.
And now watch as Cisco guides to a far lower sales number for Q2 on what John Chmabers can only describe as a sudden "air pocket" in Chinese demand for its routers.