Ukraine.....
Michael Hudson explains the Ukrainian situation....
More at The Real News
Solution in 48 hours - one way or another say Ukraine ?
http://rt.com/news/kiev-forces-eastern-ukraine-512/
​Kiev orders 'state protection' of protester-held govt HQ in Donetsk
Published time: April 09, 2014 21:57
Edited time: April 09, 2014 22:47
Ukraine's self-imposed president Aleksandr Turchinov has ordered the protester-held local govt HQ in Donetsk to be taken under 'state protection' as armed personnel and armored vehicles have been reported moving into the eastern region of Ukraine.
According to a decree signed by Turchinov, the local administration building in Donetsk and surrounding territory is an "important government facility, which is a subject to state protection."
The decree entered into force upon signature and Turchinov has already given Ukraine's state security service appropriate directions, Itar-Tass reports.
Ukraine's acting interior minister Arsen Avakov stated earlier on Wednesday that a
"special police task force"
had already arrived in Donetsk, Lugansk and Kharkov from western regions of Ukraine and was ready to take them under control within 48 –
using force
, if needed.
The buildings of power structures in the eastern cities of Donetsk and Lugansk remain under control of the protesters. While so far there have been no attempts to recapture the occupied buildings, activist continue building barricades preparing for a possible attack by forces shipped in from other regions of Ukraine.
Activists expect the military operation to take place overnight in Donetsk and Lugansk simultaneously. Local administration in Kharkov was already
stormed
on Tuesday by armed men without insignia and masked law enforcement officers, after the local police in Kharkov refused to fulfill orders from Kiev.
About a hundred fighters from the newly-formed Ukraine's National Guard reportedly arrived in the airport of Donetsk, the deputy director of a local group called People's Militia of Donbas, Sergey Tsyplakov, told Ria Novosti.
"In Donetsk airport about a hundred of people from the National Guard have been housed,"Tsyplakov said. "Around a hundred of Right Sector thugs are also in the city, as well as a hundred employees from a private US military company operating under contract with Kiev junta."
"Totally around 300 professionals or well-trained and motivated fanatics," Tsyplakov added. "This is a major force, but we are ready to fight."
Earlier in the day, pro-federalization activists in Donetsk blocked two busses carrying unbadged armed men in camouflage near the military commissariat. According to Tsyplakov activists believe they were mercenaries but were unable to identify gunmen as they kept silent and refused to answer any questions.
In the meantime, Ukrainian personnel and armored vehicles were spotted moving closer to the city of Donetsk. In an amateur video posted on YouTube shows locals were trying to stop machinery from progressing further.
Activists were also posting photos of special trains reportedly carrying armored vehicles to Donetsk.
Protests against the new government in Kiev have been continuing in eastern Ukraine for weeks now. Avakov warned that the coup-imposed government is ready within the next 48 hours to use force in order to retake control of the local administrative buildings held by protesters.
Pro-Russian Separatists Build Barricades In East Ukraine As Kiev Warns Of Force
LUHANSK, Ukraine (Reuters) - Pro-Russian separatists reinforced barricades around the state security building in the eastern Ukrainian city of Luhansk on Wednesday and called on President Vladimir Putin for help after the government warned it could use force to restore order.
But protesters were also engaged in talks to ease the standoff, which Kiev has said could provide a pretext for a Russian invasion, and lawmakers from eastern Ukraine proposed an amnesty for protesters to defuse tension.
The former KGB headquarters is one of three government buildings seized this week in eastern Ukraine by protesters demanding regional referendums on independence from Kiev, like the one in Crimea that led to its annexation by Russia.
Tensions have risen in the mainly Russian-speaking east since the overthrow of Ukraine's Moscow-backed president and the installation of a new pro-European government.
"Of course we must ask Russia to take us in because I don't see an alternative," said a man dressed in camouflage who gave his name as Vasiliy and said he was the commandant of the building. "Putin help us!" he said.
Sandbags and wooden crates were piled near the entrance of the building to defend it against the police. Men with rifles could be seen through broken windows above.
Local police spokeswoman Tatyana Pogukai said protesters had found an arsenal of weapons within the building. Protesters say they have 200-300 Kalashnikov automatic rifles. She denied previous reports that hostages had been taken.
She said negotiations had been carried out overnight but the two sides had not come to an agreement.
"They won't put down their weapons until there is agreement on a referendum," she said.
Protesters in Donetsk, to the south, remain in control of the main regional authority building, but authorities have ended the occupation in the city of Kharkiv.
'FORCEFUL ANSWER'
"A resolution to this crisis will be found within the next 48 hours," Interior Minister Arsen Avakov told reporters in the capital Kiev.
"For those who want dialogue, we propose talks and a political solution. For the minority who want conflict they will get a forceful answer from the Ukrainian authorities," he said.
Ukraine's state security service said that 50 people had left the building in Luhansk overnight. Protesters confirmed that some had left.
Activists, many in balaclavas and masks, continued to build makeshift barricades and prepared petrol bombs.
"Those who left were not ready to stay and fight," said Vasiliy, who said his "soldiers" would fight on until a referendum on independence from Kiev was held.
Ukraine's government says the actions are part of a Russian-led plan to dismember the country, a charge Moscowdenies.
U.S. Secretary of State John Kerry accused Russian agents and special forces on Tuesday of stirring up separatist unrest and said Moscow could be trying to prepare for military action as it had in Crimea.
Russia denied the accusations on Wednesday and dismissed concerns over a troop buildup near the border withUkraine in what has become the worst East-West crisis since the end of the Cold War in 1991.
"The United States and Ukraine have no reason to be worried," the Russian Foreign Ministry said. "Russia has stated many times that it is not carrying out any unusual or unplanned activity on its territory near the border withUkraine that would be of military significance."
A lawmaker from the most popular political party in the east, the Party of Regions, on Wednesday said he planned to ask parliament to amnesty the protesters, following the success of a similar move to reduce tension in Kiev two months ago.
"The situation is so tense and complex that one stray word might cause a flare-up," said Oleksandr Yefremov. "To prevent people suffering ... we are proposing a draft law on an amnesty."
Several hundred people remained camped outside the regional administration building in Donetsk manning barricades of tyres and barbed wire as the Soviet anthem played over loudspeakers.
A member of parliament who supports the Donetsk protesters said they would remain at the building until their demands for increased independence from Kiev were met.
Russia Claims Blackwater Subsidiary Involved in Kharkiv Takeover
by Jason Ditz, April 08, 2014
The secessionist protests in Eastern Ukraine and the subsequent Ukraine military takeover of the city of Kharkiv have added dramatically to East-West tensions in the area, and also to rumors and allegations of foreign involvement.
It's not just unsourced claims from anonymous people, either. Secretary of State John Kerry openly accused Russia of sending "
provocateurs
" to Donetsk and the other cities and bribing ethnic Russians to protest against the pro-West government.
Kerry's Russian counterpart similarly claimed that the Ukrainian military offensive against Kharkiv involved "
US mercenaries
" from the Greystone company, a subsidiary of the notorious Blackwater.
Ukrainian government spokesmen insisted that there were "
no US special forces
" involved in the Kharkiv operation, which likely intended to be a denial of the Blackwater claim, but was worded in a way that leaves the question open, and the rumors swirling.
After Kharkiv, Other Cities Fortify Defenses
by Jason Ditz, April 08, 2014
Ukraine's military takeover of the city of Kharkiv was quick and bloodless, with only a handful of reports of any shooting, and no reports of any deaths. It served as a wake-up call for the separatists in Luhansk and Donetsk.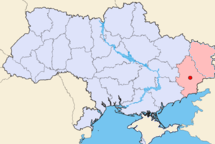 Luhansk government buildings
are now surrounded with barricades and barbed wire
. The protesters have also taken an armory in the city and taken automatic rifles, preparing to fight back if Ukraine's troops come.
Donetsk, the base of the secessionist movement in the east, is
also fortifying
in anticipation of an offensive. Though not as large as Kharkiv, Donetsk appears to have a much larger secessionist movement, and is determined to hold out for a referendum.
Both Donetsk and Luhansk are much closer to the Russian border than Kharkiv, and the secessionists have been hoping to convince the Russian government to intervene on their behalf, with an eye toward a Crimea-style accession into the Russian Federation.
Syria......
by Jason Ditz, April 08, 2014
Two different rebel factions, the Free Syrian Army (FSA) and a faction allied with the Islamic Front
are claiming to have the weapons
, though the US is still not officially confirming they were the direct suppliers.
Saudi Arabia has been keen to supply the rebels with more and more advanced US-made weapons, including TOW missiles and anti-aircraft missiles, though in the past US concerns about the rebels using them on civilian targets, particularly passenger airliners, have prevented such shipments.
In
recent weeks the reports have said
the US was less and less concerned about the shipments, preferring to see the civil war escalate at any cost, and apparently willing to deal with the inevitable backlash when the weapons start showing up in al-Qaeda's hands.
Iraq......
Voting Impossible Because of Ongoing Military Offensive
by Jason Ditz, April 08, 2014
The last national election in Iraq saw a surprise victory for Iraqiya, a party with strong Sunni support which was eventually cut out of power when Prime Minister Maliki reneged on a power-sharing deal. They dominated in the Anbar Province.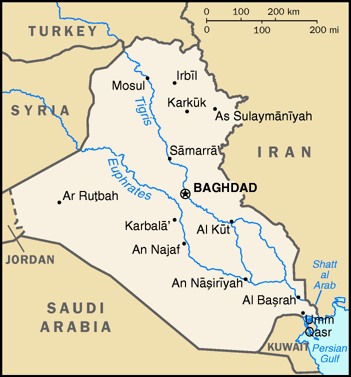 This year isn't looking nearly so promising. The Independent High Electoral Commission (IHEC) has announced that a large portion of the Anbar Province, including the major cities of Ramadi and Fallujah,
won't be voting at all on April 29
.
Fallujah remains under the control of al-Qaeda in Iraq (AQI) as does a lot of Anbar, and IHEC insists that there is no way they can organize the vote when there is an ongoing military offensive in the cities.
Exactly how far that spreads remains to be seen, but the city of Abu Ghraib, just outside of Baghdad, fell to AQI earlier this week, and is just a stone's throw away from Baghdad. If the fighting moves into the capital, it seems impossible that the election can be held at all.
Clashes, Bombings Leave 108 Dead, 95 Wounded
Across Iraq