Syria.....
Factions Clash Over Oil-Rich Border City
by Jason Ditz, April 10, 2014
Major fighting erupted in the oil-rich city of Bukamal, in Syria's Deir Ezzor Province, as al-Qaeda in Iraq (AQI)
attempted to wrest control
from its rival al-Qaeda faction, Jabhat al-Nusra.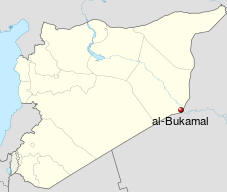 The city is doubly valuable for rebel factions, as it is both a source of oil revenue for its occupier and has a border with Iraq's Anbar Province, a particularly big incentive for AQI, which presently controls much of Anbar as well.
AQI and Jabhat al-Nusra have been openly warring for months, since al-Qaeda's parent organization disavowed AQI as too brutal for their taste, and endorsed Nusra as their official Syria affiliate. Despite losing their imprimatur, AQI has continued to control much more territory and seems to be the stronger of the two factions.
Iraq.......
Bombs, Gunmen Kill 78, Wound 123 Across Iraq