Iraq......
Maliki Vows Revenge as Water Shortages Grow on the Euphrates
by Jason Ditz, April 11, 2014
Al-Qaeda in Iraq (AQI) is continuing to expand its gains in the Anbar Province, seizing a strategically valuable dam on the Euphrates river, giving them considerable control of Iraq's water supply.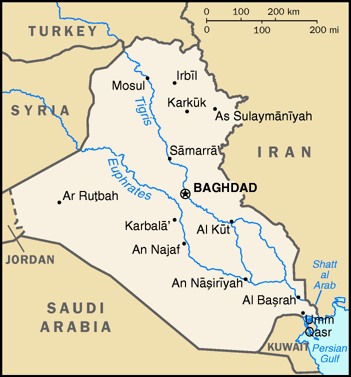 Underscoring just how valuable a prize the dam is, the militants closed a series of flood gates last week,
flooding the area along the river
being used by the Iraqi military as a staging area for an offensive against AQI-held Fallujah, and forcing the troops to retreat.
The closure of the gates has also significantly lowered water levels downstream, causing major electricity shortages in towns that use the river's flow to generate energy, and also threatening irrigation in several Shi'ite cities.
AQI didn't leave the gates closed for all that long, however, and reopened many of them for fear that the flooding might expand into their own territory.
Iraq's Water Ministry dubbed the move a "heinous crime," while Prime Minister Nouri al-Maliki vowed to exact revenge for the loss of the dam with a full-scale military offensive.
Nusra Front Reclaims Key City as Reinforcements Arrive
by Jason Ditz, April 11, 2014
The fighting over the Syrian border city of Bukamal seems far from over, as fierce clashes between al-Qaeda in Iraq (AQI) and its rival al-Qaeda faction, Jabhat al-Nusra, continued into a second day,
raising the overall death toll to 86
.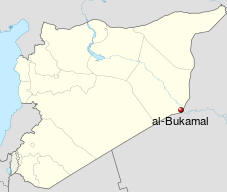 The Nusra fighters held the city to start with, and were attacked by AQI yesterday, with the faction hoping to
seize the oil-rich city as well as its border crossing
into Iraq's Anbar Province, which it also controls much of.
The city changed hands twice today, according to rebel reports, as AQI reportedly took it early in the day, and lost it back to Nusra when reinforcements arrived. AQI is said to have executed seven captured Nusra members on their way out.
The Iraqi military, which still controls the border crossing, is said to have reinforced their own position along the border, but with AQI controlling virtually ever major city along the highway between the border and Baghdad, it seems unlikely that when push comes to shove the border patrol can seriously retain the crossing.
AQI and Jabhat al-Nusra have been openly warring for months, since al-Qaeda's parent organization disavowed AQI as too brutal for their taste, and endorsed Nusra as their official Syria affiliate. Despite losing their imprimatur, AQI has continued to control much more territory and seems to be the stronger of the two factions.
http://www.theguardian.com/world/2014/apr/11/iraq-election-nouri-al-maliki-tehran-violence
Iraq goes to the polls with war as an inescapable backdrop
Fear of extremism is the dominant theme as Nouri al-Maliki seeks third term and violence rages close to the capital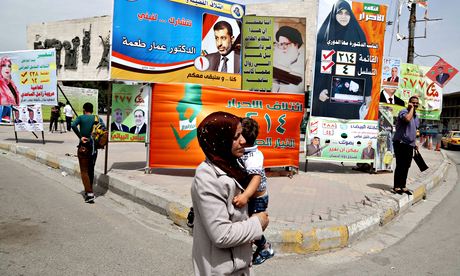 The last time
Iraq
went to the polls, in 2010, US forces were in town and insurgents hovered around the edges. Now, the foreign troops are gone, but extremism has returned to overshadow a democratic watershed in a divided country.
Banners pledging unity rise above traffic-snarled Baghdad crossroads. Politicians dominate the national airwaves with their promises of services. The 30 April election is framed as a vital self-reckoning and a chance for transformation in a society that is withered by uncertainty and the creep of regional chaos.
But few in Baghdad seem to believe the poll holds answers for voters fatigued by insurgency and held back by intractable issues, such as sclerotic public services and rampant corruption.
"Every four years, we hear from our so-called leaders when they want to hold on to their chair," said Abu Radwan, an engineer from the Karrada district in the capital. "So we give them again the power they want and they then start stealing all they want. There is nothing left for us."
Nouri al-Maliki
, Iraq's incumbent prime minister, is being hailed by Iraqi commentators as a frontrunner to win a third term. He is casting himself as Iraq's sole redeemer, staring down a blazing insurgency that has led him to lose control over much of Anbar province, almost one-third of the country, since December.
Another war in Anbar is testing Maliki's security credentials. Officials in Baghdad told the Guardian that by March the Iraqi military had lost close to 1,700 members in the province. The army has failed to shake extremists linked to the Islamic State of Iraq group from the cities of Fallujah and Ramadi and is attempting to safeguard the western approaches to Baghdad – 60 miles away – from what it fears will be an attempt to advance on the capital.
Fear of extremism is a strong current of pre-election discourse, with stability considered a prerequisite for reviving the dormant service sectors. There has been little talk of other issues, such as roads, sewerage, housing and electricity.
Reconciliation – another touchstone issue – has been largely ignored by almost all those vying for a place in the 328-seat parliament.
Nikolay Mladenov, the UN's envoy to Baghdad, recently warned that polarisation would jeopardise investment and could further inflame violence. Iraq's legislators say worsening violence is likely to favour Maliki's chances of a third term.
"They are working this [extremist] line very hard," said a supporter of the incumbent leader. "But this isn't getting very far with the Sunnis. They will be left out again and this is a very big problem."
Iraq's sectarian schism remains largely unreconciled, even seven years after the worst of the civil war, with its fratricidal violence between Sunni and Shia Muslims displacing millions of people.
Maliki has been accused by Iraq's Sunni minority – who held sway under the dictatorship of Saddam Hussein – of doing little to re-empower them, or to address their basic demands. Sunni leaders say the Anbar insurgency is making it easier for supporters of Maliki's Shia-led government to disregard their interests.
The war across the border in Syria is fuelling the Anbar insurgency, which has taken on a regional dimension. Senior Iraqi officials talk of the Syrian war as an existential menace.
"It is, of course, of concern for all the nations of the region," said Hussein Shahristani, the deputy prime minister for energy. "Battle-experienced, international terrorists have been able to get political support and financial help from some countries. It has made them a serious security threat to us all, including Iraq.
"The regime committed strategic mistakes in the way they dealt with legitimate demands. This was a tragic and grave error. Those protests that started in Deraa three years ago gave the opportunity for popular resentment at the handling of the crisis.
"Now we have to face the current reality. How can we protect the people from being held hostage to such an extremist threat?"
Iyad Allawi, a former prime minister, said: "All of us are frightened by this. It is becoming very frustrating to see things moving in the wrong direction in all countries."
Allawi, a secular Shia with cross-sectarian appeal, fought a close race with Maliki in 2010, emerging with a similar primary vote that included large numbers of Sunnis. He was unable to form a majority coalition, eventually yielding to Maliki after 10 months of wrangling. This time around, he says he is running a low-profile campaign.
"I am appealing to the dignified people from across Iraq, from Irbil to Basra. We are trying to explain to those who stood against us last time exactly what is happening. We will not deal with those who laid their hands on the wealth of the nation. We are not being supported by any country. We have not stolen," he said.
"The judiciary here is controlled by the executive. We cannot accept a new dictatorship."
Iran......
Russia says any oil-for-goods deal with Iran would follow U.N. rules
(Reuters) - Russian
Finance
Minister Anton Siluanov said on Friday any oil-for-goods deal between Moscow and
Iran
would follow
United Nations
rules on sanctions, not U.S. rules.
"We act on the basis of the decisions made by the
United Nations
that set sanctions, set product groups which would be sanctioned and we operate within those decisions," Siluanov told journalists during the International Monetary Fund-World Bank meetings in Washington.
"There is a nuance. Our American partners have their own legislation which differs somewhat from the provisions set by the United Nations and they follow their own rules."
Siluanov would not say whether a deal had been sealed with
Iran
.
U.S. Treasury Secretary Jack Lew warned Siluanov on Thursday on the sidelines of the meeting in Washington that any oil-for-goods deal Moscow might strike with Iran could run afoul of U.S. sanctions.
He also said it would run counter to an interim deal Tehran struck with six world powers, including the United States and
Russia
, regarding its nuclear program.
The Iranian Nuclear Weapons Program That
Wasn't
When U.S. Attorney for Massachusetts Carmen M. Ortiz unsealed the indictment of a Chinese citizen in the UK for violating the embargo against Iran, she made what appeared to be a new US accusation of an Iran nuclear weapons program.
The press release on the indictment announced that between in November 2005 and 2012, Sihai Cheng had supplied parts that have nuclear applications, including U.S.-made goods, to an Iranian company, Eyvaz Technic Manufacturing, which it described as "involved in the development and procurement of parts for Iran's nuclear weapons program."
Reuters, Bloomberg, the Boston Globe, the Chicago Tribune and The Independent all reported that claim as fact. But the US intelligence community, since its well-known November 2007 National Intelligence Estimate, has continued to be very clear on the pubic record about its conclusion that Iran has not had a nuclear weapons program since 2003.
Something was clearly amiss with the Justice Department's claim.
The text of the indictment reveals that the reference to a "nuclear weapons program" was yet another iteration of a rhetorical device used often in the past to portray Iran's gas centrifuge enrichment program as equivalent to the development of nuclear weapons.
The indictment doesn't actually refer to an Iranian nuclear weapons program, as the Ortiz press release suggested. But it does say that the Iranian company in question, Eyvaz Tehnic Manufacturing, "has supplied parts for Iran's development of nuclear weapons."
The indictment claims that Eyvaz provided "vacuum equipment" to Iran's two uranium enrichment facilities at Natanz and Fordow and "pressure transducers" to Kalaye Electric Company, which has worked on centrifuge research and development.
But even those claims are not supported by anything except a reference to a Dec. 2, 2011 decision by the Council of the European Union that did not offer any information supporting that claim.
The credibility of the EU claim was weakened, moreover, by the fact that the document describes Eyvaz as a "producer of vacuum equipment." The company's website shows that it produces equipment for the oil, gas and petrochemical industries, including level controls and switches, control valves and steam traps.
Further revealing its political nature of indictment's nuclear weapons claim, it cites two documents "designating" entities for their ties to the nuclear program: the United Nations Security Council Resolution 1737 and a US Treasury Department decision two months later.
Neither of those documents suggested any connection between Eyvaz and nuclear weapons. The UNSC Resolution, passed Dec. 23, 2006, referred to Iran's enrichment as "proliferation sensitive nuclear activities" in 11 different places in the brief text and listed Eyvaz as one of the Iranian entities to be sanctioned for its involvement in those activities.
And in February 2007 the Treasury Department designated Kalaye Electric Company as a "proliferator of Weapons of Mass Destruction" merely because of its "research and development efforts in support of Iran's nuclear centrifuge program."
The designation by Treasury was carried out under an Executive Order 13382, issued by President George W. Bush, which is called "Blocking Property of Weapons of Mass destruction Proliferators and Their Supporters." That title conveyed the impression to the casual observer that the people on the list had been caught in actual WMD proliferation activities.
But the order required allowed the US government to sanction any foreign person merely because that person was determined to have engaged in activities that it argued "pose a risk of materially contributing" to "the proliferation of weapons of mass destruction or their means of delivery".
The Obama administration's brazen suggestion that it was indicting an individual for exporting US products to a company that has been involved in Iran's "nuclear weapons program" is simply a new version of the same linguistic trick used by the Bush administration.
The linguistic acrobatics began with the political position that Iran's centrifuge program posed a "risk" of WMD proliferation; that "risk" of proliferation was then conflated with nuclear proliferation activities, when than was transmuted into "development of nuclear weapons".
The final linguistic shift was to convert "development of nuclear weapons" into a "nuclear weapons program".
That kind of the deceptive rhetoric about the Iranian nuclear program began with the Bill Clinton administration, which argued, in effect, that nuclear weapons development could be inferred from Iran's enrichment program.
Although Cheng and Jamili clearly violated US statutes in purchasing and importing the pressure transducers from the United States and sending them to Eyvaz in Iran, a close reading of the indictment indicates that the evidence that Eyvaz provided the transducers to the Iranian nuclear program is weak at best.
The indictment says Cheng began doing business with Jamili and his company Nicaro in November 2005, and that he sold thousands of Chinese parts "with nuclear applications" which had been requested by Eyvaz. But all the parts listed in the indictment are dual use items that Eyvaz could have ordered for production equipment for oil and gas industry customers.
The indictment insinuates that Eyvaz was ordering the parts to pass them on to Iran's enrichment facility at Natanz, but provides no real evidence of that intent. It quotes Jamili as informing Cheng in 2007 that his unnamed customer needed the parts for "a very big project and a secret one". In 2008, he told Cheng that the customer was "making a very dangerous system and gas leakage acts as a bomb!"
The authors do not connect either of those statements to Eyvaz, but they suggest that it was a reference to gas centrifuges and thus imply that it must have been Eyvaz. "During the enrichment of uranium using gas centrifuges," the indictment explains, "extremely corrosive chemicals are produced that could cause fire and explosions."
That statement is highly misleading, however. There is no real risk of gas leaks from centrifuges causing fires or explosions, as MIT nuclear expert Scott R. Kemp told IPS in an interview. "The only risk of a gas leak [in centrifuge enrichment] is to the centrifuge itself," said Kemp, "because the gas could leak into the centrifuge and cause it to crash."
On the other hand, substantial risk of explosion and fire from gas leaks exists in the natural gas industry. So even if the customer referred to in the quotes had been Eyvaz, they would have been consistent with that company's sales to gas industry customers.
Pressure transducers are used to control risk in that industry, as Todd McPadden of Ashcroft Instruments in Stratford, Connecticut told IPS. The pressure transducer measures the gas pressure and responds to any indication of either loss of pressure from leaks or build up of excessive pressure, McPadden explained.
The indictment shows in detail that in 2009 Eyvaz ordered hundreds of pressure transducers, which came from the US company MKS. But again the indictment cites no real evidence that Eyvaz was ordering them to supply Iran's enrichment facilities.
It refers only to photographs showing that MKS parts ended up in the centrifuge cascades at Natanz, which does not constitute evidence that they came from Eyvaz.
Afghanistan......
Scrap Heap of War: Billions in equipment being left behind in Afghanistan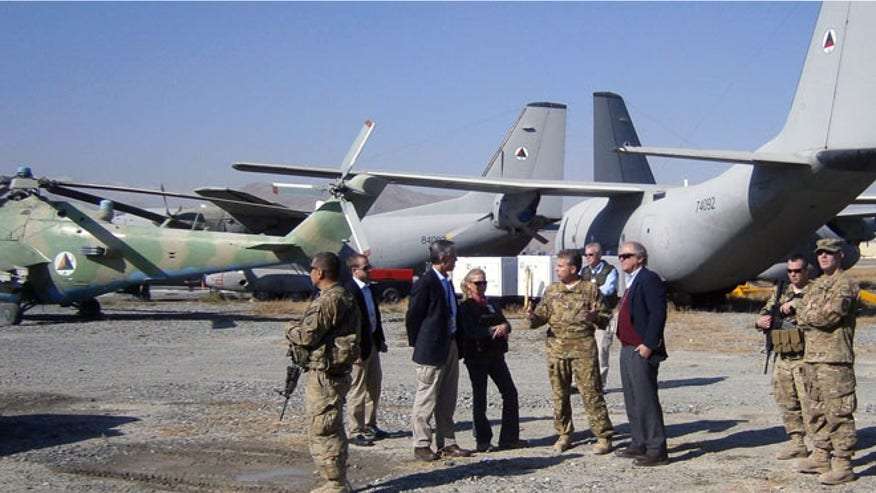 How much "stuff" is the United States military leaving behind as it withdraws from Afghanistan after 12 years of war? Try some $6 billion worth.
And much of it may yet end up in a junk pile.
That includes 850 MRAPS (Mine-Resistant Ambush Protected) vehicles which have been credited with saving countless lives from improvised explosive devices (IEDs) on the road, but now will either be given to an allied country (as long as they pay the shipping costs) or for scrap on the Afghan market.
This calculation is being done over and over, as U.S. military officials weigh what to bring home and what to leave in the battlefield. As Afghanistan heads into elections this weekend, U.S. forces are preparing for a total, or almost total, withdrawal by the end of the year.
Ultimately, some 170 million pounds of vehicles, equipment and "white gear" -- that's all the non-military stuff that contractors have been using, like furniture, generators, chemical toilets, air conditioners, non-classified computers and more -- are being left behind. What they cannot, or will not, donate or sell to the Afghans or to allies is being destroyed so that it doesn't rot in place or fall into Taliban hands. Some reports indicate that most of the $6 billion worth of materiel will indeed be sold for scrap or thrown in the junkyard.
Pentagon officials would not confirm that, but consider this: in the month of February alone, Defense Logistics Agency (DLA) Disposition Services sold 34.7 million pounds of scrap from its own vehicles and equipment to local Afghan vendors, according to figures provided to FoxNews.com.
And in the past 12 months, the agency sold 387 million pounds of scrap, sending $46.5 million back to the U.S. Treasury.
Officials say it's the only alternative to shipping everything back to the States, which by air or through dangerous land routes via Pakistan would be entirely cost-prohibitive.
"You don't really have any great options," said Lawrence Korb, a former assistant secretary of Defense under the Reagan Administration and now senior fellow at the Center for American Progress. "At least in Iraq, you had Kuwait where you could have a place to store [vehicles and equipment]. They are making the best of no great choices."
Pentagon spokesman Mark Wright said the military has, over the last 12 years, donated "excess equipment" like base-operating support equipment, forklifts, generators and other supplies to the Afghan National Security Forces (ANSF), and has invested more than $53 billion in equipment and support -- including 160 aircraft, 100,000 vehicles, 500,000 weapons and 200,000 pieces of communications and night-vision equipment.
According to reports
and officials, though, the U.S. donated
much more
of its materiel and equipment to the Iraqis when it withdrew from that country in 2011 -- about $580 million worth. The Iraqis also planned on buying another $10 billion worth of military equipment from the U.S.
Pentagon officials did not speculate or comment as to why. But military experts like Korb and others told FoxNews.com that the Iraqis could handle the sophisticated equipment and had the money to maintain it. Afghanistan is not the same situation.
"[The Afghans] don't have the requisite skills to maintain these things," noted Lt. Col. Daniel Davis, who served in Afghanistan as an Army acquisition chief from 2011-2012. Furthermore, there is no supply chain for spare parts, particularly for the MRAPs, he said, "so they probably go to the bone yards."
This might be particularly frustrating to American taxpayers who helped pour billions of dollars into training the Afghan forces over the last 12 years.
Korb pointed out that the two militaries -- Iraq and Afghanistan -- are worlds apart. "In Iraq, don't forget, before the war you had pretty good military. We disassembled it, and that was a mistake, but in terms of their fighting ability they were pretty sophisticated. Afghanistan never had a military like that."
Further, unlike the U.S. withdrawal from Iraq, there is a war still going strong in Afghanistan, said Korb.
"If you give that stuff to the Afghan or even the Afghan Security Forces, it could still end up with the Taliban. You have to err on the side of caution. The last thing you want is to read in the papers that some sophisticated piece of equipment was used to bomb an American base or something like that."
According to figures supplied by Army spokesman Wayne Hall, there is currently $15.5 billion worth of Army equipment still in the country -- and $17.6 billion worth of overall U.S. military equipment, Wright said. The Army plans to retain $10.2 billion of that, including things like trucks, trailers, and MRAPs, as well as about 100,000 20-foot shipping containers carrying repair parts and other small equipment and supplies.
"Divesting" (or leaving vehicles and materiel behind), Hall said in an email to FoxNews.com, provides "a cost avoidance of $844 million in transportation, storage, and security costs. Some excess equipment is simply cheaper to divest than retrograde, reset, or retain."
At height of the Iraq War,
after a delay
that brought swift rebuke from Washington lawmakers, tens of thousands of MRAPs were sent into the country to help reduce troop fatalities and catastrophic injuries caused by IEDs planted all along the roads by insurgents. Many were shipped to Afghanistan at the end of the Iraq War.
"According to Wright, several allied countries have inquired about receiving MRAPs but so far none as far as he knew had "signed on the dotted line."
But some observers say more MRAPs might have been shipped overseas than was even necessary, and billions of dollars could have been saved if better planning had gone into the process -- especially since the MRAP, outside Afghanistan, is rapidly becoming obsolete.
"I think it is clear they made massively more than what was ever needed," Davis said. "I would argue [the MRAP] would provide limited utility in a conventional war -- they are absolutely road-bound" and not anything like a tank, he added.
There have been other alleged missteps. Among other expenses,
the inspector general for Afghanistan reconstruction has been probing
a half-billion dollars spent on providing refurbished aircraft to the Afghan Air Force, only to abandon the contract and leave the planes collecting dust on airfields in Kabul and Germany. Part of the problem was an apparent failure to acquire the spare parts needed to keep the planes operational.
But Pentagon officials balk at the criticism that the military has generated waste throughout the war. Officials told FoxNews.com they are trying very hard to find homes for the MRAPs and have donated a lot of other equipment and "white gear" to the Afghans as the many massive forward operating bases (FOBs), which once housed tens of thousands of troops and support personnel, are broken down.
What they can't get rid of lands in the junk heap or the scrap yard, but it's usually because the Afghan government doesn't want it.
Meanwhile, there are other items that are being trashed that local Afghans potentially could use -- like washing machines, treadmills, or any household item with a timer.
But Wright explained that non-military items with timing equipment and other components can still pose a threat.
"For example, timers can be attached to explosives. Removing those timers or other potentially dangerous internal components renders the property inoperable and so it is scrapped," Wright said.
Afghans who spoke with the Associated Press last November said the junkyards are towering with American cast-offs. "These are things we can use at home with our families or in our business," Kandahar junk dealer Mir Ahmed told the AP. "But instead they turn everything to junk and then they give it to us."
While military experts say this is typical in any war, and particularly a protracted and costly one like Afghanistan, Davis said there was a lot sent over to the country that was never utilized in the first place and might never be used again.
"We're just not giving a lot of thought to what comes next -- is it sustainable? Can we use it afterward? The answer is, it just doesn't matter," he said. "It doesn't seem that we even care about this significant amount of waste."
Pentagon ponders 'logistical nightmare' of Afghan withdraw
Published time: April 11, 2014 12:00
Edited time: April 12, 2014 05:05
Ranked as America's most challenging military action since WWII, the US is faced with the task of transporting millions of pieces of military assets out of Afghanistan as possible exit routes - including through Russia - are blocked.
The US military is learning the hard way from its lengthy experience in Afghanistan that it is far easier to get bogged down in a foreign adventure than it is to extricate oneself from it. Landlocked, isolated and surrounded on all sides by potential enemies, Washington's withdrawal of its troops and equipment from the Central Asian country by the end of 2014 is beset with numerous obstacles.

One US military planner compared the moving operation to the minute logistics of transporting a mail shipment.

"The FedEx model, if you will," Tony Shaffer, a senior fellow at the London Centre for Policy Research, told RT. "You gotta know where it's at, what it's doing, where it's moving, and what's going to happen when it gets somewhere."
Indeed, the sheer amount of troops and equipment that needs to be brought home is staggering: in addition to 30,000 soldiers, the Pentagon must oversee the return of 48,000 vehicles, and a total of 81.5 million items, valued at some $33 billion.

The main problem confronting Pentagon planners is choosing the best exit route, an option that has substantially decreased thanks in large part to Washington's failure on the diplomatic front, for example, with Russia over the ongoing political crisis gripping Ukraine.

One of the most reliable methods of moving military equipment in and out of Afghanistan has been via the Northern Distribution Network, 3,000 miles of winding railroad that passes through Central Asia into Kazakhstan, Russia and through parts of northern Europe to the sea.

In fact, 75 percent of military supplies into Afghanistan were delivered by this slow but reliable route.

However, recent violent protests in the Ukrainian capital of Kiev, which led to the overthrow of the government and Crimea voting in a referendum to become part of the Russian Federation - an event that Washington has attempted to label as a "Russian military invasion" – have put a severe strain on Russia-US relations.

One result of the diplomatic breakdown is that Russia now refuses to permit NATO military cargoes from passing through its territory.

"This is not a military issue," Brig. Gen. Dave Reist (Retd.) told RT. "This is a diplomatic issue that sets the framework for the withdrawal from several countries."

Another exit corridor that may be disrupted due to bilateral tensions is through Pakistan.

"The best, fastest, easiest and cheapest way to get out is to drive south from Afghanistan and through Pakistan to the major port of Karachi, on the Indian Ocean," Doug McGreger, a retired colonel with the US Army, told RT reporter Meghan Lopez.

However, Washington's heedless and occasionally reckless determination to eliminate terrorists in the region at all costs, even at the expense of Pakistani lives, it seems, has placed a heavy toll on the Islamabad-Washington partnership, a relationship that was never on solid footing from the beginning.

One of the worst incidences occurred on November 26, 2011, when two NATO fighter jets crossed the border into Pakistan from the Afghan border and attacked two border patrol checkpoints, killing 24 Pakistani soldiers and wounding scores more. The incident sparked fierce protests in the country and forced Pakistan to close the southern route to US troops for seven months in retaliation.

At the same time, the Pentagon's relentless use of drone attacks on suspected terrorist hideouts along the Pakistani border, and occasionally inside Pakistan proper, may have produced some victories on the terrorist front, but have done nothing on the diplomatic front. Thus it should come as no surprise that many Pakistanis are staunchly opposed to an endless convoy of US military vehicles cutting through their country.

Another option for the Pentagon is to airlift its troops and equipment out of Afghanistan, but this method is fraught with cost concerns.

According to the former head of the US Transportation Command, General Duncan McNabb, military airlifts are 10 times more expensive per pound than transport over land. At the same time, this method of transport is not without its share of risks.

Last April, a Boeing 747 departing from Bagram air field, the largest US military base in Afghanistan, crashed moments after takeoff. Experts believe the heavy vehicles on board the aircraft broke free from their restraints and caused the aircraft to go out of control due to load shifting.

But ultimately the primary cause for Washington losing exit options out of its costliest war in decades is simply a breakdown in relations with those countries it depends on most to fulfill its objectives.

Even the question of the United States leaving behind a residual military force, complicated by past US behavior in the course of the 13-year military operation, to help the Afghan forces maintain peace and security has come up against problems.

Outgoing President Hamid Karzai said he would leave the decision of leaving US troops (and some extra weapons) behind in Afghanistan.