Al Jazeera .....
US 'to react' if Russia crosses into Ukraine
US ambassador to Ukraine warns of "inevitable, sharp reaction" by the US if Russian troops cross border into Ukraine.
Last updated:

29 Apr 2014 19:48
The US ambassador to Ukraine says an "inevitable, sharp reaction" should be expected from the United States if Russian troops were to cross the border into Ukraine.

Geoffrey Pyatt, speaking at a news conference in Kiev on Tuesday, said such a move would be "a major escalation".




Russia has massed tens of thousands of troops in areas near the Ukrainian border, feeding concerns that Moscow aims to use unrest in the east as a pretext for an invasion.
Pyatt also said the Ukrainian government had been advised not to use force to clear local government buildings seized by pro-Russian protesters.
The separatists have seized city halls, police stations and other government buildings in at least 10 cities and towns across eastern Ukraine.
They are seeking - at the very least - a referendum on granting greater authority to Ukraine's regions.
Regional HQ seized
The seizures of buildings included the storming of a regional government headquarters by hundreds of pro-Russian separatists in Ukraine's eastern city of Luhansk. The protesters were unopposed by police.
Kiev has all but lost control of its police forces in parts of eastern Ukraine, where the activists have seized buildings in the region's second biggest city of Donetsk and several smaller towns.
"The regional leadership does not control its police force," Stanislav Rechynsky, an aide to Arsen Avakov, the interior minister, told Reuters news agency on Tuesday. "The local police did nothing."
Rechynsky said the ministry had information that they would next try to take the local television centre.
Video footage showed men, some dressed in green camouflage fatigues and holding shields, walking around what appeared to be the foyer of the government headquarters as hundreds massed outside the building's large wooden doors.
Pro-Russian separatists had previously occupied only the local security services' building in Luhansk, which they took in early April.
Sanctions against Moscow
Earlier on Tuesday, Russia's foreign ministry said the European Union should be "ashamed" for "doing Washington's bidding" by punishing Moscow with sanctions over the Ukraine crisis.
The ministry's comment came hours after the EU imposed asset freezes and travel bans on 15 more Russian and pro-Moscow Ukrainian officials, including Russia's deputy prime minister, deputy chairman of state Duma and chief of staff of armed forces.
"Instead of forcing the Kiev clique to sit at the table with southeastern Ukraine to negotiate the future structure of the country, our partners are doing Washington's bidding with new unfriendly gestures aimed at Russia," the foreign ministry said.

"If this is how someone in Brussels hopes to stabilise the situation in Ukraine, it is obvious evidence of a complete lack of understanding of the internal political situation ... and a direct invitation for the local neo-Nazis to continue to conduct lawlessness and reprisals against the peaceful population of the southeast," it said in a statement. "Are they not ashamed ?"

Grigory Karasin, the deputy foreign minister, said separately that the United States and EU sanctions were "an absolutely counterproductive, trite measure that would force the already critical situation in Ukraine into a dead end," the state-run RIA news agency reported.

Russia has not yet announced any steps in response to the new sanctions.

http://en.itar-tass.com/world/729918
BRUSSELS, April 29. /ITAR-TASS/. The official journal of the European Union has published the names of 10 Russian officials and five representatives of Ukraine's south-east resistance, against whom have been applied sanctions constituting in ban of entry in EU territory and assets freezing (if any) in member states.
In particular, the list includes:
Deputy Prime Minister Dmitry Kozak;
Permanent Presidential Representative in Crimea Oleg Belaventsev;
Vice-Speaker of the State Duma Lyudmila Shvetsova;
Head of the General Staff of the Russian Armed Forces Valery Gerasimov;
Head of Main Intelligence Directorate of the General Staff Igor Sergun;
Deputy Chairman of the State Duma Sergei Neverov;
Minister for Crimean Affairs Oleg Savelyev;
Sevastopol Governor Sergei Menyailo;
Senator of Crimean executive authority Olga Kovitidi;
Main Intelligence Directorate employee Igor Strelkov.
In addition, sanctions were imposed on leaders of self-defense forces in Ukraine's south-east German Prokopyev and Valery Bolotov, head of Donetsk People's Republic (DPR) Sergei Purgin, as well as DPR leadership representatives Denis Pushilin and Sergei Tsyplakov.
The updated list comes into effect since Tuesday. The overall number of people included in EU black list has reached 48 people. All of them are banned entry to EU states until November, and their bank assets will be frozen if there are found any in European banks.
On March 17, the European Union published the initial sanctions list for Russia and Crimea that included 21 names. Then the European "black list" included eight representatives of the Crimean leadership: Prime Minister Sergey Aksyonov; speaker of the State Council Vladimir Konstantinov; First Deputy Premier of the government Rustam Temirgaliyev; Deputy Commander-in-Chief of the Black Sea Fleet Denis Berezovsky, head of the Security Council Pyotr Zima; State Council speaker's adviser Yuri Zherebtsov; member of the State Council, Chairman of the Crimean Co-ordination Council of Organizations of Russian Compatriots Sergei Tsekov; Sevastopol mayor Aleksei Chalyi.
The list also included 10 Russian parliamentarians and three high-ranking military officials: head of the defense committee of the Federation Council (FC) upper house of parliament Viktor Ozerov; first deputy head of the FC international affairs committee Vladimir Dzhabarov; head of the Federation Council committee on constitutional legislation Andrei Klishas; representative of the Belgorod region in the Federation Council Nikolai Ryzhkov; deputy speaker of the Federation Council Yevgeny Bushmin; member of the FC committee on science education, culture and information policy Alexander Totoonov; first deputy head of the FC commission on the rules of procedure and organisation of parliamentary activity Oleg Panteleyev; head of the A Just Russia faction in the State Duma lower house of parliament Sergei Mironov; Duma deputy speaker Sergei Zheleznyak; head of the Duma relevant committee on CIS affairs Leonid Slutsky.
On March 21, the European Union expanded the list, including 12 more Russian citizens; Deputy Prime Minister Dmitry Rogozin; presidential adviser Sergei Glazyev; presidential aide Vladislav Surkov; speaker of the Federation Council Valentina Matviyenko; State Duma speaker Sergei Naryshkin; director of the Russia Today agency Dmitry Kiselyov; Deputy Commanders of the Black Sea Fleet Alexander Nosatov and Valery Kulikov; head of the Crimean Central Election Commission Mikhail Malyshev; head of the Election Committee of Sevastopol Valery Medvedev; Colonel General Igor Turchenok; State Duma deputy Yelena Mizulna.
http://en.itar-tass.com/world/729915
MOSCOW, April 29. /ITAR-TASS/. Visa international payment system stops servicing Russia's SMP Bank and InvestCapitalBank.
"On April 28, 2014, several more Russian individuals and organizations, including SMP Bank and InvestCapitalBank, were added to the list of specially designated nationals, or SDNs. In compliance with the US legislation, Visa International Service Association stopped servicing the abovementioned financial institutions," a spokesperson for Visa told ITAR-TASS.
On April 28, the US announced sanctions against 7 Russian individuals and 17 companies, including SMP Bank, Sobinbank and InvestCapitalBank. Sanctions against the Rossiya (Russia) bank were introduced at the end of March.
Earlier, Mastercard payment system also stopped servicing Russia's SMP Bank and InvestCapitalBank. A spokesperson for the international payment service told ITAR-TASS that Mastercard acted in compliance with the US sanctions against the banks.
SMP Bank and InvestCapitalBank had already been mistakenly sanctioned. On March 21, Visa and Mastercard stopped servicing SMP Bank, InvestCapitalBank and the Rossiya (Russia) bank. The services were resumed several days later.
SMP Bank is co-owned by Arkady Rotenberg and Boris Rotenberg, who were also sanctioned by the US administration.
http://en.itar-tass.com/russia/729854
PETROZAVODSK, April 28. /ITAR-TASS/. It will take 10-15 billion roubles ($247-417 million) to solve the problem of water supply to Crimea, presidential aide Andrei Belousov said.
"Crimea can be independent in terms of water supply, but it will cost 10-15 billion roubles ($247-417 million)," he said on Monday, April 28.
One of the solutions would be supplying water from Russia's southern Kuban region by building a pipeline. However, Belousov said this would be an "exotic" option.
Another solution would be "drilling wells and using the existing water reservoirs".
The Ukrainian authorities reduced water supplies to Crimea last week alleging the peninsula owned Kiev a large sum for water.
However, Crimean Prime Minister Sergey Aksyonov said restrictions on the supply of water to Crimea were an act of sabotage on the part of Ukraine.
"Ukraine's act of sabotage to limit the supply of water to the republic through the North Crimean Canal is nothing but a deliberate action against Crimeans," he said.
Aksyonov said "negotiations are underway with Ukraine at the federal level" to resolve the issue. "There are backup plans. In any case, Crimea will not be left without water. As for drinking water, there are no problems with it," he said.
"The federal budget is ready to compensate agricultural producers for possible losses," Aksyonov said. He recalled that this issue had been discussed with Russian Deputy Prime Minister Dmitry Kozak. "Special conditions have been created for Crimea. No one will be left without help," the prime minister said.
"We are also considering an alternative plan for drilling wells and we are working on this day and night," he added.
Aksyonov stressed that "the persons who have seized power in Ukraine, including former residents of Crimea, Senchenko and Kunitsyn, are acting like enemies trying to cause their former fellow citizens harm. But they will get a proper assessment from the people of Crimea and will always be persona non-grata in the republic. Usually, those who mischief hatch, mischief catch," he said.
According to Ukrainian news agencies, Kiev has shut down the work of the North Crimean Canal which carried water from the Dnepr to Crimea. The peninsula got 85% of fresh water from this canal, which was built in 1961-1971.
"There is no and will be no shortage of drinking water in Crimea. But there will certainly be losses in agriculture. We can't say that the agricultural season has been wrecked, but there will certainly be losses," Temirgaliyev said.
He said work was underway to draft a drip irrigation programme to save water. "We hope it will be implemented by the next agricultural year," he added.
http://en.itar-tass.com/world/729902
NEW YORK, April 29. /ITAR-TASS/. The US may impose sanctions on whole sectors of Russian economy, if Russia continues the same policy towards Ukraine. US Secretary of State John Kerry said this in an interview to The Wall Street Journal on Monday.
When asked why the American government continues punishing individual Russians or single Russian companies and does not impose broader sanctions on whole sectors of the Russian economy — the energy, financial or defense sectors — Kerry answered: "We're inches away from that now. And if they continue on this path, that's where it's heading."
Regarding the developments in Ukraine, the USA has imposed further sanctions against seven Russian officials and 17 companies. In particular, the case in hand is freezing assets, which may be under Washington's jurisdiction, as well as ban on American visas.
According to John Kerry, the already imposed sanctions have a certain economic and political effect. The Wall Street Journal notes that the best argument is the fact that Russia hasn't sent its troops to Ukraine's east.
Protesters Clash in Donetsk, Several Wounded
by Jason Ditz, April 28, 2014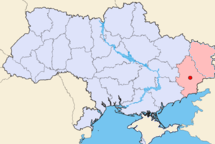 The militias quickly seized the buildings without any violence, and protesters backing them were not far behind, setting up the same barricades of sandbags and tires seen at other protester-held buildings.
A spokesman for the regional government said they received demands from those who took the buildings and that they were "the usual demands" for a referendum on federalization.
Ukraine's central government had briefly suggested they were open to such a referendum, though shortly thereafter they promised to "liquidate" the protesters militarily.
The protester factions across Donetsk aren't all united on the same position, with some seeking secession and some angling simply for some autonomy. Two rival protest groups ran afoul of one another in Donetsk today, leading to some fistfights and a few injuries.
Putin Aide: Latest Move Will Have Little Effect
by Jason Ditz, April 28, 2014
The sanctions targeted a handful of people believed to be close allies of President Vladimir Putin, including oil magnate Igor Sechin, the first time US sanctions ventured into Russia's energy sector in even an insignificant way.
Russian officials were critical of the move, saying it amounted to a return to Cold War-era practices by the US, and was if anything limiting the chances for diplomacy.
Putin's top economic adviser also dismissed the move as woefully ineffective, saying the sanctions would encourage some consolidation among targeted officials to avoid future US sanctions, but would not have a major effect on Russia's economy.
Submitted by Tyler Durden on 04/28/2014 - 15:29
The first rip was a "standard" VIX-based, AUDJPY-based ramp to VWAP to save the big boys and allow orders out but that rapidly escalated into a panic buying spree as headlines hit that yet another in a long-series of de-escalation optimisms...
RUSSIAN TROOPS RETURNED TO BASE FROM UKRAINE BORDER: IFX
RUSSIAN DEFENCE MINISTER SHOIGU TOLD U.S. DEFENCE SECRETARY HAGEL RUSSIA IS OPEN TO CONTACTS WITH ALL SIDES TO SEEK TO DEFUSE TENSION OVER UKRAINE
Think about it... we know what Russia wants, we know what they need to defise the situation and we know the US/West won't accept it... so "we" buy the fucking dip anyway..?
Submitted by Tyler Durden on 04/28/2014 - 12:10
It seems the US and EU sanctions escalation has done nothing to calm the tensions between Ukrainians and pro-Russian forces in Donetsk, where according to report ultranationalists from Kiev are involved in a skirmish with local riot police. As the following clip suggests... "rocks and missiles are being thrown from both sides - there are injuries and scenes of absolute brutality as both sides clash."
Submitted by Tyler Durden on 04/28/2014 - 09:40
Russia's Deputy Foreign Minister Sergei Ryabkov as come out swinging after US issued a new round of sanctions against citizens and companies of the nation:
RUSSIA

WON'T LET SANCTIONS GO UNANSWERED

: INTERFAX
RUSSIAN DEPUTY FOREIGN MINISTER RYABKOV

VOICES "DISGUST" AT WHITE HOUSE STATEMENT ON NEW U.S. SANCTIONS

-INTERFAX
As we await the European Union's reaction (which the US has said is imminent... hopefully) it is the blowback from Russia that is most importance - despite constant protestation by talking-heads on mainstream media channels that any sanctions on Russia will have no impact on US business...
http://www.theguardian.com/world/2014/apr/29/ukraine-eu-imposes-new-sanctions-on-russia-live-updates