http://www.zerohedge.com/news/2014-04-28/mayor-east-ukraine-city-kharkiv-shot-back
Pro-Russian Mayor Of East Ukraine City Of Kharkiv Shot In The Back
Submitted by Tyler Durden on 04/28/2014 05:55 -0400
On the day in which Barack Obama announced earlier he would unveil another round of sanctions against Russia (most likely involving the heads of both Gazprom and Rosneft), moments ago the already tense situation took another turn for the worse when Interfax blasted news out of East Ukraine that the pro-Russian mayor of Kharkiv, the second largest city in Ukraine, Gennady Kernes, has been shot in the back and is currently undergoing an operation.
Kyiv Post reports
that Kernes was an avid supporter of former President Viktor Yanukovych and spoke out against the EuroMaidan Revolution that forced the ex-head of state to flee the country. Since then, Kernes has flip-flopped under pressure from EuroMaidan activists and the new Kyiv government in order to remain in office.
Following the news, presidential candidate and close Kernes confidant Mikhail Dobkin canceled his scheduled press conference.
Will this be the provocation that finally breaks the Russian bear's back and forces the Kremlin to send in "peacekeepers"?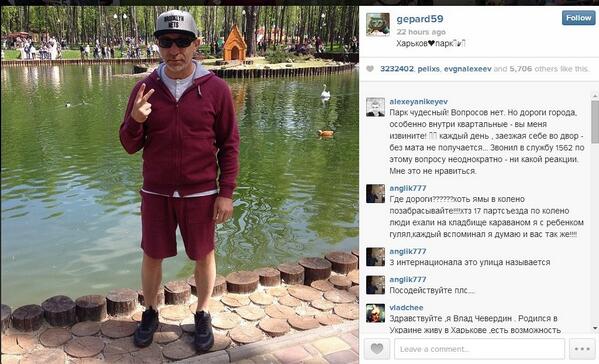 Some more early reports from Reuters:
Gennady Kernes, the mayor of Ukraine's second-biggest city, Kharkiv, is in hospital undergoing emerging surgery after being shot in the back, Interfax Ukraina news agency quoted the mayor's spokeswoman as saying on Monday.




"The doctors are fighting to save his life," the agency quoted the spokeswoman, Tatiana Gruzinskaya, as saying.
Details of the mayor's condition or the motive behind the shooting are still absent, although it is clear this latest provocation will hardly reduce regional tensions. We will update once we get more.
http://www.theguardian.com/world/2014/apr/28/obama-announces-new-sanctions-russia-ukraine-crisis
Obama announces new sanctions against Russia over Ukraine crisis
Full list of targets to be published on Monday expected to include wealthy individuals with close ties to Vladimir Putin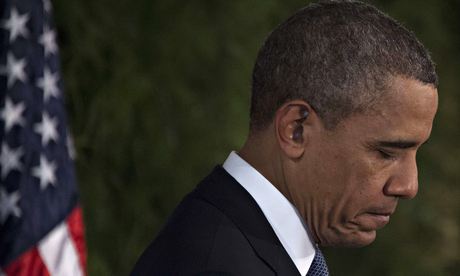 Barack Obama
has said the
United States
will levy new sanctions against Russian individuals and companies in retaliation for Moscow's alleged provocations in
Ukraine
.
Obama said the targets of the sanctions would include hi-tech exports to
Russia
's defence industry, as he seeks to increase pressure on Vladimir Putin, the Russian president.
The full list of targets, which will be announced by officials in Washington on Monday, is also expected to include wealthy individuals close to Putin.
"The goal here is not to go after Mr Putin personally," Obama said. "The goal is to change his calculus with respect to how the current actions that he's engaging in could have an adverse impact on the Russian economy over the long haul."
Obama announced the sanctions during a news conference in the Philippines, his final stop on a four-country Asia tour.
White House officials say they decided last week to impose the new sanctions after deciding that Russia had not lived up to its commitments under a fragile diplomatic accord aimed at easing the crisis in Ukraine. But the US held off on implementing the sanctions in order to co-ordinate its actions with the EU, which could also announce new penalties as early as Monday.
The failed diplomatic accord reached in Geneva called on the Kremlin to use its influence to get pro-Russian insurgents to leave the government buildings they have occupied in eastern Ukraine. But those forces have not left the buildings and have also stepped up their provocations,
including capturing European military observers
.
Even as he announced the new sanctions package, Obama acknowledged that "we don't yet know whether it's going to work".
In eastern Ukraine, the situation remained jittery after pro-Russia militants holding the European observers paraded them in front of the world's media on Sunday as "prisoners of war".
AFP reporters said gunmen were increasingly aggressive at checkpoints and occupied buildings in the flashpoint eastern Ukraine town of Slavyansk, one of a handful under control of pro-Kremlin rebels.
Meanwhile heavily armed gunmen on Monday seized control of the town hall in nearby Kostyantynivka, according to an AFP reporter on the scene, the latest in a string of about a dozen towns and cities in south-eastern Ukraine to fall under the control of pro-Russian insurgents over the past few weeks.
There are fears of a full-scale invasion, with tens of thousands of Russian troops massed on the border and Ukraine's prime minister warning of efforts to start a "third world war".
As the west stepped up the rhetoric ahead of the sanctions announcement, the French foreign minister Laurent Fabius warned the Ukraine crisis could yet have "incalculable consequences".
On Monday, EU officials are to meet to thrash out a new set of sanctions likely to include asset freezes and travel bans.
Diplomats in Brussels have already agreed in principle to add 15 people to a blacklist of 55 Russians and Ukrainians.
The G7 has vowed to act "swiftly" to raise the pressure on Russia, where the economy is already contracting.
Speaking on his tour of Asia, Obama said it was vital to avoid "falling into the trap of interpreting this as the US is trying to pull Ukraine out of Russia's orbit, circa 1950. Because that's not what this is about."
The west has already imposed visa and travel restrictions on key members of Putin's inner circle and slapped sanctions on a top bank.
But some fear that undermining Russia's economy could tip the world back into recession, just as it begins to recover from the effects of the eurozone debt crisis.
Reflecting these jitters, stocks in Japan closed nearly 1% lower and the yen – seen as a safe haven against uncertainty – gained ground against the dollar.
However, the former Russian tycoon Mikhail Khodorkovsky said the sanctions would have "no short-term effect" on the Russian economy and would take three or four years to really hurt Putin.
In Slavyansk, intense negotiations continued to secure the release of a team of the seven monitors from the Organisation for Security and Cooperation in
Europe
(OSCE) captured by pro-Russian rebels. Germany, in command of the mission, said parading the observers in front of the world's media was "repugnant".
Speaking in Slavyansk town hall and watched by four armed guards and the self-styled mayor, Vyacheslav Ponomaryov, the group's leader, German officer Axel Schneider, told reporters they were in good health.
One of the group, a Swedish monitor, was released late Sunday on medical grounds as he suffers from diabetes and a team of OSCE negotiators was in talks to free the rest.
But the rebels have described them as "Nato spies" and "prisoners of war" and refused to release them except as part of an exchange for their own detained militants.
OSCE chairman and Swiss president Didier Burkhalter said his organisation was working "at all levels" to secure their release.
The German foreign minister, Frank-Walter Steinmeier, said the presentation of the detained OSCE men in front of the press was "a violation of all negotiating rules and norms that prevail in tense situations like this one".
The monitors were in Ukraine to assess progress towards implementing the deal struck in Geneva on 17 April.
The rebels are also holding three Ukrainian soldiers captured near Slavyansk. Russian television showed the men blindfolded, bloodied and stripped to their underwear.
The fate of four Ukrainians travelling with the OSCE group is also unknown, as they did not appear at the news conference with the eight Europeans – four Germans, a Dane, a Czech, a Pole and the Swede who was later released.
Insists Anything That Hurts Russia a 'Price Worth Paying'
by Jason Ditz, April 27, 2014
With London's investment center so heavily reliant on economic ties to Eastern Europe and Russia in particular, any EU sanctions targeting Russia are likely to do major damage to the British economy.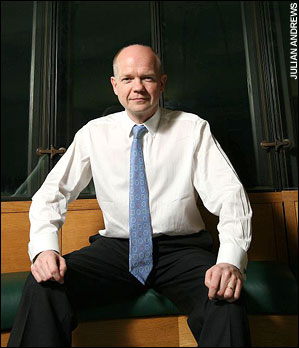 British officials are all for it anyhow, with Foreign Secretary William Hague insisting the damage done to Britain economically was a "
price worth paying
" so long as it also hurt Russia in the process.
Not everyone in the European Union feels that way, however, as Austria is leading a number of nations within the EU who are skeptical of any additional sanctions being more harmful to their economies than to Russia itself.
Hague suggested the British government is fine with sabotaging its own economy for a chance to stick it to Russia, and Germany's Merkel government has suggested the same thing, but how willing they will be once the political consequences of such damage becomes apparent remains to be seen. Even if they are content to weather than storm, EU sanctions must be unanimous, and eastern nations are likely to start vetoing the measures before they get too far out of hand.
Hague and other Western officials no doubt realize that, and are being especially bellicose about a sanctions war knowing that the eastern nations aren't going to let them escalate indefinitely, s0 British and German rhetoric won't have to be put to the test as policy anyhow.
Itar Tass.......
BERLIN, April 28. /ITAR-TASS/. German federal lands Saxony-Anhalt, Brandenburg, Baden-Wuerttemberg, Saxony and Bremen will be hit the hardest by possible sanctions against Russia over Crimea, said a research material by Munich-based IFO Institute for Economic Research on Monday.
"Germany cannot afford to fully stop trade with Russia in short-term outlook, as the Russian Federation accounts for about 30% of our oil and gas imports," the Institute's expert Erdal Yalcin said.
Yalcin added that "the European Union is seeking to sign trade agreements with Ukraine, Moldova and Georgia, aimed at isolating Russia, while it is search for the economic balance of interests with Russia that meets Germany's interests".
"Part of the German economy directly depends on exports to Russia," he added. Thus, 1.5% of Bremen's economy directly depends on Russia, while in Saxon and Baden-Wuertemberg those figures stand at 1.4 and 1.3% respectively.
German exports to Russia have grown more than six times since 2000, with only trade with China beating these figures, he said. German exports to Russia stand at the moment at about €36.1 billion. "This is 3.3% of overall German exports," the expert added.
April 28, 13:56
UTC+4
Physicians are currently carrying out a surgery to save him
KHARKIV, April 28. /ITAR-TASS/. Kharkiv mayor Gennady Kernes has suffered an attempt on his life on Monday. Spokesperson for Kharkiv city council Irina Kutsepenko confirmed this information to ITAR-TASS.
"We can confirm the very fact of an attack," she said. "So far, there are no further details."
Earlier, a message about an attempt on Kernes's life appeared on the website of Kharkiv city council. It said that the mayor received a gunshot wound in his back.
"He is currently in an emergency hospital on a surgical table. Physicians are fighting for his life," the message says.
April 28, 13:50
UTC+4
Donetsk Mayor Oleksandr Lukyanchenko said the referendum might help scale down the current social and political tensions in Ukraine's southeastern regions
KIEV, April 28. /ITAR-TASS/. Governor of Ukraine's eastern Donetsk region Serhiy Taruta, appointed by the Kiev authorities, and Donetsk Mayor Oleksandr Lukyanchenko have come up with a recommendation to hold an all-Ukraine referendum on May 25 on a transfer of certain powers from the national government to the regions.
"In the course of the meeting (with parliament-appointed Acting President Oleksandr Turchynov) Serhiy Taruta voiced an initiative to hold a national referendum," local media said. "The proposal was formulated Sunday at a joint session of city mayors and heads of district administrations of the Donetsk region."
Taruta and Lukyanchenko's proposal suggests that the authorities should put up for voting a number of issues on the transfer of more powers from the national government to the regional authorities and on setting up municipal police forces.
Reports also say Taruta submitted to Turchynov some legislative initiatives making it possible to hold the referendum on May 25, that is, on the same day that the nation will hold an early presidential election.
Oleksandr Lukyanchenko said on his part the referendum might help scale down the current social and political tensions in Ukraine's southeastern regions.
Last Wednesday, Taruta also proposed to appoint an all-Ukraine referendum on the status of the Russian language for May 25.