News from Ukraine.....

Ukraine Prepares Military Response To Russian "Act Of Aggression"; Fears Specter of "Gas Wars"
Submitted by Tyler Durden on 04/12/2014 15:26 -0400
Following more firefights and government building seizures amid the
so-called "liberation of Southeast Ukraine," the Maidan's demands that the government not "give up like in Crimea"
appear to be resonating woth leadership. Ukraine's interior minister Arsen Avakov has declared:
"
The Ukrainian authorities consider the events of the day as a display of external aggression from Russia
," adding that, ""
Units of the interior and defense ministries are implementing an operational response plan
." Russia was quick to respond with threats of war action if Ukraine suppresses pro-Russia 'self-defense' forces. As Reuters adds, with the crisis escalating militarily, the specter of "gas wars" is looming with
Ukraine's Energy Minister declaring, "we are probably steering towards Russia turning off its gas provision
."
http://un.ua/eng/article/503916.html
Russia PM Medvedev Increases Pensions For Sevastopol, Crimea Dwellers By 25%
(12:42, Saturday, April 12, 2014)
Russian Prime Minister Dmitry Medvedev has signed a Government Resolution on time-phased increase in the rate of pensions for dwellers of the Republic of Crimea, unrecognised by Ukraine, and Sevastopol by 25% as of April 1 and to 100% as of July 1, reads a Russian Government's Resolution.
They will grow 25% as of April 1, 50% as of May 1, 75% as of June 1, and 100% as of July 1 from the previously assigned pension.
The right to outpayment to pension is provided to citizens who were living in Crimea's and Sevastopol's territory as of date of the signature of the agreement on Crimea's acceptance into the Russian Federation and formation of new constituent entities within Russia (March 18, 2014).
The Pension Fund of Crimea and Sevastopol is charged with enforcement of outpayment to pension, and the Pension Fund of Russia is responsible for coordination of activity.
Crimea's and Sevastopol's budgets will be financing the expenses taking into account subventions from the federal budget for measures to provide for budget balance of both constituent territories of the federation for the year 2014.
As Ukrainian News earlier reported, Russia has intention to increase pensions and wages to public sector workers in the Republic of Crimea, unrecognised by Ukraine, to that average in the Russian Federation till August.
http://un.ua/eng/article/503844.html
Hryvnia Exchange Rate Down 61 Kopecks To 13.21 UAH/USD In Interbank Market
(16:22, Friday, April 11, 2014)
The hryvnia exchange rate in the interbank currency market fell by 61 kopecks to 13.21 UAH/USD on Friday, after falling by 63 kopecks on Thursday, currency exchange market players told Ukrainian News.
According to them, the hryvnia fluctuated in the range of 12.20-12.80 UAH/USD at the start of trading, the quotations rose to 12.80-13.15 UAH/USD by 11:50, and after that rose again to 13.00-13.40 UAH/USD.
According to participants in the currency market, most of the transactions were concluded at an exchange rate close to 13.21 UAH/USD.
The National Bank of Ukraine did not enter the market.
Since the beginning of 2014, the hryvnia rate has decreased by 59.68% from 8.2730 UAH/USD to 13.21 UAH/USD in the interbank currency market.
As Ukrainian News earlier reported, in 2013 the hryvnia rate fell by 2.77% from 8.0500 UAH/USD to 8.2730 UAH/USD in the interbank currency market.
The hryvnia rate fell by 0.12% from 8.0400 UAH/USD to 8.0500 UAH/USD in the interbank currency market in 2012, and by 0.94% from 7.9650 UAH/USD to 8.0400 UAH/USD in 2011.
EU, USA, Ukraine And Russia To Meet On April 17 In Switzerland To Discuss Political Crisis
(12:34, Saturday, April 12, 2014)
Officials of the European Union, United States of America, Ukraine and Russia are holding a meeting on April 17 in Geneva, Switzerland to discuss settlement of the political crisis in the Ukrainian-Russian relations, reads a European Commission press release.
"High Representative Catherine Ashton will participate in a meeting between the European Union, the United States, Ukraine and Russia which will take place in Geneva on Thursday, April 17, to discuss the crisis in Ukraine," it said.
The European Union is fully engaged in the diplomatic efforts to deescalate the crisis in Ukraine and to find a political solution.
Together with the international community, the EU is making a major contribution to efforts to stabilise the situation in the country
As Ukrainian News earlier reported, the Foreign Affairs Ministry claims Ukraine is ready for quadrilateral negotiations with USA, the EU and Russia on development of Ukraine-Russia relations.
Russia stands for international assistance in the settlement of the political situation in Ukraine with involvement of USA, Germany on condition of implementation of a comprehensive constitutional reform.
and..


New Straits Times


12 April 2014
| last updated at 07:41AM
US sanctions Crimea's breakaway leaders
WASHINGTON: The United States unveiled sanctions Friday against six of Crimea's breakaway leaders, including the official who signed the deal with Moscow to split the peninsula from Ukraine.
US officials have been warning for days that more sanctions against individuals and companies were in the works, as it calls on Moscow to de-escalate tensions and withdraw Russian troops from Ukraine's eastern border in the worst East-West standoff since the Cold War.
A first wave of US sanctions unveiled in March notably blacklisted officials and businesspeople close to Russian President Vladimir Putin to protest Moscow's takeover of Crimea.
The new Treasury sanctions targeted the former vice speaker of Ukraine's parliament, Sergei Tsekov, who helped pave the way toward the March referendum in Crimea that led to its annexation by Russia and was branded "illegal" by the West.
Tsekov now serves as Crimea's representative in the Russian parliament.
The US Treasury also blacklisted Chernomorneftegaz, a gas company whose assets were seized by the Crimean parliament and are now managed by Moscow.
"Crimea is occupied territory. We will continue to impose costs on those involved in ongoing violations of Ukraine's sovereignty and territorial integrity," said Treasury Under Secretary for Terrorism and Financial Intelligence David Cohen.
The seven individuals targeted by the US have already been placed on EU sanctions lists.
News of the fresh American sanctions came as it was announced that four-way talks between the US, EU, Ukraine and Russia on the crisis would be held in Geneva on April 17.
Also targeted in the latest sanctions — which freeze the US-based assets of all listed persons — was Aleksei Chaliy, the mayor of Sevastopol, who signed the deal on March 16 to unite Crimea with Russia.
He was joined by Crimea's deputy prime minister Rustam Temirgaliev, and Yuriy Zherebtsov, said to be among the main organisers of the referendum.
Electoral officials Mikhail Malyshev and Valery Medvedev were also targeted for administering the vote, which has been denounced by the US and its European allies.
The former head of the Ukrainian security services, Pyotr Zima, who was dismissed after swearing an oath of loyalty to the new Crimean authorities, was also placed on the list. He is now the head of the Crimean security services.
The Crimea-based gas company Chernomorneftegaz was listed "because it is complicit in the misappropriation of state assets of Ukraine or of an economically significant entity in Ukraine," the Treasury said in a statement.
US President Barack Obama told German Chancellor Angela Merkel on Thursday that the United States and its allies should prepare new sanctions against Russia if it escalates the crisis over Ukraine.
Pro-Russian separatists in eastern Ukraine, "apparently with support from Moscow, continue an orchestrated campaign of incitement and sabotage to undermine and destabilize the Ukrainian state," the White House said in a statement.
Republican Senator John McCain, a former presidential candidate and an influential Washington foreign policy hawk, said that NATO satellite images made it clear that "Russia has poised a menacing force near the Ukrainian border as part of its effort to destabilise Ukraine and destroy its chance for independence, self-determination and democracy."
He accused the Obama administration of not doing enough to deter Russia.
"So far, the administration's only response has been to issue sanctions on a few individuals and threaten the likelihood of more sanctions if Russia takes further action," McCain said.
"No one should believe that these measures have effectively deterred President Vladimir Putin."--AFP
From Crimea....
"The Liberation Of Southeast Ukraine Has Begun" - Crimean Vice Premier
Submitted by Tyler Durden on 04/12/2014 13:00 -0400
UPDATE: The Maidan are calling for the leaders to react "Don't give up like in Crimea"
On the day in which "pro-Russian separatists" are again claiming one after another city in east Ukraine, and when Russia has formally warned that any crackdown on protesters is
"unacceptable"
implicitly threatening retaliation should the promised use of special forces be implemented, moments ago Rustan Temirgaliev, Deputy Chairman of the Council of Miniisters of recently annexed by Russia Crimea, poured some more fuel into the fire and announced on his
Facebook page
that "
the liberation of Southeast Ukraine has begun."
His full statement:
With things rapidly escalating out of control once more, Ukraine acting president has finally decided to, well, act:
TURCHYNOV CALLS UKRAINE SECURITY COUNCIL MTG ON EAST CRISIS
Sadly for Kiev, as the even the Euromaidian movement admits, following the seizure of regional police departments, Kiev no longer has a way in.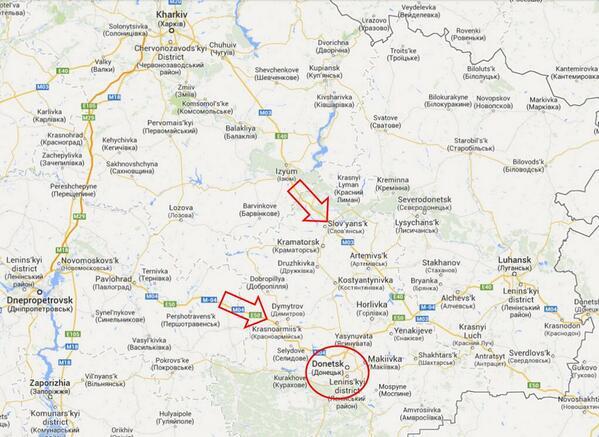 and....
Separatists raise Russia flag in Ukraine city
Pro-Russian protesters replace Ukrainian flag after seizing police and security services headquarters in Slovyansk.
Last updated:

12 Apr 2014 15:57
The armed separatists seized on Saturday two security buildings in the restive eastern city of Slovyansk [Reuters]
Armed pro-Russian separatists have raised the Russian flag in the troubled eastern Ukrainian city of Slovyansk, deepening a stand-off with Moscow which, Kiev warned, was dragging Europe closer to a "gas war" that could disrupt supplies across the continent.
At least 20 men armed with pistols and rifles took over the police and security services headquarters in the city, about 150km from the border with Russia.
Officials said the men had seized hundreds of pistols from arsenals in the buildings. The gunmen replaced the Ukrainian flag on one of the buildings with the red, white and blue Russian flag.
Speaking shortly after the separatists seized the police station, Interior Minister Arsen Avakov said Ukrainian special forces had been dispatched to the scene.
"Our response will be very severe," Avakov wrote on his Facebook page.
"There is zero tolerance for armed terrorists," he added.
Shortly after, the Ukrainian interior ministry also said the separatists had taken another security building in the restive city.
"The same group of armed men who seized the district police station also seized the Slavyansk Ukrainian Security Service (SBU) building," the regional interior ministry said in a statement.
In the industrial city of Donetsk, an AFP reporter said about 200 pro-Russian separatists armed with clubs and sticks stormed the city's police headquarters.
The protesters met no resistance, and a bus filled with a few dozen anti-riot police who quickly arrived at the scene were seen sporting orange and black ribbons symbolising support for Russian rule.
Witnesses said the men occupying the police headquarters were wearing the uniforms of Berkut, the uniform of Ukraine's feared but now-defunct riot police.
Bowing to demands from the pro-Russian separatists Donetsk police chief stepped down on Saturday.
"In accordance with your demands I am stepping down," police chief Kostyantyn Pozhydayev told protesters.
The latest takeovers by the gunmen comes a day after Ukraine's prime minister, Arseniy Yatsenyuk, told leaders in Donetsk that he was willing to cede more power to the troubled eastern regions.
Eastern Ukraine has a high proportion of Russian-speakers and many of them fear that the acting government which took over when Viktor Yanukovich fled to Russia in February will repress them.
The Ukrainian government has accused Russia of fomenting unrest in eastern Ukraine in a bid to derail next months' presidential election in the country.

Russia Tells Ukraine It Won't "Accept" Force Against Demonstrators
Submitted by Tyler Durden on 04/12/2014 11:11 -0400
Ukraine may have drawn its own red line overnight by saying it will send "special forces" into the latest east Ukraine city captured by "pro-Russia separatists" as
we just reported
, but Russia wasted no time in explaining how it would deal with it. Bloomberg cites Russian foreign minister Lavrov who stated that, "
Russia Won't Accept Ukraine Force Versus Demonstrators
."
Threats to use force against pro- Russian activists in southeast Ukraine are "unacceptable," Foreign Minister Sergei Lavrov says in phone call today with Ukrainian counterpart Andriy Deshchytsia, Russian Foreign Ministry says in e-mailed statement. Lavrov added that he sees "no grounds" to accuse Russia of sending agents to destabilize situation in Ukraine.
Telephone conversation by Russian Foreign Minister Sergey Lavrov and Acting Minister of Foreign Affairs of Ukraine A.B.Deschitsey

April 12 at the initiative of the Ukrainian side had a telephone conversation between Minister of Foreign Affairs of the Russian Federation Sergey Lavrov and Acting Minister of Foreign Affairs of Ukraine A.B.Deschitsey.

During the conversation A.B.Deschitsa tried to lay the responsibility for the deterioration of the situation in the South and South- East Ukraine on Russia. He argued that in these regions there are some Russian agents and allegedly some of them had already been arrested.

In response, Lavrov stated that there were no grounds for such assertions. He recalled that similar claims against Russia could be heard from Washington, but we have not been presented specific facts.




On the Russian side emphasized the responsibility of the present authorities in Kiev for preventing any use of force in the South and South- East of Ukraine. A.B.Deschitse indicated on the unacceptability of Kiev constantly sounding threats to storm buildings occupied by protesters in Donetsk and Lugansk. Lavrov urged the Ukrainian side to act peacefully , through dialogue , with full consideration of the legitimate demands of the South and South- East of Ukraine , including the direct involvement of these regions in the process of constitutional reform.




In response to questions regarding the prospects for A.B.Deschitsy quadripartite meeting of the Russia- US-EU -Ukraine Russian minister noted that the preparation of this event as part of the content and on the format and timing continues to be discussed between Moscow and Washington
Ball is in Kiev's court.
Ukraine Sends Special Forces To "Deal" With Separatists; Donetsk Police Chief Steps Down

Submitted by Tyler Durden on 04/12/2014 09:40 -0400
Update 2
: In case it wasn't clear, here is Russian foreign minister Lavrov: "
Russia Won't Accept Ukraine Force Versus Demonstrators
"
Update: The regional police chief of the east Ukrainian city of Donetsk said on Saturday he was quitting his post, bowing to demands from pro-Russian protesters. Above the police headquarters, the Ukrainian flag was no longer flying, and was replaced with a separatist flag, according to a Reuters witness. "In accordance with your demands I am stepping down," police chief Kostyantyn Pozhydayev told protesters.
So, one down?
While the primary story regarding Ukraine remains the stand off between Kiev and the Kremlin over nat Gazprom's gas deliveries and Kiev's overdue, and as of today - officially halted payments - not a weekend passes without some city in eastern Ukraine falling to what are now called "pro-Russian separatists" and this Saturday is no different. While last week it was the eastern cities of Luhansk, Donestk and Kharkiv that saw their government building taken over and occupied by the "separatists", today it was the turn of Slaviansk, where masked men armed with pistols and rifles stood guard near the police station as hundreds of locals gathered around, some building barricades with car tyres.
According to
Reuters
, the masked men were wearing orange and black ribbons, a symbol of the Soviet victory in World War II that has been adopted by pro-Russian separatists in Ukraine.
Slaviansk is in the Donetsk region about 150 km (90 miles) from the Russia-Ukraine border. Pro-Russian groups have also occupied public buildings in the cities of Donetsk and Luhansk, and are demanding autonomy from Kiev.
As is well known by now, officials in Kiev's Western-leaning interim government say Russian forces may be preparing to cross the frontier into Ukraine on the pretext of protecting the pro-Russian activists from persecution, though Moscow denies this. And since the narrative is quite clear, and since Kiev itself has been the most desperate to escalate the conflict with Russia into outright war in hopes of getting NATO backing, it is never quite clear just who is behind any provocation.
And as if to formally accelerate the fallout Ukrainian Interior Minister Arsen Avakov said police would deal very firmly with the group in Slaviansk. "There is a difference between protesters and terrorists," he wrote on his Facebook page.
Bloomberg added that Ukraine has sent special forces troops to deal with camouflaged gunmen occupying police station in Slovyansk in Donetsk region of east Ukraine, also citing Avakov's Facebook account. He added that the ministry response "will be very tough" with "zero tolerance for armed terrorists."
Ukrainian Foreign Minister Andrii Deshchytsia said Kiev was ready to listen to the demands of protesters in eastern Ukraine, but if negotiations fail, the police were ready to act. "We do consider that these actions are inspired and prepared in Russia and encouraged by some of the Russia agents in Ukraine," he told BBC radio.
At least 20 armed militants wearing mismatched camouflage outfits took over the police and security services headquarters in the eastern city of Slaviansk, about 150 km (90 miles) from the border with Russia, seizing hundreds of handguns.




Police said gunmen later took over the local headquarters of Ukraine's SBU security service.




Ukraine's acting foreign minister, Andriy Deshchytsia, urged Russia to end what he called "provocative actions" by its agents in a phone call with Russian Foreign Minister Sergei Lavrov.




Government buildings in two other Russian-speaking cities, Donetsk and Luhansk, have been occupied by separatists since last weekend, in what the new pro-Europe leadership in Kiev says is part of a plan drawn up by the Kremlin to dismember Ukraine.
Of course, it is indeed true that Russia is merely waiting for the opportunity to respond to "special forces" retaliation and escalate a la Crimea to protect the ethnic Russians living there. The only question is whether Kiev will respond this time, or fold completely like it did when Russia annexed Crimea after its western "allies" did absolutely nothing to assist the new government.
Anti-Kiev demonstrators have taken control of police office in the town of Slavyansk, Eastern Ukraine. The town's mayor, however, believes police have taken the side of the protesters, and are going to back their calls for a secession referendum. Kiev has promised a heavy-handed response and sent special forces there, but they are being blocked by demonstrators in the regional centre, Donetsk.
Clips from the scene:
Slaviansk is not the only city where separatists are revolting against the Kiev regime today: Donetsk is once again in the spotlight.
Ukraine Suspends Gas Payments To Russia
Thomson Reuters
KIEV (Reuters) - Ukraine's state-run energy company Naftogaz has suspended gas payments to Russia until the conclusion of price talks, chief executive Andriy Kobolev was quoted as saying on Saturday.
Russia, which last month angered Western powers by annexing Ukraine's Crimea peninsula, has raised the price it charges Kiev for gas and said it owes Moscow $2.2 billion in unpaid bills. It also says Kiev had failed to pay its bill on time.
Russian gas giant Gazprom <GAZP.MM> earlier this month increased gas price for Ukrainian consumers to $485 per 1,000 cubic meters (tcm) from $268 for the first quarter, saying Kiev was no longer eligible for previous discounts.
"The question of repayment of debt is directly linked to the maintenance of gas prices at the level of the first quarter," Kobolev told the Zerkalo Nedely weekly in an interview, referring to the original price of $268 per tcm.
"We see no reason to revise the price. We consider the price at around $500 as non-market, unjustified and unacceptable. Accordingly, we have suspended payments for the period of the price negotiations."
Kiev gets about half of its gas from Moscow and a large proportion of Europe's gas is pumped from Russia via Ukraine.
High debts, which could justify a reduction in gas shipments to Ukraine, have raised the spectre of a repeat of previous "gas wars", when disputes between the two former Soviet republics led to a cut in onward supplies to western Europe.
A repeat could hurt Russia as its public revenues depend on selling gas to Europe.
Russian President Vladimir Putin warned on Thursday that Moscow could cut off gas to Ukraine, potentially threatening European supplies, but later played down the threat.
"I want to say again: We do not intend and do not plan to shut off the gas," he said on Friday.




So who holds the gas bag ?
Europe Folds As Putin Tells It To Pay Ukraine's Gazprom Bill, Or Else
Submitted by Tyler Durden on 04/11/2014 10:03 -0400
Another day ending in "y" means another day in which Putin plays the G(roup of most insolvent countries)-7 like a fiddle.
The latest: Europe should provide aid to Ukraine to ensure uninterrupted natural-gas deliveries to the region, President Vladimir Putin's spokesman said as reported by Bloomberg.
"Russia is the only country helping Ukraine's economy with energy supplies that are not paid for," Dmitry Peskov told reporters today in Moscow, commenting on President Vladimir Putin's letter yesterday to 18 European heads of state. "The letter is a call to immediately review this situation, which is absurd on the one hand and critical on the other.
Said otherwise: PUTIN SAYS EUROPE GAS TRANSIT DEPENDS ON UKRAINE: IFX
Or, as we explained yesterday, Russia is quite happy to keep the EU gas flowing...as long as Ukraine has enough gas in storage to assure Gazprom it won't syphon off gas destined for Europe. So how much gas does Ukraine need to pre-stock? About $4-5 billion worth. The problem is that Ukraine doesn't have a dime to spend on gas.
So putting the question aside if Ukraine will or won't import even one bcf of Russian gas ever again (thanks to some fracking or US natgas exporting magic), what Putin just said is that if Europe wants an uninterrupted supply of gas it better find a way to fund Ukraine to the tune of up to $5 billion, or else the gas may just get shut off.
European Energy Commissioner Guenther Oettinger is working on a plan to help Ukraine pay some of its gas bills to Russia, he told Austria's ORF radio on Friday, saying there was "no reason to panic" about Russian gas supplies to Europe.




"We are in close contact with Ukraine and its gas company to ensure that Ukraine remains able to pay and the debts that the gas company has to Gazprom do not rise further," he said, adding he would meet Ukraine's energy and foreign ministers on Monday.




"I am preparing a solution that is part of the aid package that the IMF, the European Union and the World Bank is giving to Ukraine and from which payment for open bills will be possible."
The chess game continues: Putin X+1 - Pigeons 0

Russia sets 4 conditions in return for aid to Ukraine
Published time: April 12, 2014 10:48
Ukraine should recognize Crimea's independence, reform the country's constitution, regulate the crisis in its eastern regions and guarantee the rights of Russian speakers if it wants to get financial help from Moscow, Russia's finance minister has said.
"If Ukraine fulfills these four conditions, then Russia will be able to propose further steps on additional help both on financial and gas issues," Finance Minister Anton Siluanov said after meeting with his German counterpart, Wolfgang Schauble, in Washington.
Deescalating tensions in eastern Ukraine should be peaceful, based on Ukraine's legislation,"without discrimination against Russian-speaking population, without victims and bloodshed,"Siluanov said.
It is necessary for Ukraine to conduct constitutional reform, hold legitimate presidential elections and "form a government with which one may negotiate," he said.
Ukraine's gas debt is now estimated at over $2.2 billion. On Thursday, President Vladimir Putin
wrote
letters to the leaders of 18 European countries, including Germany and France, warning that Ukraine's debt crisis had reached a
"critical"
level and could threaten transit to Europe. He also called for urgent cooperation, urging Russia's partners in the West to take action.
According to German Chancellor Angela
Merkel
"there are many reasons to seriously take into account this message […] and for Europe to deliver a joint European response."
In total, Moscow has subsidized Ukraine's economy to the tune of $35.4 billion, coupled with a $3 billion loan tranche in December. Due to Ukraine's gas debts, Gazprom revoked all discounts and is now charging $485 per 1,000 cubic meters of gas, a price Ukraine says it will not be able to pay.
The deteriorating economic situation is coupled with escalating tensions in Ukraine. The country's Interior Ministry promised a harsh response to the riots in the east, especially in the "separatist regions" of Donetsk, Lugansk and Kharkov. The coup-appointed authorities said they would arrest all violators, "regardless of the declared slogans and party affiliation."
Eastern and southern Ukraine have been showing discontent with the new government in Kiev for weeks. Tensions escalated Monday when protesters in several cities started seizing local administration buildings. Major protests took place in the cities of Donetsk, Kharkov and Lugansk, while smaller actions and some clashes were reported in Odessa and Nikolayev.
After Donetsk activists proclaimed the region independent and demanded a referendum on its future status, Ukraine's coup-imposed president Aleksandr Turchinov ordered the sending in of armed personnel and armored vehicles to the east.
At least 70 activists have been arrested in the course of the crackdown launched by Ukraine's Interior Ministry in the eastern city of Kharkov. Most of them remain in prison, with 62 people detained for at least two months.
Sanctions are 'counterproductive' for all
At the G20 finance ministers' meeting in Washington, sanctions against Russia's alleged interference into Ukraine's affairs dominated the background. While speaking with journalists, Siluanov said that he was against US and EU sanctions against Russian and that the widening of such sanctions would be "counterproductive" for all sides.
In the latest series of sanctions, leading Crimean officials were targeted; those, according to the US Treasury, who were responsible for organizing the March 16 referendum, which led to the peninsula leaving Ukraine and joining Russia.
Among the seven officials forbidden from entering the US or engaging in economic activity with America-based companies are acting Sevastopol governor Aleksey Chaliy, the head of the Crimean security service Pyotr Zima, and Mikhail Malyshev, the head of the electoral commission that oversaw the poll.
Additionally, US-based assets of Chernomorneftegaz, the former subsidiary of the Ukrainian state gas company located on the Crimean peninsula, will be frozen.
The US, the EU and several international groups have imposed sanctions on senior Russian officials. The US also introduced measures including a ban on exporting defense items and services to Russia to pressure Moscow over recent events in Ukraine.
The G7 group has voiced its readiness to introduce additional sanctions against Russia, if Moscow continues to "escalate" the turmoil in neighboring Ukraine, US Treasury Secretary Jack Lew said.
Meanwhile, the Russian Foreign Ministry and parliament have repeatedly denounced the policy of sanctions as inappropriate and counter-productive.
Some Russian MPs have suggested the possibility of retaliatory sanctions against US businesses, but these ideas have not been implemented as they might harm all the countries.
"Sanctions hurt all countries. We do not intend to introduce reciprocal sanctions," Deputy Prime Minister Igor Shuvalov told reporters during the International Eastern Forum in Berlin.
Meanwhile, the meeting between Russia, Ukraine, EU and the US to discuss the ongoing political crisis in Ukraine will take place on April 17 in Geneva, the office of EU foreign policy chief Catherine Ashton said. Proposals for Ukraine's constitutional reforms will also be presented in Geneva. However, Russian FM Sergey Lavrov on Tuesday expressed concern that Ukraine's southeastern regions were not being invited to take part directly in the discussions on a new constitution for the country.
Siluanov said that similar concerns were voiced on Friday during a meeting with Treasury Secretary Lew.
He added that "Russia is ready to participate in supporting Ukraine together with the IMF and the European Union." He also told Lew that Russia was concerned about Ukraine's unpaid debt for supplies of natural gas.
And.....