Russian Politician Demands Banning McDonalds, After Fast Food Chain Halts Crimea Operations
Submitted by Tyler Durden on 04/05/2014 12:26 -0400
A few weeks ago, when the US announced the first set of sanctions against Russia, we jokingly commented that among the possible retaliations would be a Russian expulsion of that global US permastaple, McDonalds. As it turns out, yet another "joke" may be on its way to becoming the truth.
The reason: overnight, newly Russian citizens in the Crimea discovered that they will have to live without Big Macs for a while after McDonald's suspended operations on the Crimean Peninsula after it was annexed by Russia. In response, infamous Russian nationalist member of parliament, Vladimir Zhirinovsky, has demanded that every McDonald's restaurant in Russia should be closed and the business evicted from the country.
The omnipresent U.S. fast-food chain said in a statement, posted on its Ukrainian website and taped to the front doors of its shuttered restaurants, that the decision was taken "for manufacturing reasons beyond the company's control."




The news hit 21-year-old Lilia especially hard because she had been happily employed at McDonald's until Thursday and had no suspicion that she was about to be out of work.




"They told us that we would be closing because Kiev was no longer sending us any ingredients," she said as a blond girl next to her pulled at the restaurant's locked door in vain.




Yet the move out of Crimea by the world's biggest hamburger maker reflects a much broader uncertainty among Western firms about their positions in Russia following the Kremlin's military intervention in Ukraine.




McDonald's insisted that it wants to reopen the stores "as soon as there is an opportunity."
So, the official version is that Kiev was no longer in the pink slime processed meat delivery business when it comes to newly annexed territories? Perhaps JPM was also not in the money transfer business for all companies east of the Volga river, because Kiev wouldn't supply the cables?
Joking aside, Russia was not only quick to see through the real reason for the shutdown, but did what it has done all along in the relentless Tit-for-Tat when it comes to the future of Ukraine: it re-escalates.
From Telegraph
:
The fast food chain became embroiled in the fall out of the worst diplomatic crisis in years when it closed its three Crimean chains.




McDonald's announced the temporary closure of its outlets in Simferopol, Yalta and Sevastopol, due to what the company called "operation reasons beyond McDonald's control."




The company offered its Crimean staff jobs at any other outlet in mainland Ukraine and has promised to reopen the restaurants as soon as possible. But as far as some of the more hawkish elements in Moscow are concerned, the damage has been done.




"McDonalds closed their outlets in Crimea. Very well. We'll close the rest. I've given instructions to all city divisions of the Liberal Democratic Party to hold pickets at every McDonalds," Mr Zhirinovsky said on Friday.




"It's muck, why poison our citizens," Mr Zhirinovsky added in the outburst.
Well... he is right, as "court jesters" usually are.
While Mr Zhirinovsky is widely viewed as the court jester of Russian politics, his trademark outbursts are occasionally used as trial balloons for schemes that do eventually become policy.




If this is one of those cases, other iconic American food brands may also have to watch out.




Mr Zhirinovsky suggested that after closing every McDonald's restaurant in the country, he would move on down a hit list of brands.
And after the Bolshoi Mak is gone? "Then we'll deal with Pepsi" Zhirinovsky said.
Russia aside, considering America's own problem with runaway, pardon the pun, obesity and spiraling healthcare costs, isn't it time Kiev also halted sending ingredients to US-based McDonalds restaurants?
Ukraine updates ....... Anti-War
by Jason Ditz, April 04, 2014
Over the past several years the US had been cutting back its ground force in Europe as a cost-cutting measure. In 2012 the Pentagon cut two of its four Army brigades, but that may not last.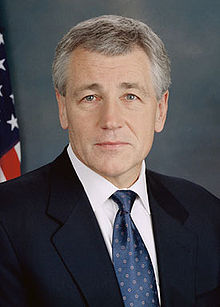 Secretary of Defense Chuck Hagel
is now saying that adding a brigade
, bringing it back up to three overall in Europe, is under consideration as a move to "counter Russia" in eastern Europe.
Hagel did not specify where the new "permanent brigade," which would be roughly 5,000 troops, would be stations, but Poland is a likely candidate, as the Polish government is
demanding 10,000 NATO troops
on a permanent basis.
The US has been talking up military buildups in eastern Europe over the past few weeks, but mostly centering on very small deployment of a few hundred troops here or there, and nothing on this scale.
The cost of deploying a whole extra brigade to Europe will be billions of dollars, at a time when EUCOM
was supposed to be seeing cuts
, not dramatic growth.
The Europe cuts were supposed to be part of the "Asia pivot," with the US increasing interventionism in the Pacific on the basis of savings in Europe. Despite the Europe cuts not materializing, the US still seems set to keep escalating in the Pacific as well, meaning the Pentagon's budget will continue to grow.
Courts 'Emergency' Imports From European Union
by Jason Ditz, April 04, 2014
Ukraine's Interim Prime Minister Arseniy Yatsenyuk is, as ever, outraged at the Russian government, declaring the announcement of a massive price increase by Russia's Gazprom "
absolutely unacceptable.
"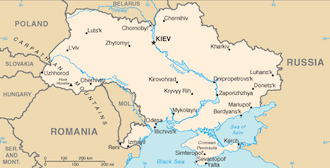 The Gazprom increase amounts to roughly 80% over the previous year's costs, and Yatsenyuk
insisted there was "no reason"
other than politics for the company to impose such an increase.
The reality, however, is that Gazprom had been providing gas to Ukraine at an enormous discount during the Yanukovych government, and the ouster of the pro-Russian president and his replacement with a pro-West faction gave Gazprom an excuse to ditch the discount.
Gazprom had already shaved off part of the discount last month, citing Ukraine's unpaid gas bills, and today brought it up to $485 per 1,000 cubic meters, virtually the same price they charge Germany.
Ukraine officials are calling "emergency talks" with the European Union trying to get them to start ponying up heavily subsidized natural gas to replace Gazprom. Some countries may be willing to do so on a limited basis, but with so many of them similarly on the hook to Gazprom for much of their supply, it is unlikely the EU is going to willingly provide such discounts to Ukraine in the long run.
The White House was critical of the Gazprom price increase, calling it "coercive" and demanding that the markets be allowed to set the price of natural gas. The White House was not questioned on the fact that the new Gazprom price is, essentially, the same as the market price across Europe.
by Jason Ditz, April 04, 2014
The push to escalate the trade and sanctions war between Russia and the West continues tonight, with British Foreign Secretary William Hague
insisting only new sanctions
could force Russia to redeploy more of its troops away from the Ukraine border.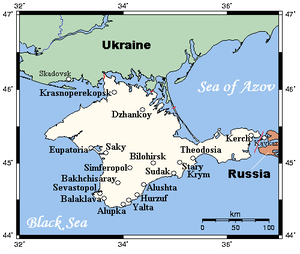 "We haven't seen real de-escalation by Russia and therefore Europe must not relax in preparing a third tier of sanctions," Hague insisted, adding that Europe needed to show a "strong and united response" against Russia.
Sanctions have had a lot of weird spill-over effects so far, including
putting
a Miley Cyrus concert in Finland in jeopardy, and today
McDonald's announced
it has closed its three Crimean restaurants.
McDonald's provided no specific reason for the closure, but said the workers at those three restaurants could keep their jobs only if they agreed to transfer to restaurants in Ukraine. They were not given an option to transfer to Russia, by all indications.
Crimean officials expressed surprise at the move, but said the three restaurants
weren't a significant part
of the peninsula's restaurant system, adding that they believe new restaurants will eventually come.
Today's Zaman.......
Russia warns Turkey, US on American ships in Black Sea
THE USS TRUXTUN, A US NAVY GUIDED MISSILE DESTROYER, PASSED THROUGH THE BOSPORUS STRAITS EN ROUTE TO THE BLACK SEA FOR A ROUTINE DEPLOYMENT ON MARCH 7. (PHOTO: TODAY'S ZAMAN)
Russia has warned Turkey and the US, claiming that American ships have, several times, stayed in the Black Sea beyond the terms of the Montreux Convention, which regulates the transit of naval warships.
"We have noted the fact that US ships have, several times, stayed in the Black Sea beyond the terms of the Montreux Convention," Russian Foreign Minister Sergei Lavrov said on Thursday. "We brought this to the attention of the US and Turkey. All Convention terms should be strictly observed."

The Montreux Convention gives Turkey control over the Bosporus and the Dardanelles and regulates the transit of naval warships.

"[US] Navy units continue to conduct routine operations and exercises with allies and partners in the region," a US embassy spokesman in Ankara, who asked not to be named, told Today's Zaman on Thursday, without elaborating on the issue.

A US Navy guided-missile destroyer USS Truxtun entered the Black Sea on March 6-7 in what the US said was part of a "routine" deployment. State Department Deputy Spokesperson Marie Harf said on Wednesday the USS Truxtun has left and that another ship is being sent to the region.

"We've extended the deployment of the USS Truxtun in the Black Sea, and now that it has departed, another naval vessel is on its way to the Black Sea," she said.

"There exists the Montreux Convention, which gives extremely clear criteria limiting the deployment of warships not belonging to the Black Sea governments in regard to tonnage and length of stay," Lavrov said during a joint press conference with Kazakh Foreign Minister Erlan Idrisov in Moscow, according to a Russian news agency.

"We have noticed that US warships have extended their deployment beyond the set terms a couple of times lately, and at times they did not always comply with the regulations that are set within the Montreux Convention," he added.

The Montreux Convention specifies that warships from states without a Black Sea coast can remain in the Black Sea for 21 days at most. For a ship to be eligible to pass the straits, it cannot weigh more than 45,000 tons.

Turkish Foreign Ministry officials did not respond to questions by Today's Zaman on the Russian foreign minister's remarks by the time Today's Zaman went to print on Thursday.
Russian troops have effectively occupied Ukraine's Crimea region, sparking what many have called the most serious confrontation between Russia and the West since the end of the Cold War. In an effort to find a diplomatic solution to the crisis, NATO foreign ministers from the 28 alliance members, including Turkish Foreign Minister Ahmet Davutoğlu, met in Brussels earlier this week.

"Unfortunately, I cannot confirm that Russia is withdrawing its troops. This is not what we are seeing," Secretary-General Anders Fogh Rasmussen told reporters on Tuesday.

Turkey, a NATO member, has called for a diplomatic solution to the crisis and has insisted that the territorial integrity of Ukraine be protected.

Last month, European Union Affairs Minister Mevlüt Çavuşoğlu said Turkey has always upheld the Montreux Convention. "This agreement has never been violated. This is our principle," he said, when receiving Ukraine's ambassador to Turkey, Sergey Korsunsky, earlier in March.

Russia Today......
Moody's downgrades Ukraine to 'default imminent'
Published time: April 05, 2014 10:53
Moody's Investors Service has downgraded Ukraine's government bond rating one notch from Caa2 to Caa3, citing the current political crisis and deepening economic instability as reasons for its negative outlook.
The Caa rating is a credit risk grading pertaining to investments that are both very poor quality and entail a high credit risk. The current downgrade drops Ukraine from Moody's "extremely speculative" rating to "default imminent with little prospect for recovery."
Moody's said the downgrade was driven by three factors, which "exacerbate Ukraine's more longstanding economic and fiscal fragility."
The first factor is Ukraine's political crisis, citing the recent regime change in Kiev and subsequent events in Crimea. The agency went on to cite Ukraine's stressed external liquidity position, which faces continued decline in foreign currency reserves, the withdrawal of Russian financial support and a spike in gas import prices. Moody's further noted that this assessment accounts for the near-term liquidity relief recently hammered out with the IMF. Finally, due to a"sizable fiscal deficit," the agency expects a significant contraction of GDP and a sharp currency depreciation as the debt to GDP (Gross Domestic Product) ratio hits between 55-60 percent by year's end.
On Thursday, Gazprom CEO Aleksey Miller announced Ukraine would begin paying $485 per thousand cubic meters of natural gas starting from April. The price rise followed a cancelation of the Black Sea hosting deal. On Wednesday President Vladimir Putin signed a federal law ending Russia's commitment to the Kharkov Agreement, as the Black Sea port of Sevastopol is now under jurisdiction of the Russian Federation. This follows another steep hike on April 1, when the price Ukraine paid for gas went up 44 percent to $385, after Kiev failed to meet its debt repayments.
Last December, Russia offered Ukraine's Yanukovich-led government a $15 billion loan and a 33 percent discount on natural gas: a lifeline to help its faltering economy. Moscow went through with the purchase of a $3 billion Eurobond from Kiev, though Russia later froze both the gas deal and the credit- line, due to events on the ground.
On Friday, Ukraine said it had started emergency talks with European Union neighbors on the possibility of importing natural gas from the West.
Based on these factors, Moody's said the country was unlikely to see Ukraine's sovereign debt rating improve in the near future, stating its outlook for the country was negative. Any improvement would only come if long-term political and economic improvements were forthcoming. In January, Ukraine also saw its sovereign rating fall by one notch.
After Ukraine reached a preliminary deal with international lenders to unlock $27 billion in assistance late last month, the International Monetary Fund (IMF) announced last week a $14-18 billion standby credit for the country.
However, in order to secure the IMF credit, the country of 46 million was forced to cancel fuel subsidies to private citizens and businesses, sparking a 50 percent hike in oil and natural gas bills.
Ukraine has also promised the IMF it will cut its budget deficit to 2.5 percent of GDP by 2016.
"The country is on the edge of economic and financial bankruptcy," Prime Minister Arseniy Yatsenyuk said in Kiev last week. "This package of laws is very unpopular, very difficult, very tough. Reforms that should have been done in the past 20 years."
Yatsenyuk warned GDP could shrink by 3 percent in 2014, while inflation could hit up to 14 percent.
Kiev ignored independent assessment of snipers at Maidan - Lavrov
Published time: April 04, 2014 09:15
Edited time: April 05, 2014 02:31
Authorities in Kiev have routinely ignored evidence in the case of sniper shootings on the Maidan, while suggestions of probes into the matter never came from official channels, Russian FM Lavrov said.
Part of the agreement signed by President Yanukovich and the leaders of the Ukrainian opposition, involved the prospect of a joint investigation into the events of February 20 and what preceded them, Mr Lavrov told journalists following a meeting of the foreign ministers of the Commonwealth of Independent States.
However, "those who seized power tore it up" and "forgot about issues like stopping radical elements and disarming armed groups," he said.
Those who fought at Independence Square were amnestied, but calls for investigations are suddenly appearing six weeks later, the FM continued.
Independent experts have been giving their analysis of sniper activity, their tactics and their positions, but this has all been ignored, Lavrov said in an answer to why Moscow was less enthusiastic about investigating Kiev than it was Crimea.
The telephone conversation between the EU's Foreign Affairs Chief Catherine Ashton and Estonian Foreign Minister Urmas Paet was also ignored, in which they clearly discuss a cover-up to place the blame of civilian deaths on the opposition and not on the ousted government. In that 11-minute conversation, posted on YouTube, Paet says he heard word that the shooting of police and civilians in Kiev in February was the work of provocateurs working with the protest movement, and not Yanukovich's security forces; to which Ashton replies: "I didn't know... Gosh."
Continuing on Ukraine, Lavrov stated that "the West has in effect taken upon itself the role of the master of the Ukrainians' fates," especially at a time when the Ukrainian government isn't"capable of self-sufficiency."

The reason for the continuing lack of consensus on the crisis stems from the inability of the current government to "respect without exception the rights of all Ukrainians - among them the right to use one's mother tongue - as well as the inability to respect the wishes of all the country's regions," Lavrov underlined.
The FM finished with a reminder that Russia has on several occasions proposed constitutional reform in Ukraine, and which would go a long way toward diffusing the political situation there.
Reuters.......
Ukraine in emergency talks with EU neighbors on gas imports
(Reuters) - Ukraine is in emergency talks with European Union neighbors on the possibility of importing natural gas from the West, following a leap in the price it pays for Russian supplies, Prime Minister Arseny Yatseniuk said on Friday.
The urgency of securing affordable supplies has grown since Moscow - which annexed Crimea from Ukraine last month - raised its discounted gas tariff for Kiev twice this week, almost doubling it in three days.
Yatseniuk told reporters that one possibility was "reverse flows", in which EU countries would send gas back down pipelines normally used in the transit of Russian supplies through Ukraine to the West.
"We are carrying out emergency talks with our European partners. One way to solve the problem is reverse gas from EU countries," he said, adding that the main candidates for imports were Slovakia, Hungary and Poland.
Ukraine
, which is in an economic crisis, covers half its needs with Russian gas. However, relations between the countries became hostile after protesters ousted pro-Moscow president Viktor Yanukovich in February and
Russia
seized Crimea, leading to the worst East-West crisis since the Cold War.
Yatseniuk said it was possible to send gas down the pipelines in the opposite direction to the normal east-west flow. "On a technical level, the idea of reverse gas raises no problems, and we hope our European partners make the right decision. If it will be to reverse, then it means the price for gas will be $150 dollars lower than Russian gas."
Russia
has raised the price to $485 per 1,000
cubic
meters, meaning Gazprom, Russia's monopoly gas exporter, charges Kiev about the same as other customers in central Europe.
Ukraine
will soon get money from the International Monetary Fund under a new loan package but faces large debts and its
economy
is in chaos.
The discounted price had been part of Moscow's strategy of keeping Ukraine, a fellow former Soviet republic, under its political influence and discouraging Kiev from building closer ties with the EU. Yanukovich's rejection of an EU trade and cooperation deal set off the protests that brought him down.
Yatseniuk has called the price increases unacceptable and warned that he also expects Moscow to increase pressure on Kiev by limiting supplies. Russia has frequently used energy as a political weapon in dealing with its neighbors, and European customers are concerned it might again cut off deliveries.
"At this price for gas, Ukraine will most likely continue to import and ratchet up its debt. It will happen until either side decides to go to arbitration or Russia decides to cut off deliveries of gas to Ukraine," said independent energy analyst Valentin Zemlyansky.
"If it goes to the court, we could expect a very long ordeal, but if Gazprom cuts supplies, Ukraine will take gas from volumes intended for European consumers," he said.
One source who advises on gas contracts noted that Russia offered the discount in 2010 in return for continuing use of its Black Sea naval base in the Crimean port of Sevastopol.
"With the seizure of Crimea, Moscow now could argue the rebate is now longer valid, hence raising the gas tariff to levels more normal in the region," said the source. "This is, I would imagine, something Kiev may contest in arbitration as it didn't hand over Crimea voluntarily."
LIMITED REVERSE CAPACITY
Russian gas meets around a third of EU demand. About 40 percent flows through Ukraine, with the rest sent to Germany via the Nord Stream pipeline under the Baltic Sea or in the Yamal Europe pipeline through Belarus and Poland.
Poland opened its first West-East gas link on Tuesday as part of an EU drive to ensure greater supply.
Valery Nesterov of Moscow-based Sberbank CIB said reverse gas flows could not go beyond 5 billion cubic meters (bcm) this year, or only about 8 percent of Ukrainian demand.
Poland has a reverse capacity of 1.5 bcm to Ukraine, while Hungary is able to send 3.5 bcm. Romania has the potential for 1.8 bcm, but there has been no firm agreement on its use.
Energy consultancy Wood Mackenzie said regulatory obstacles also had to be overcome.
Ukraine's energy minister Yuri Prodan said Kiev wanted to buy gas from neighboring Slovakia, but the Slovak gas company had declined to let Ukrainians examine its transit facilities.
Slovakia's Eustream, which operates the gas network, denied this. "Eustream is prepared for cooperation with its Ukrainian partners on reverse flows," a Eustream spokesman said. The company added that "meetings scheduled for the next few days should provide answers to questions of technical, financial and time nature".
Slovakia has the potential to reverse flow more than 20 bcm into Ukraine, meeting over a third of the country's gas demand, but not in a hurry. Analysts said it could take another six months for gas to start flowing and the flow would be unlikely flow to reach maximum reverse capacity.