Ukraine offers Easter truce in the east
Government promises not to attack pro-Russian separatists over the weekend even as they continue to occupy buildings.
Last updated:

19 Apr 2014 13:53
Pro-Russia groups have refused to leave occupied buildings in eastern Ukraine [EPA]
The Ukrainian government has said it will not attack pro-Russian separatists over the Easter weekend even as hundreds of them continued to occupy several buildings in the eastern part of the country.
The Kremlin denies having control over gunmen who want their eastern regions to follow Crimea in being annexed by Russia.
The Ukrainian Foreign Ministry promised "the suspension of the active phase of the anti-terrorist operation" among a list of government initiatives to defuse the crisis issued late on Friday.
A spokeswoman for the SBU state security service said on Saturday the suspension was "linked to the implementation of the Geneva agreement and the Easter holidays".
"The anti-terrorist operation was put on hold for the Easter time and we will be not using force against them at this moment," Foreign Minister Andriy Deshchytsia was quoted as saying on Saturday by the BBC.
Also on Saturday, Russia's foreign ministry has promised it would offer strong assistance to Ukraine to overcome its crisis, but emphasized that the ultimate responsibility for reducing tensions lies with Ukrainians rather than outsiders.
The statement came two days after top diplomats from Ukraine, Russia, the US and the European Union called for an array of actions including the disarming of armed groups and the freeing of public buildings taken over by people on both sides.

In the statement, the Russian Foreign Ministry said deputy minister Grigory Karasin met with Oleg Tsaryov, a pro-Russia candidate in the Ukrainian presidential election that is to take place on May 25.
"The Russian side noted that the questions of resolving the internal political crisis should be decided by Ukrainians themselves in close cooperation with a special monitoring mission" of the Organisation for Security and Cooperation in Europe, the statement said.
"Russia is prepared to show the most wide support in this."
The statement did not specify what that support would be, and it was not clear what it can do or would be willing to do.
The emphasis on Ukrainians' responsibility echoed a ministry statement a day earlier which said the first step should be the disarming of members of the ultranationalist Right Sector group, whose activists are occupying buildings in the capital Kiev.
Military forces
Mutual disarmament seems to be in jeopardy, however, as pro-Russian armed groups occupying police stations and other government buildings in eastern Ukraine have said they would not vacate unless the country's acting government resigned.
They say the Kiev authorities, who took power after pro-Russia Ukrainian President Viktor Yanukovych was ousted in February following months of protests, aim to suppress the country's Russian-speakers.
In response to this accusation on Friday, the interim prime minister and president pledged to afford the Russian language a "special status" in Ukraine in a bid to save the deal.
Russia, meanwhile said military forces near the border with Ukraine have been deployed there in response to instability in the country, Reuters news agency reported.
The Kremlin's explanation was a departure from previous statements that the troops were there on routine exercises.
"We ... have forces in the region of the Ukrainian border. Some of these forces are based there permanently, others are there to reinforce, against the backdrop of what is happening in Ukraine itself," Dmitry Peskov, spokesman to Russian President Vladimir Putin said on the Rossiya 1 television station.

Anti war .....
Foreign Ministry: US Being Unreasonable
by Jason Ditz, April 18, 2014
Yesterday was deal-making day in Geneva, as US and Russian officials reached a joint statement on the growing eastern Ukraine crisis. Today, that's all but forgotten, as the two sides are back to issuing stern warnings to one another.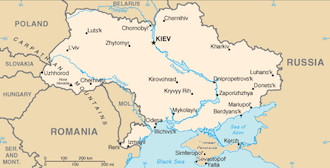 When the East Ukraine protesters, who weren't invited to the talks, said they didn't feel obligated to the deal,
Secretary of State John Kerry issued a statement
warning Russia about it, and threatening sanctions to punish Russia for the protesters' defiance of US demands.
Russia followed that up with a warning of their own that the US better not impose any sanctions, and that the threats were "
absolutely unacceptable
." Officials added that the nation still has military forces along the border with eastern Ukraine and won't accept a military offensive there.
Russia's Foreign Ministry went on to term the US
completely unreasonable,
saying they were determined to blame Russia every time anything goes wrong in the Ukraine.
Mish .....
Friday, April 18, 2014 3:27 PM
Lots of Questions

This accord raises more questions than answers.



Did anyone consult the separatists?
Who is going to enforce the agreement?
Is there a single voice, or even a small group of voices who can speak for the separatists?


If the separatists are acting on their own, then unless Russia or someone else can convince the separatists to lay down their arms, the accord may break down.

Separatists are the key players in this crisis, but it does not appear they were even invited to the table.
Ukraine Accord Broken Already

Here we are, one day later and the Financial Times reports Ukraine: The 'War Without War' that Rumbles On
In Geneva on Thursday the US, the EU, Russia and Ukraine agreed steps aimed at reducing the tensions. But that agreement is already in danger of unravelling as separatists in the big eastern city of Donetsk refuse to evacuate their headquarters. Any violence risks creating the pretext for a Russian invasion.





While the government in Kiev and much of the west stresses its desire to integrate with Europe, the east remains firmly anchored to Russia by language, culture and history. Many companies are also oriented eastward, above all those working in its Soviet-era agricultural, metallurgy, pipe-making and defence industries – all of strategic importance to Moscow.





"The Russian market is very important, especially for the older, heritage economy," says Gennadiy Chyzhykov, president of the Ukrainian Chamber of Commerce, who is from Donetsk, now capital of the self-styled "republic" where activists claim to lead the anti-Kiev protests. "We export mainly raw materials and semi-finished goods to Europe, but finished goods, including sweets, to Russia. They share our tastes."
Sentiment
Read that last paragraph above closely. Most of the people in Eastern Ukraine lean towards Russia.

Banning Russian broadcasts, or even forceful military action cannot change that sentiment. Indeed, it can only strengthen it.
Geneva Agreement Does Little to Counter Russian Military Threat

Also consider Geneva Agreement Does Little to Counter Russian Military Threat
Analysts said the fact that US, EU, Russian and Ukrainian foreign ministers managed to agree on a document at all was positive, at a meeting for which expectations had been low.

They agreed illegal armed groups should hand over their weapons, Ukraine should undertake reforms to give more powers to its regions, and a monitoring mission from the Organisation for Security and Cooperation in Europe would be stepped up.

But several steps are difficult to implement, or provide no guarantee that the situation in eastern Ukraine could not escalate. "The wording of the agreement is fine, but when I saw it I immediately thought, how can this actually happen?" said Oleksiy Haran, a Kiev-based political scientist who was visiting Donetsk on Friday.

Most importantly, Russia made no commitment to pull back thousands of troops it has massed on Ukraine's border. The groups which must agree to hand over their weapons, moreover, were not directly represented in Geneva.
Hubris

Please note the extreme hubris of the four parties that agreed to a solution without consulting the views, wishes, and demands of the key group: the separatists.

Addendum: Russia Moves Troops Back to Ukraine Border

Russia confirms that it moved troops back into the border area with Ukraine, according to this link I picked up from ZeroHedge: Russia confirms troops deployed near Ukraine
A Kremlin spokesman confirmed Friday that Russia has built up its military presence on the Ukrainian border, Agence France Presse reported, as the United States warned that Moscow would face tougher sanctions if it failed to abide by a new international deal on Ukraine.

"We have troops in different regions, and there are troops close to the Ukrainian border. Some are based there, others have been sent as reinforcements due to the situation in Ukraine," spokesman Dmitry Peskov told Rossiya 1 television, AFP reported.

In Washington, Susan Rice, President Barack Obama's national security adviser, was quoted by Reuters as saying that Moscow would face tougher sanctions if it failed to abide by a deal arrived in Geneva a day earlier that held the hope of defusing the stand-off in Ukraine.

She warned Moscow would also face sanctions if it moved to send Russian forces into eastern Ukraine. "Those costs and sanctions could include targeting very significant sectors of the Russian economy," Rice told reporters.

Earlier Friday, armed pro-Russian separatists in eastern Ukraine said they were not bound by the conditions of the international deal until the government in Kiev government quit.



Denis Pushilin, the head of the self-declared Donetsk People's Republic, was quoted by Reuters as telling journalists in the regional capital Donetsk that Russian foreign minister Sergei Lavrov "did not sign anything for us, he signed on behalf of the Russian Federation."
Mike "Mish" Shedlock
and.....
Itar - Tass ...
http://en.itar-tass.com/russia/728759
PETROPAVLOVSK-KAMCHATSKY, April 19, /ITAR-TASS/. Russia's President Vladimir Putin says Moscow's demand to Kiev to settle the gas debts is not connected with the political process in Ukraine.
"We do not connect the economy with the political process in Ukraine," Putin said in an interview with the Vesti on Saturday television programme."
Russia's demand to settle the overdue payments "not at all is connected with the election /in Ukraine on May 25/," Putin said.
"It was back on April 7 that we were to receive money for the gas supplied in March, but it never happened, and I am repeating once again - it is 525 million dollars. Zero /received/," he said adding Russia had been supplying gas to Ukraine "at most low price, with all the discounts."
"But, like we have agreed, if they do not make due payments, we shall be using the initial price formula. It is - as per the contract - 485 dollars per 1,000 cubic metres. And we are saying - we could do it right now, even with the aggregated debt of 2.2 billion dollars, but we would not do so.
"We do not want either to undermine the Ukrainian economy, or to doubt the reliability of the gas transit to Europe," Putin said.
"Thus, we are calling on all European countries, all the countries interested in supporting the Ukrainian economy, to get involved in the process of assisting Ukraine and offering measures aimed at financing the budget," Vladimir Putin said.
Putin stressed Russia was ready to hold for a month more and not to introduce a pre-payment approach. "But we cannot be waiting forever. We cannot put on the Russian budget or on the Russian taxpayers the entire burden of paying for the 45-million country."
He also said it was not necessary to begin right now using roubles in payments for gas supplies to Ukraine. "In fact, this is not of a big importance, anyway, Ukraine will have to take those roubles from somewhere," he explained.
Putin hopes the relations with the West will come to normal.
In an interview with the Vesti on Saturday television programme, in a reply to a question whether relations between Moscow and the West may come to normal before yearend, Putin said: "This does not depend on us. Or not on us only . This depends on our counterparts."
"I believe there is nothing preventing from improvement of relations and from normal cooperation," the president said.
http://en.itar-tass.com/russia/728723
MOSCOW, April 18. /ITAR-TASS/. The West should not treat Russia as a naughty schoolchild, Russian president's press secretary Dmitry Peskov said on Friday.
"They should not treat Russia as a naughty schoolgirl who is being poked with a piece of paper on which she must tick off a report on her homework. It is impossible," he told the Rossiya 1 TV channel.
He added that Kremlin called the position of the West on Ukraine a "hypocrisy fair."
"The international law has never seen a bigger hypocrisy, neither has Putin. Russia is a country which seeks dialogue with all world nations. Russia is a country which is interested in mutually beneficial cooperation and its goals are quite understandable - to raise the wellbeing of its people," Peskov told.
"In this case, around the New Year we came to face, rephrasing world literature classics, not a vanity fair but a hypocrisy fair. What happened in Ukraine was an armed coup, which was promptly recognized as legitimate, and it was recognized as legitimate by the legitimate European Union and the United States," he noted.
He reminded that Russian President Vladimir Putin had spoken about such hypocrisy at a Munich security conference as far back as 2007. "I his speech, which had no shade of confrontation, he spoke about this, he warned the world community about such situations," Peskov said. "Regrettably, the situation developed this way and the Russian president took the decision he must take (Crimea's reunification with Russia).
http://en.itar-tass.com/world/728708
"The difficult social and economic situation in Transdniestria has been conditioned by artificial self-isolation," the ministry says.
The situation "can be settled through European integration that citizens on both banks of the Dniester River can choose. It envisions free movement, economic modernization, European security standards and prosperity", it says.
On April 16, Transdniestria's Supreme Council adopted the statement addressed to the lower and upper houses of the Russian parliament - the State Duma and the Federation Council, as well as to Russian President Vladimir Putin, the parliament told ITAR-TASS.
The Council explained that the decision was based on the results of a referendum held in Russian-speaking Transdniestria in 2006, in which 97% of the region's residents voted for independence from Moldova and for subsequent accession to Russia.
Putin's position on Transdniestria
"This is one of the most complicated problems we inherited after the collapse of the USSR. It has a population of over half a million, people are really very pro-Russian. A large number of Russian nationals," Putin said during a live Q&A session.
"People have their own idea on how to build their future, their destiny. It's nothing else but a manifestation of democracy if we allow them to do as they want to," he said.
"Dialogue should certainly be led with Moldova and Ukraine, talks should be intensified in line with the '5 plus 2' formula (Moldova, Transdniestria as parties to the conflict, Russia, Ukraine and the Organization for Security and Cooperation in Europe as intermediaries and the European Union and the United States as observers)," Putin said.
"The blockade, which negative consequences are currently felt by the people living in Transdniestria, should be lifted both on the part of Moldova and Ukraine," he said.
"Nationalistic armed formations have already been deployed to the border with Transdniestria by Ukraine. The situation should certainly be stopped as soon as possible," the Russian president said.
Situation in Transdniestria
The Transdniestrian settlement talks in 5+2 format were broken up at the end of February 2006. Chisinau and Tiraspol managed to resume the dialogue with Russia's assistance two years later at the level of political representatives. They gathered every month to resolve pressing problems of the population of Moldova and the breakaway republic. In March 2009, the negotiations were resumed again after the trilateral meeting of the presidents of Russia, Moldova and Transdniestria. At their meetings in Moscow and Vilnius late last year and in Dublin this year, the parties agreed to resume the talks.
The agenda of the 5+2 talks consists of three sets of issues: socioeconomic problems, humanitarian issues and human rights, and comprehensive settlement, including institutional, political and security issues.
The previous round of the 5+2 talks was held in Brussels in October of 2013. The next round of the 5+2 talks on the Transdniestrian settlement process will take place in Vienna on February 27 and 28.