http://www.foxnews.com/politics/2014/04/09/latest-obamacare-surprise-most-wont-be-able-to-buy-health-insurance-until-end/
Latest ObamaCare surprise: Most won't be able to buy health insurance until end of year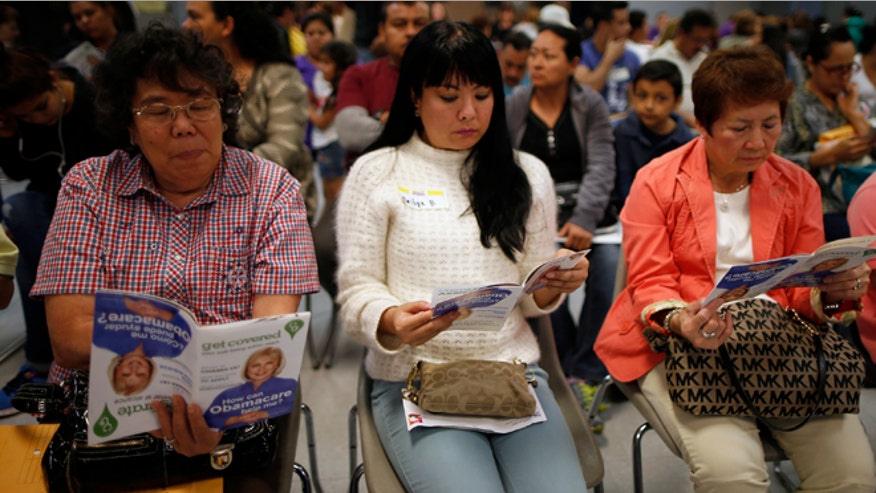 There is yet another ObamaCare surprise waiting for consumers: from now until the next open enrollment at the end of this year, most people will simply not be able to buy any health insurance at all, even outside the exchanges.
"It's all closed down. You cannot buy a policy that is a qualified policy for the purpose of the ACA (the Affordable Care Act) until next year on January 1," says John DiVito, president of Flexbenefit which has 2,500 brokers.
John Goodman of the National Center for Policy Analysis in Dallas adds, "People are not going to be able to buy individual and family policies, and that's part of ObamaCare. And what makes it so surprising is the whole point of ObamaCare was to encourage people to get insurance, and now the market has been completely closed down for the next seven months."
That means that with few exceptions, tens of millions of people will be locked out of the health insurance market for the rest of this year.
http://hotair.com/archives/2014/04/08/report-obamacare-causing-insurance-prices-to-skyrocket/
Report: Obamacare causing insurance prices to


skyrocket
POSTED AT 7:21 PM ON APRIL 8, 2014 BY KEVIN GLASS
Scott Gottlieb, a resident fellow of the American Enterprise Institute, is out with his latest estimates of how Obamacare is affecting health insurance premiums around the country. Though the employer market is difficult to calculate and data is hard to come by, he's made estimates for the small group and individual markets.
This doesn't look great for price-sensitive Americans who have feared that Obamacare will ruin the market for insurance – and certainly runs counter to the trumped-up claims from the Administration that Obamacare is engineered to lower insurance prices.
In 2009, the Congressional Budget Office
forecast
what insurance premiums would be in 2016 due to Obamacare. They found that in 2016 we should have expected a 10-13% increase in the individual market, which means that prices need to freeze right now for that to come true. It's unlikely to be the case. What's more, though, they predicted no change for the small-group market. Prices have skyrocketed there, and show no signs of slowing down.
Obamacare was sold to the American people on a boatload of broken promises, and it looks like we can toss "bend the cost curve" and "lower premiums for the average family by $2500″ onto the bin of lies.
Only about one in four subsidy-eligible people signed up for health insurance," says Robert Laszewski of Health Policy Associates. "That means about 13 million subsidy-eligible people have not yet signed up for health insurance."
Add to that millions more who waited, or thought the policies under ObamaCare were too expensive and decided just to pay the tax penalty.
Although those who failed to buy insurance during the enrollment period could face a government penalty, most will not have to pay that penalty until they do their taxes next year.
"In all likelihood," says Laszewski, "we've only signed up somewhere between one in five and one in seven people who were uninsured prior to the start of ObamaCare."
That means millions are left outside the health insurance market. There is short term insurance, but anyone with a pre-existing condition can be turned down.
The reason sales of health insurance were crammed into short enrollment periods was so insurance companies would have some certainty about who would be in the risk pool, allowing them to set their rates accordingly.
Goodman explains, "they fear that the only people who will try to buy are people who are sick, and they are going to be expensive. So it's built into the screwy logic of the whole ObamaCare system."
DiVito puts it this way: "So can you imagine that on July 1, an individual's walking down the street, they get hit by a car, the ambulance comes and picks them up and inside that ambulance is an insurance salesman selling them a policy. That is exactly what the insurance industry was trying to avoid."
There is one way consumers can still sign up, but only under limited circumstances.
"If you have a qualifying event, a life qualifying event, which means you get married, you get divorced, you get fired from your job" says Goodman. Or you have a child, or lose a spouse or have a change in income.
"It has to be one of those kinds of events," he adds. "And if you don't have that, you're not going to be able to buy insurance."
Barring any of those so-called life events, tens of millions will remain uninsured and won't be able to buy health insurance, no matter how hard they try.
http://www.wlrh.org/NPR-News/lessons-learned-2015-years-obamacare-sign-ups
Lessons Learned For 2015 From This Year's Obamacare Sign-Ups
President Obama was thrilled last week when he was able to announce that more than 7 million people have signed up for insurance under the Affordable Care Act.
But that's not to say it couldn't work better. Among those suggesting ways to help is the consumer group
Families USA
. The group's got a list of
10 specific changes
it says could improve outreach and make the overall process easier for people to navigate.
Perhaps the best thing about this particular list, is that "none of these recommendations require legislation from the Congress," said Ron Pollack, the group's executive director. "These changes can either be implemented by the Department of Health and Human Services or state marketplaces."
Less Reliance On Websites, More Face-To-Face Chats
Pollack's group proposes, for example, more funding for
navigators and other people
who can provide in-person, individual counseling to help people select and sign up for health plans, along with more education about the availability of financial support to help offset the cost of monthly premiums.
Another proposal, which has come in
various versions
, would create a special new enrollment period right around the time people are filing their taxes. Rachel Klein, who co-authored the report for Families USA, says that option would be particularly important for people who are still uninsured at tax time next year.
"There are a number of people who will find they are subject to a penalty because they did not have insurance in 2014," she said on a conference call with reporters. "Those people will have missed the open enrollment opportunity for coverage in 2015 and thus they will be subject to two penalties."
A Special Tax-Time Open Enrollment Period?
In other words they will owe one penalty for
not having coverage in 2014
, and another because they missed the
2015 open season
, so they will remain uninsured for that year, too. Allowing people to purchase coverage for 2015 at that point could help minimize some of what is sure to be a backlash against the law next spring.
Others have recommended that going forward, the general open enrollment period should be shifted from the autumn to instead coincide more with tax season. For one thing, that's when people who are uninsured may be likelier to have extra money to put toward health insurance.
For another, says Klein, "that will also enable tax preparers to play a much more significant role in helping people to understand their coverage options and helping them get signed up."
Meanwhile, others remain concerned that choosing a health plan simply remains much too difficult a task for the average consumer.
"People can't figure [it] out: 'Is a $200 deductible and a $10,000 out-of-pocket limit better for me than a $2,000 deductible and a $3,000 out-of-pocket limit?' " says Robert Krughoff. He heads
Consumers' Checkbook
, a nonprofit based in Washington, D.C., that publishes ratings of a wide array of services, including health care. "And taking into account coinsurance and copayments and all those things, people just can't do it," he says. "Ph.D. economists can't do it."
Online Tool For Better Comparisons of Health Plan Options And Costs
Consumer's Checkbook has for 35 years published a
guide to help federal workers
choose from the dozens of health insurance options available to them each year. So Krughoff and colleagues decided to see if they could do something similar for the health exchanges. The first thing they realized, he says, is that too many people are choosing plans based on premiums alone.
"They would look at a premium that looks like it's going to save them $1,500 a year [and think] 'Great!' " he says. But after doing more precise estimates, "it turns out that plan will cost them $2,500 more a year than some other plans. They really shouldn't do it on premium alone."
Nor should people choose plans based on deductibles, or even "metal levels" — gold, silver or bronze, he says. Those, too, provide misleading results.
Instead, Krughoff and his staff built an online tool that lets people estimate all health their costs (in a good or a bad year) in about five minutes by answering a few questions — about their health status, family and income demographics, and about any anticipated health spending. They can also plug in the names of their doctors.
So far their program has only been up and running
in Illinois
. But Jillian Phillips, a healthcare navigator with the
Campaign for Better Healthcare
in Chicago, said she used the tool this year and likes it a lot.
"It was really helpful because it saved me a lot of time," she says, "versus having to crunch all the numbers and show them what it would add up to be."
Krughoff says it would be cost-prohibitive for his group to try to replicate the tool for all 50 states, or even for the 36 states in the federal exchange. But he hopes the federal government might step in to help make sure people don't land in plans that aren't necessarily the right fit.
Too much attention has been focused on delays in getting signed up, he says, and not enough attention on making sure each family gets into the right plan. Having to wait an extra two weeks to get insurance "might be catastrophic for some people," he says. "But paying $2,000 more for your insurance than you need to — that could be pretty catastrophic, too. And there hasn't been enough emphasis on that."
Additional items......
ObamaCare News April 2014
ObamaCare Medicare Reversal
Published April 8th, 2014 by ObamaCare Facts
The Obama administration announced yesterday that it would be reversing scheduled
reductions
to the Medicare Advantage program, dealing a huge victory to private insurers and the bipartisan group of lawmakers who advocated for maintaining the higher reimbursement rates that President Obama claimed only padded company profits.
Check out this
article from
Thinkprogress.org on ObamaCare and Medicare
.
Small Business Unites Democrats and Republicans on the Affordable Care Act
Published April 7th, 2014 by ObamaCare Facts
More often than not the Affordable Care Act is a divisive talking point for political battles. Democrats support the program and Republicans oppose it (although the individual aspects of the law tend to be much less polarizing when polled separately). That being said both sides have come together in support of a minor change to limits on deductibles for small business health plans sold through the SHOP. Check out this article from the
Washington Post on the ACA and small business
.
The Facts on ObamaCare Enrollment Numbers
Published April 4th, 2014 by ObamaCare Facts
The latest talking points from the ObamaCare opposition try to skew the fact that enrollment numbers were on-par ,and perhaps even exceeded expectations, with an argument that not all enrollees have paid. The fact is most had to pay their premium when they enrolled in their plan, that paired with some rather complicated details poke holes in this argument. Check out the
facts on ObamaCare enrollment numbers here
.
Avoiding the ObamaCare Fee
Published April 3rd, 2014 by ObamaCare Facts
Even if you
missed open enrollment
and missed the
extension
because you forgot to sign up for the marketplace you still have health insurance options. As long as you have a ACA compliant plan "aka
minimum essential coverage
" before May 1st, 2014 you'll avoid the per month fee for not having coverage in 2014.
7 Million Enrolled
Published April 2nd, 2014 by ObamaCare Facts
Over
7 million
consumers have enrolled in health plans through their states health insurance marketplace. The total does not include those who have enrolled or will enroll during special enrollment periods,
Medicaid
, Medicare, CHIP, or bought insurance some other way. The end result is exceeded the February Congressional Budget Office (CBO) prediction forenrollment by 1 million and was slightly better than initial CBO predictions.