http://wallstreetonparade.com/2014/04/jamie-dimon-jpmorgan-employs-30000-programmers/
By Pam Martens: April 22, 2014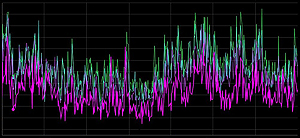 There is now overwhelming evidence that Wall Street firms have entered a race to the bottom in high-tech trading wars. To grab the best programming talent, Wall Street firms are paying top dollar for the best and brightest coders and developers and potentially sapping the ability of other U.S. industries – those that make
real
products – to compete.
Just this month, Jamie Dimon, CEO of JPMorgan, told the firm's shareholders in his annual letter that JPMorgan employs "nearly 30,000 programmers, application developers and information technology employees who keep our 7,200 applications, 32 data centers, 58,000 servers, 300,000 desk-tops and global network operating smoothly for all our clients."
According to Anish Bhimani, Chief Information Risk Officer at JPMorgan Chase, in an interview published
at the Information Networking Institute (INI) at Carnegie Mellon
, JPMorgan has "more software developers than Google, and more technologists than Microsoft…we get to build things at scale that have never been done before."
Obviously, not all of those tech guys are engaged in creating ever more rapid trading strategies; but to stay competitive with the technology arms race on Wall Street, new algorithms, programs deploying artificial intelligence, and high-speed routing techniques are being created at break-neck speed across the industry.
Industry insiders say that Wall Street is a potent force in campus recruiting, seeking out the computer whiz kids with large pay deals months before their graduation and before non-financial firms have had a chance to even schedule an interview.
An online advertisement at efinancialcareers says that "The market for intelligent and sophisticated programmers within finance is still booming, and not just for those with existing finance experience. The world's top financial institutions are continuing to search for the most talented technologists from an array of backgrounds…" Salaries are listed at $150,000 to $400,000 for programmers skilled in C, C++, Core Java, Low Latency, Multithreading, FX [Foreign Exchange], Equities, Futures, Perl, Python, TCP/IP, High Frequency, Bank, C#, Operations, Python, Unix, Linux.
As all of this has been accelerating over the past two years, the Securities and Exchange Commission has assumed the role of the absent-minded professor, studying academic papers on the subject and, when they get around to it, publishing their findings as to what other people are saying. A recent paper published in March at the SEC said "The staff's hope is that this literature review will help promote a dynamic exchange with and among the public, including investors, academics, securities industry participants, and others on the topic of HFT [High Frequency Trading]."
Under the Securities Exchange Act of 1934, the SEC is handed the mandate to regulate the Nation's stock exchanges and safeguard them from manipulators and market rigging. Its statutory role is that of watchdog and enforcer. But when it comes to high frequency trading, it has shown little bark and no bite.
Congressional hearings on the matter have been equally missing in action. It's now been three weeks since bestselling author, Michael Lewis, dropped his public bombshell on 60 Minutes, explaining in terms the lay person can understand how woefully rigged the U.S. stock markets have become, and yet a quick check this morning at the hearing schedules for the U.S. Senate and House committees that would be most likely to conduct these investigations show no such scheduled hearings.
If Congress does finally get around to the hearings before another
Flash Crash
, one witness the public will want to hear from is the expert coder, Sergey Aleynikov. Aleynikov was working for Goldman Sachs when he received an offer to move to a hedge fund and build a system from scratch with compensation topping a cool $1 million. Aleynikov accepted the offer but agreed to stay at Goldman for six weeks training his colleagues. Certainly a show of good faith.
That was 2009. For the past four years, Aleynikov has been arrested and jailed by the Feds, had his conviction overturned by the Second Circuit Appeals Court, rearrested by the Manhattan District Attorney Cyrus Vance, and now faces more prosecution over the same set of facts: namely, that he took computer code that belonged to Goldman Sachs. This relentless prosecution of Aleynikov, who is said to be among the best coders in the industry, has more than a few Wall Street watchers questioning if this is Wall Street's latest innovation in non-compete agreements: keep the lad tied up with courts and lawyers until technology innovation passes him by.
When the Second Circuit Appeals Court handed down its opinion of the case in December 2010, it found that Aleynikov had neither taken a tangible good from Goldman nor had he stolen a product involved in interstate commerce – noting that at oral argument the government "was unable to identify a single product that affects interstate commerce."
That's pretty much what a lot of financiers and economists are thinking these days: that there is no economic benefit to the country from high frequency trading other than to those doing the looting.
According to Goldman's web site, it currently allows "clients to access a range of displayed and non-displayed liquidity sources, use our various smart router order types, and/or choose one of our many algorithmic strategies. In determining where or when to place an electronic order, best execution is paramount. We continuously strive to improve our order routing logic through ongoing research of execution performance and market structure, and regularly modify the smart router and algorithms in response to the continuously changing market micro structure."
When a firm like Goldman Sachs feels confident to brag openly about its lit and non-lit (dark pool) markets and exotic order types (Scott Patterson detailed these exotic order types in his 2012 book, "Dark Pools," as a form of market rigging) we know that Congress, the SEC and the U.S. financial markets have, once again, lost their way.
http://www.bizjournals.com/charlotte/news/2014/04/22/investigator-accuses-nc-treasurer-cowell-of.html
Consultant accuses NC Treasurer Cowell of cutting $30 billion in secret deals with Wall Street
Digital Producer-Triangle Business Journal
Pension forensic investigator
Edward Siedle
says North Carolina Treasurer
Janet Cowell
has entered into a number of secret Wall Street agreements in which $30 billion of state money is invested — an accusation marking the culmination of his months-long probe into the investment practices of the $87 billion state pension fund.
Siedle presented the findings of his investigation in a 145-page report Tuesday morning at a press conference held at the central office of the State Employees Association in Raleigh. SEANC hired Siedle and his firm, Benchmark Financial Services, in January to examine the fund for fraud, conflicts of interests, undisclosed and excessive Wall Street fees, and other possible violations of securities laws that date back to
Richard Moore
's tenure as state treasurer.
Moore served two terms as treasurer, from 2001 until he was succeeded by Cowell in 2009. He is now president and CEO of
First Bancorp
(NASDAQ:FBNC).
By not disclosing the $30 billion in deals to the N.C. General Assembly and the public, Cowell violated a law passed by the state legislature last year, Siedle alleges. That legislation mandates full disclosure of all direct and indirect investment management and placement agent fees.
"This is an unprecedented state of affairs," Siedle said during the press conference. The money "has been taken off the radar screen. No one knows where it's being invested, and I think the public has a right to know."
Other principal findings from Siedle's investigation include:
Pension losses of $6.8 billion that are the result of Cowell's "political manipulation of the state pension plan and self-described 'experiment' with high-risk alternative funds."
Estimated Wall Street fees of $1 billion annually, at least half of which were not properly reported to the General Assembly.
"Upon brief examination, there are a number of areas where the report is simply wrong,"
Schorr Johnson
, spokesperson for the N.C. Department of State Treasurer, said in a statement. "A full accounting of every dollar of the pension fund is provided in the annual report."
The North Carolina Teachers' and State Employees' Retirement System, the 11th-largest state pension fund in the country, provides retirement benefits and savings for more than 875,000 North Carolinians, including state employees, teachers and other public workers. SEANC is the 55,000-member group dedicated to protecting those benefits.
SEANC Executive Director
Dana Cope
said he intends to file a whistleblower complaint with the
U.S. Securities and Exchange Commission
and request an investigation of potential fiduciary breaches and violations of law by Cowell and the money managers that are being paid.
A few months ago, Siedle said it could take an additional six months for the SEC to decide what to make of the findings once they were presented. Even then, the SEC may decide to investigate the matter itself, which could take a couple of years. In other words, any fallout of this investigation won't come to roost for a while.
Accompanying the accusations was a list of recommendations from Siedle, the most drastic of which is a call to eliminate the sole fiduciary governance structure – what Siedle calls "a flawed system."
For her part, Cowell recently appointed an 11-person commission of financial experts and lawmakers to review the structure of the pension program, which will then propose reforms to the state legislature based on its findings.
Siedle's other recommendations include a formal and complete audit of the entire pension fund, as well as ending the use of placement agents.
Specifically, the investigation focused on the following:
• Conflicts of interest related to investments.
• Total fees paid to investment managers and related expenses.
• Disclosure practices related to investments, including disclosure of investment fees, expenses and risks.
• Heightened risks related to non-traditional investments, including valuation and liquidity concerns.
• Use of disclosed and undisclosed registered and unregistered placement agents in connection with investments.
To conduct his investigation, Siedle relied on a massive public-records request, asking Cowell's office to furnish documents pertaining to investments made with money from the pension fund.
Beyond that, Siedle claims he combed through information that he previously described as being "hidden in plain view," or information that any person can find on the Internet, as well as independent sources.
The assets of the state pension fund are managed by more than 125 investment professionals, 25 of whom are in-house.
http://wallstreetonparade.com/2014/04/nys-attorney-general-issues-subpoenas-to-least-lawyered-up-high-frequency-traders/
By Pam Martens: April 17, 2014
Bloomberg News is reporting that New York State Attorney General, Eric Schneiderman, has issued subpoenas to six high-frequency trading firms. The article, however, names only three firms, none of which are household names.
According to the article, Schneiderman is asking the firms, which include Chopper Trading LLC, Jump Trading LLC and Tower Research Capital LLC about the "special arrangements they have with exchanges and dark pools as well as their trading strategies."
This is a curious approach. Why not ask the three big stock exchanges, the New York Stock Exchange, Nasdaq and BATS to hand over the names of
all
high frequency traders to whom they have
sold expensive perks
that have the effect of rigging the stock market against the average investor.
On March 18 of this year, Schneiderman gave an address at New York Law School indicating his intimate knowledge of the unfair and potentially manipulative practices taking place at the stock exchanges and, somewhat demurely, calling out Securities and Exchange Commission Chair, Mary Jo White, for not doing enough to stop these abuses.
On the subject of co-location, where the high frequency traders are allowed for a high fee to locate their own computers inside the exchange's data centers to be close to the exchange's main computers and shave fractions of a second off their trading speed, Schneiderman said: "In that tiny sliver of time, these firms get a first look at the direct-data feeds provided by the exchanges. They see pricing, volume, trade and order information and use it with their sophisticated technology, and algorithms that make the systems automatic, to trade on it before others can possibly react."
Schneiderman said this co-location also allows the high frequency traders to "continuously monitor all the exchanges for large incoming orders. And if they spot a large order from an institutional investor, like a pension fund, high-frequency traders can instantaneously get on the other side of the trade — driving up the prices artificially."
The exchanges are also supplying "extra bandwidth, special high-speed switches and ultra-fast connection cables to high-frequency traders, so they can get, and receive, information at the exchanges' data centers even faster," said Schneiderman, which is giving them a "leg up on the rest of the market."
While not actually stating that he believes these practices are a fraud on the market, Schneiderman made it clear that he believes they are happening "at the expense of the rest of the investing public."
Sounding a bit like President Obama on the campaign trail, Schneiderman said:
"Building tremendously lucrative advantages into markets for high-frequency traders at the expense of the investing public is wrong. The idea of the United States, and this permeates all 30 bureaus in my office, is that no one's supposed to have a special advantage. We're supposed to be a little more equal than the rest of the world. That's why we didn't have kings or aristocrats, and the idea was to have something close to a level playing field…"
One of the most serious rigging mechanisms being deployed between the stock exchanges and high frequency traders was not addressed in any detail by Schneiderman in his speech on March 18 – the exotic order types that effectively allow high frequency traders to prey on the uninformed and effectively repeal price-time priority rules that over a half million stockbrokers trading for moms and pops across America thought were still in place on the stock exchanges to provide a fair trading venue. (Not only is there a technology gap hurting the average investor but these stealth order practices have created a knowledge-gap as well.)
Just how effective these new tricks of the trade are for high frequency traders was on display in a fascinating prospectus filed by Virtu Financial Inc. on March 27. The filing said that "As a result of our real-time risk management strategy and technology, we had only one losing trading day during the period depicted, a total of 1,278 trading days."
Anyone who thinks that level of trading success is achievable within a level playing field has clearly never worked for any period of time as a trader on Wall Street.
Virtu Financial Inc. postponed its Initial Public Offering (IPO), ostensibly as a result of the public outcry flowing from the 60 Minutes episode on March 30 where bestselling author, Michael Lewis, previewed his new book, "Flash Boys" and charged that the stock market is rigged by these high frequency traders.
Virtu acknowledges in its IPO prospectus that there's a high-tech arms race on Wall Street, writing: "We believe that our success in the past has largely been attributable to our technology, which has taken many years to develop. If technology equivalent to ours becomes more widely available for any reason, our operating results may be negatively impacted. Additionally, adoption or development of similar or more advanced technologies by our competitors may require that we devote substantial resources to the development of more advanced technology to remain competitive."
In his talk at New York Law School last month, Schneiderman endorsed a plan to slow down the technology arms race, indicating that there is a proposal by academics at the University of Chicago Business School, which he endorses, which would "put a speed bump in place. Orders would be processed in batches after short intervals – potentially a second or less than a second in length – but that would ensure that the price would be the deciding factor in who obtains a trade, not who has the fastest supercomputer and early access to market-moving information."