Update April 17 , 2014 .....
http://rt.com/news/mariupol-base-shooting-ukraine-008/
Thursday, April 17
03:55 GMT:
Russian Foreign Minister Sergey Lavrov is heading to Geneva for Ukraine talks with the US, the EU, and Ukraine.
03:03 GMT:
The Ukrainian military freed detained Russian journalists from 'Russia' TV channel, Russia 24 reported. The night before, there were reports that a group of journalists were detained in southeastern Ukraine. The release comes after the Russian embassy in Kiev sent a note to the Ministry of Foreign Affairs of Ukraine calling for an explanation as to why the reporters were detained.
02:57 GMT:
The debts of Ukrainian TV channels to their Russian counterparts were discussed during a closed-door meeting with Russia's Deputy Minister of Communications Aleksey Volin, Vedomosti newspaper reported, citing sources who attended the meeting. Last year, Ukrainian channels purchased the rights to Russian series and shows worth US$200-$300 million, but started falling behind on payments at the end of 2013.
02:03 GMT:
Geneva talks on Ukraine between Russia, the US, the EU and Ukraine must result in Ukraine getting onto the path of normal development, Russian Ambassador to the United Nations Vitaly Churkin said at the UNSC meeting. Churkin added that it is important for all regions of Ukraine to understand what the future has in store for them.
00:17 GMT:
Slovakia has increased security in the eastern part of the country's border that is adjacent to Ukraine, news agency TASR reported, citing a statement by Interior Minister Robert Kalinyak.
"The situation in Ukraine is developing dramatically. We have adopted extraordinary measures,"Kalinyak said without specifying which measures were taken to enhance security.
00:15 GMT:
EU foreign affairs chief Catherine Ashton met with Ukraine's acting Foreign Minister Andrey Deshchytsa ahead of the Geneva talks on Ukraine between Russia, the US, the EU, and Ukraine.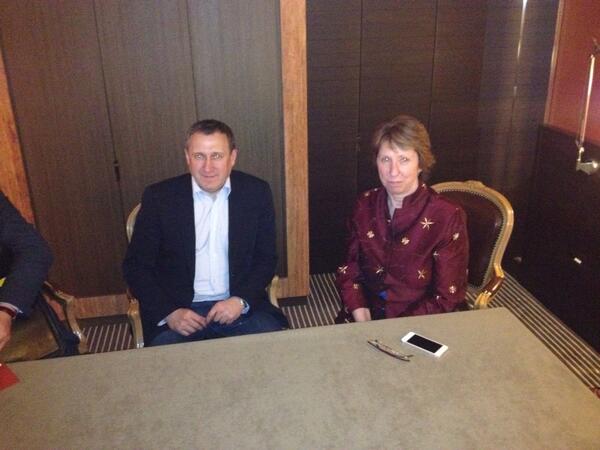 NATO To Boost Air, Warship Presence Around Russia; Netherlands May Deploy F-16s To Ukraine
Submitted by Tyler Durden on 04/16/2014 17:45 -0400
If there is was one way to assure a certain escalation in Ukraine hostilities beyond what has already happened, it is for NATO to do precisely what Russia warned it should not do: build up its presence in the surrounding countries. Which is why we find it somewhat puzzling that NATO announced it would do just this when as the
Guardian reported
, the military alliance said it would step up its presence around Russian borders to "reassure eastern European member states."
The reinforcements on Nato's eastern flank will take the form of more air patrols over the Baltic states, greater numbers of warships in both the Baltic and eastern Mediterranean, and more troops deployed in eastern Europe.




The Nato buildup will also involve the redeployment of warships, some of them now participating in counter-piracy operations off Somalia, to the Baltic and the Mediterranean. A Nato official said the details of the naval measures were still being discussed.




The Nato commander in Europe, General Philip Breedlove, said several Nato member states had offered ground troops for deployment in eastern European member states and that he would be soon making recommendations on how they should be positioned. Breedlove said that the situation represented more than a crisis, adding: "For Nato, it's bigger than that. It's a paradigm shift."
It goes without saying that to Russia this will be seen as a hostile move on behalf of the western countries, which is why Breedlove said "he had attempted to call the Russian chief of general staff, Valery Gerasimov, to explain that the deployments were entirely defensive but had not been able to reach him."
Did he at least leave a voicemail explaining why the piling up of new troops is not to be seen as an offensive meneuver?
Furthermore, that this is happening today is no accident: tomorrow is the official start of international talks on the Ukrainian crisis in Geneva, and the NATO action is a way to increase pressure on Moscow. However, as has been seen repeatedly in the past month, the Kremlin does not handly increased pressure easily and instead, usually finds a way to re-escalate on its own.
What is the thinking behind what can only be classified as a short-sighted move? "A spokesperson for the US secretary of state, John Kerry, said his primary goal was to persuade Moscow to halt its destabilising activities in eastern Ukraine, and call publicly for separatist groups to disarm and stand down."
And just in case NATO's open action is not clear, "EU officials in Brussels said the list of Russians subject to visa bans and asset freezes would be expanded by the end of the week. The US state department also signalled it would co-ordinate a further tightening of sanctions with its European partners, but not before the Geneva talks."
"Don't expect any before tomorrow's meetings," Marie Harf, deputy spokesperson at the state department, said. "But if there are not steps taken by Russia to de-escalate, we will take additional steps, including additional sanctions."




The negotiations will bring together Kerry, his Russian counterpart, Sergei Lavrov, the Ukrainian foreign minister, Andrii Deshchytsia, and the EU's Ashton. It will mark the first time the quartet has met since the Ukrainian crisis erupted in February.




In addition to one four-way encounter, Kerry will conduct separate bilateral meetings with Lavrov, Deshchytsia and Ashton. Western officials, however, cautioned that the talks were unlikely to bring a diplomatic breakthrough.




Harf said that "top of the list" of US demands would be that Russia halt what the US alleges are destabilising activities in eastern Ukraine. The US wants Russia to publicly call on separatists exerting control in cities in eastern Ukraine to disarm and stand down.
Of course, in case Russia also misses all of this because nobody could reach the Russian chief of staff on the phone, the
Netherlands announced
it is looking into the deployment of F16 fighter jets as Ukraine crisis air support "to try and ease the conflict around Ukraine, defence minister Jeanine Hennis told a television talk show on Tuesday night.
While there is no question of Nato military action against Russia, 'we want to be very visible as support to our Eastern allies', the minister told the Pauw & Witteman show.
With orange colored F-16s it will be very difficult not to be visible:
The defence minister added: "We are looking at how we can increase our air support or sea support in, say, the Baltic or the Black Sea region,' she said. 'We are members of an alliance for a reason and we will take our responsibilities.'Asked specifically what form Dutch air support could take, the minister said 'it could mean sending an F16.'
Surely the expansion of NATO forces in the region will promptly force Russia to back down. In the off chance it doesn't, one wonders how NATO will respond if Russia instead adds some more tactical nukes to its arsenal
along the Polish border
. Purely defensively of course. Will that, in turn, force NATO to back down? Somehow we doubt it.
"Pro-Russian Separatists" Attack Ukraine Soldiers With Guns, Molotov Cocktails, Local TV Station Reports (4 Killed, 12 Injured)
Submitted by Tyler Durden on 04/16/2014 15:36 -0400
UPDATE: ABOUT 500 SEPARATISTS ATTACKED UKRAINE MILITARY BASE: TV5
Four people have reportedly been injured by gunfire in a confrontation between anti-Maidan protesters and soldiers stationed at an Interior Ministry base in the Ukrainian city of Mariupol.




A group of several dozen protesters arrived at the base, located in the turbulent Donetsk region, on Wednesday evening.




They called on the troops to abandon the base, but the soldiers didn't listen, the demonstrators said.




Instead, the troops opened fire at the protesters, injuring at least four people. One of them took a bullet in his chest and is in serious condition, according to protesters.




Some local media claimed the protesters were armed with Molotov cocktails, which they used in the confrontation, but no evidence of this was immediately available.




Unconfirmed reports put the number of casualties higher, with four people killed and as many as 12 injured.Protester chatter blames unidentified provocateurs for triggering the shooting.




Local residents report military jets flying over the city.
Having been on the receiving end of Ukraine special forces for the past 48 hours, it appears the "pro-Russian separatists" have decided to fight back.
PRO-RUSSIAN SEPARATISTS ATTACK UKRAINE SOLDIERS: HROMADSKE
PRO-RUSSIAN SEPARATISTS ATTACK UKRAINE MILITARY BASE: HROMADSKE
SEPARATISTS USE GUNS, MOLOTOV COCKTAILS IN MARIUPOL: HROMADSKE
SEPARATISTS ATTACK SOLDIERS IN E. UKRAINE'S MARIUPOL: HROMADSKE
Considering the source is a local Ukraine TV station, one should take the news reported by Bloomberg, with a big grain of ketamine, however also considering the 3:30pm ramp appears to be late today (or was front run repeatdly earlier on in the day), this may just be the "bullish" catalyst the "market" needs to close at the day, if not all time, highs.
More as we see it.
Dozens of Ukrainian troops surrender APCs in Slavyansk, refuse to 'shoot at own people' (PHOTO, VIDEO)
Published time: April 16, 2014 14:21
Edited time: April 16, 2014 20:18
Dozens of army troops sent to the eastern Ukrainian city of Slavyansk for an "anti-terrorist operation" refused to follow orders and surrendered their weapons and armored vehicles. Some troops openly voiced support for the eastern Ukrainians.
According to Interfax, citing local self-defense activists, some 300 Ukrainian troops agreed to lay down their weapons and "go home" following negotiations in Slavyansk.
According to Interfax, citing local self-defense activists, some 300 Ukrainian troops agreed to lay down their weapons and "go home" following negotiations in Slavyansk.