Afghan election scores 58 pct turnout: commission chief
(Reuters) - Turnout from Afghanistan's presidential election was seven million out of 12 million eligible voters, or about 58 percent, election commission chief Ahmad Yousuf Nuristani said on Saturday.
Nuristani told reporters the figure of seven million was based on preliminary estimates.
Afghans vote in presidential poll
Millions defy Taliban threats to choose successor to President Karzai, in nation's first democratic transfer of power.
Kabul, Afghanistan - It was not without its glitches, but an election signaling the first democratic transfer of power in Afghanistan went off without major incident.
There were minor attacks during Saturday's presidential poll, leading to nearly 900 polling stations being closed due to fighting or lack of security forces.
The capital was quiet and security was heavy, with thousands of security forces manning checkpoints across the city.
There were a steady stream of small attacks, foiled attacks, ballot shortages and reports of ballot-stuffing and voter irregularity throughout the day.
At a polling station in the Wazir Akbar Khan neighbourhood in Kabul, the lineup moved steadily in the rain.
"I'm 100 percent sure that there will be fraud," said Takhor Shaml, a 21 year-old medical student. "But I'm still here to vote for the next president and provincial candidates."
At that very polling station, a tense scene unfolded at day's end when observers for presidential candidate Abdullah Abdullah's campaign refused to let a box of ballots be taken away for counting.
Mujib Rahman, one of the observers, wondered "why a box had shown up half full from the ministry of women's affairs, why votes from this station are cast into it, why enough ballots and enough boxes aren't provided and why the box must be taken away to be counted."
'We now know what we're doing'
Shrugging off fears of fraud, many cheerfully lined up to vote.
Abdulbagheh Seddiqi, 62 the information manager of a television station, said he was not too concerned about voter fraud.
"I don't plan to cheat, so I count on others not to cheat," he said. When asked about the possibility of government fraud - what many are worried about - Seddiqi replied: "The first election [2004] was new to us, we learned more by the second one [2009] and now we know what we're doing."
The results of this third attempt will start to roll in as soon as 28 of the 34 provinces have counted five percent of their vote - a process that will take several days.


The first election [2004] was new to us, we learned more by the second one [2009] and now we know what we're doing.

Glenn Cowan, CEO of Democracy International, an observer group with 16 observers at polling stations around the country, said what had been witnessed today was a "spectacular turnout" and that the election commission is expected to undertake counting "in an organised manner".
The counting process will also be observed by local and international groups.
Security concerns will continue over the next following days as ballots are transported and counted, but an unnamed security official told Al Jazeera that the number of recorded attacks on election day has been lower than an average days in the country.
Voter turnout
Participation was the crucial question of the day. Indeed, Afghan local media reported on the morning of the elections that 70 percent of eligible voters were expected to turn out.
But that number, said Political analyst Haroun Mir, is too high, as it's unknown how many people are eligible or registered to vote, with the number for the latter swinging somewhere between just over 16 million to 12 million.
In a country of somewhere between 28 million - 32 million (there has been no recent census), hard data can be elusive.
It is also unknown how many voter registration cards - which are simple, laminated pieces of paper, without a barcode or a magnetic strip of any sort - have actually been issued.
"What's important is that in 2009, seven million people voted, with about 1.2 million of those votes being discounted [due to fraud]," Mir told Al Jazeera.
"If in the ensuing years all the people that have come of age to be eligible to vote and we have seven to eight million people voting, that will be significant."
Who voted?
The eligible and the legally ineligible alike were lining up to vote, all with voter ID cards.
Nazanin, 16, also seemed focused on the presidential election over the provincial elections, taking place on the same day. "I think war is enough and we want peace," said the high school student, on why she was voting.
Although not legally being eligible to vote herself (but was voting nonetheless), she also said she fears "fraud by government officials."
Adibeh Khorami, an election observer at one of the 8,455 polling centres for women, said the Kabul station where she was working saw a 14-year-old girl come in with a voter ID, attempting to vote.
"She was wearing a chadori [a burqa]," said Khorami, who had seen 343 women at her polling station by 2pm local time.
"That's how they try to get it. We took her card away, put her name on a list barring her from voting elsewhere and sent her away."




Without Karzai in the running, Afghans face uncertainty and hope amid Taliban attacks
Afghans flocked to polling stations nationwide on Saturday, defying a threat of violence by the Taliban to cast ballots in what promises to be the nation's first democratic transfer of power. The turnout was so high that some polling centers ran out of ballots, despite scattered attacks across the country by Taliban fighters.
Nazia Azizi, a 40-year-old housewife, was first in line at a school in eastern Kabul.
"I have suffered so much from the fighting and I want prosperity and security in Afghanistan. That is why I have come here to cast my vote," she said. "I hope that the votes that we are casting will be counted and that there will be no fraud in this election."
The vote is the first for Afghans in which the outcome is uncertain. Voters are choosing from a field of eight presidential candidates, as well as selecting provincial council members. With three front-runners in the presidential race, a runoff was widely expected since none is likely to get the majority needed for an outright victory.
Electoral officials have taken extra measures to prevent fraud after widespread vote-rigging in 2009 marred Karzai's re-election. Strict protocols include bar codes on the ballot boxes delivered by truck and donkey caravans to all 34 provinces and plans to tally the results immediately after the vote closes and post a copy of the results at each center.
President Hamid Karzai, the only leader the country has known since the ouster of the Taliban, is on his way out, constitutionally barred from a third term. International combat troops are leaving by the end of the year. And Afghans are left largely to on their own to face what is likely to be an intensified campaign by the Taliban to regain power, even as authorities face higher public demands to tackle entrenched poverty and corruption.
There do not appear to be major policy differences toward the West among the front-runners — Abdullah Abdullah, Karzai's top rival in the last election; Ashraf Ghani Ahmadzai, an academic and former World Bank official; and Zalmai Rassoul, a former foreign minister.
All have promised to sign a security agreement with the United States that will allow thousands of foreign troops to remain in the country to continue training security forces after 2014 — which Karzai has refused to do. The candidates differ on some issues such as the country's border dispute with Pakistan. But all preach against fraud and corruption and vow to improve security.
Hundreds of thousands of Afghan police and soldiers fanned out across the country, searching cars at checkpoints and blocking vehicles from getting close to polling stations.
The Taliban have vowed to disrupt the balloting by targeting polling centers and election workers, and in the past weeks they stepped up attacks in the heart of Kabul to show they are capable of striking even in highly secured areas.
On Saturday, a bomb exploded in a school packed with voters in the Mohammad Agha district of Logar province, wounding two men, one seriously, according to local government spokesman Din Mohammad Darwesh.
Rocket attacks and gun battles forced authorities to close an additional 211 polling centers, raising the total number that weren't opened because of security concerns to 959, according to Independent Election Commission chairman Ahmad Yousuf Nouristani. He said in all, 6,212 polling centers were opened on Saturday.
Karzai cast his ballot at a high school near the presidential palace.
"Today for us, the people of Afghanistan, is a very vital day that will determine our national future. We the people of Afghanistan will elect our provincial council members and our president by our secret votes," he said, his finger stained with the indelible ink being used to prevent people from voting twice.
After nearly 13 years of war, the country is so unstable that the very fact the crucial elections are being held is touted as one of Karzai's few successes. Karzai has been heavily criticized for failing to end the endemic poverty or clean up the government in a country that Transparency International last year ranked among the three most corrupt in the world, alongside Somalia and North Korea.
Mohammad Aleem Azizi, a 57-year-old shopkeeper in Kabul, said he voted to re-elect Karzai in the last election in 2009 but has been disappointed.
"Security deteriorated, insecurity is getting worse day by day," he said. "I want peace and stability in this country. I hope the new president of Afghanistan will be a good person."
Pakistani Taliban Wanted to Attack Election Sites
by Jason Ditz, April 04, 2014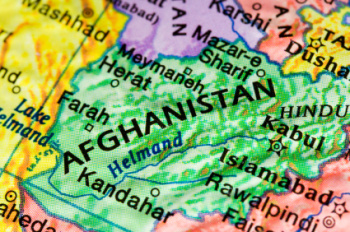 The Pakistani militants had crossed the border looking to attack Afghan election sites in the province, but ran afoul of the Afghan Taliban fighters, who met them at the border with guns.
Three Pakistani Taliban were confirmed killed so far, and a number of wounded were reported on each side. Many of the Pakistani fighters fled back across the border, but intermittant gun battles are still being reported late into the evening.
Ironically, both Taliban factions appear determined to attack election sites across Afghanistan, and the fighting may simply dissipate once the voting starts this weekend, as the window of opportunity for attacking the polling places opens.
Price of a voter card in Afghanistan? Taliban offer $5
(Reuters) - The Taliban have launched a violent campaign to disrupt this weekend's presidential election in Afghanistan, but in a restive eastern corner of the country they are paying villagers to surrender their voting cards.
Residents in Nangarhar province, which lies on the border with
Pakistan
, said local Taliban militants have been offering voters 500 Pakistani rupees - the equivalent of just over $5 - to opt out of the election.
"At first we thought the Taliban were trying to trick us and wanted to find out who had voter cards, but later we found out that they were honest and paid money," said Ahmad Shah, a youth in a village just outside the city of Jalalabad.
The Taliban did not respond to a request for comment.
Saturday's election will bring the first democratic transfer of power in war-torn
Afghanistan
and an end to the rule of President Hamid Karzai, who has led the country since the ouster of a Taliban regime in late 2001. The Taliban have branded the election a Western-backed sham.
The Independent Election Commission has said at least 10 percent of polling stations will not be able to open due to the threat of violence, the majority of them in the east where the insurgents are most active.
"When the Taliban are in control and warn people not to vote, and instead pay money for your voter card, it's not a bad thing," Haji Khan Wali, another man in the village, where the Pakistani rupee is more commonly used than the local currency, the Afghani.
"People here have to think more about finding bread to feed their families than the election. To tell you the truth, half the people here don't know anything about the election," said Khan, wearing a white turban and long beard.
Local officials said they were aware of such reports from remote areas of Nangarhar, which are under Taliban influence.
Southern and eastern parts Afghanistan are dominated by Pashtuns, the country's largest ethnic group, which has traditionally enjoyed strong political influence.
Karzai is a Pashtun, which made him an obvious choice for many in these regions at the 2009 election, but the three frontrunners to succeed him are also Pashtun. Of them, the one with the closest links to eastern areas bordering lawless lands inside
Pakistan
is Ashraf Ghani, a former World Bank official.
Influential tribal elders say they would support any of the three candidates, but many people in remote areas of the region won't be casting a vote anyway.
In Nangarhar alone, 115 polling stations will not open due to concerns about mass fraud and ballot-stuffing as well as security, the provincial election chief, Akhtar Mohammad Ajmal, told Reuters. A 10-year-old was caught with 1,200 fake voting cards in neighbouring Kunar province this week.
The 2009 presidential election was marred by widespread fraud and another flawed election would undermine attempts by the United States and its allies to foster democracy ahead of the departure of foreign troops at the end of this year.
Amid spate of violence, Afghans vote to choose new leader
(Reuters) - From the rugged mountains bordering
Pakistan
to the windswept western plains, millions of Afghans vote on Saturday in an election for the first democratic transfer of power in the country's tumultuous history.
The Taliban, hardline Islamists bent on toppling the government, have deployed fighters countrywide to disrupt an election they brand a U.S.-backed sham. Dozens of people have been killed in a spasm of violence leading up to the vote.
A veteran Associated Press photographer was killed and a senior correspondent of the same news agency was wounded on Friday when a policeman opened fire on the two women in eastern
Afghanistan
as they reported on preparations for the poll.
More than 350,000 Afghan troops have been put on duty to thwart attacks on polling stations and voters. The capital, Kabul, has been sealed off from the rest of the country by rings of roadblocks and checkpoints.
Kandahar, cradle of the Taliban insurgency, was in virtual lockdown ahead of the vote. Residents were advised to stay home.
Hamid Karzai, the incumbent, is not allowed to run for the presidency again by the constitution, but is widely expected to retain his hold on politics through politicians loyal to him.
Voters will inevitably be looking back at Afghanistan's progress since 2001 when U.S.-led forces toppled the Taliban who were harbouring Osama bin Laden and al Qaeda.
Those 13 years have seen seemingly endless bloodshed - at least 16,000 civilians, 3,500 foreign troops and thousands of Afghan soldiers have been killed.
Billions of dollars have been spent rebuilding the country.
"The Karzai government has to be given credit for some limited achievements on human rights in very difficult conditions," Amnesty International said in a statement.
"But the situation for millions of Afghans remains dire, and even the progress we have seen is very fragile."
With no clear frontrunner, the process is likely to drag on for weeks, if not months, particularly if there is a run-off.
Any delay would leave little time to complete a crucial pact between Kabul and Washington to keep up to 10,000 U.S. troops in
Afghanistan
beyond 2014 - after most foreign troops pull out.
"The whole future of
Afghanistan
is at stake," Franz-Michael Mellbin, the EU's special representative in Kabul, told Reuters. "It's crucial ... the Afghans come out and vote in large numbers and give political legitimacy, and the aftermath of the elections will be crucial because we need a stable government."
"WE SHOULD GO OUT AND VOTE"
Of the eight candidates, the three favourites are former foreign ministers Abdullah Abdullah and Zalmay Rassoul, and former finance minister Ashraf Ghani.
If, as predicted, no one wins more than 50 percent on Saturday, there will be a second round between the two leading contenders. That run-off would be held on May 28, spinning out the process into the holy month of Ramadan when offices are shut for much of the day and life slows to a crawl.
Preliminary results from the first round are due nearly six weeks after polling day, partly because of Afghanistan's mountainous terrain which will require about 3,000 donkeys to carry ballot boxes from the most inaccessible areas.
And yet most people expect the election will be better run than the chaotic 2009 vote, when 20 percent of the ballots were thrown out as fraudulent. Many Afghans see the election as an important turning point in their lives.
"We always complain about our president and his government's shortcomings but we never criticise ourselves," said Yaar Mohammad, a real-estate agent in the eastern city of Jalalabad.
"If we want a new leader to work for peace and improve our lives," he said, "then we should go out and vote and not be scared of the Taliban."
But some were worried about security in a country which recorded the highest number of conflict-related civilian deaths last year since 2001.
"We have war in Kandahar. Taliban, weapons - these could be used in the process," said Hayatullah, who trains election staff in Afghanistan's second city. "We are worried about that."
"Every day we feel fear," he said, recalling an attack on the election commission headquarters in Kabul last week. "We are afraid that we may be attacked too."