Wants Israeli Cash, IAF-Imposed 'No-Fly Zone'
by Jason Ditz, March 16, 2014
Influential Syrian rebel Kamal al-Labwani's comments today have raised the prospect of even further splintering the rebels, as he
offered to "trade" the Golan Heights
to Israel in return for cash and military aid for the rebellion.
Israel occupied the Golan Heights during 1967, and the prospect of returning the heights as part of an overall peace deal with Syria has been repeatedly broached, most recently in 2008.
Labwani suggested that instead, an agreement by the rebels to sign over claims to the Golan in perpetuity could be had for cash concessions as well as an Israeli-imposed "no-fly zone" across southern Syria.
Labwani's comments are just another effort to get a foreign power sucked into the civil war on the rebels' side, and such a promise would likely not be honored by the Islamist rebels that dominate the civil war at any rate.
and....
http://www.theguardian.com/world/2014/mar/16/syria-rebel-stronghold-lebanese-border-yabroud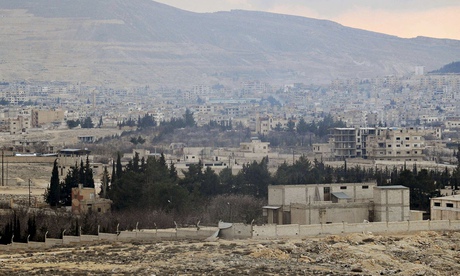 Syria
claims its military has seized a key town on the Lebanese border that was the target of a months-long offensive. Activists said fighting was continuing but the government was in control of much of Yabroud.
Yabroud was an key supply line for rebels into neighbouring
Lebanon
and overlooked an important cross-country highway. Its fall, coming as the Syrian conflict enters fourth year, would be a significant blow to rebels since the initiative passed to the government in the spring of 2013.
It is the last major rebel-held town in the mountainous Qalamoun region, where President
Bashar al-Assad
's forces have been waging an offensive for months to try to cut rebel supply lines across the porous border into eastern Lebanon. Its fall would come a week after the Syrian army seized the village of Zara, which also served as a conduit for rebels from northern Lebanon into central Syria.
Syria's state news agency Sana reported that military forces seized Yabroud early on Sunday and were combing the city to remove booby-traps and bombs and hunt down rebel holdouts.
Kasem Alzein, a Syrian pro-rebel doctor who lives in the nearby border town of Arsal, said military forces entered the eastern part of Yabroud and that rebels fled to the nearby town of Flita. He said a small hardcore group of fighters said they would fight to the death in the city.
"They don't want to surrender," he said, adding that supplies were cut off and weapons promised to rebels never arrived.
"Qusair will repeat itself," Alzein said, referring to the strategic rebel-held town on the Syrian border that fell to pro-Assad forces last summer. As in the Qalamoun offensive, Lebanese Hezbollah militants played a key role backing government troops.
Gunfire could be heard on footage broadcast live by the Lebanon-based TV station Al-Mayadeen, which also showed troops walking through empty streets.
Meanwhile, a flare-up of violence in the northern Lebanese city of Tripolihas left 12 people dead in recent days, Lebanon's state-run news agency said.
NNA said the latest fatality was a soldier who was killed on Sunday when attackers fired on his armoured vehicle with rocket-propelled grenades and small arms. His death brings the death toll to 12 since clashes erupted Thursday, the NNA said.
The clashes pit Sunni gunmen from Bab Tabbaneh who back Syria's Sunni-majority rebels against rivals from nearby Jabal Mohsen, dominated by the Alawite sect, Assad's faith.
Sunni gunmen have also attacked Lebanese soldiers, accusing them of
loyalty to rival sectarian factions in Lebanon.
Iraq.......
On Anniversary, War Is Largely Forgotten
by Jason Ditz, March 16, 2014
An anniversary not likely to be acknowledged heavily (if at all) by US officials, Monday
marks the 11-year anniversary
of the disastrous US invasion of Iraq, starting a protracted occupation the left huge numbers of Iraqi civilians dead.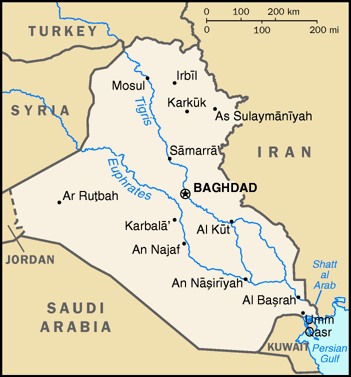 Spun as a victory and a war that "ended" with the US pullout, Iraq saw a brief decline in violence after the US finally left, but a big escalation over the past year that has seen al-Qaeda in Iraq (AQI), a group in large part created to resist the US occupation, seizing significant portions of the Anbar Province.
And while US involvement doesn't include boots on the ground, the US isn't exactly "out" of Iraq,
pumping large amounts of weapons
into the country today as part of a promise to help them fight AQI.
Between the weapons shipments and constant calls from hawks to return to a direct military role inside Iraq, the US seems less "out" of Iraq than any time since they physically withdrew, and are looking forward to years of intervention in various forms.
and....
Evening Bombing Spree in Baghdad; 46 Killed, 68
Wounded Across Iraq