End the day articles.....
After Annexing Crimea, Russian Troops Are Piling Up By The East Ukraine Border
Submitted by Tyler Durden on 03/12/2014 15:26 -0400
Despite the relentless protests of Kiev, and of course the G7 group of world's most indebted nations, in the past two weeks Vladimir Putin once again succeeded in outplaying the west and annexed the Crimea peninsula without firing a single shot (granted there is still potential for material situational deterioration, one which would involve military participation by NATO whose outcome is not exactly clear). The market has "priced in" as much, with prevailing consensus now dictating that Russia will preserve its foothold in the Crimea however without additional attempts for annexation: certainly Poland is hoping and praying as much.
However, as the following photos taken on the Russian side of East Ukraine, next to Belgorod, the Russian airborne troops ("
VDV
") are now piling up, only not in Crimea, which needs no further Russian military presence, but ostensibly to prepare for the next part of the annexation: that of Russian-speaking east Ukraine.
On the clip and pictures below, one can see Russian troops on the move near the border with Ukraine in the Belgorod Oblast, about 20 kilometers from the border with Ukraine near Kharkiv:
The indicative location:
Meanwhile, on the birder with Crimea,Ukrainian troops are digging in and mining fields in anticipation of Russians rolling out of the Penninsula:
Pot stirring time and photo opportunity time....
John McCain Is Going To Ukraine
Submitted by Tyler Durden on 03/12/2014 18:11 -0400
Three weeks ago, John Kerry came, saw, and launched a blitz-diplomatic campaign which promptly resulted in, well, Russia annexing Crimea.
Now it is the turn of that other foreign policy titan, neo-con John McCain, to complete Kerry's job and finally launch the GDP-boosting World War III. He may have the chance to do that as soon as Thursday, when he, along with other senators, is slated to travel to Ukraine to "show support for the government there." Or, said otherwise, to show support for the government that is in power thanks to an illegitimate and deadly coup that took place just over two weeks ago, despite the formal signing of a memorandum, endorsed by all Western powers, that stipulated a peaceful transition as well as presidential elections in the coming months. When presented like that, one almost thinks back to the roaring success that was the US endorsement of the Egyptian Muslim Brotherhood regime (where the US too had zero involvement, repeat zero involvement) that also took over following a violent coup. As well as the largely predictable countercoup that overthrew said regime.
The meeting comes ahead of a planned referendum in Crimea on Sunday to secede from Ukraine and join Russia — something the U.S. has said would violate the country's constitution.




McCain's office said the group would be meeting with members of the interim government and other stakeholders Thursday through Sunday.




The delegation will be made up of a group of eight senators from both parties. Aside from McCain, those traveling to Ukraine are Sens. Dick Durbin (D-Ill.), John Barrasso (R-Wyo.), John Hoeven (R-N.D.), Ron Johnson (R-Wis.), Chris Murphy (D-Conn.), Jeff Flake (R-Ariz.) and Sheldon Whitehouse (D-R.I.).




McCain and Murphy also visited the country in December as protests flared in Ukraine. In February, President Viktor Yanukovych fled the country and Russian troops invaded the Crimea peninsula.
Curious for more? Don't be. Not even McCain's office knows much:
McCain's office said it did not have specifics on the agenda when asked which parts of the country the delegation would be visiting.
It is of course possible the McCain simply doesn't know where Ukraine is to begin with, but all that does matter is to show support for the US military industrial complex, and to show solidarity with US allies in Europe who after last year's botched attempt to get Qatar nat gas, will get some resource self reliance damn it, even if it means killing millions of innocent Ukrainians on both sides of the soon to be east-west split border.
And just in case McCain isn't senile enough to provoke the start of another world war, moments ago the Senate Foreign Relations Committee did its best to further antagonize Russia when it approved legislation granting aid to Ukraine and authorizing sanctions on Russia in a 14-3 vote. Four Republicans voted for the bill despite International Monetary Reform provisions opposed by some conservatives. Sen. Bob Corker (R-Tenn.), the panel's ranking member, and Sens. John McCain (R-Ariz.), Jeff Flake (R-Ariz.) and Ron Johnson (R-Wis.) joined the panel's Democrats in backing the bill. "I believe we are at a defining moment right now," said Corker, who negotiated the final draft. "Our friends and allies in the region are watching."
It will be difficult, however, for Congress to complete its work on the bill before lawmakers leave for a recess on Friday.




Legislation passed by the House does not include the IMF provisions, and the pace of action in the Senate will be slowed if conservatives, as expected, refuse to agree to move the bill forward by unanimous consent.




That means there would be no action by Congress on aid to Ukraine before Sunday, when a referendum in Crimea will be held on whether that region should divorce Ukraine for Russia.
By then Crimea will be officially a part of Russia, at which point our best wishes to Congress in legislating away just how Putin should promptly hand over the keys to what he quickly annexed without making more than a couple public statements and in the process once again made the US foreign policy wizards look like the proverbial pigeon playing chess.
http://www.zerohedge.com/news/2014-03-12/ukraine-pm-cancels-speech-national-press-club
Ukraine PM Cancels Speech At National Press Club
Submitted by Tyler Durden on 03/12/2014 14:35 -0400
As is widely known, Ukraine's acting post-coup PM Arseniy Yatsenuk is currently in the US and holding heating talks with president Obama on just how to define the "costs" to Russia should Putin conclude his annexation of the Crimea this weekend in a way that the Russian leader will finally pay attention. As was less known, after his meeting, at 8 pm tonight, the PM was supposed to hold a press conference at the National Press Club.
Ukrainian Prime Minister Arseniy Yatsenyuk will speak and take questions about the situation in his home country at the National Press Club at 8 p.m. today, after his meeting with President Barack Obama at the White House.




Yatsenyuk became prime minister last month after the Ukrainian Parliament removed President Vicktor Yanukovych from power after a peoples' revolt.




Yatsenyuk's first weeks in power have been dominated by Russian military moves in Crimea. Yatsenyuk – who has vowed not to give up "a single centimeter of Ukrainian land" in its conflict with Russia -- will meet with Obama Wednesday afternoon in hopes that the meeting will spark a resolution to the conflict.




The event, in the Holeman Lounge, is open only to credentialed media with ID. Space is limited. To register, please send an email to Melinda Cooke of the Press Club staff at

mcooke@press.org

, and be sure to include your full name, title and employer. Your reservation will be confirmed and you will receive a ticket to cover this event. Cameras must be pre-set by 7:30 p.m.




The prime minister's appearance will follow the traditional NPC Speakers format, with a speech followed by a question-and-answer session in which Club President Myron Belkind will ask questions handed up from the audience. To submit a question in advance of the speech, please email your question to NPC Speakers Committee Chairman Jerry Zremski at

jzremski@buffnews.com

, with the word "UKRAINE" in the subject line.
As of moments ago, this propaganda meet and greet has been cancelled.
DUE TO A SCHEDULING CHANGE, THE PRIME MINISTER HAS CANCELED THIS EVENT
Scheduling change? Really? Did Yatsenyuk ask Obama, in passing, to show him where the Ukraine gold, which as we reported a few days ago was rumored to have been airlifted to the NY Fed, which resulted in a less than pleasant response by the US president?
On the 11 March, by decree of the Supreme Council of Crimea, the Declaration of Independence of the Autonomous Republic of Crimea and Sevastopol was adopted, according to which, if a decision to become part of Russia is made at the referendum of the 16 March, Crimea will be announced an independent and sovereign state with a republican order. According to this document, Crimea will be a democratic, laic and multinational state, with an obligation to maintain peace, international and intersectarian consent in its territory. If the referendum brings the respective results, Crimea as an independent and sovereign state will turn to the Russian Federation with the proposition to accept the Republic of Crimea on the basis of a respective interstate treaty into the Russian Federation as a new constituent entity of the Russian Federation.




The Declaration contains international and legal justification of this step, with references to the UN Charter and other international documents, as well as the decision of the UN's International Court of Justice of 22 July 2010 on Kosovo. With this decision, adopted at the request of the UN General Assembly at the initiative of Serbia, the International Court of Justice confirmed the fact that unilateral announcement of independence by a part of a state does not violate any provision of international law. The same conclusion was clearly reached during the preceding hearings in the International Court of Justice, in particular, documents and speeches of official representatives of the United States, the United Kingdom, France, Germany, Austria, Denmark and other western countries. Materials regarding the position of the International Court of Justice and the above mentioned western representatives are posted on the website of the Ministry of Foreign Affairs.




The Russian Ministry of Foreign Affairs believes that the decision of the Crimean Parliament is absolutely within its rights. The Russian Federation will fully respect the results of the free will of the Crimean people at the referendum, to which (as is a known fact) the OSCE's and bilateral observers were invited.
It appears that Russia has already - in its own mind - annexed Crimea.
From earlier......
From Anti - War
John Kerry delusion watch.......
US Demands Russia Force Crimea to Halt Referendum
by Jason Ditz, March 11, 2014
Secretary of State John Kerry
has ruled out meeting
with Russian President Vladimir Putin for talks on the Ukraine unless Russia unilaterally agrees to all US demands before the meeting.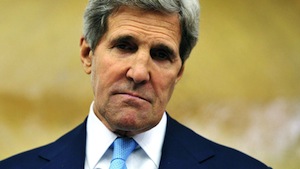 Kerry said any talks would be "extremely difficult" so long as Russia backs Crimea, and other State Department officials say there will be "little to discuss" if Russia doesn't force Crimea to halt its weekend referendum.
Russia's Foreign Ministry says the Crimean referendum
is absolutely legal
, and that Russia will respect the results of the vote. The US has said it will never accept the results.
The White House also issued a new statement on their ongoing deployment of a single ship to the Black Sea,
saying Russia needs to "take note"
of the deployment as proof of US military commitment to the region.
Obama , Biden delusion watch ......
Obama, Biden Courting Nations to 'Punish Russia'
by Jason Ditz, March 11, 2014
The Obama Administration has assembled a team that is working full time on preparing anti-Russia measures, and the team is said to be convinced the US is capable of "
badly damaging the Russian economy.
"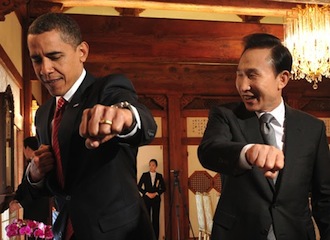 President Obama is determined to move against Russia and administration hawks counsel moving as quickly and harshly as he can possibly muster, and he and Vice President Joe Biden have been courting nations around the world that might go along with demands to seize Russian assets or sever business ties with them.
Other officials within the administration, particularly those actually involved with economic policy, warn the move is liable to alienate allies who are harmed by the measures, and could provoke a cycle of tit-for-tat retaliation.
The European Union seems broadly split on the issue, with British Prime Minister David Cameron insisting he doesn't care how much damage sanctions do to his own capital city of London so long as they can stick it to the Russians. Germany, on the other hand, has noted that they and much of central Europe are dependent on Russia for energy purchases, and aren't willing to see their entire economy crippled by shortages just to spite Russia.
Crimea Parliament checks out of Ukraine and declares independence ...... Voters decide whether to rejoin Ukraine or Russia on Sunday .....
Sunday, Voters Will Choose Between Returning to Ukraine or Joining Russia
by Jason Ditz, March 11, 2014
In a landmark vote today, Crimea's
parliament has formally declared
its independence from the Ukraine, extending its de facto autonomy to outright secession, and changing its name to the Republic of Crimea.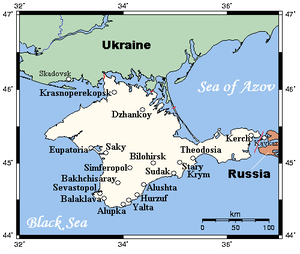 Crimean independence isn't going to last though, as the Sunday referendum takes independence as a starting point but provides only two options, either of which will end that status.
Voters
will be asked to choose between
reunification with the Russian Federation or restoring the 1992 Constitution and Crimea's status as a part of the Ukraine. There is no option to reject both possibilities and support remaining independent.
Physically, an independent Crimea is roughly the size of Israel or Kuwait, but its population is much smaller, more in line with a nation like Latvia or Estonia.
This is the first time Crimea has been independent since 1783, when it was annexed into the Russian Empire. It remained part of Russia (and the Russian Soviet Socialist Republic during the Soviet era) until 1954, when Ukrainian-born Nikita Khrushchev transferred it into the Ukrainian Soviet Socialist Republic. It remained part of Ukraine since, albeit one with a considerable degree of autonomy.
Crimea's population is majority ethnic-Russian, and it hosts the Russian Black Sea Fleet. Though a Russian Unity party in Crimea's parliament has pushed for reaccession into Russia, the region's secessionist push didn't really get serious momentum until the recent regime change in Kiev, which ousted a pro-Russian government.
Russia Today.....
US to violate own laws by financially aiding Ukraine's coup-installed govt – Moscow
Published time: March 11, 2014 20:34
Edited time: March 12, 2014 04:59
Washington's decision to provide financial aid to the coup-appointed government of Ukraine goes against the US laws, Russia's Foreign Ministry said, urging American politicians to think about the consequences of supporting the radicals in Kiev.
Ukraine's ousted president, Viktor Yanukovich, said on Tuesday that the US plans to loan $1 billion to the country's new authorities are illegal.
"Indeed, in accordance with the amendments introduced to the 1961 law (Foreign Assistance Act) a few years ago the provision of foreign assistance is prohibited to 'the government of any country whose duly elected head of government is deposed by military coup or decree.' The relevant provision is contained in 22 US Code § 8422,"
the Russian Foreign Ministry said in a statement.
"Thus, by all criteria the provision of funds to the illegitimate [Kiev] regime, which seized power by force, is unlawful and goes beyond the boundaries of the US legal system," the statement added.
However, the ministry said it realizes that the American side "would hardly recognize this obvious fact" due to the stance it has already taken in the Ukrainian crisis.
"The US administration will most probably continue to close its eyes on the dominance of the ultranationalist forces in Kiev, which have launched a hunt for dissidents across the country, increasing pressure on the Russian-speaking population and our compatriots, threatening the people in the Crimea with punishment for their desire for self-determination," the ministry stressed.
Moscow has also urged the decision makers in the US to think hard about the possible consequences of"reckless indulgence of radical Nazi-oriented elements in Ukraine."
The US Secretary of State John Kerry announced that Washington is preparing a $1 billion loan for the coup-imposed government of Ukraine during his visit to Kiev last week.
Yanukovich, who wants to challenge the lawfulness of the American aid to Kiev in US courts and Congress, "has some very legitimate points to be raised," senior editor of Executive Intelligence Review, Jeffrey Steinberg, told RT.
Prohibition of American financial support to governments, which came to power via a coup, "isn't some esoteric issue" as it has been applied just recently, he stressed.
US Code § 8422 saw the US Congress freezing financial aid to Egypt, following the 2013 military coup, which resulted in the ousting of president, Mohamed Morsi.
However, this January the senators authorized President Obama to send about $1 billion in aid to the Northern African state.
"There was a ferocious debate in the Obama administration and in the congress over whether it was to be technically labeled a coup," Steinberg stressed. "And ironically under that debate Senator John McCain was one of the leading voices arguing for a total cut off of all the military aid to Egypt. So now he's on the exactly opposite side of the same debate."
According to the Executive Intelligence Review senior editor, Washington is using the law as a "political football."
"It's applied in instances where it suits the policies of the administration and certain hardline allies in congress. And it's freely ignored when it's inconvenient truce," he said.
And, in the case of Ukraine, "nobody can dispute" that Yanukovich's democratically elected government was "overthrown by military force, involving the most severe right wing neo-Nazi and Neo fascist elements," Steinberg concluded.
Crimea says provocations on the rise ahead of referendum
Published time: March 11, 2014 18:48
With Crimea's region breakaway referendum nearing, local authorities report an upsurge in provocations by pro-Maidan activists.
In the Crimean capital of Simferopol an undisclosed number of people have been detained for purposefully damaging civilians' passports or taking away their documents, local police reported Tuesday. Under the guise of policemen, a group of perpetrators asked people in the streets of the city to show their passports, which is a normal practice in CIS states. They then either kept the documents or ripped them up. The same fraud has been also reported in the small town of Saky (Saki) in western Crimea.
People without passports will not be able to register and receive ballots for the voting in an upcoming referendum on the region's future.
Following the incidents, local law enforcements have called on Crimeans to be careful and not to show their passport to suspicious-looking people.
In the village of Chongar, which is near the Crimean border with the rest of Ukraine, local authorities have also reported what they have called a "provocation by pro-Maidan radicals."
A source in Crimean self-defense units told RIA Novosti that 60 to 70 activists traveling in 30 cars demanded to enter Crimea on Monday. They reportedly said they planned to organize a Euro-Maidan protest, a rally similar to the one in capital Kiev, which gathered after President Yanukovich refused to sign an association agreement with the EU.
After that "several dozen men and women lay down on the road, saying that by this they were 'preventing' some military hardware from 'passing to the territory of Ukraine.'" The source said that Crimea's government "also described these actions as a provocation."
Earlier Monday a source in the Ukrainian Security Service told RIA Novosti that there was information that radical groups plan provocations on Crimea's administrative border on the day of the referendum.
On Sunday, during a peaceful rally in Sevastopol to mark the 200th anniversary of the birth of Ukrainian poet Taras Shevchenko, a group of people from various regions of Ukraine started shouting Nazi slogans and calling upon people not to vote in the referendum, local self-defense squads reported. This fact was confirmed to Itar-Tass by local deputy Ivan Komelov.
As a result, about 20 troublemakers were detained by self-defense squads and handed over to local police. According to Itar-Tass sources in law enforcement, there were members of ultra-nationalist Right Sector group among the detained.
Two of those whom the self-defense squads were trying to detain – a man and a woman – opened fire at them, Komelov said. He added that though the squad members had no arms, they managed to detain both. A criminal case was opened against those two people on charges of attempted murder. A gun and a knife were found on them. According to Komelov, both said they came from Kiev.
On March 16 Crimean residents – about 60 percent of whom are ethnic Russians – will cast ballots to decide whether the region will become part of Russia, or stay part of Ukraine with broader autonomy rights.
The US has said that it will not recognize the results of the referendum, as Washington continues to consider Crimea a part of Ukraine. President Barack Obama said that a referendum in Crimea would"violate the Ukrainian constitution and international law."
This stance is shared by British Prime Minister David Cameron and German Chancellor Angela Merkel. Merkel said that "any attempt by Russia to legitimize the results could bring more consequences."
On Tuesday, Crimea's parliament adopted a declaration of independence from Ukraine, citing a similar situation to one in Kosovo.
"We, the members of the parliament of the Autonomous Republic of Crimea and the Sevastopol City Council, with regard to the charter of the United Nations and a whole range of other international documents and taking into consideration the confirmation of the status of Kosovo by the United Nations International Court of Justice on July, 22, 2010, which says that unilateral declaration of independence by a part of the country doesn't violate any international norms, make this decision," the text of the declaration said.
The declaration of independence was adopted during an extraordinary session of parliament with 78 of 100 members of the parliament voting in favor.
Crimean parliamentary leaders believe that the situation in Kosovo set a precedent in international law, showing that there is no need for a central government to approve the holding of a referendum on a region's independence and self-determination. Kosovo's independence was acknowledged by 108 countries, including the US, France, the UK and Germany.
Ukraine's coup-appointed prime minister, Arseniy Yatsenyuk, has called the vote illegitimate and called on Russia to "urgently cancel the referendum in Crimea."
However, his statement contradicts Ukraine's position on Kosovo, which he voiced in 2007 while serving as Ukraine's foreign minister.
Visiting Pristina, the capital of Kosovo, at the time, Yatsenyuk said: "Officials in Kiev support the granting of independence to Kosovo. The Kosovo problem is very complicated, but, in any case, the final decision is full sovereignty," he said.
However, for his country now, Yatsenyuk rules out such a possibility and is vowing to fight for Ukraine's unity.
Russia, meanwhile, said the Crimean parliament's decision to adopt an independence declaration from Ukraine is absolutely legitimate. The Foreign Ministry has said in a statement that Russia will respect the results of the referendum.
Russian Neighbor Belarus Asks To Host Another 15 Russian Fighter Jets In Response To NATO Escalation
Submitted by Tyler Durden on 03/12/2014 08:58 -0400
With NATO actively building up its airforce support in Poland and the Baltic states in recent days in a flashback to cold war military escalation and deterrence, and even
launching AWACS planes
over Poland and Romania to monitor the Ukraine crisis and "enhance the alliance's situational awareness," the inevitable has finally happened, and other Russian neighbor states, ones not alligned with the military treaty, have escalated in turn only this time the are showing their allegiance not to the west but to Russia.
Moments ago RIA reported that Minsk will "adequately react to the strengthening of NATO forces near the borders of Belarus, and will offer to host up to an additional 15 Russian aircraft, according to the President of Belarus Alexander Lukashenko on Wednesday at a meeting of the Security Council of Belarus.
"Belarus is adequately reacting to the strengthen the forces of NATO near the borders of Belarus" - the president said. He added that "Belarus will offer to host up to an additional 15 Russian Federation aircraft in connection with the activity of NATO."
Which, it goes without saying, plays precisely into Putin's intentions all along: force all of Russia's neighbors to reveal their allegiance, and since virtually all would have to pick Moscow (see what happened in Ukraine), set the stage for the grand reincarnation of the Soviet Union.
In the meantime, while the G-7 and everyone with a microphone, continues to warn Russia not to annex Crimea, which now seems a done deal, Ukraine's PM Arseniy Yatsenyuk, whose cash-strapped nation needs as much as $15 billion in loans, will meet President Barack Obama later today. And as if to aid Putin's plans even further, First Deputy Premier Vitaliy Yarema told the government in Kiev that Russian forces continue to be deployed along Ukraine's eastern border and are "constantly increasing their presence,"
Logically, the western response will be to beef up NATO forces even more, which in turn will force nations like Belarus to self-annex themselves to Russia by demanding even more Russian troops in their nations, allowing Putin to serially, and peacefully, to takeover the former USSR nations one by one until the empire rebuilding effort is complete.
http://www.bloomberg.com/news/2014-03-12/obama-meeting-with-yatsenyuk-raises-stakes-in-ukraine.html
Mar 12, 2014 12:01 AM ET
Barack Obama's meeting with Ukraine's prime minister today raises the stakes in his attempt to confront Russian President Vladimir Putin's ambitions in Crimea and preempt its spread to other countries in the region.
The invitation to Prime Minister Arseniy Yatsenyuk, 39, is Obama's latest demonstration of support for the government in Kiev before a March 16 referendum in Crimea that may result in the the autonomous region joining Russia. The U.S. regards the vote as illegitimate.
Since Russia used its troops to gain dominance in Ukraine's Crimea region last month, Obama has spoken out repeatedly and has used diplomatic pressure, authorized economic sanctions and had forces participate in military maneuvers to pressure Putin to pull back. The U.S. has yet to succeed, and the Yatsenyuk meeting presents another opportunity as well as a risk.
"As anyone who's familiar with Russia knows, you can threaten them in private and make clear what costs they're going to face," said Leslie H. Gelb, president emeritus of the Council on Foreign Relations. "But if you want to avoid catastrophe, publicly the diplomacy should have been geared toward helping Putin climb down."
Obama's public campaign has included phone calls or meetings by him or Vice President Joe Biden with at least 20 foreign leaders to rally opposition to Russia's incursion into Crimea and threats against the central government in Kiev.
Putin Talks
Obama, 52, also has talked with the Russian leader directly at least three times, urging Putin to accept a plan involving mediation with U.S. and international input and Russian troops returning to their base in Crimea. To add bite, he authorized sanctions and asked Congress to provide $1 billion in loan guarantees for Ukraine. The U.S. yesterday conducted military training exercises with nearby Bulgaria, Poland and Romania.
Putin, 61, so far has been unmoved, even as the crisis threatens to crimp the Russian economy. Russia's Micex Index dropped to the lowest in a week yesterday, and the ruble has weakened 10 percent to the dollar this year. The average yield on Russian corporate bonds jumped 20 basis points to 6.55 percent, the highest since January 2012, according to the Bank of America Merrill Lynch index data.
White House press secretary Jay Carney said the administration's goal is for an international coalition "to speak in a clear voice" in opposition to Russia's military intervention and the referendum in Crimea.
Russian Interests
At the same time, Carney said "we acknowledge that Russia has real interests in Ukraine and deep historical, cultural and economic ties to Ukraine." The U.S. goal is "resolving this diplomatically and peacefully," he said.
Steven Pifer, a former U.S. ambassador to Ukraine, said the crisis has put the entire region on edge.
"Every neighbor around Russia, their concern is, if the Russians take a chunk of Ukraine's territory, will they come and look at us next?" said Pifer, who directs the Arms Control and Non-Proliferation Initiative at the Brookings Institution, a policy center in Washington. "You have a lot of countries around Russia much more worried today than two weeks ago."
For the acting government in Kiev, Pifer said, Yatsenyuk's invitation to the White House is "seen as a big plus" in showing the U.S. government's support. Yatsenyuk also is scheduled to meet with Secretary of State John Kerryand with members of the U.S. House of Representatives and Senate, and speak tomorrow to the UN Security Council in New York.
Gelb said Obama's approach may backfire.
Daring Putin
The situation is tangled with Ukrainian corruption and economic decline, Russian pride, and ill-conceived overtures by the European Union, Gelb said. By publicly threatening the Russians with sanctions and using harsh rhetoric, the Obama administration dared Putin to dig in, he said.
The State Department issued a document "calling Putin a liar," Gelb said. "Now, he is a liar, but you don't call him a liar. There's plenty of liars in the world. How many leaders can we call liars?"
He faulted Kerry, Defense Secretary Chuck Hagel and National Security Adviser Susan Rice, who Gelb said are "not experts" on Russia.
If the referendum goes forward and backs Crimea joining Russia, "We're stuck," Gelb said.
The U.S. may feel it needs to impose sanctions, then Russia may cut off gas supplies to Ukraine, he said. The U.S. may find it increasingly difficult to cooperate with Russia on Syria and Iran or seek its assistance as the U.S. tries to get troops out of Afghanistan. "There's going to be a period of ugly hardball."
http://blogs.rediff.com/mkbhadrakumar/2014/03/09/ukraines-shadow-on-central-asian-steppes/
Russia is increasingly left with no choice but to 'declassify' the privileged information in its possession regarding the western intelligence operation that forced the power grab in Kiev. It is extraordinary that Russia handed over to the UN Security Council the information with the request to hold an impartial international investigation.
Of course, any such move for impartial investigation will be vetoed by the United States. Russia knows it, too, but then, there is also an information war going on today regarding the situation around Ukraine and from Moscow's point of view, as tensions keep rising, it has become imperative to expose the US' narrative to be sheer baloney.
Clearly, Poland and Lithuania would not have ventured into the operation to train extremists to overthrow Yanukovich without getting the green signal from Washington. That is to say, Russia is putting on the horseshoe table at the UN the intelligence regarding a Holy Grail that belongs to the White House.
This is deadly serious stuff because it casts President Barack Obama in an altogether new light as a 'cold warrior' himself, whereas the American official propaganda would have us believe that the president is a helpless statesman largely acting under domestic political compulsions.
What emerges on balance is that there is no way the US-Russia tattered ties can be mended during the remaining period of Obama's presidency. Equally, there is no way Russia is going to let down its guard about the US intelligence activities in its 'near abroad'.
Thus, it cannot be business as usual in Afghanistan and Central Asia, which used to be an important template of the so-called US-Russia reset. Lest it is forgotten, President Vladimir Putin played a key role in establishing the American military bases in the Central Asian region in the aftermath of the 9/11 attacks in 2001.
Again, up until now, Russia took an ambivalent position on the establishment of military bases in Afghanistan by the US and North Atlantic Treaty Organization. But all this will give way to a sense of great wariness about the implications of long-term, open-ended western military presence in the region.
Indeed, the Obama administration's pretense that the US will be doing a favor for the Afghan people and regional stability — and especially to contain the India-Pakistan turf war in the Hindu Kush — by keeping long-term military presence in the region will henceforth be taken by Moscow with more than a mere pinch of salt.
Washington's male fide intentions over Ukraine should alert Moscow to the great potential for the CIA to use Afghan soil to bring about 'regime change' in Central Asia and to foment trouble in North Caucasus.
In fact, the recent attack on the border guards of Turkmenistan from elements of obscure origin from Afghanistan is a harbinger of what to expect. Of course, the blame got to be put on the Taliban (although Ashgabat is keeping its thoughts to itself over the incident in which three Turkmen guards were killed.)
But why should the Taliban attack Turkmenistan and annoy Ashgabat, which used to be the one and only genuinely friendly Central Asian capital that uniquely maintained good rapport with Kabul even during the Taliban rule in the late 1990s?
Put differently, someone seems to be making out a good case to convince Ashgabat (whose foreign policy is riveted on the principle of 'positive neutrality') that Turkmenistan does need some help from the US and NATO as a provider of security.
To be sure, Central Asian regimes will be keenly watching the developments unfolding in Ukraine. They would know in the light of the intelligence reports that Moscow has 'declassified' that the bell tolls for them as well. Symptomatic of the latent fears in the region is the decision by Dushanbe to block the broadcast by the US government-funded Radio Liberty & Free Europe.
A curious twist to the current 'color revolution' in Ukraine is that the US intelligence organized the ultra-nationalists as the foot soldiers to stage the coup. It so happens that the post-Soviet regimes in Central Asia, especially Uzbekistan and Kazakhstan, have also encouraged (for a variety of reasons) nationalist sentiments to take root in their society and it may come to haunt them if foreign powers co-opt the ultra-nationalists as has happened in Ukraine.
The events in Ukraine underscore the ease with which bottled up popular resentments can be exploited by foreign powers to push for 'regime change'. On the surface, the Central Asian region remains calm but almost all the elements that made Ukraine into a volcano waiting to erupt are existent there.
The beefing up of the Russian military presence in Central Asia, therefore, has a huge geopolitical backdrop. The Russian thinking has hitherto been that Russia on one side and the US and the NATO on the other side would have a congruence of interests to minimize, if not eliminate, the instability factors affecting the security and stability of Central Asia and Afghanistan.
However, as Ukraine developments unfold, there is bound to be a paradigm shift. Suffice to say, it will be too risky for the Kremlin to contemplate the US and NATO as benign partners anymore. It cannot be lost on Moscow that the author of the famous book, The Grand Chessboard, Zbigniew Brzezinski is today openly talking about NATO mobilization, "deploying forces in Central Europe so we are in a position to respond if war should break out and spread."
http://rt.com/news/kiev-clashes-rioters-police-571/
Wednesday, March 12
A forum of interethnic accord in Crimea, uniting dozens of ethnic communities on the peninsula, has approved a resolution supporting the upcoming March16 referendum and joining Russia.
The Crimean authorities have partially limited access to the peninsula, fearing that extremists may attempt to enter the republic, said the speaker of the Crimean parliament, Vladimir Konstantinov.
The limitations are temporary, Konstantinov said, adding that after the March 16 referendum the situation will change as passport control and border posts would be set up in the republic, he said.
11:08 GMT:
The Crimean authorities have partially limited the number of arriving planes in the airport of Simferopol, the Crimean capital, as the peninsula authorities fear possible provocations from the coup-imposed Kiev government, according to Crimean Deputy Prime Minister Rustam Temirgaliyev.
"These measures are temporary and will be removed on March 17," adds Temirgaliyev.
Ukrainian International Airlines confirmed that its planes cannot land at Simferopol Airport due to flight restrictions. The company has had to delay its flights up to March 12.
10:25 GMT:
G7 members will demand that Russia stop efforts "to annex" Crimea in a statement to be issued later on Wednesday, European Commission President Jose Manuel Barroso said. The statement is meant to show Moscow the G7's determination on the issue.
"We call on the Russian Federation to cease all efforts to annex Ukraine's Autonomous Republic of Crimea," Barroso told the European Parliament in Strasbourg.
The Group of Seven includes leading developed economies and is currently known as Group of Eight, due to Russia's membership. Amid the turmoil in Ukraine, some Western officials called for the expulsion of Russia from the G8 and reversion to the original G7 composition.
The influence of G8 had been dwindling over the past years, as it was being pushed aside by the more representative G20 collective, of which Russia is a member as well.
09:31 GMT:
Kiev will not launch a military attack on Crimea, the coup-imposed acting President of Ukraine Aleksandr Turchinov told AFP. He said such an attack would leave Ukraine's border with Russia defenseless and claimed that this is what Moscow wants Kiev to do.
Kiev has concentrated its loyal troops on the border between mainland Ukraine and the defiant Crimean Peninsula, saying they were taking part in a military exercise. It's not clear whether the Ukrainian army is actually prepared for combat, considering the sacking of several top military commanders after the coup and reports of Maidan activists being appointed to the service to monitor the morale of the troops.
The Russian delegation has suggested for Parliamentary Assembly of the Council of Europe (PACE) to introduce a committee to investigate the crimes performed by the Maidan opposition in the late three months, said Igor Morozov from the Russian delegation to PACE.
The legitimacy of the Kiev coup-appointed authorities should be inspected as well, according to Morozov.
The committee should also investigate the situation with Kiev snipers who shot at protesters and police, added he. According to a leaked phone conversation between the EU foreign affairs chief Catherine Ashton and Estonian foreign affairs minister, these snipers were allegedly hired by Maidan
leaders
.
09:14 GMT:
An arrest warrant has been issued for the leader of the Ukrainian radical group Right Sector, Dmitry Yarosh, by a Moscow court on charges of inciting terrorism.
On March, 1, Yarosh called on Russia's most wanted terrorist, Doku Umarov, to act against Russia in an address posted on Right Sector's VKontakte (InContact) social network page. The statement said that"many Ukrainians with arms in their hands" supported Chechen militants in their fight against Russians and "it is time to support Ukraine now."
After Yarosh's public appeal to Umarov, Russia's investigative committee on Monday launched a criminal
case
against him and called upon Interpol to add him to its international wanted list.
However, after the outrageous message caught the attention of world media, a Right Sector group said it had nothing to do with the post as one of their administrator's accounts had been "hacked."
06:34 GMT:
Kiev's criminal investigation against the commander of Russia's Black Sea Fleet is a provocation which may further destabilize the situation in Crimea, Russian Deputy Defense Minister Anatoly Antonov said.
"The attempt by the illegitimate authorities in Kiev to prosecute a Russian admiral is yet another provocation by those who broke Ukraine's laws and usurped power," he said.
The coup-imposed Ukrainian government launched last week prosecution of Vice-Admiral Aleksandr Vitko for "inciting treason and organizing sabotage against the Ukrainian military."
01:43 GMT:
The US House of Representatives passed a resolution condemning Russia's actions in regards to Ukraine and urged the White House to boycott the G8 summit in Russia. The resolution also asks for NATO allies to suspend military cooperation with Moscow, as well as to impose visa and economic sanctions.
Tuesday, March 11
22:21 GMT:
If Crimea votes to become part of Russia, the Republic of Crimea, Moscow is willing to grant financial assistance from the Reserve Fund in the amount of more than 30 billion rubles, wrote "Izvestia", citing a source in the Ministry of Finance of Russia.
"If Crimea is a part of Russia, the money will be allocated to them as well as to the other regions, but for this budget code change is needed," the source told the publication. "The amount has not yet confirmed, since a referendum is taking place on March 16."
The source also added that Russian state-run program budget will not suffer from Crimea's decision and that the finances will come from Russia's Reserve Fund. Crimea would be expected to adjust the average salary, pension's payments and other social benefits to the average data of the Russian Federation.
Earlier it was reported that nearly 100 million rubles will be allocated to other cities in the region including Alushta, Yalta and Sudak to tackle social problems.
22:17 GMT:
The presidents of Russia and Belarus, Vladimir Putin and Alexander Lukashenko held a telephone conversation where they discussed Ukraine, press secretary of the Russian president, Dmitry Peskov confirmed.
He did not comment on whether both leaders discussed possible joint efforts in terms of the Ukrainian crisis.
22:11 GMT:
A draft resolution to postpone Ukrainian presidential elections scheduled for May 25 to December 7, has been introduced in Ukrainian parliament by an MP from the former ruling Party of Regions Evgeny Muraev, Ria reports.
21:57 GMT:
Ukrainian Party of Regions decided to postpone its party congress by a week, MP Sergey Tihipko told local a local TV channel.
At the upcoming Party Congress deputies will seek to nominate a candidate to run in the Ukrainian presidential elections scheduled for May 25.
21:34 GMT:
The Organization for Security and Co-operation in Europe (OSCE) voiced concern about Kiev's push to ban some Russian television channels' from being transmitted by cable operators in Ukraine
"I repeat my call to the authorities not to initiate these repressive measures," OSCE Representative on Freedom of the Media Dunja Mijatović. "Banning programming without a legal basis is a form of censorship; national security concerns should not be used at the expense of media freedom."
21:13 GMT:
Tens of thousands of people have rallied on Tuesday all across Russia in support of the Crimean people and their right for self-determination. Peaceful rallies in over a dozen of cities went without any incidents, local authorities said.
20:39 GMT:
Former head of Kharkov Regional State Administration Mikhail Dobkin has been placed under house arrest in Kiev on suspicion of inciting provocations against the territorial integrity of Ukraine, local media reports. Dobkin said that he intends to appeal the decision by a Kiev court as he still intends to run for president in May.
20:11 GMT:
Asked about the impact of the Crimea crisis on co-operation between US and Russia on other international issues, White House Press Secretary told journalists that the countries are still continuing to work closely on Syria's chemical weapons disarmament, and negotiations with Iran over its nuclear program.
A little geography primer - teaching how war works to the sheeple .....