Zero Hedge...... items from later in the day
"Behind The Kiev Snipers It Was Somebody From The New Coalition" - A Stunning New Leak Released
Submitted by Tyler Durden on 03/05/2014 09:49 -0500
The last time a leaked phone call out of Ukraine
was released about a month ago
ostensibly by the Russian NSA equivalent, one between US assistant sec state Victoria Nuland and the US envoy to the Ukraine, Geoffrey Pyatt, it was revealed that the real puppet masters behind the Maidan movement, and the true instigators of the Ukraine "revolution" were none other than the "developed" world superpowers, lead by the US. Also revealed were tensions between the US and EU strategies on how to overthrow the current government, culminating with the infamous "Fuck the EU." Needless to say the US, which implicitly confirmed the recording, was angry at Russia and accused it of using dirty tricks.
That's ironic, because when it comes to "dirty tricks" what is about to be presented, blows the top off anything Russia may or has done to date.
Earlier today an even more shocking recording
has been "leaked
" this time one between the
always concerned about human rights
EU foreign affairs chief Catherine Ashton and Estonian foreign minister Urmas Paet, in which it is revealed on tape that all those photos of horrifying deaths of Ukrainians by snipers during the last days of the Median stand off,
were in fact caused not by Snipers controlled by Yanukovich, but that the snipers shot at both protesters and police in Kiev were allegedly hired by Maidan leaders!
Here is the key exchange, just after 8 minutes into the conversation :
Paet:
"All the evidence shows that people who were killed by snipers from both sides, policemen and people from the streets, that they were the same snipers killing people from both sides. ... Some photos that showed it is the same handwriting, the same type of bullets, and it is really disturbing that now the new coalition they don't want to investigate what exactly happened.
So there is now stronger and stronger understanding that behind the snipers, it was not Yanukovych, but it was somebody from the new coalition

."
Ashton: "I think we do want to investigate. I mean, I didn't pick that up, that's interesting. Gosh."
Paet: "It already discreditates (sic) this new coalition."
So first US orchestrates the Kiev overthrow, and now the new "leaders" of Ukraine are allegedly found to have fired against their own people - the same provocation they subsequently used to run Yanukovich out of the country and install a pro-Western puppet government. Of course, said pro-Western coalition has not been discreditated (sic) because Ms. Ashton has sternly refused to investigate, knowing quite well how horribly this would reflect on the new Ukraine "leadership" - a government which shot its own people to fabricate the pretext under which it rose to power.
Is it any wonder then that Russia has responded the way it has?
As for at least one of the affected parties, Estonia, it has just confirmed the authenticity of the recording, and the ministry of foreign affairs has organized a press conference to answer media questions today at 5 pm.
From the Valisministeerium:
No. 84-E Foreign Minister Urmas Paet and EU foreign policy chief Catherine Ashton uploaded to the Internet today, a phone call is authentic.




Paet and Ashton conversation took place on 26 February, following Estonia's Foreign Minister's visit to Ukraine, and immediately after the end of the street violence.




Foreign Minister Paet communicate what he had said about the meetings held in Kiev last day and expressed concern about the situation.




"It is extremely regrettable that such an interception is occurring at all""said Paet., Including its call for today's photos are not random," he added.
Yes, it is truly regrettable that the people know the truth.
Full leaked recording below:
What The Russian (And Chinese) Papers Are Saying About Ukraine
Submitted by Tyler Durden on 03/05/2014 16:53 -0500
"Putin: Unconstitutional coup is taking place in Ukraine. The U.S halted military cooperation and trade negotiations with Russia"
That's the headline from a Beijing newspaper– and no surprise that it leans slightly to the Russian side.
The article goes on:
"Russian president Putin said on 4th March that unconstitutional coup is taking place in Ukraine and Russia will only use the army to Ukraine under "the most extreme situation". This was the first time that Putin declared this publicly since the escalation of the situation in Ukraine."




"U.S. Secretary of State John Kerry threatened on March 2nd that the U.S and allied countries will take a series of actions including visa ban, capital controls, economic and trade sanctions, etc."




"The White House issued this in a joint statement signed by the Group of Seven member countries and accused Russia of violation of the territorial integrity of Ukraine. The White House also declared temporarily not to participate in the preparation for the G8 summit scheduled for June in Sochi, Russia."
– and of course :
"Chinese Permanent Representative to the United Nations Liu Jieyi called for dialogue of all sides to resolve differences and maintain regional peace and stability. The united nations security council held an emergency meeting on the Ukrainian situation. Liu Jieyi said in the meeting that China is deeply concerned about Ukrainian situation and condemn the extreme violence in Ukraine."
Meanwhile, Russian newspaper Itar Tass had this headline (loose translation):
"Putin: Those [foreign nations] who are talking about imposing sanctions on the Russian Federation should first consider the impact of those sanctions"
The article goes on:
"President Putin told reporters that the damage to all countries involved is mutual:




"We can cause damage to each other– mutual damage. And this needs to be thought about. . . We believe our actions are fully justified. And any threats to Russia are counterproductive and harmful."




Mr. Putin added that Russia is still preparing for upcoming G8 meeting.




"If [the other countries] do not want to come, they don't have to," he told reporters .




The Russian President also expressed the opinion that the U.S. has historically created its own geopolitical goals, and then dragging along the rest of the world underneath them:




"Our partners, especially in the U.S.– they always clearly formulate their geopolitical interests and pursue them very aggressively. Guided by the well-known phrase, "you are either with us or against us," they drag the rest of the world along, underneath them. And whoever doesn't go along is beaten and usually killed," the President told reporters.




He emphasized that Russia's actions come from legitimate grounds.
So on one hand, the Chinese are essentially making the West out to be the belligerents, the Russians to be defending their interests, and the Chinese as the strong diplomats who are pushing for peace.
And on the other hand, the Russian papers are highlighting the utter hypocrisy of US foreign policy– it's OK for America to invade whatever country it likes, but not for Russia to defend its own interests.
Siemens CEO Explains Why Russian Sanctions Will Never Happen
Submitted by Tyler Durden on 03/05/2014 14:10 -0500
With the UK rapidly backing away from sanctions against the Russians (and the Russians suggesting the confiscation of US and EU assets should sanctions occur), it appears President Obama is becoming increasingly isolated in his calls for sanctions. As the CEO of Siemens - Germany's massive industrial conglomerate explains Russian natural gas provides "lifeblood" to western Europe and there is substantial "dependency."
The head of German industrial conglomerate Siemens AG said he doesn't expect European governments will press hard for sanctions against Russiain response to the Kremlin's authorization to potentially deploy troops into Ukraine.




Siemens President and Chief Executive Joe Kaeser was asked about the situation in Ukraine during an appearance at the IHS CERAWeek energy conference in Houston, Texas. He said it was important to remember that Russian natural gas provides "lifeblood" to western Europe and there is substantial "dependency."




"Maybe the American people or the government or whoever raises their eyebrows can say how could the Europeans be so moderate on the debate over sanctions. Guess what? You don't want to sanction anyone you depend on," Mr. Kaeser said.




...
Mr. Kaeser went on to say the U.S. is in a better position to consider economic sanctions against Russia because of its recent surge in oil and gas production.

Russia Proposes Confiscating US, European Assets If Sanctions Adopted
Submitted by Tyler Durden on 03/05/2014 10:27 -0500
Following warnings from US and European nations over economic (and travel) sanctions against Russia, the upper house of Russia's parliament has struck back. As
RIA reports,
Russia is mulling measures allowing property and assets of European and US companies to be confiscated in the event of sanctions being adopted
. Layers are studying the costitutionality of the 'confiscation' but cite Europe's standards (i.e. Cyprus) as precedent. This is further to the threat to "dump US goverment bonds" issued earlier in the week.
The upper house of Russia's parliament is mulling measures allowing property and assets of European and US companies to be confiscated in the event of sanctions being adopted against Russia over its threatened military intervention in Ukraine.




The bill's author, Federation Council constitutional legislation committee head Andrei Klishas, said Wednesday that lawyers are currently studying whether the proposed confiscations would be constitutional.




"But we have no doubts that it clearly corresponds to European standards," Klishas told RIA Novosti. "The recent events in Cyprus spring to mind, where the confiscation of assets was the main demand made by the European Union in return for economic aid."




An adviser to President Vladimir Putin said Tuesday that authorities would issue general advice to dump US government bonds if Russian companies and individuals were targeted by sanctions over events in Ukraine.
Perhaps that is why the UK backed away from sanctions so quickly?
Early morning items .....
Ukraine Won't Pay Russia For Gas, Has Billions In Obligations Due; Europe Promises Aid Money It Doesn't Have
Submitted by Tyler Durden on 03/05/2014 08:03 -0500
About an hour ago, the head of Russia's top natural gas producer Gazprom said on Wednesday that Ukraine had informed the company it could not pay for February gas deliveries in full, further adding to tensions between Moscow and Kiev. Alexei Miller said Ukraine's total debt to Gazprom for gas deliveries was nearing $2 billion. "Our Ukrainian colleagues informed us that they would not be able to pay in full for February gas deliveries," he told Russian President Vladimir Putin.
As
reported by Reuters
, Miller added that Ukraine managed to redeem only $10 million on Wednesday from a total debt of $1.529 billion. He said that Ukraine's debt would rise by $440 million on March 7, a deadline for payments. In other words, as of this moment the Ukraine already owes Russia $2 billion, or about double what John Kerry announced to much fanfare, the US would provide the country with in terms of aid. And considering that yesterday Gazprom announced that beginning in April it would end the gas pricing discount to the Ukraine, which lowered the price of gas to $268.5 per 1,000 cubic metres from around $400, this accrual is only set to get bigger with every passing day, and very soon Ukraine may get no Russian gas at all which was and continues to be the biggest leverage Russia has over the country which nuclear power plants provide less than half of its electricity needs.
As a reminder, and as we have pointed out since the start of the Ukraine conflict, Gazprom, which meets 30 percent of Europe's gas demand, shipped 86 billion cubic meters, or over half of its total exports, to the European Union through Ukraine last year. Gazprom already warned Europe may see "fluctuations" in its gas deliveries from Russia.
A Gazprom spokesman said Russian gas transit to Europe via Ukraine was flowing normally. For now.
But gas is only the beginning of Ukraine's problems. As also announced about an hour ago, Ukraine's acting finance minister Oleksander Shlapak reported that the country needs to repay $10 billion by year end and that the country may ask for a debt restructuring. Naturally, absent outside help, no repayment is possible and the country will certainly default, which means someone has to step up and bail out the Ukraine. The only question is where this aid comes from: EU/IMF or Russia.
And that is the €/$64K question. Which is why also earlier today, the European Commission announced that it will provide Ukraine with 11 billion euros ($15 billion) in financial assistance to Ukraine. As
reported by RIA
, European Commission President Jose Manuel Barroso said the aid package was designed to enable "a committed, inclusive and reforms-oriented government in rebuilding a stable and prosperous future for Ukraine." The European Commission said in a statement that financial support would be provided over a two-year period from the EU budget and EU-based international financial institutions.
There is only one problem with Europe's aid: the money is not only not "there," it is also conditional on individual countries getting approval from their populations, and most of it would come from the IMF, i.e. funded primarily by US taxpayers. As the
WSJ summarized
, "The EU said it would make at least $15 billion in grants and loans available for Ukraine in the next couple of years,
although much of the money has strings attached and would need approval from member states and other institutions."
So basically, it comes down to a matter of timing and payment acceleration: if Russia really wants Ukraine to fold, it will make sure the bill is high enough and the gas shut off looming enough that the only source of funds would be Russia itself, not insolvent Europe. The last thing Putin will want is to give Europe the years it needs to figure out how to honor its bailout commitment (ask Greece). Which is why Medvedev has also announced Russia would be able to provide $2-3 billion immediately to Ukraine... to pay for the gas bill. Naturally, with a few strings attached.
http://www.zerohedge.com/news/2014-03-05/futures-unchanged-overnight-remain-nosebleed-levels
( Ukraine snippets.. )
With the world still on edge over developments in the Ukraine, overnight newsflow was far less dramatic than yesterday, with no "bombshell" uttered at today's Putin press conferences in which he said nothing new and simply reiterated the party line and yet the market saw it as a full abdication, he did have some soundbites saying Russia should keep economic issues separate from politics, and that Russia should cooperate with all partners on Ukraine. Elsewhere Gazprom kept the heat on, or rather off, saying Ukraine recently paid $10 million of its nat gas debt, but that for February alone Ukraine owes $440 million for gas, which Ukraine has informed Gazprom it can't pay in full. Adding the overdue amounts for prior months, means Ukraine's current payable on gas is nearly $2 billion. Which is why almost concurrently Barosso announced that Europe would offer €1.6 billion in loans as part of EU package, which however is condition on striking a deal with the IMF (thank you US taxpayers), and that total aid could be as large as $15 billion, once again offloading the bulk of the obligations to the IMF. And so one more country joins the Troika bailout routine, and this one isn't even in the Eurozone, or the EU.
****
In conclusion, here is Jim Reid's overnight recap:
With the S&P500 (+1.53%) once again at all-time highs, and the Stoxx600 (+2.06%) erasing pretty much all of Monday's losses, it's been an impressively quick rebound from the sober tone that started the week. It's still too early to give the all clear, and with Russian forces reportedly still very much in operational control of the Crimean peninsula we remain largely at the behest of headlines from the Ukraine. An example of the market's nervousness came late yesterday when news of a Russian intercontinental ballistic missile launch caused a 5pt drop in the S&P500 during the second half of the US trading session. Russian state news agencies described a successful, if awkwardly-timed, test-launch of an advanced ICBM that hit a target in Kazakhstan near the Caspian Sea (AFP). This came after reports of shots fired outside the Belbek air base in Crimea occupied by Russian troops (BBC) and there were unconfirmed reports that Russian forces had tried to board an Ukrainian navy vessel (NYT). While both Putin and Obama talk tough, the market will continue to bounce around with these headlines – but maybe some attention can shift to today's ADP employment, tomorrow's ECB meeting and Friday's non-farm payrolls.
****
These Countries Are At Risk If The West Sanctions Russia, BofA Warns
Submitted by Tyler Durden on 03/04/2014 19:56 -0500
While most attention has been focused on Nat Gas, BofA notes that Russia is unlikely to unilaterally curtail its oil exports. However, Russian oil does indeed flow in large quantities through the Black Sea, making the
Russian Navy station of Sevastopol as well as the whole Crimean peninsula crucial strongholds to control commerce flows
. While BofA remains confident that oil-related sanctions are unlikely (as Europe cannot really afford to relapse into a third recession in six years),
Brent prices could easily jump $10 on any disruption increasing the risk of recession for a number of weak economies
.
Via BofA,
As for oil, we see temporary modest upside pressure...
As for oil, the Ukraine consumes about 300 thousand b/d, of which 220 thousand b/d comes from Russia and 80 thousand b/d is produced domestically. Unlike in the case of gas, however, the Ukraine does not have significant shale oil resources and does not pose a competitive threat to Russian dominance.
Moreover, transit volumes of Russian oil circulating through the Ukraine are rather minor, with the latest Transneft figures estimating normal flows of 300 thousand b/d through the Druzhba pipeline. However, Russian oil does indeed flow in large quantities through the Black Sea, making the Russian Navy station of Sevastopol as well as the whole Crimean peninsula crucial strongholds to control both Azov and Black Sea commerce flows.
These routes are, for now, secure and diverse. Thus, while oil has risen in sympathy with other commodities, we believe the upside risks are rather modest from here unless the conflict escalates.
...unless Western powers get involved, which is unlikely
Moreover, we believe Russia is extremely unlikely to disrupt oil exports to the world, as it would destroy its reputation as a reliable and non-cartelized supplier to the world's largest energy market. Also, oil-related sanctions against Russia are unlikely to happen, as we believe Europe cannot really afford to relapse into a third recession in six years. As nothing meaningful in terms of sanctions came on the back of Russia's conflict in South Ossetia and Abkhazia in 2008, it is also unlikely that anything would happen now, in our view.
If the conflict in the Ukraine turned into a full-blown war and the 1 million b/d of Russian oil flowing through the Black Sea are temporarily disrupted, oil may briefly jump by $10/bbl or more.
With EM currencies weakening by the minute, however, a spike in Brent crude oil prices above $125/bbl would likely increase the risks of recession for a number of weak economies. Consequently, we believe prices would probably reverse back down rather quickly.
Russia Warns "Will Have To Respond" For US Sanctions
Submitted by Tyler Durden on 03/04/2014 13:14 -0500
"

we will have to respond

...if provoked by rash and irresponsible actions by Washington...

and not necessarily symmetrically

."
Via Reuters,
Russia said on Tuesday that it would retaliate if the United States imposed sanctions over Moscow's actions in Ukraine.




"We will have to respond,"Foreign Ministry spokesman Alexander Lukashevich said in a statement. "As always in such situations, provoked by rash and irresponsible actions by Washington, we stress: This is not our choice."
And Interfax adds:
RUSSIA WILL HAVE TO RESPOND TO POSSIBLE U.S. SANCTIONS, "AND NOT NECESSARILY SYMMETRICALLY" - RUSSIAN FOREIGN MINISTRY
Given that Russian boots remain on the ground in Ukraine and that the US (and the west - ex-UK) are still pressing for crushing sanctions against Russia; one has to wonder whether Putin's carefully worded "annexation" comment did nothing but enable exits for oligarchs... What really changed?
Russia Today - Live updates......
Wednesday, March 5
08:38 GMT:
Russian Foreign Minister Sergey Lavrov and US Secretary of State John Kerry will meet in Paris on Wednesday to discuss the Ukrainian debacle, the Russian Foreign Ministry told RT. The diplomats will try to deescalate tension over the political crisis, in which Russia and the West are currently tangled, and find a solution for the confrontation inside Ukraine.
08:07 GMT:
European Union leaders holding a crisis meeting on Ukraine on Thursday could impose sanctions on Russia if there has been no "de-escalation" by then, French Foreign Minister Laurent Fabius said.
Fabius told France's BFM TV that such measures could include restrictions on visas, the assets of individuals and existing discussions on economic ties with Russia.
"Let's start to initiate the path of dialogue, but at the same time tomorrow there is an EU summit and sanctions could be voted tomorrow if there is no de-escalation. I expect and hope that Russia will today tell us that there is a prospect for dialogue with a contact group," he said, referring to proposals to form a"contact group" of key players in the Ukraine crisis.
Fabius was speaking before hosting talks between his Russian, U.S., Ukrainian and other counterparts on the margins of a long-scheduled meeting on Lebanon in the French capital.
06:00 GMT:
Russian Foreign Minister Sergey Lavrov in a meeting with EU foreign policy Chief Catherine Ashton said that efforts targeted at resolving tensions in Ukraine must abide by the principles of the February 21 agreement. The meeting took place in Madrid.
Russia's MFA website said that "the minister has emphasized that a sustainable effort at stabilizing the situation must be based on the principles of the agreement on resolving the crisis in Ukraine… including the constitutional reforms that would consider the interest of all of Ukraine's regions, the creation of a unity government, disarmament of illegal factions and their removal from the street."
The EU-brokered
agreement
on ending the political crisis in the country was signed between President Yanukovich and Ukraine's opposition leaders.
03:18 GMT:
Ukraine's Prosecutor General's Office issued an order to detain the former commander of the Ukrainian Navy, Denis Berezovsky, UNN news agency reported. Berezovsky swore allegiance to the people of Crimea on Sunday. In response, the coup-imposed Ukrainian government announced his dismissal from the post.
03:13 GMT:
Crimean authorities do not view Ukraine's coup-imposed government as legitimate and therefore are not ready to respond to the proposal to begin negotiations about Crimea's autonomy, Crimea's Prime Minister Sergey Aksenov told Baltkom radio.
Tuesday, March 4
22:39 GMT:
Canada has suspended all military activity with Russia "effective immediately," Prime Minister Stephen Harper said in a statement. "I have this morning directed that, effective immediately, all planned bilateral activities between the Canadian Armed Forces and the military of the Russian Federation be suspended. This includes exercises, such as NORAD's Exercise Vigilant Eagle, and scheduled meetings," Harper said.
22:06 GMT:
Ruptly's footage shows around 5,000 people rallying in Russia's Rostov-on-Don on Tuesday in support of Crimea's ethnic Russian residents.
21:36 GMT:
An Organization for Security and Co-operation in Europe (OSCE) delegation has arrived in Simferopol, Ukraine, RT news producer Lida Vasilevskaya reported. No comments have been made thus far.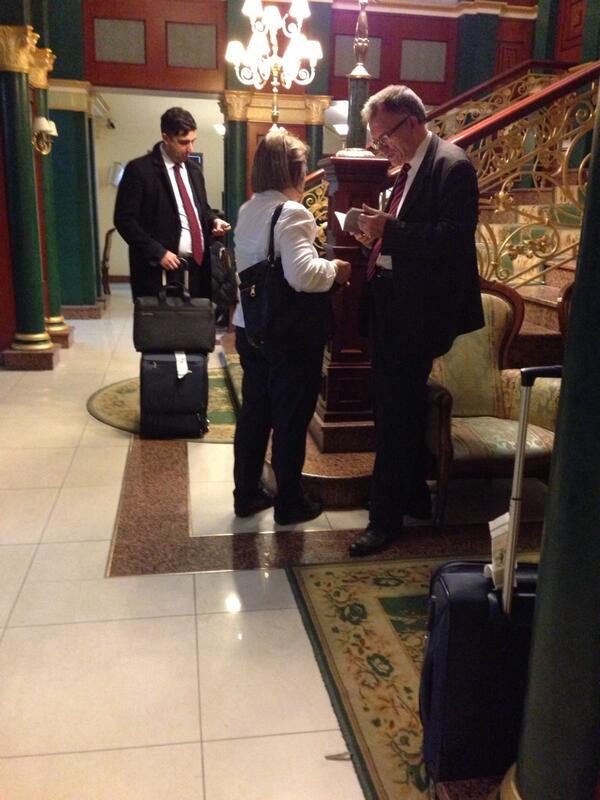 The Ukrainian crisis cannot be resolved without dialogue with Russia, vice president of the European Commission, Antonio Tajani, told ITAR-TASS. In his opinion, Europe can play a leading role as an intermediary, defending the territorial integrity of Ukraine, as well as maintaining dialogue with Russia. Finding a solution without Russia's consent is impossible, Tajani added.
European Union governments have reached a preliminary agreement to freeze the assets of 18 Ukrainians at the request of the new self-proclaimed government in Kiev, which says that billions in public funds have gone missing.
The decision still needs to be made final in the coming days and follows similar moves made last week by Austria, an EU member, as well as Switzerland and Liechtenstein, Reuters reports.
18:30 GMT:
The US does not want confrontation in Ukraine and believes the solution to the crisis must be found through dialogue and diplomacy, US Secretary of State John Kerry said after arriving in Kiev.

According to Kerry, Russia has the right to defend its interests in Ukraine, but such rights should be exercised through international organizations like the UN Security Council or OSCE, Interfax news agency reported.

Washington can assist Moscow in its cause, but only if it agrees to cooperate with the new Ukrainian authorities, he added.
18:23 GMT:
The Swedish and Danish foreign ministers, Carl Bildt and Martin Lidegaard, will visit Ukraine on March 5-6, said Sweden's Foreign Ministry.
18:17 GMT:
Russia will have to retaliate if the US introduces sanctions against Moscow, said Aleksandr Lukashevich, spokesman for the Russian Foreign Ministry.
"We explained to the US authorities many times – with the facts to hand - why their unilateral sanctions do not concur with standards of civilized intergovernmental relations – but to no effect," he added.
"As always in situations, provoked by rash and irresponsible actions by Washington, we stress: This is not our choice."
On Monday the US said it was suspending forthcoming trade and investment talks with Russia over the situation in Ukraine. In addition, the Pentagon announced that the US would also postpone all joint "military engagements" with Russia.
18:10 GMT:
Russia's Vladimir Putin and Turkey's PM Tayyip Erdogan have discussed by phone the "escalating crisis situation in Ukraine, in particular the latest events in Crimea," reported the Kremlin press-service.
"Both sides agreed that despite aggressive actions of radical and extreme Maidan forces, Crimea will be able to preserve interethnic and interfaith peace," added the press-service.
17:22 GMT:
Nearly 11,500 people have taken part in a demonstration in the southern city of Rostov-on-Don, one of the biggest cities and the administrative center of the Rostov region. "Our brothers, grandfathers and sons live in Ukraine," said Ivan Yakovlev, 88, who took part in freeing Ukraine and Crimea from the Nazi invasion in 1944.
A rally in the western city of Vladimir has attracted over 5,000 people. Over 4,000 people gathered in the southwestern city of Voronezh. Also, the rally initiated by World War II veterans attracted nearly 4,500 people in the southern city of Volgograd.
17:18 GMT:
Crimean authorities will visit Moscow on Friday to hold talks with members of the State Duma, the lower chamber of the Russian parliament, said the speaker of the Crimean parliament, Vladimir Konstantinov.
He said that the Crimean delegation of 24 people, "will discuss many questions with the members of the State Duma, including medical provisions, humanitarian issues and financial assistance."
17:17 GMT:
The Crimean authorities will not make any agreements with the Kiev coup-appointed government unless it has international guarantees, said the speaker of the Crimean parliament, Vladimir Konstantinov.
Earlier Crimean authorities said they didn't recognize the Kiev regime and said that all Ukrainian law enforcement and military deployed in the peninsula must take orders from them. The majority of local troops switched allegiance to Crimean authorities.
17:14 GMT:
Consultations in the Russia-NATO Council will be held on Wednesday over the crisis in Ukraine, said NATO Secretary General Anders Fogh Ramussen.
15:00 GMT:
Russia is outraged "by the blasphemous statement" of Ukrainian representative at the UN, Yuri Sergeev, who said that "indictments, brought by the USSR against Ukrainian nationalists during the Nuremberg Trials were fabricated," the Russian Ministry of Foreign Affairs said.
"With these words, Ukrainian representative at the UN offended the memory of fallen Russians, Ukrainians, Jews, Poles and citizens of other nationalities, who fell victim to the atrocities, committed by Ukrainian Nazi-supporters. There is a lot of proof of their violent crimes. We are ready to acquaint Sergeev with them," the Russian Foreign Ministry said.
14:30 GMT:
In the Crimean city of Sevastopol, Russia is acting within the agreement on its Russia's Black Sea Fleet and on the basis of communications with the legitimate authorities of the Autonomous Republic of Crimea, said Russian Foreign Minister Sergey Lavrov.
"Order in Crimea is being maintained mainly by the self-defense squads which check vehicles arriving on the territory of Crimea," said Lavrov adding that the squads have already confiscated many weapons.
"I think those [self-defense squads] in Crimea could prevent the type of outrageous events which happened in Kiev and in some other cities," added Lavrov.
http://www.theguardian.com/world/2014/mar/05/ukraine-crisis-russia-nato-talks-live
Summary
• A day of diplomacy failed to yield visible result, as Russian forces held their positions in Crimea and impassioned crowds on both sides joined in tense confrontations in multiple cities in Crimea and beyond.
• A government building in Donetsk in southeastern Ukrainechanged hands from police to pro-Russian demonstrators. In Sevastopol, Russian forces blocked a Ukrainian naval vessel.
• A UN envoy to Crimea was ejected by a pro-Russian crowd from Simferopol. The reportedly hostile crowd surrounded the envoy's car and temporarily cornered him in a cafe. International monitors in Crimea were the target of protests.
• Europe announced a $15bn aid package for Ukraine, atop a $1bn aid package announced by the US administration and supported by Congress.
• Doubts about the resolve of Europe to put together a sanctions package against Russia were dismissed by diplomats. European Union leaders were to meet Thursday to make a decision on sanctions. More on sanctions here.
• The United States failed to bring the Ukrainian and Russian foreign minister face-to-face through a day of meetings in Paris, but US secretary of state John Kerry said "concrete" progress had been made and all sides had agreed to pursue a diplomatic solution.
• Nato announced a full review of all cooperation with Russia, suspended planning for a Nato-Russian joint operation to escort Syria chemical weapons and suspended staff-level civilian or military meetings with Russia.
• The Pentagon said the US military was doubling its commitment of aircraft to joint NATO-policing missions in the Baltics.