http://www.theguardian.com/world/2014/mar/30/mh370-chinese-relatives-malaysia-answers
MH370: Chinese relatives arrive in Malaysia to demand answers
Two dozen family members fly into Kuala Lumpur to meet 'highest officials' as search for missing plane still draws blanks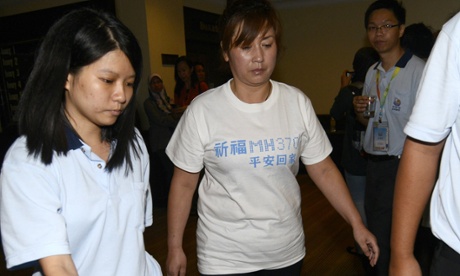 More than two dozen Chinese relatives of passengers on Flight 370 arrived in Malaysia on Sunday to demand to meet top officials for more information about what happened to the airliner that has been missing for more than three weeks.
Two-thirds of the 227 passengers aboard the Malaysia Airlines plane that disappeared 8 March en route to Beijing from Kuala Lumpur were Chinese, and Beijing has urged Malaysia to be more open about the investigation.
As the 29 family members arrived in Kuala Lumpur, the search for the missing airliner was continuing with 14 aircraft from seven different countries scouring an area in the southern Indian ocean about the size of Norway.
The Australian Maritime Safety Authority (AMSA) said an Australian navy ship with a US-supplied "black box" locator on board had been dispatched to the area 1,800km west of Perth.
Debris sightings by Chinese, Australian and New Zealand planes on Saturday did not yield any solid clues in one of aviation's greatest mysteries, compounding the frustration of families who have been waiting more than three weeks to discover the fate of their loved ones.
The relatives of the Chinese passengers were ushered through a VIP area at the airport when they arrived in Kuala Lumpur and led onto two large buses that drove them to a hotel about half an hour away.
About 30 Malaysian volunteers in pale blue polo-shirts led the relatives from the buses to the hotel. Some of the volunteers linked arms to prevent reporters from getting near and nudged cameramen aside.
The Chinese were mostly reticent. Some wore white T-shirts with light blue Chinese characters that said "Praying that MH370 returns home safely."
A man named Jiang Hui said the relatives would speak at greater length later.
"Now that we've come here, we will disseminate comments in a unified way. We don't reject the media, but please give us a bit of time."
Another man who gave only his surname, Xu, said in brief comments that the relatives want to meet officials "at the very highest levels."
In Beijing before they boarded the flight, one relative said they would demand to meet the prime minister and the defence minister, who is the chief spokesman for the government.
"We have questions that we would like to ask them in person," said Wang Chunjiang, whose younger brother, lawyer Wang Chunyong, was on flight MH370.
"We know what we can do is insignificant, but we will do whatever we can do for our beloved ones," said Wang, who was unable to make the trip because of a family issue. "We want to know what could have happened to them in the six hours the plane kept flying, and if they had to endure any mental and physical pains."
He said some relatives were hoping for a miracle. "It cannot be completely ruled out before we see the wreckage of the plane or the bodies of our loved ones."
When Malaysian prime minister Najib Razak confirmed on March 24 that based on radar and satellite analysis the plane had crashed somewhere in the southern Indian ocean, there were lingering questions because there was no physical evidence.
That wariness on the part of the relatives has been fuelled by the missteps at the beginning of the search, which started in waters off Vietnam, then swung to areas west of Malaysia and Indonesia, and then as radar and satellite information was further analysed, to southwest of Australia and now to a second zone farther northeast.
Later Sunday, Ong Ka Ting, the Malaysian prime minister's special envoy to China, went to the hotel to greet the relatives.
"I'm sure in Beijing they've already had a lot of discussions and we understand their feelings, and we know that definitely by coming over here there will be a lot more discussions and meetings," Ong said. " So we try our best to assist them."
In Perth, Australia, where the search is based, Australia set up a coordination centre for the multinational operation. Possibly in anticipation that wreckage of the plane will be found, officials said the centre will also be a contact point for the families, including interpreter services and counseling.
http://www.nst.com.my/latest/font-color-red-mh370-font-sar-activities-for-day-23-concluded-with-252-000-sq-km-searched-1.540667
30 March 2014

| last updated at 10:55PM
MH370:

SAR activities for day 23 concluded with 252,000 sq km searched
PERTH: Search activities for Sunday have now concluded. Approximately 252,000 square kilometres were searched.
Today's search activities involved a total of nine aircraft.
They included two Royal Australian Air Force (RAAF) P3 Orions, a Japanese P3 Orion, a Chinese
People's Liberation Army Air Force Ilyushin IL-76, a Republic of Korea Navy P3 Orion, a United States
Navy P8 Poseidon, a Royal Malaysian Air Force C-130 Hercules and two civil aircraft.
Eight ships were tasked in the MH370 search area with a merchant ship also transiting through the area.
This represents the greatest number of ships tasked in the search to date.
Aircraft in the search area have continued to report sightings of objects similar to those reported
previously. Objects sighted by aircraft cannot be verified or discounted as being from MH370 until they
are relocated and recovered by ships. Nothing has yet been verified as being from MH370.
A number of objects were retrieved by HMAS Success and Haixun 01 yesterday. The objects have been
examined on the ships and are not believed to be related to MH370. The objects have been described
as fishing equipment and other flotsam.
The weather in the search area was described as reasonable for searching. Visibility was reported as
being in excess of 10km.
The ADV Ocean Shield is scheduled to depart from Perth tomorrow, having been fitted with a black box
detector and an autonomous underwater vehicle .
The search will resume in the morning subject to weather conditions.
Source: AMSA
http://www.nst.com.my/latest/font-color-red-mh370-lost-in-indian-ocean-font-australia-hopeful-as-more-items-pulled-from-sea
30 March 2014
| last updated at 03:27PM
MH370 Lost in Indian Ocean:

Australia hopeful as more items pulled from sea
PERTH, Australia: Australia's prime minister said he was hopeful a clue will emerge soon to narrow the hunt for Flight 370, as more objects were pulled from the southern Indian Ocean and checked to see if they were part of the plane that went missing more than three weeks ago.
But so far, even though more ships are scouring the area off western Australia, none of the recovered items has been connected to the Malaysia Airlines plane that crashed March 8 with 239 people on board.
"My understanding from this morning is that there has been no discrete debris associated with the flight," Australian Navy Commodore Peter Leavy told reporters.
In Sydney, Australian Prime Minister Tony Abbott described the "intensifying search effort" as positive because objects "have been recovered from the ocean."
The Australian Maritimes Safety Authority said 10 planes took part in the search today, leaving in staggered times from the western city of Perth. Eight ships were on the scene, including the Australian navy supply ship HMAS Success, which is to store any wreckage found.
The ships are trying to locate and identify the objects sighted by aircraft over the past two days.
Leavy, the commander of the search task force, said the operation was made more difficult because the particular area being combed is in a shipping lane littered with potentially more floating objects.
AMSA said there were light showers and low cloud in the area, but not enough to disrupt the search, which is about 2 ½ hours flying time from Perth, allowing the planes five hours of searching time before they have to return to base.
Among the objects spotted over the last day were three by a Chinese Ilyushin IL-76 plane that were white, red and orange, according to a report from China's official Xinhua News Agency said. The missing Boeing 777's exterior was red, white, blue and gray.
In Kuala Lumpur, several dozen Chinese relatives of passengers on Flight 370 arrived Sunday to demand to meet top officials for more information about what happened to the airliner.
Newly analysed satellite data shifted the search zone on Friday, raising expectations that searchers may be closer to getting physical evidence that the plane crashed into the Indian Ocean.
The change came after analysts determined that the Boeing 777 may have been traveling faster than earlier estimates and would therefore have run out of fuel sooner.
That would narrow the hunt for the wreckage and the plane's black boxes, which should contain clues to what caused the plane to be so far off-course.
An Australian warship with an aircraft black box detector was set to depart today to join the search. It will still take three to four days for the ship, the Ocean Shield, to reach the search zone — an area roughly the size of Poland about 1,850 kilometres (1,150 miles) to the west of Australia.
"The ship will take part in the surface search until the debris is positively identified and an underwater search area is then predicted," U.S .Navy Captain Mark Matthews told reporters in Perth.
The Ocean Shield will be equipped with a black box detector — the U.S. Navy's Towed Pinger Locator — and an unmanned underwater vehicle, as well as other acoustic detection equipment.
But even if investigators can determine that the plane went down in the newly targeted search zone, recovery of its flight data and cockpit voice recorders could be complicated.
The sea floor within the search area is covered in squishy sediment and generally flat, save for a steep slope and trench near its southern end.
Unless the plane's fuselage went down the slope or into the trench, the underwater geography should not hinder the search.
The area is dominated by Broken Ridge, a plateau where depths range from as shallow as about 800 meters (2,625 feet) to about 3,000 meters (9,843 feet).
At the edge of the plateau closest to Antarctica is the Diamantina trench, which sea floor mappers have found is as deep as 5,800 meters (19,000 feet), though it could be deeper in places that have not been measured.
Matthews said the Navy's ping locator has the "capability to do search and recovery operations down to a depth of 20,000 feet."
Data on the black boxes may help investigators solve what has become one of aviation's big mysteries — what happened to Flight 370, with speculation ranging from equipment failure and a botched hijacking to terrorism or an act by one of the pilots.
Abbott also announced that former Australian defence chief, Air Chief Marshal Angus Houston, will lead a new centre in Perth to coordinate the international search effort. --AFP
http://www.thestar.com.my/News/Nation/2014/03/30/MH370-crash-deep-sea-search-tools-ready/