Late day news......
China "Ready To Cooperate" With Crimea
Submitted by Tyler Durden on 03/18/2014 17:00 -0400
China, having abstained from voting against Russia in the UN
, has been relatively quiet during this crisis... until now... As
ITAR-TASS reports
, spokesperson for China's Ministry of Commerce Shen Danyang said that while "the situation in Ukraine remains tense," and they are watching developments,
"we are ready for cooperation with Crimea after the situation there gets back to normal."
This appears to implicitly recognize Crimea as its own region - as opposed to part of Ukraine - even after this morning's "very strict anti-secessio One China policy" comments.
China will develop cooperation with Crimea after the situation in the republic stabilizes, spokesperson for China's Ministry of Commerce Shen Danyang told a news conference on Tuesday.




Commenting on the results of Crimea's referendum and the future of China's investment projects, the spokesman said:"The situation in Ukraine remains tense. We are closely following the latest developments."




"Trade cooperation between China and Ukraine continues to develop as usual," he said. "However, devaluation of Ukraine's currency will have a certain impact on Ukrainian-Chinese trade relations."




Shen stressed that the current situation was "temporary".




"China will continue developing mutually-beneficial cooperation," he said. "We hope that the situation in Ukraine will stabilize very soon. As for Crimea, we are ready for cooperation after the situation there gets back to normal."
Is China stirring? By specifiying trade deals with Ukraine and Crimea separately?
This follows earlier comments that appeared to be anti-Russia to some extent:
"China always respects the sovereignty and territorial integrity of all states. The Crimean crisis should be resolved politically under the frameworks of law and order. We call on all sides to remain calm and exercise restraint to avoid further escalation of the tension," said Chinese Foreign Ministry Spokesman Hong Lei.




"China has a very strict anti-secession One-China policy."
Ukrainian Military "Authorized" To Use Live Ammo For Self-Defense
Submitted by Tyler Durden on 03/18/2014 13:53 -0400
So, "supporters" of one side that has promised not to escalate (but believes the region belongs to them based on an overwhelming vote) has killed a soldier from the other side (which has promised to respond) as he defended a military base for his country...
*UKRAINE DEFENSE MINISTRY SPOKESMAN MOTUZYANYK SPEAKS BY PHONE
*UKRAINE AUTHORIZES LIVE AMMO USE FOR SELF DEFENSE: MOTUZYANYK
*UKRAINE AUTHORIZES LIVE AMMO AFTER CRIMEA DEATH: MOTUZYANYK
*UKRAINE LIVE AMMO AUTHORIZATION IN CRIMEA ONLY: SENYK
Does that mean war has started?
Is This The Provocation? Ukraine Soldier Allegedly Killed By Russians In Crimea
Submitted by Tyler Durden on 03/18/2014 12:24 -0400
As feared earlier, the attack by "unidentified" forces on a Ukrainemilitary base in Semferopol has resulted in fatalities:
*UKRAINE SOLDIER KILLED AFTER UNIDENTIFIED GUNMEN STORMED BASE
*UKRAINE SOLDIER'S DEATH IN CRIMEA CONFIRMED BY DEFENSE MINISTRY
And two further "self-defense" fighters are injured. Once again it seems the market misread Putin's comments and one wonders how will Turchynov respond?



The incident occurred in Crimea's main city of Simferopol, regional defence ministry spokesman Vladislav Seleznyov said, without specifying whether the base was stormed by Russian soldiers or pro-Kremlin militia who also patrol the peninsula.
Via Interfax,
One self-defense fighter has been killed and two more injured in Simferopol, according to the Crimean news agency which cited a source in the republic's Interior Ministry.




The self-defense fighters were shot by a sniper from an uncompleted building opposite a Ukrainian military base, the source said.



Ukraine Prime Minister Says Crimea Conflict Has "Moved From Political To Military Stage"; 1 Dead
Submitted by Tyler Durden on 03/18/2014 11:43 -0400
UDPATE:

*UKRAINE SERVICEMAN KILLED IN CRIMEA ATTACK:RTRS CITING INTERFAX
More headlines, more buying fuel for the algos, and apparently another step closer to all out war:
CONFLICT IN CRIMEA HAS MOVED FROM POLITICAL TO MILITARY STAGE - UKRAINIAN PM YATSENIUK

UKRAINIAN PM SAYS HAS ASKED DEFENCE MINISTER TO ORGANISE URGENT MEETING WITH RUSSIAN, BRITISH, U.S. COUNTERPARTS
UKRAINIAN PM: "TODAY RUSSIAN SOLDIERS BEGAN SHOOTING AT UKRAINIAN SERVICEMEN. THIS IS A WAR CRIME"
What, still reading? Run, run, run to your nearest Virtu colocated terminal and BTFWWWIIID already!.
Translation: One killed Vladislav Seleznevone person was killed during the assault 13 fitz. This Ukrainian soldier was on duty on the part of the park.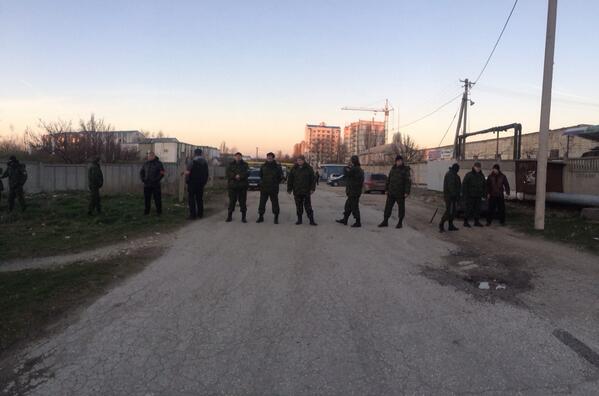 and.....
Putin speech ..... risk on after speech ?
Submitted by Tyler Durden on 03/18/2014 - 08:14
One of the things that Putin failed to mention in his nearly hour-long annexation speech, was the topic of retaliation to Western sanctions, leading many to assume he wouldn't even bother. Moments ago Reuters provided some clarity on this issue:
President Vladimir Putin said on Tuesday that Western attempts to frighten Russia with sanctions over its takeover of Ukraine's Crimea region would be viewed as an act of aggression, and that Moscow would retaliate.
We expect details wil be forthcoming, and that the west, whose every bluff has been called, and every gambit has failed, will need another teleprompted conference by the leader of the "Free world" Obama, explaining - once again - just what the costs, red lines, and escalating sanctions against Russia will be.
Submitted by Tyler Durden on 03/18/2014 - 08:18
It's deja vu all over again in markets this morning as the fact that Vladmiti Putin did not use the words "we're gonna nuke 'em all" and, just as he did 2 weeks ago, confirmed "Russia would not seek confrontation in West and East" and did not announce sanctions (which last time ended with the referendum and annexation of Crimea); has left algos believing that the world is calm once again and the buying spree can continue. Stocks, thanks to the helping momo-sparking hand of EURJPY, have jerked another 12 points higher on the news; gold and silver are limping lower; there is dollar weakness (EUR strength); and Treasury yields are up 3-4bps. However, Russian stocks and the Ruble continue to strengthen (in a nothing can hurt us now manner).
Putin: Crimea similar to Kosovo, West is rewriting its own rule book
Published time: March 18, 2014 11:08
Edited time: March 18, 2014 11:54
The referendum on independence in Crimea was conducted in strict accordance with democratic principles and the international law, President Vladimir Putin told the Federal Assembly, as he was welcomed by a standing ovation.
Putin stressed that the results of the referendum, in which more than 82 percent of Crimean residents came to polling stations and more than 96 percent of those voted for rejoining Russia, leave no room for equivocation.
He said the history of Crimea, its cultural, religious and spiritual ties bind it with the peoples of Russia, Ukraine and Belarus, which explains the attitude Russians have towards the peninsula.
The president said Crimea had dark pages in its past, particularly the persecution of Crimean Tatars and other minorities in the USSR. The authorities of Crimea seek to recompense for those ills. One such move would be accepting the language of Crimean Tatars as an official language in Crimea on par with Russian and Ukrainian.
Putin lashed out at former Soviet leader Nikita Khrushchev, under whose rule Crimea was attached to the Soviet Ukraine without any regard for Crimeans' wishes and in violation of the laws of the time.
Crimean separation from Russia was reinforced again after the split of the Soviet Union, Putin said. This could be partially blamed on Moscow too, as it hailed the so-called "parade of sovereignty" of the Soviet Republics.
and........
Putin Formally Annexes Crimea, City Of Sevastopol To Russian Federation
Submitted by Tyler Durden on 03/18/2014 07:53 -0400
And there it is:
PUTIN ASKS FOR CRIMEA, CITY OF SEVASTOPOL TO BE ADDED TO RUSSIA
PUTIN SAYS WILL SUBMIT DRAFT LAW ON BRINGING CRIMEA INTO RUSSIA TO PARLIAMENT ON TUESDAY
PUTIN CALLS FOR RATIFICATION OF TREATY ON CRIMEA, SEVASTOPOL
And the inevitable conclusion:
RUSSIA, CRIMEA, SEVASTOPOL SIGN AGREEMENT ON ENTERING ACCESSION
And futures, stocks, and risk in general is soaring, sending the Kremlin precisely the message it needs to know that there is absolutely nothing wrong with this. Perhaps if Russia had annexed all of Ukraine, or the Baltics, or maybe even Poland, the S&P would have soared over 2000 already?
From Anti- War.....
Army 'Ready for Combat' Over Crimea
by Jason Ditz, March 17, 2014
While insisting they remain committed to "diplomacy" in their ongoing dispute over possession of the Crimean Republic, Ukraine's interim government today announced a
full military mobilization
, preparing for war.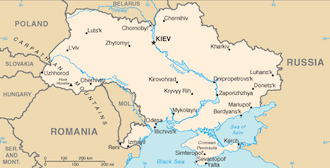 Many in the newly installed Ukraine government see war with Russia as inevitable, and the military is
digging defensive trenches
along their eastern border with Russia, while officials pledge harsh crackdowns against ethnic Russians in Donetsk, who supported the ousted elected government and have protested the new one.
Interim Defense Minister Ihor Tenyukh insisted that Crimea "will be our territory," and that the troops still deployed in Crimea will not withdraw. Russian and Ukrainian officials announced a "truce" over those bases until Friday, hoping cooler heads would prevail.
Yet protest leader Vitali "Dr. Ironfist" Klitschko insisted that Friday won't change anything, and the troops will remain beyond the date to control the bases.
Interim Justice Minister Pavlo Petrenko insisted that between now and Friday the Army needs to be "ready for combat" and that the interim government's goal is "to restore the military might of Ukraine."
Despite the bellicose talk, Sen. John Barrasso (R – WY) says interim PM Arseniy Yatsenyuk told him a quite different story of a military where "
nothing flies, nothing shoots and nothing works,
" and urged major US military aid for his country. Though President Obama has pledged support for Ukraine's new government regaining control of Ukraine, so far they have stopped short of pledging military backing for a war against Russia.
Live updates 3/18/14.......
http://rt.com/news/kiev-clashes-rioters-police-571/
Tuesday, March 18
02:35 GMT:
Tokyo is set to impose sanctions against Russia after it recognized Crimea as an independent state, a top government spokesman said on Tuesday. The "Japanese government does not recognize the referendum in Crimea," Chief Cabinet Secretary Yoshihide Suga has said. As part of the sanctions Japan will suspend talks on an investment pact and relaxation of visa requirements. "The recognition of Crimean independence by Russia violates Ukraine's sovereignty and territorial integrity and is regrettable," Suga told a news conference.
01:21 GMT:
Crimea is self-sufficient in terms of food stocks for at least a month in case there is a disruption in supply, Interfax quoted Crimea's Deputy Prime Minister Rustam Temirgaliev as saying in an interview to 'Rossiyskaya Gazeta'. Temirgaliev also said that Crimea has gas reserves for a year.
01:21 GMT:
As a new Russian entity Crimea will be incorporated into existing development programs only in two to three years, Regional Development Minister Igor Slyunyaev said in an interview with Kommersant to be released Tuesday.
00:39 GMT:
Fireworks lit up the night as more than a thousand supporters celebrated the result of the Crimean referendum at a pro-Russia rally in Sevastopol on Monday, Ruptly news agency reports.
Participants waved Russian flags while chanting slogans such as "Crimea, Sevastopol, Russia,""Fascism will not pass" and "Thank you Putin," and donned clothes that featured the Russian colours and symbols.
Monday, March 17
23:41 GMT:
The head of Ukraine's Donetsk regional administration Sergey Taruta along with his brother used their own finances to dig a trench on the border with Russia to reportedly ensure security in the area, Interfax Ukraine reported.
22:51 GMT:
Russia will ask Ukraine to pay $20 billion debt dating back to the Soviet Union era, if Kiev tries to revise the agreement that regulated the partition of property upon the dissolution of the USSR, Itar-Tass quoted Russia's Foreign Ministry as saying.
21:39 GMT:
Canada has introduced additional sanctions following the Crimean referendum. Canadian Prime Minister Stephen Harper announced new economic sanctions and travel bans against some Russian and Ukrainian officials "responsible for the crisis".
"Today, our Government is announcing additional sanctions that will serve to further isolate Russia from the international community," Harper said in a statement. "Targeted sanctions through regulations under the Special Economic Measures Act build on sanctions already in place, and are being imposed against senior Russian officials as well as additional Ukrainian officials. The individuals targeted are responsible for undermining the sovereignty and territorial integrity of Ukraine and for facilitating Russian military action against Ukraine."
20:41 GMT:
Delegates of the Inter-Parliamentary Union that met in Geneva refused to consider a resolution on the recent events in Ukraine, titled "Russian aggression against Ukraine". The resolution was submitted by the delegations of Ukraine and Canada, which demanded that Moscow withdraw its troops from the territory of Crimea.
20:40 GMT:
UK proposed to give NATO its RAF fighters to participate in a mission to patrol the airspace in Eastern Europe beginning at the end of April, AP quoted the British Defense Minister Philip Hammond as saying in an address to the British Parliament.
20:25 GMT:
Germany and the European Union did not seek sanctions against 21 individuals alleged to be connected to the unstable political situation in Crimea, but were forced to do so following the Crimean referendum that was 'in clear breach' of international law, German Chancellor Angela Merkel said during a press conference in Berlin on Monday, Ruptly news agency reports.
Merkel's words came as she met with Italian Prime Minister Matteo Renzi. The Chancellor also added that she believed continued diplomatic discussions are the key to solving the crisis.
19:43 GMT:
Crimea's Sunday referendum will worsen an "already complex and tense situation" in Ukraine, UN Secretary-General Ban Ki-moon was quoted by the spokesperson Stéphane Dujarric on Monday. "He encourages all parties to work for a solution that is guided by the principles of the United Nations Charter, including respecting Ukraine's unity and sovereignty," said Dujarric.
17:53 GMT:
France "may consider" cancelling the sale of Mistral-class warships to Russia in the case of further escalation in Ukraine, French media quoted the French Foreign Affairs Minister Laurent as saying.
15:42 GMT:
Ukraine recalled its ambassador to Russia for consultations, Itar-Tass reported, quoting the Information Policy Department of Ukraine's Foreign Ministry.
15:00 GMT:
Ukraine recalled its ambassador to Russia on Monday for consultations on the international ramifications of the situation in its Crimea region, which has voted to join Russia.
"In connection with the situation in Crimea and the necessity of discussing some of its international aspects, the Ukrainian side is recalling its ambassador to the Russian Federation, Vladimir Yelchenko,"the Foreign Ministry said. (Reuters)
14:54 GMT:
The names of Russian individuals who fall under the EU's additional sanctions have been compiled independently of the US and without consultations with the Western neighbor, EU's foreign policy chief Catherine Ashton said during a press-conference.
14:29 GMT:
The US has
imposed
sanctions against Russian and Ukrainian officials on Monday, with the White House
stating
that
"the actions and policies"
of the Russian government with respect to Ukraine
"undermine democratic processes and institutions in Ukraine; threaten its peace, security, stability, sovereignty, and territorial integrity; and contribute to the misappropriation of its assets."
13:54 GMT:
NATO and Ukraine confirmed the intention to expand military cooperation and further develop Ukrainian military capabilities, Itar-Tass quoted NATO Secretary General Anders Fogh Rasmussen as saying after a meeting in Brussels.
13:31 GMT:
The border crossing procedures will change within two months, Crimean Prime Minister Sergey Aksyonov said.
"There will be a transitional period for some time. I think that in two months these problems will be solved," he said. There is no customs "in the direct sense," he said, adding that "we do not prevent goods crossing the border, we don't have customs clearance."
The prime minister said that the transitional period will be "soft enough" for entrepreneurs to regroup in accordance with the Russian legislation to sign new contracts. "Now everything is being developed, and in a day or two we will issue the appropriate declaration."
12:55 GMT:
European Union foreign ministers have agreed to impose sanctions including travel bans and asset freezes on 21 officials from Russia and Ukraine, Lithuania's foreign minister said on Monday.
After a meeting lasting around three hours, the EU's 28 foreign ministers quickly reached agreement on the list of those to be sanctioned.
"(Foreign Affairs Council) just agreed on sanctions - travel restrictions & assets freeze against 21 officials from Ukraine & Russia," Linas Linkevicius wrote in a message on Twitter.
He added that more measures would follow in a few days, when EU leaders meet for a summit in Brussels. They are expected to expand the list to include more senior figures closer to Russian President Vladimir Putin. (Reuters)
12:42 GMT