http://www.zerohedge.com/news/2014-03-31/former-chinese-president-asks-current-one-curb-crackdown-criminals-and-corruption
( Hitting close to home ? )
Former Chinese President Asks Current One To Curb Crackdown On Criminals And Corruption
Submitted by Tyler Durden on 03/31/2014 13:45 -0400
When one reads stories such as the following
report from the FT,
in which we learn that former Chinese president Jiang Zemin "has urged the current leadership
to rein in an anti-corruption campaign that is proving the harshest in decades and is seen as threatening the interests and networks of some Communist party elders
", or said otherwise -
his cronies
, aside from being utterly speechless at the rapid unravelling of the bizarro world, all one can say is - expect such developments in the US in a few years time, when then former president Obama asks Clinton, Christie or whoever the then-reigning dictator of the totalitarian states of America is, to take it easy on the Corzines of the world.
Mr Jiang, who stepped down as president of China in 2003 but retained control of the military for a further two years, has sent a clear signal in the past month to Xi Jinping, the president, according to three people familiar with the matter. Mr Jiang sent a message saying "the footprint of this anti-corruption campaign cannot get too big" in a warning to Mr Xi not to take on too many of the powerful families or patronage networks at the top of the party hierarchy.




Former President Hu Jintao, who was replaced by Mr Xi a year ago, has also expressed reservations about the anti-corruption drive and warned his successor not to expand it too far, according to one person involved in executing the campaign.




President Xi has made tackling corruption and official largesse the centrepiece of his presidency, vowing to tackle powerful "tigers" (high-ranking officials) as well as "flies" at lower levels in the bureaucracy.




...




Apart from concerns about attacks on their patronage networks, Mr Hu and Mr Jiang are worried that a campaign that lasted too long and was too harsh could erode support among the Communist party's rank and file and threaten the stability of its rule.




Using corruption allegations to purge a high-ranking official is a time-honoured tradition for new presidents in China.
Obivously China's oligarchs, or at least those among them who were true to Zemin if not so much to Jinping, are starting to sweat bullets if they have resorted to such an unprecedented appeal in public media which naturally will reflect as weakness on the current president if he relents, which probably means the crackdown will only accelerate in the coming months.
This is important because as we have reported previously, as a result of Xi's "anti-corruption" campaign, Chinese domestic demand has fallen precipitously in recent months, and has gone so far as to reverberate across the global economy where the Chinese have become the de facto marginal consumer of luxury goods and services.d
[T]he length and severity of the current campaign has had more of an impact on behaviour than in the past, according to business people and officials, who say that conspicuous consumption is off the agenda these days.




Most global luxury companies have reported declining Chinese sales of their products, which have been favoured as gifts and bribes for officials for years.




In the past few weeks, producers of high-end spirits like Diageo, Pernod Ricard and Rémy Cointreau have reported double-digit first-half collapses in sales in China and have explicitly blamed Beijing's austerity drive for their woes.
In other words, please tolerate China's criminals otherwise who else will buy overpriced Chanel bags, while wearing just as overpriced Louboutin shoes and chugging Cristal.
And since in the US it's increasingly "only fair" to redistribute wealth, the Chinese definition of "fairness" increasingly involves the stretching of the term justice, which is applicable to most... just not the uber wealthy criminals that built up their stolen wealth during some previous administration.
China seizes $US14.5bn assets linked to ex-spy chief Zhou Yongkang - report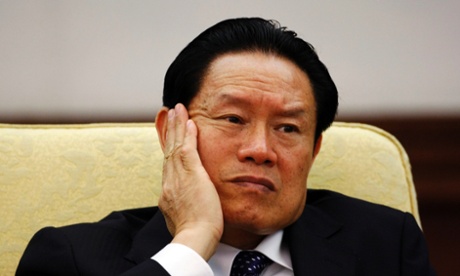 Chinese authorities have seized assets worth at least 90bn yuan ($US14.5bn) from family members and associates of retired domestic security chief Zhou Yongkang, who is at the centre of China's biggest corruption scandal in more than six decades, two sources said.
More than 300 of Zhou's relatives, political allies, proteges and staff have also been taken into custody or questioned in the past four months, the sources told Reuters.
Prosecutors and the party's anti-corruption watchdog had frozen bank accounts with deposits totalling 37bn yuan and seized domestic and overseas bonds with a combined value of 51bn yuan after raiding homes in Beijing, Shanghai and five provinces.
Investigators had also confiscated about 300 apartments and villas, antiques and contemporary paintings and more than 60 vehicles, the sources added. Other items seized included expensive liquor, gold, silver and cash in local and foreign currencies.
According to the sources, the seized assets had a combined value of at least 90bn yuan
The sheer size of the asset seizures and the scale of the investigations into the people around Zhou - both unreported until now - make the corruption probe unprecedented in modern China and would appear to show that President Xi Jinping is tackling graft at the highest levels.
But it may also be driven partly by political payback after Zhou angered leaders such as Xi by opposing the deposing of former high-flying politician Bo Xilai, who was jailed for life in September for corruption and abuse of power.
Zhou, 71, has been under virtual house arrest since authorities began formally investigating him late last year. He is the most senior Chinese politician to be ensnared in a corruption investigation since the Communist Party swept to power in 1949.
"It's the ugliest in the history of the New China," said one of the sources, who has ties to the leadership and has been briefed on the investigation.
The government has yet to make any official statement about Zhou or the case against him and it has not been possible to contact Zhou, his family, associates or staff for comment. It is not clear if any of them have lawyers.
The party's anti-corruption watchdog and the prosecutor's office did not respond to requests for comment. In the secretive world of China's Communist Party, targets of its investigations usually disappear, often for months or even years, until an official announcement is made.
Xi ordered a task force formed in late November or early December to look into accusations against Zhou, sources have previously told Reuters. They have not said what the allegations were except that they were related to violating party discipline, official jargon for corruption.
A third source with ties to the leadership said Zhou had refused to cooperate with investigators, insisting he was the victim of a power struggle.
"Zhou Yongkang is tough and claims it's political persecution," the source said.
Zhou rose through the ranks of China's oil and gas sector before joining the elite politburo standing committee in 2007, where as domestic security chief his budget exceeded defence spending. He retired in 2012 and was last seen at an alumni event at the China University of Petroleum on 1 October.

The first two sources added that more than 10 of Zhou's relatives had been detained. They included Zhou's one-time television reporter wife Jia Xiaoye, his eldest son from a previous marriage Zhou Bin, Zhou Bin's in-laws and Zhou Yongkang's brother.
About 10 officials who held a rank equivalent to at least vice minister were also under investigation, the sources said.
Among them were Jiang Jiemin, former chairman of both state energy giant PetroChina and its parent China National Petroleum Corporation (CNPC), former vice minister of public security Li Dongsheng and Ji Wenlin, ex-vice governor of the southernmost island province of Hainan.
Chinese state media has announced that all three were being investigated for serious violations of discipline. They were either proteges or aides to Zhou.

More than 20 of Zhou's bodyguards, secretaries and drivers had also been detained, the sources said. Many other family members and associates had been questioned.
Zhou Yongkang's 10-year Secretary Ji Wenlin
Has Fallen
Zhou Yongkang's former secretary was removed from Hainan Vice Governor position.2014-03-29 04:31 PM EST




On March 27th, the Standing Committee of Hainan's Provincial People's Congress voted to remove Ji Wenlin from vice governor position. His delegate position to the People's Congress was also terminated.

On February 18th, the CCP's Central Discipline Inspection Commission released news that Ji was under investigation. Two days later the Organization Department announced that Ji was dismissed from office by the party's Central Committee.

Ji Wenlin's sudden fall, like his earlier rapid promotion, attracted a lot of media attention. Many Chinese had noticed Ji's close relationship with former Politburo Standing Committee member Zhou Yongkang.

Born in July 1966, Ji Wenlin comes from Liangcheng County, Inner Mongolia.
He had held positions including Ministry of Land and Resources, Ministry of Public Security and Sichuan government. He also worked as Zhou Yongkang's personal secretary for 10 years.

Between 1998 and 2000, Ji worked as secretary of the minister for National Land and Resources. Zhou Yongkang was the first head of that department after
it was established in 1998.

In 1999, Zhou was moved to the position of Sichuan's provincial party secretary. In December 2002, Zhou became the minister for Public Security. Ji Wenlin was vice departmental-level secretary of Sichuan's Provincial General Office between 2002 and 2003. Then Ji worked as the deputy director of the General Office for Public Security in 2003, again was secretary of the minister Zhou Yongkang.

In 2007, Zhou was promoted to be Politburo Standing Committee member and head of the Central Political and Legal Affairs Commission. Ji shortly after became director of the General Office for Land and Resources. In 2010, he was moved to Hainan province, working as vice party secretary and deputy mayor of Haikou city. He was later promoted to vice provincial-level positions such as mayor of Haikou and vice governor of Hainan.

Hua Po, Beijing Political Observer: "He (Ji Wenlin) was promoted to vice provincial-level at such an young age exactly because he was once Zhou Yongkang's secretary. The connection between Ji and Zhou is really very special. A Chinese saying is "When the tree falls, the monkeys scatter'. Probably Ji had been deeply trapped in Zhou's faction."

Observers believe that Ji's sacking indicates that Xi Jinping is currently close to striking Zhou Yongkang himself with his anti-corruption movement.

Hua Po:"Zhou is already under arrest. It is just about how he will be sentenced. Some say he will possibly be executed. I would say that is possible. If all of Zhou's numerous crimes are announced to the public, the CCP would lose all its legitimacy in governing the country. For example, the abuse against Falun Gong practitioners is an issue that the party never wants to touch."

After Ji's dismissal was officially announced, Chinese media followed up to do their propaganda work. The Beijing News directly mentioned Ji was once Zhou
Yongkang's secretary, both on its weibo and published report on February 19. Chinese portal site Sohu's Finance Channel also wrote: "A huge net is being closed from Chengdu city in Sichuan to the headquarter of PetroChina in Beijing".

The CCP never admits or denies the strike against Zhou Yongkang, However, since February a group of high-level officials close to Zhou have been arrested. Besides Ji Wenlin, the list includes Sichuan billionaire Liu Han, Beijing municipal spy chief Liang Ke, Shenyang Chief Prosecutor Zhang Dongyang and former Liaoning provincial director for public security, Li Wenxi. Each case has made people believe more that Zhou's arrest will follow soon.

In March, Hong Kong's Dongxiang magazine reported an internal notice issued by the special investigation team against Zhou Yongkang and his family on March 3. The notice said, Zhou's family was believed to have illegally accumulated wealth of over 100 billion Yuan ($16.1 billion), including over 300 private houses. The report has yet to be confirmed by the CCP.

Hong Kong's Open magazine published another article titled "Zhou Yongkang's lifeline" on March 15. The article quoted sources that "The CCP had defined Zhou's case as the worst corrupt group since 1949". "Party leaders had reached agreement on the statement".

Ren Baiming, Political Commentator: "There is no way to turn back as Zhou's case has progressed to this current situation. Zhou will not be given any chance to fight back. Now it is only a matter of time. Zhou's arrest will be announced sooner or later. Nothing can stop that from happening."

The Epoch Times commented that, the collapse of Zhou Yongkang's faction is directed against his most serious crime; live organ harvesting of Falun Gong practitioners.

Recently, Ji Wenlin was removed from Hainan Vice Governor position. Ji was previously the secretary to Zhou Yongkang, former head of the Chinese Communist Party (CCP) Political and Legal Affairs Committee. According to the official record, Ji Wenlin's political career is closely related to Zhou Yongkang. Commentators said Ji's sacking should be regarded as part of the cleaning up of Zhou's followers.



China Sacks Ally of Zhou Yongkang as Graft Probe Widens
The ruling Communist Party's

anti-corruption

watchdog announced in February that Ji was being investigated for suspected serious breaches of party discipline and the law, the usual euphemism it uses for graft.

[...] Ji worked with Zhou when Zhou was land resources minister in the late 1990s. He then followed Zhou to Sichuan province and became one of his secretaries when Zhou was provincial party boss, Ji's official resume shows.

The two also worked together in the Ministry of Public Security in the early 2000s. In late 2010, Ji was shifted to Hainan province, known in China for its pristine beaches and resorts. [

Source

]
Liu Han and 35 others, including his 44-year-old brother Liu Wei, will be tried in separate courts in Xianning city, China News Service reported, citing a court announcement.

Liu Han faces 15 charges, including of murder, financial crimes, running casinos and illegally selling firearms.

Prosecutors said he and his accomplices had accumulated nearly US$7 billion through their crimes and carried out at least nine murders, according to the indictment seen by the South China Morning Post.

Liu Han, 48, is the former chairman of Sichuan Hanlong, a privately owned conglomerate founded in 1997 that has been aggressively buying overseas assets in recent years and holds a stake in the Australian-listed iron ore miner Moly Mines.

[...] Liu was involved in at least two business deals with Zhou Bin in the early 2000s, according to the source and earlier media reports. [

Source

]
The investigation into Zhou is both extremely important and maddeningly opaque. FP is unable to confirm the veracity of the allegations the chart makes — that all of the people in it are connected to Zhou and that they played a role in his alleged misdeeds. Some of them, like his son

Zhou Bin

and tycoon

Liu Han

, are widely believed to be part of the case against Zhou — but much remains unknown. Thus far, Beijing has kept silent; Chinese officials do not publically utter Zhou's name. Perhaps the most concrete mention came in early March, in the run-up to China's annual congress (which includes the Chinese People's Political Consultative Conference, or CPPCC), when a party spokesperson obliquely referred to Zhou's situation as "you know what I mean." Following that lead, Chinese media began to call Zhou either "you know what I mean" — a phrase usually reserved for superstitiously cautious invocations of gods or demons — or to refer to him by his birth name, Zhou Yuangen. [

Source

]
The final aspect of Xi's war on corruption is a high flying aerial combat in which corruption often becomes a weapon in factional infighting. Any scandal involving a senior official is inherently political. At a minimum, prosecutors have to receive high-level political approval to look into allegations of corruption among top officials. High level scandals also create political opportunities. Xi's current campaign is no different. Triggered by the exposure of Neil Heywood's death and allegation that Bo Xilai's wife either killed him or had him killed, the current drive has spawned a series of investigations into corruption in the oil sector and Sichuan Province that seem to implicate former Politburo Standing Committee Member and former Chairman of the Central Committee's powerful Politics and Law Committee

Zhou Yongkang

. According to insiders, in the run up to the November 2012 Eighteenth Party Congress, Zhou had been pushing Chongqing Party Secretary, Politburo Member, and so-called "Red Princeling" Bo Xilai as a leftist counterweight to Hu Jintao's heir apparent Xi Jinping. Bo's abrupt fall from power clearly removed a potential political rival, while investigations into corruption involving PetroChina Chairman Jiang Jiemin, PetroChina Deputy Manager Li Hualin, Chengdu Party Secretary Li Chuncheng, Hainan Vice Governor Ji Wenlin, Vice Minister for Public Security Zheng Shaodong, former Sichuan Vice Governor Guo Yongxiang, , and former Chairman of the Hubei Party Committee's Politics and Law Committee Wu Yongwen, all of whom worked with Zhou at one point or another, enabled Xi – or others – to take out many of the now retired Zhou's protégés, as well as a large number of individuals linked to them in the business sector.

In recent weeks, several of Zhou's close relatives have been detained and it now seems only a matter of time before his son Zhou Bin, who believed to be in detention, is formally arrested and charged with taking advantage of his father's connections and power to build a business empire based on the energy and property development sectors. Rumors have also linked the younger Zhou to Liu Han, a Sichuan business tycoon recently arrested on charges he was actually the leader of an organized crime syndicate and that he had ordered the murder of a series of rival mobsters. Multiple signs in the official and unofficial media now seem to indicate that Xi will drag Zhou out, possible soon after the conclusion of the current National People's Congress session. If he does, Zhou will be the biggest tiger ever bagged and, perhaps more significantly, the biggest tiger bagged not because of an "accident" such as those that exposed Chen Xitong, Chen Liangyu, and Bo Xilai, but rather by a very systematic, step-by-step hunt that first bagged the tiger's "cubs" and then snared the king of the tigers himself. [

Source

]
Xi Jinping may be mandating this because, for him, Zhou Yongkang and his allies are first of all expendable. They showed disloyalty during the leadership transition and backed the wrong horse. But they also showed that, for them, the Party is a means to material gain and feathering their own nests, rather than governed by some higher political and moral purpose. For Xi, who has long said that officials should not seek vast fortunes, Zhou is the unvarnished enemy, someone who has evidently used the Party to create his own power base to protect the riches accrued by his network. Symbolically, decapitating Zhou is good domestic politics. It shows, against a largely helpless antagonist, that Xi is serious. Politically too it makes the world around Xi a little less complicated.

As Wang Xiaofang's novel makes clear, these battles are usually ones of attrition. It is likely there will be many moves in the days and months ahead, and it is possible that Zhou himself will be left alone, albeit isolated and largely under an informal type of house arrest. His fate rests on the calculations in the head of one man – Xi. Xi must decide if the value of finally reining Zhou in, and humiliating and prosecuting him, is worth it. If Xi thinks it is, then there is no reason to doubt that Zhou will be thrown to the dogs as ruthlessly as Bo Xilai was. Chinese politics is not a place for the sentimental. And Xi may well choose Zhou to make clear that he is no softy. [

Source

]
"The weapons of criticism and self-criticism should be well-wielded, with some spice to make every party official blush and sweat a little," Xi said during a visit to a rural area in central China's Henan province called Lankao, Xinhua said.

Each member of the ruling Communist Party's elite inner core, the Politburo Standing Committee, has been allocated a county where they oversee

anti-graft

efforts, and Xi has been given Lankao, Xinhua said.

"Party officials are required to check and report their own problems and mistakes while summarizing the flaws of their colleagues to disciplinary supervisors," Xinhua said.

Xi said rural areas were crucial to the party, as development can only happen with the good quality and competence of officials there.

He also urged officials to "reduce unnecessary social activities and keep healthy work and life styles". [

Source

]