Eight Others Also Wounded in Logar Strike
by Jason Ditz, March 06, 2014
The Pentagon has confirmed launching a drone strike against the Logar Province of Afghanistan today, hitting their allies in a case of mistaken identity. The strike
kill five Afghan National Army soldiers
, and wounded eight others.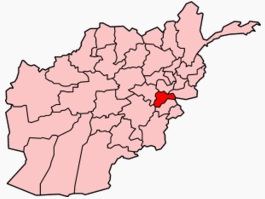 The provincial governor's spokesman said that the attack was "the result of poor coordination between the people on the ground and the operators of the drone." NATO
has promised an investigation
into the killings.
The soldiers were on a routine patrol in Charkh, which Afghan officials say is frequented by foreign insurgent fighters. Logar Province lies along the Pakistani frontier.
Other than confirming the incident, US officials would only say that they "value the strong relationship" they enjoy with the Afghan military. The US is pushing Afghanistan to sign a deal to keep occupation forces in Afghanistan "through 2024 and beyond."
Karzai brother to withdraw from Afghan presidential race: rival
(Reuters) - The Afghan president's brother is preparing to withdraw from the presidential elections according to a rival candidate, former Foreign Minister Zalmay Rassoul, who said late on Tuesday the two were planning an alliance and would join forces soon.
"We are in discussions about how we can join together, we have not reached yet a final result, but it is on the way," Rassoul said in an interview on the sidelines of a debate.
"Our negotiation is not finalized ... but you will know very soon."
With just one month to go until the vote on April 5, just three candidates appeared for Tuesday's televised debate on foreign policy, broadcast by Afghanistan's most popular channel.
The incumbent's brother, Qayum Karzai, widely seen as one of the front-runners, unexpectedly failed to show, fueling speculation that behind closed doors a fresh round of furious horse trading is setting the stage for the vote.
Rassoul and Karzai both belong to the same majority Pashtun ethnic group as the president, and an alliance between leading Pashtun candidates has been the focus of heated speculation in the capital as the election approaches.
If all goes according to plan, the vote will mark the country's first democratic transfer of power. The incumbent president, Hamid Karzai, is constitutionally barred from running for a third term.
The main opposition candidate, Abdullah Abdullah, who dropped out of a runoff against Karzai in the 2009 election, citing concerns about fraud, said he was not concerned about rivals joining forces. His base of support is in the Tajik community, mostly scattered across the north of the country.
"I also hear that there are negotiations between the candidates. ... I am not concerned at all," Abdullah said on the sidelines of the debate.
"I think the more they get together, the happier I will be; it will be a more clear-cut campaign."
American-style TV debates are something of a novelty in
Afghanistan
, where much of the country still has limited access to electricity and more than a third live below the national poverty line, according to the World Bank.
But in major cities like the capital Kabul, members of a more affluent class of Afghans say the debates are useful.
"I usually watch these debates. I like to know who has practical plans for the future of
Afghanistan
," said Saleh Mohammad, a 23-year-old shopkeeper in Kabul.
He was skeptical, though, of promises aired on television.
"Most of their future plans are not based on the current situation, they are ... presenting false or impractical plans."
To others in more remote areas, the debates are less of a concern.
"Where I live, there is no TV or radio to watch or listen to them," said Haji Janan, a farmer in southern Kandahar province.
Janan said insecurity prevented campaigners from reaching his district and he only saw pictures of the candidates in Kandahar city.
A fifth favorite to win was also absent, but the former Islamist warlord Abdul Rassoul Sayyaf has previously made a point of shunning TV debates in favor of campaign rallies.
The white-bearded and famously skilled orator presents himself as a bridge between warring factions, but his conservative views alarm women fearful of a rollback of hard-won rights.
Additionally, his reputation for having invited Osama bin Laden's al Qaeda to Afghanistan makes him a particularly unpopular choice in the West.
Interview: Karzai says 12-year Afghanistan war has left him angry at U.S. government
KABUL — Hamid Karzai was in the midst of negotiating a security agreement with the United States when he met a 4-year-old girl who had lost half her face in
an American airstrike
.
Five months later, the Afghan president's eyes welled with tears as he described visiting the disfigured little girl at a hospital. He took long pauses between words. Sitting behind his desk Saturday night, the man who has projected a defiant image toward the West suddenly looked frail.
Interview with Hamid Karzai
Karzai on al-Qaeda
Karzai on his worst day in office
Karzai on the 2014 presidential elections
Karzai on Bagram prison
Karzai on full U.S. troop withdrawal
The Washington Post/Kevin Sieff
"That day, I wished she were dead, so she could be buried with her parents and brothers and sisters" — 14 of whom had been killed in the attack — he said.
In an unusually emotional interview, the departing Afghan president sought to explain why he has been such a harsh critic of the 12-year-old U.S. war effort here. He said he's deeply troubled by all the casualties he has seen, including those in U.S. military operations. He feels betrayed by what he calls an insufficient U.S. focus on targeting Taliban sanctuaries in Pakistan. And he insists that public criticism was the only way to guarantee an American response to his concerns.
To Karzai, the war was not waged with his country's interests in mind.
"Afghans died in a war that's not ours,' he said in the interview, his first in two years with a U.S. newspaper.
In Karzai's mind, al-Qaeda is "more a myth than a reality" and the majority of the United States' prisoners here were innocent. He's certain that the war was "for the U.S. security and for the Western interest."
Such statements elicit scorn and shock from U.S. officials, who point out that Americans have sacrificed mightily for Afghanistan — losing more than 2,000 lives and spending more than $600 billion in the effort to defeat al-Qaeda and the Taliban and rebuild the country.
Some Americans call Karzai a delusional leader, an ally who became an adversary during the 12 years of his presidency.
Row over security deal
In the latest blowup, he has
refused for months to sign
a security agreement that his government had negotiated with the United States that would permit a residual U.S. force to remain here beyond 2014. He has added several new demands in exchange for signing the deal.
But in a
phone call with Karzai
last week, President Obama said he will accept having the winner of Afghanistan's April presidential elections sign the pact. Karzai indicated that he views that as a best-case scenario. He won't have to submit to U.S. demands — such as the continuation of counter­terrorism operations — but the popular security agreement will probably still be finalized.
"It's good for them to sign it with my successor," the Afghan leader said.
On the security agreement, as with several other issues, Karzai's antagonistic approach seems to have succeeded, in the sense that he has forced U.S. officials to move deadlines — and even to reshape policy.
His strong criticism of the civilian casualties caused by American attacks, for example, forced the U.S. military to revise its tactics, producing a dramatic decline in the number of noncombatants killed by American forces (although Taliban-inflicted casualties have increased).
"I had no other weapon to resort to, no other means to resort to, but to speak publicly and get attention that way. In other words, I was forced to yell," he said.
'Time for me to move on'
Karzai reiterated that he will not manipulate the April 5 presidential election. He has told his older brother to withdraw his candidacy to avoid the perception of interference. Qayum Karzai has refused, but he acknowledges what most Afghans believe:
"Without the president's support, it will be impossible to win," Qayum said.
Every day, candidates and elders plead for Hamid Karzai's backing, pouring into his office and calling his aides as the election nears. Although his influence on the U.S. war effort is waning, he has never been more relevant, or at least more talked about, in Afghan political circles.
"People do come to me, a lot of people, every day rather. Groups of people, individuals — they ask me" for support, Karzai said.
Some of them ask him to remain in office, he said, but he dismisses the idea.
"I've done enough; it's time for me to move on," Karzai said.
Now that he has decided to leave office, he is reckoning with the same question that many Americans are asking: Was the war worth it?
"I am of two hearts here. When I see good, I am in approval. When I see the losses of Afghan people, our children, maimed and killed, I'm in disapproval," he said, speaking in English. "Maybe I can give you an answer of yes or no two, three or five years from now, when my emotions have subsided. Right now, I'm full of emotions.''
Karzai is at his most emotional — and most hostile — when civilian casualties occur. Even his critics don't doubt the sincerity of his feelings, although they might disagree with his conclusions.

Karzai denied that he's more vocal about U.S.-inflicted civilian casualties than those caused by the Taliban. But he has done little to dispel that characterization.He said Afghanistan's "common cause" with the United States dissipated because of such casualties. He has also said that U.S. forces should have done more to target Taliban sanctuaries in Pakistan, rather than conduct operations in Afghan villages.
During a visit to the White House in 2010, he carried a photo of what he described as a family whose members were "just gazing with fright and fear" during a U.S.-led night operation. He showed it to Obama.
"I said, 'President, this is what I'm trying to end, the intimidation of Afghan families at night, in the name of fighting the Taliban.' "
Asked about Obama's response, Karzai shrugged, indicating it was unsatisfactory. Then he said: "So we are really an angry people."
Leaner budget in future
One criticism of Karzai is that his anger has interfered with his ability to govern a country whose institutions have grown exponentially since he took office. Thanks primarily to the U.S. effort, Afghanistan now has a large security force and bureaucracy.
As U.S. funding tapers off, Karzai's successor will have to keep those institutions alive on a much slimmer budget.
"Foreign assistance brought an expensive way of life to Afghanistan," Karzai said. "This way of life is not sustainable. Afghanistan has to live by its means."
Specifically, that means a smaller army built based on "efficiency and affordability," Karzai said.
But without foreign funding, it's unclear whether Afghanistan could afford an army that could keep the Taliban at bay. Maintaining Afghan forces at their current size will cost about $4 billion per year. In 2013, the Afghan government collected only $1.7 billion in revenue.
After leaving office, Karzai won't go far: The government has built him a house a few miles from the presidential palace.
But before he steps down, Karzai has a few more messages to convey to his American partners. As he escorted two Washington Post journalists out of his office Saturday evening, he said: "To the American people, give them my best wishes and my gratitude. To the U.S. government, give them my anger, my extreme anger.''