Afghanistan....
http://www.theguardian.com/world/2014/feb/13/karzai-criticises-respect-afghan-sovereignty
( Considering the foreign policy blunders to date - is the Obama Administration reading the tea leaves right about a post- Karzai Afghanistan ? )
Karzai criticises lack of US respect for Afghan sovereignty as relations worsen
Obama administration looks increasingly likely to gamble with Afghan president's successor over signing of security agreement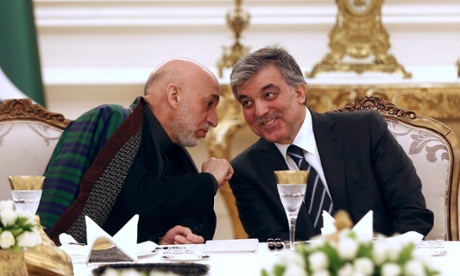 Relations between Washington and Kabul took another turn for the worse on Thursday as Afghan president Hamid Karzai criticised a lack of US respect for its sovereignty and White House officials appeared increasingly resigned to gambling on a better rapport with his successor.
The two governments have been at loggerheads for several months over Karzai's refusal to sign an agreement governing a
continued American security presence
in the country after the bulk of Nato troops pull out later this year.
But growing irritation on both sides boiled over this week after US criticism of an Afghan decision to release
65 suspected Taliban prisoners
, and officials in Washington have begun openly speculating on what would happen if Karzai never signs the agreement.
"The longer the BSA goes unsigned by Karzai, it increases likelihood that there will be no troops after 2014 in Afghanistan," said State Department spokeswoman Marie Harf in a conference call with reporters.
The threat to pull out entirely has been made before by the US, but the White House has previously insisted that Karzai sign it within weeks.
Instead, both Harf and White House spokesman Jay Carney declined to put a timeframe on the process during the latest press briefings and national intelligence director James Clapper said on Tuesday
his personal view
was that it would not be completed before the election.
"It is the Afghan government that negotiated this agreement," said Carney on Wednesday.
"There is the reality that this is – we're now in February of 2014 and we're having to look at, with our Nato allies, what the world looks like in terms of our troops beyond 2014. And that's why it needs to be signed promptly if we're going to be able to fulfil our preferred approach here, which is to have a limited troop presence in order to continue to conduct [counter-terrorism] operations and to train and support the Afghan security forces."
But a shared interest in combating Taliban attacks is not enough to prevent a growing clash, particularly over prisoner releases.
"Afghanistan is a sovereign country," said Karzai
at a conference
in Turkey on Thursday. "If the Afghan judicial authorities decide to release a prisoner it is of no concern to the US. I hope that the US will stop harassing Afghanistan's procedures and judicial authority and I hope the US will now begin to respect Afghan sovereignty."
Karzai also insisted he still supports the principle of a bilateral security agreement, which was supported last year by a loya jirga of tribal leaders, but US officials are increasingly pinning their hopes on pressuring his successor instead after Karzai steps down for elections in April.
Speaking before the Senate armed services committee on Tuesday, Clapper said a formal US decision to wait for Karzai's successor to sign the agreement instead could "have a salutary" effect on Kabul.




NATO: Incident Took Place in Kapisa Province
by Jason Ditz, February 12, 2014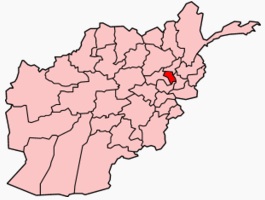 A Taliban spokesman attempted to claim credit for the killings, though NATO said it was as yet unclear if the attackers were Taliban or simply acting on "personal grudges" as has happened so often in the past.
NATO said they are "assessing the incident to determine the facts," and gave no indication if the attackers were captured, killed, or simply fled the scene unharmed.
The number of "insider attacks" on NATO and US troops has dropped considerably from its high during 2012, as international forces have spent less time interacting with the Afghan military in the field. The number of insider attacks on Afghans against other Afghans skyrocketed, however, suggesting that for Taliban infiltrators, it's just a question of who's available to hit.
Afghanistan releases 'dangerous' inmates despite US objections
Move likely to increase tensions between US and Afghanistan over President Karzai's delay in signing security pact
Topics:
Afghanistan released 65 accused militants from a former U.S.-controlled prison on Thursday despite protests from the American military, which says the men are Taliban fighters who will likely return to the battlefield to kill coalition and Afghan forces.
The prisoners were freed just after 9 a.m. from the Parwan Detention Facility near the
U.S. Bagram Air Field
, about 28 miles north of the capital, Kabul, according to prison spokesman Maj. Nimatullah Khaki.
They were laughing and smiling as they boarded a bus to leave the facility, he said.
Karzai ordered the detainees released several weeks ago, less than a year after his government took over the prison from U.S. troops.
The decision prompted angry denunciations from Washington. U.S. military officials in Afghanistan
say some of the men released are responsible
for killing or wounding dozens of international and Afghan soldiers, as well as making bombs that have killed civilians.
"They have killed Afghan men, women and children," said a statement from U.S. forces in Afghanistan, adding that the coalition believes other alleged insurgents released from Parwan earlier "have already returned to the fight."
The U.S. embassy in Kabul called the prisoners' release a "deeply regrettable" event that ran counter to a 2012 agreement on detainees.
"The Afghan government bears responsibility for the results of its decision," the embassy said in a statement.
Abdul Shakor Dadras, head of the Afghan board charged with reviewing the prisoners' cases, said their detention had been unjustified from the outset, despite information put forward by the United States.
"We could not find any evidence to prove that these 65 people are criminals, according to Afghan law," Dadras told Reuters Television.
The prisoners were transferred to Afghan authority last year as part of the U.S. and NATO transition out of Afghanistan. A coalition of foreign forces has been battling the Taliban since the group was ousted from power in 2001.
Security concerns
Karzai has referred to the Parwan prison as a "Taliban-producing factory" where innocent Afghans have been tortured into hating their country. The president had long demanded that the U.S. turn over the prison to Afghan authorities, a process completed last March after lengthy negotiations — largely over American concerns that some of the most dangerous detainees would go free.
Among those believed to have walked free Thursday morning was Mohammad Wali, who the U.S. military says is a suspected Taliban explosives expert who allegedly placed roadside bombs targeting Afghan and international forces.
The military said Wali had been biometrically linked to two roadside explosions and had a latent fingerprint match on another improvised explosive device. He had also tested positive for explosives residue.
Others in the group include Nek Mohammad, who the U.S. says was captured with extensive weapons, and a man identified as Ehsanullah, who is claimed to have been biometrically matched to a roadside bomb and tested positive for explosives residue.
The release has further strained the already tense relationship between the U.S. and Afghanistan, as Karzai stalls on signing a Bilateral Security Agreement that would allow a few thousand U.S. troops to remain in Afghanistan past 2014.
It is unclear if Karzai will sign the agreement or not. A report from Reuters on Thursday said Karzai had given assurances to Germany's foreign minister that he would sign the deal. Other agencies reported that Karzai has yet to sign it.
The agreement is largely meant to help train Afghanistan security forces to take over the fight against the Taliban 13 years after the military intervention in the wake of the Sept. 11, 2001 terror attacks in the U.S.
Karzai had tentatively endorsed the bilateral security deal, but after it was approved in November by a council of tribal elders known as the Loya Jirga, he refused to sign it — saying he wants his successor to decide about it after the April 5 presidential election. Karzai cannot run because he is ineligible to serve a third term.
The U.S. wants the deal signed as soon as possible because it needs time to prepare to keep thousands of U.S. troops in the country for up to a decade.
Warns Troops May Leave If Pact Isn't Signed Soon
by Jason Ditz, February 12, 2014
Even though
only yesterday
it was reported that the Obama Administration was pretty well resigned to waiting for President Hamid Karzai to leave office and trying to get his successor to sign the Bilateral Security Agreement (BSA) to continue the US occupation "through 2024 and beyond," the old failed strategy of threatening Karzai seems alive and well.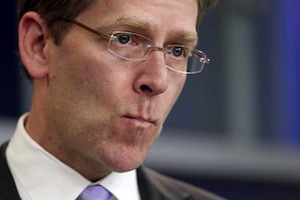 White House press secretary Jay Carney
went through the usual script
today, insisting that the deal needs to be signed very soon or else the US might end the occupation entirely, and that "we're not renegotiating it."
The entire speech is made so often and virtually verbatim as to be a sort of ceremony in and of itself, giving lip-service to the "zero option" that Pentagon officials have repeatedly said is just for Karzai's consumption and doesn't represent actual, real policy plans.
The Obama Administration has known for years that it wants to occupy Afghanistan, certainly through the end of this term and essentially forever by most indications, and with Karzai out of office in two months, Carney will only get to deliver the speech at most a dozen or so more times before having to change to threatening his successor. Either way, by hook or by crook, the US occupation will continue.
Syria......
'First Wave' Started a Recruitment Drive
by Jason Ditz, February 12, 2014
Top French anti-terrorism judge Marc Trevidic has repeatedly warned about the threat posed by recruitment of European fighters to the Syrian Islamist factions in that nations civil war. Today he revealed a problem much worse than anyone imagined.
Back in January, French President Francois Hollande
shocked
many with the claim of 700 French fighters going to Syria, a stark increase over prior estimates. Trevidic today said the
number could be as many as 2,000
.
"There was an explosion when that first generation came home," Trevidic warned, saying that they had fueled a huge recruitment drive, with boys as young as 15 trying to leave for Syria, and female recruits leaving to marry jihadist fighters.
Trevidic said that there was no imminent threat of attacks on France from the jihadists, but that this was inevitable as they "grow discouraged at the idea of an Islamic state ever being founded in Syria."
Attacks Aimed at Getting 'Experienced Fighters' Out of Detention
by Jason Ditz, February 12, 2014
Al-Qaeda-based Islamist factions, particularly al-Qaeda in Iraq (AQI) and Jabhat al-Nusra, have been
making
it a point to hit prisons in recent months, staging several high profile prison breaks in Iraq and Syria.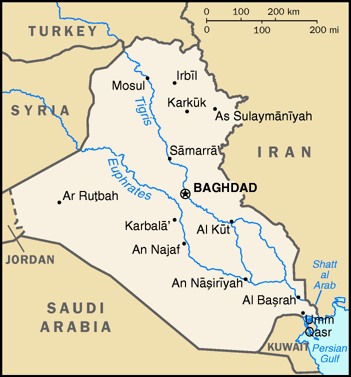 It's not just about showing up security forces and their inability to defend what are nominally some of the most secure sites in the nations, but rather aim at bolstering their own forces with hundreds of captured but experienced insurgent fighters.
In many ways the strategy lends itself to duplication, as the militants get stronger they are able to hit bigger and better defended prisoners, which get them even more fighters and in many cases some of the ones those nations had definitely wanted to keep behind bars the most.
This is a particularly important trend in recent months as Syria in particular has attracted thousands upon thousands of foreign recruits with little to no experience on the ground, and needs as many seasoned veterans around as possible to show them the ropes.
Though Syria has its share, in most cases Iraq is the gold standard for experienced fighters, as thousands of detainees from the US occupation era remain held, and are only too eager to return to the fight once released.
Instead of Ruling Him Out, Opposition Ignores Him Outright
by Jason Ditz, February 12, 2014
Syrian National Coalition (SNC) members
have laid out a paper detailing
their plans for a transitional government and the end to fighting in Syria, keeping with the plan for today's talks in Geneva. The plan remains a secret.
One detail of the plan did come out, and it's a rather clever solution to the ongoing dispute over President Bashar Assad's potential role in the future Syrian government – they didn't mention it.
Instead of railing against Assad and insisting he can't be involved in any way, which has been what the SNC did in the past and what the US continues to do, the SNC simply left the question totally unanswered, avoiding the inevitable clashes with Assad representatives.
The US was quick with praise for the SNC plan, but also very brief with it, praising the SNC's willingness to "engage constructively," but segueing into a protracted condemnation of the Assad delegation.
Amid Infighting, AQI in Latakia Sacking Hospitals Instead
by Jason Ditz, February 12, 2014
Most of al-Qaeda in Iraq (AQI) has been very busy over the past month and a half, fighting a major "war within a war" against other factions within the rebel-held north, a battle that has been as intense as the civil war itself.
AQI fighters in Latakia didn't have nearly so much infighting to deal with, and instead focused on attacking civilians around them,
sacking three hospitals in the province
.
In Rabiaa they arrested rival rebel "guards" in front of the hospital then stormed it outright. Then they hit another hospital just down the road, killing one rebel and abducting another patient. In Biranas they raided a hospital and kidnapped five foreign doctors.
Elsewhere in the area, AQI has been targeting Red Crescent workers and foreign journalists. It is in the context of this spiraling aggression that al-Qaeda itself formally disavowed AQI, and asked the group to stop using their name.
AQI isn't showing signs of slowing down, and if anything seems to be taking over much of the region from the other rebel groups.