Iraq......
Toll Soars on Anbar Province Conflict
by Jason Ditz, January 31, 2014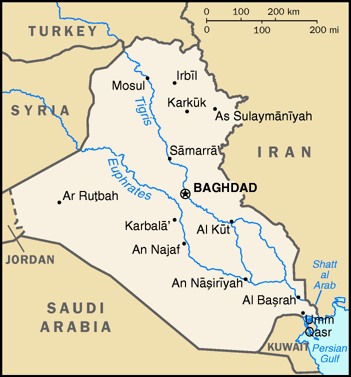 Iraq's own "official" death tolls were somewhat lower, claiming
1,202 killed
(1,013 plus 189 militants) and 2,024 wounded, and Agence-France Presse was preposterously low, putting the toll
at just over 900
.
Iraq's toll was just slightly up from December though, which doesn't make much sense as the Anbar Province exploded in violence, the whole city of Fallujah fell to al-Qaeda, and there have been huge, daily battles across that province.
The violence elsewhere across Iraq does appear roughly flat, but the official government figures appear to entirely ignore reported deaths in all of the Anbar fighting, which would explain the discrepancy.
The Anbar Province started January with big public protests and a military crackdown, and before long al-Qaeda had used this chaos as a chance to seize significant territory. There is no sign that the situation will be resolved soon, and this is likely to continue to drive large tolls in the weeks and months to come.
Ability to Hit Airport Raises Doubts About Security
by Jason Ditz, January 31, 2014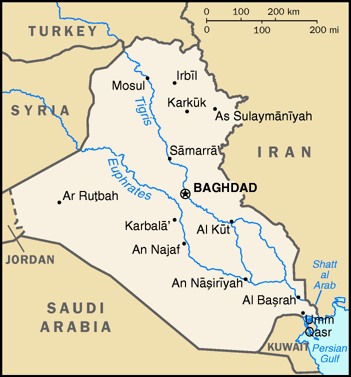 The rockets
didn't hurt anybody
, and airport officials say they didn't effect any flights this time, but the uncertainty about whether or not flights are safe out of Baghdad.
Though Baghdad itself is a magnet for militant attacks, 14 separate checkpoints between the city and the airport terminal itself have long kept the airport safely out of range of such strikes.
The rockets were identified as
Katyushas, popular
with militants across the region, and two reportedly hit near the runway, with two others hitting the road near the airport itself. No group has claimed responsibility for the strikes.
Syria......
Homs Aid Remains Unresolved Amid Wrangling
by Jason Ditz, January 31, 2014
Though the talks dragged on for over a week, the Geneva II peace conference on Syria ended without any real deals on any issues of important, and both the Syrian government and the opposition Syrian National Coalition (SNC)
traded insults before leaving
.
The issue that was closest to being resolved, the siege of central Homs, likewise remained totally unresolved, with UN officials saying both sides were slapping
unrealistic preconditions on allowing aid in
.
The Syrian government offered to let women and children leave, but said that men leaving would have to give their names at checkpoints, and this would almost certainly mean arrest, as has happened in previous cases where rebel-held areas were lost.
The SNC didn't necessarily have preconditions of its own, but the rebel fighters inside Homs did, threatening to attack UN aid convoys that try to enter the city on sight. They are opposing aid in general, and say they will only accept a deal that allows everyone in the Old City area of Homs to leave, and take their weapons with them, to other rebel-held areas. Needless to say, that's also a non-starter.
The preconditions on this and other areas of discussion left both sides plenty of ammunition to declare the other uninterested in making peace, and foreign powers at the talks used this as a pretext to verbally bludgeon whichever side they opposed in the first place.
UN Special Envoy Lakhdar Brahimi, whose efforts are the only reason the talks didn't end on the first day, says he believes there is still some common ground and room to negotiate, and he is trying to arrange a resumption of the conference on February 10. Whether this happens remains to be seen, but the Assad government is said to be
non-commit
tal about any more talks, and after the train wreck of this week, it's hard to blame them for being pessimistic.
Iran........
The Other Lobby: MEK's Crusade Against US-
Iran Negotiations
John Glaser, January 31, 2014
If you say it out loud, it seems too preposterous to be true. Four high-profile former government officials are getting paid by an Iranian dissident group that until 2012 was an officially designated terrorist organization to publicly oppose the Obama administration's diplomatic efforts with Iran.
BuzzFeed's Rosie Gray
attended a briefing in the Dirksen Senate office building on Capitol Hill sponsored by "an Iranian exile group related to the Mujahedin-e-Khalq (MEK)." The former government officials speaking out on behalf of this group against diplomacy with Iran included "former Vermont Governor Howard Dean, former Ambassador to Morocco Marc Ginsberg, General James L. Jones, and and former US Special Envoy for Nuclear Nonproliferation Robert Joseph."
Robert Joseph described the diplomacy as "appeasement" and urged additional sanctions, which Obama has promised to veto, to stop "Iran's nuclear quest."
Howard Dean refused to answer questions as to whether he was still getting boatloads of money from MEK groups and even went so far as to say that U.S.-Iran negotiations should not go forward until the Obama administration agrees to grant some kind of asylum to the 3,000 MEK activists sheltered by the Iraqi regime of Saddam Hussein that are now living in a U.S. military base called Camp Liberty.
"We ought to sign no agreement until those 3000 people are safe," Dean said.
Rewind to 2003. George W. Bush
included Saddam Hussein's support for terrorists like MEK
in his propaganda justifying the invasion of Iraq. "Iraq shelters terrorist groups including the Mujahedin-e-Khalq Organization," reads a
document
in the archives of the White House's website, "which has used terrorist violence against Iran and in the 1970s was responsible for killing several US military personnel and US civilians."
As recently as 2007, a
State Department report
warned that the MEK, retains "the capacity and will" to attack "Europe, the Middle East, the United States, Canada, and beyond."
This is the group lobbying hard to get high-profile U.S. officials to come out publicly against the U.S.-Iran negotiations, which
supporters say
is the only thing with any chance of verifiably curtailing Iran's nuclear program and keeping Washington off the inevitable war path to Tehran.
Like I said, reality seems stranger than fiction in this case.
Turkey......
http://www.debka.com/article/23644/Israeli-Intel-Chief-New-Al-Qaeda-bases-in-Turkey-provide-easy-jihadist-access-to-Europe
Al Qaeda has set up its first bases in a NATO member-country. Wednesday, Jan. 29, the day Turkish Prime Minister Tayyip Erdogan sat down in Tehran with President Hassan Rouhani, Israel's military intelligence chief Maj. Gen. Avivi Kochavi revealed that Al Qaeda adherents fighting in Syria had established their first training facilities in Turkey. "From there, these terrorists have acquired easy access to Europe if they wish," he commented, clearly thinking of al Qaeda's reach into Israel as well.

Kochavi showed his audience a map illustrating the proliferation of Al Qaeda's bases across the Middle East. The news was that the jihadists were now being trained at three Turkish facilities: Karaman, a town of 150,000 in central Anatolia, a short drive from Istanbul; Osmaniye, a particularly sensitive spot not far from the big US-Turkish base of Adana and the pipeline network carrying oil from Iraq and central Asia to Turkey's Mediterranean port of Ceyhan; and the third location near Sanlilurfa-Urfa, a town of half a million in the southwest.
The intelligence chief did not say how the logistics of the three facilities were managed or where the arms and instructors came from. He remarked that week after week, Al Qaeda fighters pour into Syria from all corners of the earth, "but they don't stay," he said. Some certainly cross over in to Turkey; others, according to
DEBKA
file
's counter terror sources, head into Iraq to fight the Shiite government there.
The strong impression gained from Kochavi's briefing was that Turkey is not just home to three al Qaeda training facilities and bases, but that its borders are left open for them to cross in from neighboring countries.
Al Qaeda has established itself in Turkey in locations roughly equivalent in area to the land grabbed by the al Qaeda-linked Ansar Bayt Al-Magdis terrorist coalition in Egyptian Sinai.

According to our intelligence sources, the Israeli general was uncharacteristically loquacious with five objectives in mind:
1. To point up the Turkish prime minister agenda in Tehran for linking the two non-Arab Muslim nations in a new strategic alliance for regional domination.

2. As a reminder that Iran too has a history of quietly admitting al Qaeda terrorists and giving them a safe springboard for attacks around the Middle East – especially against Saudi Arabia and Gulf emirates, on which Tehran had subversive designs. Neither of the two new allies, Turkey and Iran, would have any qualms about using al Qaeda terrorism to promote their agendas.

3. The need to alert European members of NATO to the creep of a terrorist menace closer than ever before to Western national borders, a movement facilitated by a fellow member.

4. To bring to the Obama administration's full attention the fallout from its détente with Iran and the ayatollahs' hidden designs for the Middle East. Tehran's affinity for terrorist methods and partners underlies all its actions.

5. The Israeli general brought out his big guns additionally in an effort to stem the mass-pilgrimage of prominent Middle East figures to Tehran which has been taking place since the signing of the interim nuclear accord in November. Even the Palestinian leader Mahmoud Abbas sent a messenger to the Iranian capital to test the prospects of an understanding between Tehran and Ramallah.

The messenger, Fatah party high-up Jibril Rajoub, was received by Iran's Foreign Minister Javad Zerif Wednesday. After the meeting, the Palestinian came out with an extraordinary comment: "Our cards are shown and we are speaking frankly, we aren't trying to cheat or manipulate anyone."

This sounded suspiciously as though the Iranians did not entirely trust the Palestinian messenger.
Two days later, Rajib went on record to demand a role for Iran in the Israel-Palestinian negotiations led by US Secretary of State John Kerry.
Removed prosecutor wanted over 100 years for graft suspects, indictments to be rewritten
The suspects in the graft probe include prominent businessmen. CİHAN photo

The main prosecutor of the massive graft probe that has shaken the Turkish government wanted sentences of over 100 years to be given to suspects before he was removed from the case, according to reports.

The prosecutor currently in charge of the files has said he will now write the indictments from scratch.

Prosecutor Celal Kara was preparing to send two separate indictments demanding heavy sentences for many high-profile suspects to court, before being removed from the case this week, daily Cumhuriyet reported on Jan. 31, quoting sources from the Istanbul Public Prosecutor's Office.

Meanwhile, the prosecutor still working on the case, Ekrem Aydıner, told daily Hürriyet that he would write new indictments for the case.

"As the investigation is still ongoing, I have not yet written my indictment. I will write it by myself," Aydıner told Hürriyet on Jan. 31.

Kara was removed from the case after yet another controversial reassignment on Jan. 29, amid a vast purge that involved 90 of the 192 prosecutors appointed in Istanbul's Çağlayan Courthouse. He had conducted the probe since its earliest phases and ordered the Dec. 17 raids, during which the sons of three ex-ministers were detained.

Two new prosecutors were appointed to the case shortly after the Dec. 17 raids, raising concerns over political interventions into the investigation. Only Aydıner is still working on the case, and it remains unclear whether new prosecutors will be assigned.

One suspect faced 336 years in jail
Daily Cumhuriyet said 15 suspects had been charged in the main indictment, including one businessman accused of being involved in over 100 bribery affairs. A suspect, allegedly at the center of the bribery network, was facing up to 336 years in jail in the indictment, while prosecutors asked for 137 years in jail for another key suspect.

The second indictment was connected to the violation of the cultural heritage protection law, the report said.

The high-profile suspects of the case include the sons of three ministers, prominent businessmen and state officials.

All three ministers were removed from the Cabinet last month in an unexpected reshuffle that came soon after the investigations opened.

The government responded to the probes with mass purges within the police and judiciary. A prosecutor of a second graft probe was controversially removed late December, and revealed after his removal that his detention orders were not carried out. Reports revealed that many of the suspects were businessmen known for their close ties with the government.

The ruling Justice and Development Party (AKP) accuses the movement of Islamic scholar Fethullah Gülen of orchestrating the investigations. Prime Minister Recep Tayyip Erdoğan has repeatedly described the network as "parallel state" aiming to damage the government.












Fresh resignation in Turkey's ruling AKP over graft scandal
Istanbul Deputy Muhammed Çetin was sent to the AKP's disciplinary committee two weeks ago after telling a 'shoebox' joke to his fellow lawmakers. HÜRRİYET photo

One more lawmaker resigned from the ruling Justice and Development Party (AKP) on Jan. 31, in the aftermath of the massive graft probe that has gripped the country since mid-December.

Istanbul Deputy Muhammed Çetin officially resigned over the party's decision to dispatch him to the disciplinary board with a demand of expulsion two weeks ago.

With Çetin's resignation, the number of lawmakers who have stepped down from the AKP since the graft scandal broke rises to six, and to eight since the test prep school (dershanes) row erupted, in a wave of defections unprecedented in the party's history.

The government's move to shut down the test prep schools caused a huge rift between the AKP and the movement of the Islamic scholar Fethullah Gülen, which further swelled after the government accused the movement of orchestrating the graft probes.

Çetin, who was among the small group of AKP deputies who criticized the government's position on the test prep schools (dershanes) row, is also known to be close to Gülen's movement

Many lawmakers 'disturbed'

He claimed that more resignations from the AKP would follow. "I don't have any contact with anyone, but I know there is [disquiet] inside [the party]. Many people are disturbed. People are talking, and soon those people will quit one-by-one," Çetin said. He also claimed that some deputies complained that they could not "face their electors" anymore.

Çetin also denied that he had spoken about resigning with Gülen, adding that the U.S.-based scholar did not give orders to anyone. "He does not interfere with anyone's preferences. You only take advise and he gives his personal opinion. He has actually persuaded me to stay until today," the resigned deputy said.

"I always sat in the blind spot, in the back ranks. The cameras would not record me. So I don't have to be ingratiated to anyone. I didn't talk unless I was asked and always defended my party and my country. But what they say [now] are things that are cut and pasted," Çetin added, harshly criticizing the AKP's stance after the probes.

He also recalled the remarks of AKP deputy Ali Aşlık, who said the fate of controversial prosecutor Zekeriya Öz would be like that of another prosecutor who was found dead in his home after opening a probe into corruption allegations last year.

"I told him, '[saying this] is suicide," Çetin said.

The request for Çetin's expulsion came after a complaint was filed by fellow AKP deputies Volkan Bozkır and Ali Aşlık. According to earlier reports, Çetin was quoted as saying "What's the size of your shoe? Why we don't get any shoebox," to fellow lawmakers during an executive board meeting. The "joke" was a clear reference to $4.5 million found in cash in shoeboxes during the bribery raid in the house of Süleyman Aslan on Dec. 18, the general manager of the state-run lender Halkbank.

Former Interior Minister İdris Naim Şahin opened the defection season following the damaging Dec. 17 raids, in which the sons of three ex-ministers were taken into custody along with other prominent bureaucrats and businessman.

He was followed by former Culture Minister Ertuğrul Günay, İzmir MP Erdal Kalkan andAnkara MP Haluk Özdalga, who were all sent to the disciplinary board for expressing criticism of the AKP's response to the probes.

Burdur deputy Hasan Hami Yıldırım, who took to Twitter to criticize the removal of the lead prosecutor in a new corruption case, was the most recent lawmaker to part ways with the party.

Kütahya MP İdris Bal was the first lawmaker to quit after being sent to the disciplinary board late November, shortly followed by Istanbul MP and former striker Hakan Şükür, the legendary former international soccer player who is openly close to Gülen.

The number of AKP's deputies at Parliament has fallen to 319 out of 550 MPs.
Ankara alarmed over Qaeda threat in Syria
Ankara has woken up to the threat posed by al-Qaeda in Syria, reportedly taking measures against potential suicide bombing inside Turkey
REUTERS photo

With no end in sight to the civil war in neighboring Syria, Turkey is expressing increasing alarm over the al-Qaeda threat amid the growing presence of the group in northern Syria and skirmishes with Turkey's army this week along the frontier.

A report prepared jointly by the Turkish National Intelligence Agency (MİT), the gendarmerie and the Police Department indicated that the al-Qaeda-linked Islamic State of Iraq and the Levant (ISIL) was preparing to attack targets inside Turkey using car bombs and assassinations.

The report and necessary measures were discussed during the weekly meeting of Prime Minister Recep Tayyip Erdoğan and Chief of General Staff Gen. Necdet Özel in Ankara.

The Turkish Armed Forces (TSK) said Jan. 29 that it had opened fire on a convoy of vehicles in northern Syria belonging to the ISIL jihadist group. The army said the attack, carried out Jan. 28, came after two Turkish military vehicles had been fired upon at the Çobanbey border post.

"A pick-up, a truck and a bus in an ISIL convoy were destroyed," read the statement.

The incident is believed to be the first time Turkey has come up against the Syrian jihadist group which has been fighting forces loyal to President Bashar al-Assad, as well as fellow rebel groups in the north of the country.

The report said the Western- and Arab-backed Free Syrian Army had been losing control and that border posts had been seized by groups linked to al-Qaeda. The borders at Azaz, Jarablus and Yayladağı are controlled by the ISIL, and the group has confiscated aid coming from Turkey, according to the report.

The jihadist group has been also battling Syrian Turkmens in the north of the country. The clashes have been continuing for more than a week, local sources said.

The report also said ISIL poses a threat for Turkey and that the group was planning attacks against Turkey, giving the colors, models and license plates of 15 cars which could be used in bombings inside Turkey.

The report urges authorities to be sensitive toward the threat and warned that fake Turkish license plates could also be used. On Jan. 20, a double suicide car bombing at the Cilvegözü-Bab al-Hawa border post between Syria and Turkey killed at least 16 people, including six rebels, according to a monitoring group. The Bab al-Hawa crossing, which is adjacent to Hatay's Reyhanlı district, is held by a rebel alliance called the Islamic Front, which has been fighting with ISIL. The report said the targets of the bombings were Turkey.

The report also touched on the tracking of Turkish al-Qaeda recruits inside Syria. A total of 315 Turks affiliated with al-Qaeda have crossed into Syria, the report said, adding that 82 of them have died.

Turkey imposed an entrance ban on 1,100 foreigners linked to al-Qaeda and initiated proceedings for 350 foreigners which could use Turkey as a transition route thanks to information supplied by Interpol.

Turkey detained a total of 97 al-Qaeda members that crossed into Turkey between 2011 and 2013, arresting 40 of them.