News from inside Ukraine .........
http://globaleconomicanalysis.blogspot.com/2014/02/inside-ukraine-mish-reader-who-speaks.html
Thursday, February 27, 2014 8:00 PM
I received an interesting email regarding Ukraine from reader Jacob Dreizin, a US citizen who speaks both Russian and Ukrainian.
Jacob comments on media bias and offers the "full scoop" on Ukraine.
First, let's take a look at events that happened earlier today.
Pro-Russia Gunman Seize Crimea Parliament
Bloomberg reports
Gunmen Seize Crimea Parliament as Ukraine Backs New Premier
.
Gunmen occupied the parliament in Ukraine's Crimea region as lawmakers in the capital approved a new cabinet after last week's ouster of Viktor Yanukovych.

About 120 trained and well-armed men took over the parliament and government buildings in Simferopol, according to Serhiy Kunitsyn, a lawmaker for former boxing champion Vitali Klitschko's UDAR party. They raised the Russian flag.

Fistfights broke out yesterday near Crimea's parliament as hundreds of demonstrators demanded a referendum on breaking the region off from Ukraine and joining Russia. They were met by several thousand Tatars, chanting "Crimea isn't Russia!"

The proposed Crimean referendum has no legal basis, Unian said, citing the Central Election Committee. The Constitution requires a nationwide referendum to change territorial status.
Crimea's Parliament Seeks Referendum on Region's Future
The Financial Times reports
Crimea's Parliament Calls for Referendum on Region's Future
Ukraine plunged further into crisis on Thursday after unidentified pro-Russian gunmen seized Crimea's regional parliament, prompting legislators there to call a referendum on the autonomous peninsula's future.

The raid in Simferopol, Crimea's capital, intensified east-west tensions over Ukraine. Fears mounted that separatists could prevail in the largely pro-Russian peninsula after a pro-western leadership assumed power in Kiev after last week's toppling of president Viktor Yanukovich.

Hours after scores of armed men seized Crimea's legislature, Vladimir Konstantinov, the Speaker, said an extraordinary parliament session had voted to hold a referendum on the peninsula gaining more autonomy on May 25 – the date already set for snap presidential elections across Ukraine.

Mr Yatseniuk told the national parliament as his government was sworn in that the country was "on the brink of collapse and being torn apart". He called for members of the UN Security Council to preserve the nation's territorial integrity.

The escalation of events in Crimea and Mr Yanukovich's claims still to be in power pose a severe challenge to Ukraine's new leaders even as they grapple to stabilise the country's tottering economy. Joking grimly about his role yesterday, Mr Yatseniuk said he would be leading a "government of suicides".
Hryvnia Plunges Another 9.8% Today
Clearly things are not going well. A default looms. Now let's hear what reader Jacob Dreizin has to say.
Ukraine - The Full Scoop
Hi Mish,

The last Ukrainian government was awful, but as someone who speaks the language and has been reading the local news for hours each day, I want you to know there are two sides to this story.

The Western media is not reporting accurately and in a balanced way as to what's going on in Ukraine, both in the run-up to the fall of the regime, and now, in the aftermath.

There is a "reign of terror" in Kiev and some other areas right now.

Offices and even private homes associated with the former ruling party and its communist allies have been ransacked or burned by militias even though Yanukovich's mansion has been left alone.

An independent member of parliament who critiqued certain positions of the main nationalist party was assaulted and had to go to hospital with a concussion. Also, some public officials in the central/western regions have been detained and beaten-up.

Other pro-Russia citizens have been rounded up and taken away by militias, with no warrant. We have no idea if, how, or where they are being held.

The ultra-nationalist umbrella groups that direct the militias have just announced they will essentially take charge of Central Elections Commission HQ and monitor its work during the upcoming national vote. How fair will the vote be?

Riot police returning to their bases in western Ukraine were forced to attend public assemblies in which they had to get on their knees and beg forgiveness (whether or not they were involved in any abuses.) Some have already fled their homes and are living as refugees.

Also, one of parliament's very first post-revolution decisions was to revoke the right of local governments to do business in non-Ukrainian languages, such as Russian. Another law has been proposed to effectively ban the broadcast or rebroadcast of television or radio from Russia. There are still other proposed bills aimed at provoking and oppressing the Russian or Russian-speaking population.

Lastly, while the new legal authorities are investigating the killing of around 70 protestors, no one is looking into the deaths of at least 13 policemen (at least 10 from gunshot wounds) or several ruling party workers who were killed in an attack on their office.

It's much easier to pretend this is about democracy, human rights, the peoples' choice, etc. while looking the other way now that "our guys" have won. We have seen this movie before. And I fear it will only get worse from here.

Yes, the former government led by President Viktor Yanukovych was corrupt. But the leading opposition figure, who was just released from jail was named by U.S. Federal prosecutors as an unindicted co-conspirator in the massive corruption schemes of a former Ukrainian prime minister who served time in U.S. Federal prison for money laundering and other charges after having made off with what is believed to be hundreds of millions of dollars, much of it not yet recovered.

Feel free to use my name. I put in my time in uniform, and I'm not afraid that some pro-war, pro-intervention chickenhawks might call me a traitor for supporting the "wrong" side. I have earned my right to say whatever I want.

All the best,

Jacob Dreizin
Ukrainian Language Usage
Comments by Jacob got me interested in who speaks what, where? Here is an interesting chart from
Wikipedia
on usage of
Russian Language vs. Ukrainian language
.
The problem is obvious.
There is a serious chance Ukraine splits in two. If it doesn't issues can fester for years, if not decades.
Mike "Mish" Shedlock
From Ukrainian News Agency.....

Yatseniuk Warrants Banks To Return All Deposits To Population
(12:35, Friday, February 28, 2014)
Prime Minister Arsenii Yatseniuk warrants that banks will return all deposits to the population, he has told a news conference.
"I warrant return of all deposits to the population. The same it was the case in 2004," said the head of Government.
He called depositors not to panic and keep calm in this situation.
"Keep calm, calm and once more calm," stressed the Premier.
In his words, specialists are working in the banking sector who have experience of ensuring financial institutions' normal operation in crisis periods.
Yatseniuk underlines, the Government will do its best to stabilise the situation at the forex market.
As Ukrainian News earlier reported, Yatseniuk will instruct the State Financial Monitoring Service to track transactions of funnelling funds out of Ukraine.
Interbank Forex Quotations Down From 10.45-11.00 UAH/USD To 9.80-10.10 UAH/USD On Friday
(12:34, Friday, February 28, 2014)
The quotations in the interbank forex market fell from 10.45-11.00 UAH/USD (end of trading on February 27) to 9.80-10.10 UAH/USD (as of 12:15, February 28) on Friday, February 28, Ukrainian News learned from participants in the currency market.
According to them, the biddings opened in the range of 10.30-10.90 UAH/USD, and fell to 9.80-10.10 UAH/USD by 12:15.
According to the market players, most of the deals are being concluded at the exchange rate close to 9.95 UAH/USD.
The NBU had not announced its plans to enter the interbank market.
As Ukrainian News earlier reported, during the previous trading day, February 27, the hryvnia exchange rate fell by 60 kopecks to 11.00 UAH/USD.
The hryvnia rate fell by 2.77% from 8.0500 UAH/USD to 8.2730 UAH/USD in the interbank market in 2013.

NBU Imposes Temporary Restriction On Return Of Foreign-Currency Deposits At Up To UAH 15,000 A Day In Equivalent
(11:53, Friday, February 28, 2014)
The National Bank of Ukraine has imposed temporary restriction on return of foreign-currency deposits at the level up to UAH 15,000 a day to one depositor in equivalent, NBU Governor Stepan Kubiv has announced at a news conference.
"The NBU has made a temporary decision, [for a period of] up to one month to restrict withdrawal of foreign-currency deposits at the exchange rate on the transaction day. We have arranged receipt of funds within UAH 15,000 a day in equivalent," he said.
Kubiv elucidates, this measure applies for the cases when depositors want to receive money in foreign currency.
But if depositor wants to receive all funds from foreign-currency deposit the entire sums is converted into hryvnias on the day of transaction.
The NBU Governor explains the limitation with the recent wide-scale cases of termination of foreign-currency deposits.
As Ukrainian News earlier reported, the NBU pledges to suppress profiteering at the foreign exchange market.
http://www.zerohedge.com/news/2014-02-28/ukraine-accuses-russia-invasion-considers-state-emergency-after-masked-gunmen-occupy
Ukraine Accuses Russia Of Invasion, Considers State Of Emergency After Masked Gunmen Occupy Two Crimean Airports
Submitted by Tyler Durden on 02/28/2014 06:58 -0500
The bizarre events in the Crimea continued overnight, after unidentified masked men but dressed like those who took over the parliament in Simferopol yesterday, took over two airports by blockading one near the Russian naval base in Sevastopol and another in the capital of Simferopol. This prompted the Ukraine's interior minister Arsen Avakov, to accuse Moscow's military of blockading the airports, and in a Facebook post, he called the seizure of the Belbek international airport in the Black Sea port of Sevastopol a
"military invasion and occupation."
He added: "It is a breach of all international agreements and norms." As
NBC reports
, the Interfax news agency quoted Russian military sources as saying the incident at Belbek airport was intended to stop "fighters" flying in. However, Interfax later quoted a Russian official as saying that no units had approached the airport or blockaded it. In a nutshell, Russia continues to push with escalation ever further, and is testing just how far it can and will go without Ukraine responding.
Two Crimean airports were taken over by Russian military troops, Interior Minister Arsen Avakov said on Facebook this morning. He said the situation in the autonomous republic has now escalated to "a military intervention" and called on the National Security Council to take urgent steps towards its regulation.




"My assessment of what's going on is that it's a military intervention and occupation in violation of all international agreements and norms,"he said in his statement. "This is a direct provocation of bloodshed on the territory of a sovereign state."




Avakov said that Sevastopol's military airport Bilbek at night was blocked off by the military units of the Russian navy, which is based in Sevastopol. He said the airport is surrounded by camouflaged military troops with no identification and carrying guns. He said they do not hide their Russian affiliation.




Inside the airport there is a group of Ukrainian soldiers and border guards, and Ukrainian police troops have surrounded the outer perimeter of the airport. "There have been no armed clashes so far," he said.




The navy base is Sevastopol is key for the Russian army. Under agreements signed between two countries in 2010, the Russian military can continue to use Sevastopol until 2042, with an option of extending the lease to 2047.




Some 70 kilometers away from the coast, in Crimean capital Simferopol, another airport was taken over by a group of about 100 plain-clothed men, who went inside the airport and onto the runway.




"The interior troops and police pushed these people first into the airport building, and then out of the territory. No weapons were used," Avakov said.




He said that after the armed men left, a new group of camouflaged men arrived around 1:30 in the morning. They carried automatic weapons and had no markings. Avakov said they entered the building and stayed int he restaurant.




"They are not hiding their affiliation with the army of the Russian Federation," Avakov said. "Told by the Ukrainian Interior Ministry workers that they are military men and have no right to be there, they answer curtly that they have no instructions to negotiate with you."




Avakov said that so far there have been no clashes, but tension is growing as Ukrainian police troops continue to arrive. "The law enforcement organs cannot oppose the army," Avakov concluded.
In the meantine, Ukraine is starting to realize that it may have bitten more than it can chew, and as Interfax reported:
UKRAINE WEIGHS STATE OF EMERGENCY IN CRIMEA: INTERFAX
RUSSIA BLACK SEA FLEET, HELICOPTERS BREAK UKRAINE ACCORDS: IFX
And the immediate re-escalation:
RUSSIAN BLACK SEA FLEET SETS UP BALACLAVA BLOCKADE: INTERFAX
Visually:
Yet none of this compares to today's main event when a t 5pm local time, in the Rostov-on-Don Technical University, deposed Ukraine president Yanukovich who is currently in Russia, is expected to hold a press conference. Missing since the beginning of the week, the ousted ukrainian president had fled the country to Russia in the latest days, either by car through the Donetsk region, either escorted by military planes, according to different reports.
We doubt anything he says will diffuse the situation.
Ukraine: Russia behind airport takeovers
Kiev accuses Moscow of invading Crimea, as armed men seize two airports and Russian helicopters fly over the region.
Last updated:

28 Feb 2014 13:14
Ukraine's interim government has accused Russia of staging an armed invasion in southeastern Crimea after pro-Kremlin armed men seized two airports and government buildings as Kiev calls on the United Nations Security Council to hold a meeting to discuss the developments in the region.
Two Crimean airports - the main international airport of Simferapol and a military airfield in Sevastopol - have been taken over by what the Ukrainian Interior Minister Arsen Avakov claimed to be members of a Russian Federation Fleet based in the region, according to a statement he posted on his Facebook account.
"I see what is happening as armed invasion and occupation , in violation of all international treaties and norms. This is a direct provocation of the armed bloodshed on the territory of a sovereign state," Avakov said.

The Ukrainian parliament, which voted only days ago to oust Yanukovich, has called for a UN Security Council meeting to discuss what is happening in Crimea, and urged Russia "to stop moves that show signs of undermining national sovereignty and territorial integrity" as well as "reject support for separatism in Ukraine, of any form".

EU calls for calm

Oleksander Turchynov, the acting Ukraine president who has replaced Yanukovich, told parliament he had ordered troops and police to take "all measures" needed to protect Ukrainian citizens.

In a joint statement, French, German and Polish foreign ministers, who mediated between the Yanukovich and the opposition through Ukraine's violent crisis, have urged all parties to refrain from any action endangering territorial integrity of the country.

More than 10 Russian military helicopters flew from Russia into Ukrainian airspace over the Crimea region on Friday, the Ukrainian border guard service said in a statement. It also said that Russian servicemen were blocking off a unit of Ukrainian guards in the port city of Sevastopol, where part of the Russian Black Sea fleet is based.

The Russian Black Sea Fleet issued a statement denying the accusation and insisted its forces had not seized or taken any other action at the military airport near Sevastopol, Interfax news agency reported.

Al Jazeera's Laurence Lee, reporting from Crimea, said that the civilian airport was operating normally.

"Inside the terminal building, passengers are queuing up to go to Moscow and Istanbul and all sorts of places,and that is completely normal, but in the outside, it is entirely abnormal," he said. "Throughout the morning we have seen these large groups of green camouflaged helmeted men, some are masked and others are not, in control and are coming out of the VIP block here and changing shifts."

Later in the day, Ukraine's security authorities reportedly said they regained control of the two airports.

"There was an attempt to seize the airports, but we have localised those attempts. The airports are now controlled by Ukrainian law enforcement authorities," Ukraine's National Security and Defence Council chief Andriy Parubiy said in televised remarks, according to AFP news agency.

Yanukovich's news conference

The pro-Moscow Yanukovich is expected to hold his first public appearance since his disappearance last week.
Yanukovich has apparently been emboldened by the takeover of government buildings by the armed groups. Ousted president - who fled Kiev last week following weeks of deadly protests - is due to give a press conference in Russia's southwestern city of Rostov-on-Don on Friday at 1300 GMT.

However, Al Jazeera's Rory Challands said it was still not clear who would be allowed to attend the news conference and where it would exactly be held.

Meanwhile, Crimea's pro-Yanukovich autonomous parliament has set a referendum on the region's status on May 25, according to AFP news agency, which is the same day during which the new government in Kiev is set to hold fresh presidential elections.

Vladimir Konstantinov, speaker of Crimea's parliament, said on Thursday the autonomous republic appointed a new prime minister, Sergei Aksenov, with Yanukovich's approval.

Ukraine's interim government has issued an arrest warrant for Yanukovich, accusing him of being responsible for the deaths of at least 70 protesters on February 21 protests in Kiev.

Crimean Parliament Agrees to Referendum on Autonomy
by Jason Ditz, February 27, 2014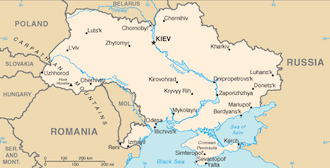 Secessionist sentiment has been growing in the Crimea since protesters in Kiev imposed regime change on Ukraine, replacing the pro-Russian President Yanukovych with pro-Western figures.
What started as mostly peaceful rallies in Sevastopol, the Crimean port city that is the base of the Russian Navy, turned violent yesterday,
when ethnic Tatars attacked the protesters
, insisting they would "eliminate" all secessionist sentiment among the majority Russians of Crimea. Today the Russian struck back in force.
The Crimean Parliament, for its part, is moving toward giving in to the protesters' demands, and
has agreed to a referendum
which would give Crimeans the option of voting for outright secession, autonomy, or some affiliation with Russia.
Russia, for its part, has promised to respect Ukraine's territorial integrity. Yet if the Crimeans themselves manage to secede and want closer ties with Russia, it is difficult to imagine them being turned away.
Nations Nominally Back 'Territorial Integrity' of Ukraine
by Jason Ditz, February 27, 2014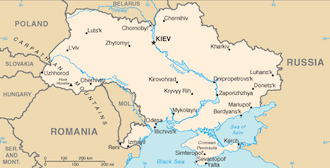 After Western-backed protesters took over the nation, the Crimea's ethnic Russian majority has been pushing for secession and a possible return to Russian control. Crimea's parliament has backed a referendum, and pro-secessionist forces have taken much of the provincial capital.
Western officials are treating this as Russia's fault, and are
likewise
treating a Russian promise to "respect the sovereignty of Ukraine" as the end to the Crimean secession movement. Yet indications on the ground suggest it is not.
Barring a surprise invasion for some nation or other, that leaves the matter of crushing the secessionist movement to the Ukraine "interim government," which doesn't seem to have much support in Crimea beyond the ethnic Tatar minority.
Rather than a problem of external interference, the Ukraine-Crimea split reflects a very real internal fracture in Ukrainian politics, and before the takeover the secessionist movement was centered in Lviv, where pro-Western demonstrators were hoping to split off historical Halych-Volyn as a separate nation. No matter which side is in power, a significant portion of the Ukraine is inconsolable, and ready to split the nation.