Iran, IAEA agree on 7 concrete steps
Iran and the International Atomic Energy Agency (IAEA) have agreed one seven more concrete measures regarding the country's nuclear program which will be taken by May 15, the Iranian Students News Agency (ISNA) reports. Behrouz Kamalvandi, a spokesman for the nuclear watchdog, said that inspection of Parchin nuclear site is not among the seven measures agreed by Iran and the IAEA. Iran's envoy to the IAEA Reza Najafi said details of the measures will be released soon. The agreement comes one day after the IAEA arrived in Tehran to build on a framework agreed upon by Iran and global powers in November. The first three-month period of cooperation between Iran and the agency ends on Sunday.
DUBAI (Reuters) - Iran resumed talks on its nuclear program with the International Atomic Energy Agency (IAEA) on Saturday, the official IRNA news agency said, in discussions that had been expected to broach sensitive military-related issues.

A spokesman for Iran's Atomic Energy Organisation, Behrouz Kamalvandi, said the meeting had been constructive and another session would take place on Sunday, IRNA reported.

The U.N. atomic agency hopes to persuade Iran to finally start addressing long-held suspicions that it may have researched how to build atomic bombs.

Tehran has rejected the accusations of weaponisation-related work as baseless and said it will cooperate with the IAEA to clear up any "ambiguities".

Iran was represented in the discussions by Reza Najafi, its envoy to the IAEA, while the team from the U.N. nuclear watchdog was led by deputy IAEA director general Tero Varjoranta, IRNA said.

Saturday's meeting comes 10 days before Tehran and world powers, building on a landmark interim deal that took effect last month, start talks on a long-term accord on Iran's nuclear aspirations that would avert the threat of a Middle East war.

Kamalvandi, was reported on Friday as saying that Iran's aim was "to answer the IAEA's questions" at the talks.

Diplomats are cautiously optimistic that after Saturday's talks in Tehran the team of senior IAEA inspectors will be able to show at least some progress in gaining Iran's cooperation.

Iran-IAEA ties have improved since last year's election of a relative moderate, Hassan Rouhani, as president of Iran on a platform to ease the country's international isolation.

Under an agreement signed in November, the IAEA has already visited a heavy water production plant and a uranium mine in Iran. However, those first steps did not go to the heart of its investigation and Western diplomats will watch Saturday's meeting closely to see whether the next phase achieves that.

The IAEA wants Iran to clarify its activities in a range of areas of potential application to developing bombs, including various experiments and computer calculations.

Western diplomats hope an accord will lead to Iran scaling back its nuclear programme sufficiently to deny it the capability to assemble a nuclear weapon anytime soon.

The IAEA's investigation is focused on the question of whether Iran sought atomic bomb technology in the past and, if it did, to determine whether such work has since stopped.

Although separate, the IAEA's inquiry is still closely aligned with the wider-ranging diplomacy between Tehran and the six powers - the United States, Russia, China, France, Britain and Germany.

Iran says its nuclear programme is peaceful and that it is Israel's assumed atomic arsenal that threatens peace.



Khamenei says US 'wouldn't hesitate' to topple Iranian regime if it could
• Supreme leader: US has 'controlling and meddlesome attitude'
• Iranian admiral says ships sent close to US territorial waters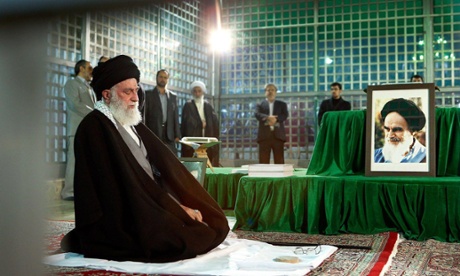 Iran's supreme leader, Ayatollah Ali Khamenei, said on Saturday the United States would overthrow the Iranian government if it could, adding that Washington had a "controlling and meddlesome" attitude towards the Islamic Republic, Iranian media reported.
Also on Saturday, a senior Iranian naval commander said his country had sent several warships to the Atlantic Ocean, close to US maritime borders for the first time. The commander of Iran's Northern navy fleet, Admiral Afshin Rezayee Haddad, was quoted by the official IRNA news agency as saying the vessels had begun the journey to the Atlantic Ocean via waters near South Africa.
In a speech to mark the 35th anniversary of the 1979 Islamic revolution, Khamenei was quoted by the semi-official Fars news agency as saying: "American officials publicly say they do not seek regime change in Iran. That's a lie. They wouldn't hesitate a moment if they could do it."
On Friday, as a team of International Atomic Energy Agency (IAEA) inspectors arrived in Tehran, the state IRNA news agency cited the Iranian atomic energy organisation spokesman, Behrouz Kamalvandi, as saying his country was ready to answer all questions raised by the UN agency.
The US and its allies are pushing the IAEA for progress. At the same time, too much pressure on Iran could damage the chances of success from the talks.
Those talks are off to a promising start, with both sides planning to meet on 18 February, to try to translate an interim deal into a permanent agreement. But Olli Heinonen, who formerly headed the IAEA's Iran investigation, has said that with distrust still high on both sides a final deal will be sealed "only if uncertainties over Iran's military nuclear capability are properly addressed".
Iran has denied any interest in or work on nuclear weapons since the IAEA started to focus on its atomic activities. Attempts to investigate the alleged weapons programme first launched in 2007 have made little progress.
On Saturday, Khamenei reiterated that in dealing with "enemies", Iran should be prepared to change tactics but not compromise on its main principles. He said: "The solution to our economic problems is not looking out and having the sanctions lifted … my advice to our officials, as ever, is to rely on infinite indigenous potentials."
He added: "Our [hostile] stance toward the United States is due to its controlling and meddlesome attitude."
The US is seen as the arch-enemy by Iranian authorities. The US and Iran have had no official ties since 1980, after Iranian students occupied the US embassy in Tehran, taking 52 diplomats hostage in protest against Washington's admission of the former Shah after he was toppled by the Islamic revolution.
A $9 Trillion War? Top 10 Reasons Americans will Regret it if GOP Derails Iran Negotiations
(By Juan Cole)
40 Republican senators are making a last-minute push
to bring further Iran sanctions up for a vote despite the opposition of senate majority leader Harry Reid. Some 59 senators signed on to a plan to increase sanctions during President Obama's negotiations with Iran, which Iranian leaders have argued could derail the talks. Among the steps these Republicans favor is reversing the minor easing of sanctions implemented by Obama as a quid pro quo to Iran for steps it has taken to make its nuclear enrichment program more transparent and less amenable to weaponization (Iran says the program is purely for civilian purposes).
It is absolutely outrageous and very rare that Congress would interfere in diplomatic negotiations of the president. They let Bush go around invading countries but won't let Obama try to forestall a war.
The GOP is acting for its own reasons, since it wants to take the senate in the fall and thinks making vulnerable Democrats explicitly vote against further Iran sanctions will hurt them with the public. But the further sanctions have been pushed by the American Israel Public Affairs Committee, other Israel lobbies, and the far right wing Israeli government of Binjamin Netanyahu, and some of the impetus for further pushing them likely is coming from AIPAC donors (who skew much further to the right than the mainstream of the American Jewish community– which after all contains many peace activists).
But the GOP and AIPAC are playing with fire, and it is the American people who will get the third degree burns if they succeed. Here's why:
1. If the new sanctions derail the negotiations of new President Hasan Rouhani with the permanent members of the UN Security Council plus Germany, Rouhani's enemies among the hard liners will be strengthened.
2. If Rouhani loses power and looks weak, the hard liners could make pursuing further negotiations difficult.
3. If the negotiations collapse, Iran's enrichment program may well become less transparent.
4. Hawks (i.e. war criminals) in the US have used the pretext of lack of transparency in foreign countries' research projects to foment war (as happened most notoriously in Iraq).
5. The current US sanctions and financial blockade on Iranian oil sales are so severe that they have raised tensions with Iran to a new level of intensity, and could lead to hostilities very easily.
6. If the Iranian enrichment program cannot be made transparent through negotiations, pressure will build on US administrations to bomb the facilities at Natanz.
7. Such an attack could well spiral into all-out war.
8. Iran is three times more populous than Iraq was when the US invaded it in 2003. It is also geographically three times Iraq's size (it is the size of continental Western Europe– i.e. Germany, France and Spain combined). Gen. Shinseki estimated that based on the Balkans experience the US would have needed 800,000 troops in Iraq to pacify it post-invasion. He was proved right (US viceroy in Iraq Paul Bremer admitted that there were never enough US troops on the ground there). This estimate suggests that the US would need 2.4 million troops on the ground in Iran (hint: it does not have them).
9. If we figure in the cost over their lifetimes of caring for the some 30,000 Iraq War veterans who were injured badly enough to go to hospital, the
true cost of the Iraq War is at least $3 trillion
. The US is currently $16 trillion in debt, about the amount of its annual gross domestic product, which is a very dangerous economic posture that has led to its credit rating being cut. Iran could be three times as costly as Iraq, given the demographic and territorial considerations, and therefore could cost $9 trillion. That kind of debt burden (the money would have to be borrowed) would certainly bankrupt the country, causing the cost of borrowing money for small businesses to skyrocket and leading to a Great Depression.
10. A US war on Iran would not remain contained. Shiite militias in Iraq would be mobilized against US targets in the region. The US embassy in Baghdad with thousands of US personnel is vulnerable (Iraq's largely Shiite army is protecting it at the moment). US bases in Kuwait and Bahrain are vulnerable. US economic and other assets in Lebanon are vulnerable. The remaining contingent of US troops in Afghanistan could also be targeted by Iran clients in that country, who at the moment support NATO against the Taliban. If Benghazi roiled US politics, imagine it multiplied many times over.
Of course the hawks (i.e. war criminals waiting to happen) might profit from such a conflagration. But it will be working Americans and small businesspeople who will pay the price of a consequent economic meltdown that will make 2008 look like a cakewalk.
—-
related video