Barclays Fires 12,000; Reports Horrible Earnings, Awards Itself Bigger Bonuses
Submitted by Tyler Durden on 02/11/2014 07:58 -0500
It is not easy for one bank to anger more people with one announcement than what Barclays did in the past 24 hours. In one fell swoop, the British bank infuriated shareholders after announcing dismal earnings (an
adjusted Q4 profit of about 200 million pounds
and a statutory profit of less than 100 million as investment banking income slumped 37% as income fell 9% to 10.7 billion due to a fall in fixed income, and it took further charges related to a cleanup of the banking industry in the wake of the 2008 financial crisis) which sent the share price sliding, it then pissed off UK workers and taxpayers after it announced it would hike investment bank bonuses by 13% despite the abovementioned profit slump, and finally it crushed 9% of its workforce, or 12,000 workers, who are set to prepare pink slips as the bank "streamlines."
Barclays said 820 senior roles would go, and half of those were cut at the investment bank in the last two weeks. It cut 7,650 jobs last year, including 1,400 in the investment bank, as part of a restructuring unveiled a year ago by Jenkins to cut 1.7 billion pounds of annual costs. There were 139,600 Barclays employees by the end of the year.
Stepping up efforts to cut costs, Barclays said up to 9 percent of employees could go, including 7,000 in Britain, where half of the affected staff had already been notified. The cuts are not concentrated in any single business area.




Britain's third-biggest bank said it paid 2.4 billion pounds ($3.9 billion) in incentive awards last year after raising bonuses at the investment bank by 13 percent despite a slump in profits from the business. The average bonus across the investment bank's 26,200 staff was 60,100 pounds.




The combination of lay-offs and fatter bonuses drew indignation from Britain's biggest labor union.




"The culture change the bank promised will be less than skin deep if those at the top still hoover up obscene amounts of money while workers in call centers and branches struggle by on low wages and face the persistent pressure of job insecurity," said Ciaran Naidoo of Unite the Union.
Under fire, Barclay's new CEO Anthony Jenkins was forced to defend the bonus hike decision, saying the bank had to recruit the best staff to compete with global rivals and continued to have "constructive" talks with investors over pay. "We need to recruit people from Singapore to San Francisco. We need the best people in the bank to drive long-term sustainable returns for our shareholders," Jenkins told reporters on a conference call. "I understand that there will be some (people) who feel that this decision is the wrong one for Barclays. But it is the decision of the board and myself that this entirely is the right decision for the group and in the long-term interests of shareholders," he said.
Finally, it wouldn't be a bank if it didn't blame someone. Sure enough, as we predicted would happen in 2009 after the backlash against HFT and vacuum tubes became institutionalized, that someone is "technology":
Jenkins said banking was going through a "100-year transformation" as technology and cost pressures reshape the industry, and he was optimistic that Barclays was well set for a "pivotal" 2014.
Well, time to hire some algos then: we hear they are easy on the contract negotiations. Or, failing that, the
bank can just appoint
"a junior trader as interim head of its London spot foreign exchange desk, illustrating a thinning out of the ranks after a torrent of traders has departed or been suspended amid a global probe into alleged market manipulation."
And just like that, the E-trade babies - with zero non-ZIRP world experience - and their collocated toys, have literally taken over the banking asylum.
Barclays hikes bonuses amid warning on jobs and fall in profits
Bonuses for investment bankers rise to £1.6bn despite fall in profits and warning of up to 12,000 job cuts this year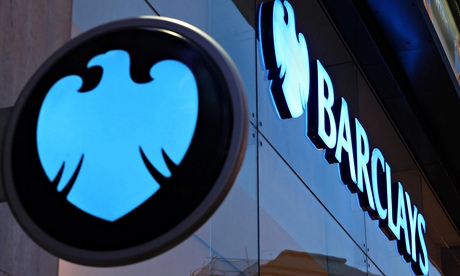 The inequity in the numbers sparked a furious reaction from the Institute of Directors, where corporate governance director Roger Barker asked "for whom is this institution being run?" and called on shareholders to take a stand. "Their approach to the banks continues to be supine. We would like to see shareholders take a more aggressive role in the governance of the bank, and in light of Barclays' fragile reputational recovery we would urge the bank to ensure that the chairman of its remuneration committee remains an independent director," said Barker.
Labour seized upon the numbers to call for a reintroduction of the bonus tax which Cathy Jamieson, shadow financial secretary to the Treasury, said "could fund a paid job for every young person out of work for 12 months or more, which they would have to take up or lose benefits".
Frances O'Grady, general secretary of the TUC, said: "Today Barclays has stuck two fingers up to hard-pressed families across Britain by announcing another multi-billion pound bonus pool". In reference to the EU's cap on bonuses to 100% of salary, O'Grady added: "But rather than tackle the damaging City bonus culture, the Chancellor has been to Brussels to defend their greed".
Jenkin justified the hike in bonuses – despite his pledge to show pay restraint and waiving his own £2.75m bonus – by insisting the bank needed to pay staff in a globally competitive environment. He also insisted the bank was acting within the "spirit and letter" of the law by paying monthly role-based allowanced to key staff who might otherwise take pay cuts as a result of the bonus cap.
"We employ people from Singapore to San Francisco. We compete in global markets for talent. If we are to act in the best interests of our shareholders, we have to make sure we have the best people in the firm," Jenkins said.
"At Barclays we believe in paying for performance and paying competitively. Ensuring that we have the right people in the right roles serving our customers and clients effectively in a highly competitive global environment is vital to our ability to generate sustainable shareholder returns," he said.
"After careful consideration, we determined that an increase of £210m over the prior year in the incentive pool was required in 2013 in order to build our franchise in the long term interests of shareholders."
Jenkins, who has set out to make Barclays the "go to" bank, has forced every staff member to embark on ethics training and set out eight new goals against staff will be measured in the future. One of his targets is increasing the number of senior women from 21% to 26% by 2018.
Jenkins regularly describes the changes that technology will impose on the banking industry - he is thought to believe that as many as 40,000 roles could eventually go from the 140,000 workforce - and on Tuesday described a "one in a hundred year transformation" of the industry. Half of the 7,000 of the jobs being axed in the UK have already been announced and branches are eventually expected to close.
He insisted that bonuses were down from 2010 by 32%.
The bank is fighting a £50m fine from the Financial Conduct Authority for disclosures it made during the time of a crucial fundraising in 2008 but said this process had now been stayed while the Serious Fraud Office investigated.
The dividend for the year is 6.5p, the same as last year. The shares were down almost 5% following the figures, at 262p, making them the biggest faller in the FTSE 100.