http://www.zerohedge.com/news/2014-01-14/unemployment-rate-set-plunge-bill-restore-jobless-benefits-fails-pass-senate
Unemployment Rate Set To Plunge As Bill To Restore Jobless Benefits Fails To Pass Senate
Submitted by Tyler Durden on 01/14/2014 17:24 -0500
Following last week's surprising passage of the preliminary approval to extend emergency unemployment claims, i.e. emergency jobless claims, for 3 months, when six republicans sided with democrats and gave approval to the original $6.4 billion legislation, there was an expectation that up to 1.4 million Americans would get their benefits extended once again (despite the so-called recovery in the economy, and the job market, instead of just all time high S&P500). Moments ago such hopes were dashed, when a Senate plan to restore long-term jobless benefits hit a wall Tuesday
after Republicans withdrew their support
amid complaints over cost and other issues.
The $18 billion bill, which would restore the benefits through the end of 2014, failed to clear a key test vote. Senate Majority Leader Harry Reid needed to attract 60 senators to move the bill forward, but the bill stalled on a 52-48 vote.




No Republicans voted in favor.
What happened between then and now, and why did those republicans revert back to the party line?
Reid lost their support when he amended the bill and failed to come up with a plan to offset the cost within 10 years.




"It doesn't look good," Maine GOP Sen. Susan Collins said before the vote and after a meeting with Reid.




Collins and Nevada GOP Sen. Dean Heller unsuccessfully proposed that Reid go back to the three-month extension. "We're back to ground zero," Heller said.




The senators are expected to return to the negotiating table. The GOP-controlled House has yet to vote on extending the benefits.




Reid postponed a prior vote Monday night upon realizing he didn't have enough support and said he needed time to talk with members of both parties.
It almost makes one wonder if Reid isn't trying to sabotage his own legislation. Whatever the answer, it increasingly seems that no law, retroactive or otherwise, will pass before the end of the month, which also means that up to (a record) 1.4 million Americans will fall out of the labor force, in addition to the now traditional 200K-600K people who quietly exit the labor pool every month. Which also means that,
as we explained previously
, since the impact on the unemployment rate could be as high as 0.8% from just the EUC expiration alone, that the unemployment rate for January could crash to under 6% just as the economy is starting to really backslide, as shown by the recent horrendous data from retailers across the board.
http://www.zerohedge.com/news/2014-01-14/1582-page-spending-bill-hinges-nsa-giving-congress-5-years-records
1,582-Page Spending Bill Hinges On NSA Giving Congress 5 Years Of Records
Submitted by Tyler Durden on 01/14/2014 12:24 -0500
The 1,582-page (apparently bipartisan) omnibus spending bill announced last night adds up to a cool $1.1 trillion. As Bloomberg reports, lawmakers notes "not everyone will like everything in this bill," and we can see why. There is no IMF funding, nothing that "blocks Obamacare," the IRS gets a reprimand - barring them from targetng groups based on their ideological beliefs, preserves language that blocks Federal funding for abortions and spending any money to legalize marijuana. But, perhaps the most critical aspect of the bill is theNSA is required to give Congress number of phone records collected, reviewed during last 5 yrs, including estimate for records of U.S. citizens (among other things). Will that be one step too far for the administration?
Via Bloomberg:
Amendment to omnibus spending bill requires NSA to give Congress number of phone records collected, reviewed during last 5 yrs, including estimate for records of U.S. citizens.

NSA would have to provide unclassified report describing all spy programs that collect bulk data, including cost of programs, types of records being collected, kinds of data NSA plans to collect in future

NSA would have to file second unclassified report listing terrorist activities disrupted with aid of bulk phone records, detailing whether necessary information could have been obtained by other means
While this may be too much for the adminstration to bear, the Treasury is not happy that they can't provide the standard reacharound to the IMF...
The Treasury Department has been seeking for months to boost the U.S.'s share, or quota, at the Washington-based IMF by shifting about $63 billion from an existing credit line. The U.S. is holding up the 2010 agreement by all of the IMF member countries, then totaling 187, to double the fund's lending capacity to about $733 billion.




Holly Shulman, a Treasury spokeswoman, said in a statement that the department was disappointed that Congress had failed to include the quota funding, adding that "the IMF is critically important to U.S. economic and national security interests."
Alexander: Looking Up Past Violations Would Violate Privacy
by Jason Ditz, January 14, 2014
The NSA refused to deny whether or not they spied on members of Congress, but says it would've been illegal if they had. They're not going to check either, claiming that
even checking
if they did so would be illegal.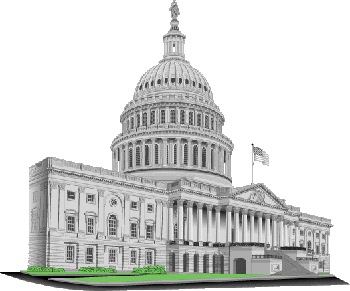 That's the latest in a long line of efforts by the NSA not to answer any questions about its past abuses, per a letter from NSA chief Gen. Keith Alexander, who was responded to the non-answer he gave to Sen. Bernie Sanders (I – VT) before.
Incredible as it seems, Alexander's argument is that searching their database for past instances of spying on Sen. Sanders would be tantamount to spying itself, and therefore a
violation of his privacy
.
Sanders was unsatisfied with the excuse, saying NSA surveillance of political rivals could be a huge potential area of abuse. Nothing the NSA has said appears to deny that fact, or even deny that it's been done. Rather they just argue that it's legally impossible to check.
War on Drugs - a scam for the past twelve years ?
For over a decade, under multiple administrations, the U.S. government had a secret agreement with the ruthless Mexican Sinaloa drug cartel that allowed it to operate with impunity, an in-depth investigation by a leading Mexican newspaper confirmed this week. In exchange for information and assistance in quashing competing criminal syndicates, the Bush and Obama administrations let the Sinaloa cartel import tons of drugs into the United States while wiping out Sinaloa competitors and ensuring that its leaders would not be prosecuted for their long list of major crimes. Other revelations also point strongly to massive but clandestine U.S. government involvement in drug trafficking.
Relying on over 100 interviews with current and former government functionaries on both sides of the border, as well as official documents from the U.S. and Mexican governments, Mexico's El Universal concluded that the U.S. Drug Enforcement Administration (DEA), Immigration and Customs Enforcement (ICE), and the U.S. Justice Department had secretly worked with Mexican drug lords. The controversial conspiring led to increased violence across Mexico, where many tens of thousands have been murdered in recent years, the newspaper found after its year-long probe. The U.S. agents and their shady deals with Mexican drug lords even sparked what the paper called a "secret war" inside Mexico.
The newspaper's investigation also confirmed long-held suspicions that U.S. authorities were signing secret agreements with Mexican drug cartels — especially Sinaloa, which CIA operatives have said was a favorite for use in achieving geo-political objectives. Supposedly without the knowledge or approval of officials in Mexico, ICE and DEA, with a green light from Washington, D.C., made deals with criminal bosses allowing them to avoid prosecution for a vast crime spree that has included mass murder, corruption, bribery, drug trafficking, extortion, and more. In exchange, cartel leaders simply had to help U.S. officials eliminate their competitors — certainly a win-win scenario for crime bosses who prefer to operate without competition or fear of prosecution.
As The New American first reported in early 2011, a high-ranking operative with the Sinaloa cartel had outlined elements of the criminal agreements with U.S. authorities in official court documents. "The government of the United States and its various agencies have a long history of providing benefits, permission, and immunity to criminals and their organizations to commit crimes, including murder, in exchange for receiving information against other criminals and other organizations," trafficker Jesus Vicente "El Vicentillo" Zambada-Niebla argued in U.S. court filings cited by El Universal. The New American has also reported extensively on the Zambada-Niebla case and what it reveals.
Experts quoted in the Mexican paper echoed other analysts who have spoken out in recent years, saying that the U.S. government scheming handed the Sinaloa cartel de facto status as the primary powerhouse. In fact, during the period when El Universal says the relationship between American officials and Sinaloa chieftains was most active — 2006 through 2012 — drug war-fueled violence in Mexico surged to unprecedented levels. There are numerous indications that despite official denials, top Mexican officials may have been aware of the schemes, or even involved in them.
Also part of the U.S. government deal with Sinaloa, analysts and Zambada-Niebla have said, was the Obama administration's "Fast and Furious" gun-running program to arm Mexican cartels at U.S. taxpayer expense. Most recently, a whistleblower from the Bureau of Alcohol, Tobacco, Firearms, and Explosives (ATF) said that U.S. Border Patrol agent Brian Terry, killed with a Fast and Furious gun, was murdered by criminals working for the FBI. "It is clear that some of the weapons were deliberately allowed by the FBI and other government representatives to end up in the hands of the Sinaloa Cartel," stated a motion filed in U.S. court by Zambada-Niebla's defense team, adding that the U.S. government has documents showing that the weapons were provided by authorities pursuant to the agreement with Sinaloa.
According to former officials and drug kingpins, the agreements between Sinaloa and Washington also allowed the criminal empire to ship multi-ton quantities of hard drugs across the border into the United States. In all, El Universal said there had been at least 50 meetings in Mexico between U.S. government agents and senior Sinaloa bosses, along with many more phone calls and e-mails. The criminal syndicate's leaders "were given carte blanche to continue to smuggle tons of illicit drugs into Chicago and the rest of the United States and were also protected by the United States government from arrest and prosecution," Zambada-Niebla's court filings state, adding that the U.S. government has the documents proving it. "Indeed, United States government agents aided the leaders of the Sinaloa Cartel."
Unsurprisingly, none of the American federal agencies implicated in the machinations would comment on the revelations. However, citing court documents and official records it published online — as well as numerous interviews with federal agents, convicts, and analysts — the paper was able to conclusively confirm what experts and even officials have been arguing for years: The U.S. government is deeply intertwined with the drug trade. It was not clear what statutory or constitutional authority Washington, D.C., believes would authorize its functionaries to participate in, protect, and facilitate wanton criminal activity.
Mexican authorities, meanwhile, were reportedly kept largely out of the loop surrounding DEA meetings and agreements with top leaders in Mexico's most notorious criminal syndicates. Officials in Mexico also claimed to be in the dark about the Obama administration's program to arm the cartels with U.S. weapons. According to analysts quoted in the El Universal report, if it is true that Mexico City was unaware, that only adds to the troubling implications of the unlawful scheming between U.S. officials and criminal bosses from Mexico and Colombia to Afghanistan and Southeast Asia.
Among other concerns, experts highlighted violations of human rights, infringements on the sovereignty of other nations, and more. It also helped fuel the devastating violence that has plagued the nation and claimed the lives of between 50,000 and 100,000 people in less than a decade. If Mexican authorities in fact approved the U.S. government's drug-running schemes in Mexico, they broke the law, too, legal experts told the paper, saying the Mexican Constitution could not be trumped by bilateral agreements or anything else.
The latest revelations in the El Universal report came just days after the emergence of more explosive information implicating the CIA in drug-trafficking yet again. In an investigative article for Narco News entitled "DEA Case Threatens to Expose US Government-Sanctioned Drug-Running," veteran drug-war journalist Bill Conroy highlights another U.S. government investigation that, perhaps inadvertently, ended up implicating the infamous American intelligence agency in major cocaine trafficking operations once more. Citing official documents and numerous U.S. officials, the piece also notes that CIA-sponsored drug running has been a persistent and ongoing problem.
In fact, it would not be the first time that the DEA has stumbled on major CIA drug-running operations. Even former DEA chief Robert Bonner, during an explosive interview with CBS, revealed that his agency had learned that the U.S. intelligence outfit unlawfully imported a ton of cocaine into the United States in cooperation with the Venezuelan government. According to the agency's inspector general, the CIA was indeed working with traffickers but received a "waiver" from the Justice Department purporting to allow the government crime spree to remain secret. More recently, a Mexican official accused the CIA of "managing" the global drug trade.
The Mexican investigation follows decades of explosive revelations and accusations, many documented by The New American, suggesting that Washington, D.C., plays a crucial role in facilitating the international drug trade. In fact, more than a few officials, drug lords, and analysts have even said that the CIA and other secretive U.S. and foreign agencies actually run the global trade in narcotics, laundering the profits, and more. The DEA was even investigated by Congress last year for helping to launder drug money, while the ATF was exposed supplying U.S. weapons to Mexican cartels. ICE has reportedly been allowing cartel hit men into the United States to murder. So far, none of the high-ranking officials responsible for the lawlessness has truly been held accountable.
Photo shows alleged hit men working for Sinaloa drug cartel along with grenades, automatic weapons, and body armor: AP Images