Syria......
Talks Continue on Aid Convoy for Sieged City
by Jason Ditz, January 26, 2014
It's being described as a "
breakthrough
," as officials have announced a deal at the Syrian talks to allow women and children out of the rebel-held center of the city of Homs, with government officials saying they will "allow them every access" to leaving the area safely.
The deal
fell short
of an initial proposal which would've also allowed aid convoys into the area, though talks are
continuing
and that deal appears to still be on the table.
The big question on Homs is whether the rebel fighters who hold the area will actually let the civilian population leave, as the talks only involved the government and the Syrian National Coalition (SNC), an opposition faction with little to no influence on the rebel troops on the ground.
The central city of Homs was one of the first to fall into dispute between rebels and military forces, and has been under siege longer than most. Though a lot of civilians fled a long time ago, those who believed either side's prediction of imminent victory stayed, and have found themselves trapped in the midst of some of the worst fighting in the war.
Iran......
Amano: Nations Pledge Extra Funding for Monitors
by Jason Ditz, January 26, 2014
During a Friday vote, the International Atomic Energy Agency (IAEA)
unanimously
endorsed their role in monitoring the P5+1 nuclear deal with Iran.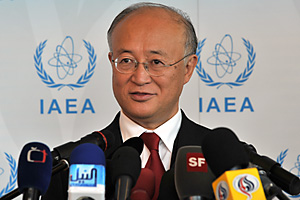 IAEA chief Amano Yukiya said he was encouraged by the pledges from nations for extra funding to pay for the additional monitors, as the deal will essentially have the IAEA doing daily inspections in the country.
The interim deal came into effect last Monday, and the IAEA
confirmed
at the time that Iran is complying with the terms of the deal, halting the last of its 20 percent uranium enrichment.
The IAEA had estimated the additional monitoring would cost $7.5 million in 2014, and while they didn't say exactly how much was pledged, Amano says he is confident the goal will be reached.
Iraq......
http://www.zerohedge.com/news/2014-01-27/us-sells-24-apache-helicopters-iraq
( Fighting Al Qaeda in Iraq while aiding same Al Qaeda militias in syria - smart power for sure ! )
US Sells 24 Apache Helicopters To Iraq
Submitted by Tyler Durden on 01/27/2014 15:48 -0500
And just like that, slowly but surely, the entire US foreign strategy vis-a-vis Iraq and its weapons of mass
diversion
destruction, is becoming all too clear.
WASHINGTON, Jan 27, 2014-The Defense Security Cooperation Agency notified Congress today of a possible Foreign Military Sale to Iraq for AH-64E APACHE LONGBOW Attack Helicopters and associated equipment, parts, training and logistical support for an estimated cost of $4.8 billion.
The Government of Iraq has requested a possible sale of 24 AH-64E APACHE LONGBOW Attack Helicopters, 56 T700-GE-701D Engines, 27 AN/ASQ-170 Modernized Target Acquisition and Designation Sight, 27 AN/AAR-11 Modernized Pilot Night Vision Sensors, 12 AN/APG-78 Fire Control Radars with Radar Electronics Unit (LONGBOW component), 28 AN/AAR-57(V)7 Common Missile Warning Systems, 28 AN/AVR-2B Laser Detecting Sets, 28 AN/APR-39A(V)4 or APR-39C(V)2 Radar Signal Detecting Sets, 28 AN/ALQ-136A(V)5 Radar Jammers, 52 AN/AVS-6, 90 Apache Aviator Integrated Helmets, 60 HELLFIRE Missile Launchers, and 480 AGM-114R HELLFIRE Missiles. Also included are AN/APR-48 Modernized Radar Frequency Interferometers, AN/APX-117 Identification Friend-or-Foe Transponders, Embedded Global Positioning Systems with Inertial Navigation with Multi Mode Receiver, MXF-4027 UHF/VHF Radios, 30mm Automatic Chain Guns, Aircraft Ground Power Units, 2.75 in Hydra Rockets, 30mm rounds, M211 and M212 Advanced Infrared Countermeasure Munitions flares, spare and repair parts, support equipment, publications and technical data, personnel training and training equipment, site surveys, U.S. government and contractor engineering, technical, and logistics support services, design and construction, and other related elements of logistics support. The estimated cost is $4.8 billion.
This proposed sale will contribute to the foreign policy and national security of the United States by helping to improve the security of a strategic partner. This proposed sale directly supports the Iraq government and serves the interests of the Iraqi people and the United States.
This proposed sale supports the strategic interests of the United States by providing Iraq with a critical capability to protect itself from terrorist and conventional threats, to enhance the protection of key oil infrastructure and platforms, and to reinforce Iraqi sovereignty. This proposed sale of AH-64E APACHE helicopters will support Iraq's efforts to establish a fleet of multi-mission attack helicopters capable of meeting its requirements for close air support, armed reconnaissance and anti-tank warfare missions.
The proposed sale of this equipment and support will not alter the basic military balance in the region.
The prime contractors will be The Boeing Company in Mesa, Arizona; Lockheed Martin Corporation in Orlando, Florida; General Electric Company in Cincinnati, Ohio; Lockheed Martin Mission Systems and Sensors in Owego, New York; Longbow Limited Liability Corporation in Orlando, Florida; and Raytheon Corporation in Tucson, Arizona. There are no known offset agreements proposed in connection with this potential sale.
Implementation of this proposed sale will require the assignment of three U.S. Government and two hundred contractor representatives to Iraq to support delivery of the Apache helicopters and provide support and equipment familiarization. In addition, Iraq has expressed an interest in a Technical Assistance Fielding Team for in-country pilot and maintenance training. To support the requirement a team of 12 personnel (one military team leader and 11 contractors) would be deployed to Iraq for approximately three years. Also, this program will require multiple trips involving U.S. Government and contractor personnel to participate in program and technical reviews, training and installation.
There will be no adverse impact on U.S. defense readiness as a result of this proposed sale.
This notice of a potential sale is required by law and does not mean the sale has been concluded.
'No Deadline,' But Growing Fears of Military Invasion
by Jason Ditz, January 26, 2014
The city of Fallujah remains under control of al-Qaeda in Iraq (AQI), and was the site of heavy shelling and sporadic air strikes by the Iraqi military today, with
at least seven killed and 42 wounded
.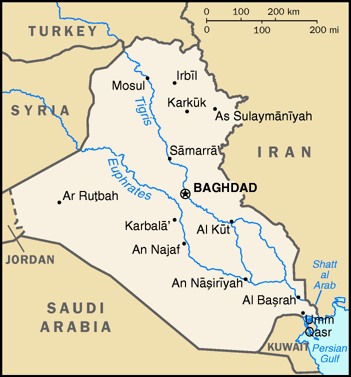 The only confirmed casualties so far were civilians, and there has been no indication of how many AQI fighters have been hit in the strike, if indeed any have been.
The big concern is not the air strikes, but rather the Iraqi military, which has the city cordoned off and is expected to launch a ground invasion at some time soon.
Iraqi officials say there is "no deadline" set for an invasion, and they haven't green lit any ground invasions of the city, but with efforts by Sunni tribal leaders to convince AQI to leave stalled, the sense is that invasion is coming sooner rather than later.
Most of the locals oppose AQI's presence in their city, but Fallujah was also in open revolt against the Maliki government before AQI arrived, so a protracted opposition to the military invasion is to be expected.
http://www.infowars.com/cfr-calls-on-obama-to-befriend-al-qaeda-terrorist-group/
( Can you see the insanity here ? Sell Apaches to Iraq fight Al Qaeda in Iraq while " befriending " Al Qaeda in next door Syria ? )
Elite think tank wants alliance with faction whose leader helped plan 9/11
Paul Joseph Watson
Infowars.com
January 27, 2014
The Council on Foreign Relations, a highly influential Washington DC think tank, has called on the Obama administration to 'befriend' a terrorist group in Syria which has pledged allegiance to Al-Qaeda leader Ayman al-Zawahiri and whose leader helped plan the 9/11 attacks.
The authors even admit that the leader of Ahrar al-Sham, Abu Khalid al-Suri, recently "published a statement praising bin Laden and al Qaeda's current chief, Ayman al-Zawahiri," underscoring the fact that, "Al Qaeda and Ahrar al-Sham are joined at the hip."
According to reports
, al-Suri, real name Mohamed Bahaiah, is a "longtime al Qaeda operative who worked as a courier for the terror network," is al-Zawahiri's representative in the Levant, and even "delivered surveillance tapes of the World Trade Center and other American landmarks to al Qaeda's senior leadership in Afghanistan in early 1998."
So essentially, the CFR, which is basically a front for the State Department, is now calling on the Obama administration to make an alliance with an Al-Qaeda group whose leader helped plan the 9/11 attacks – all in the name of destabilizing Iran and Syria.
Ahrar al-Sham is currently fighting alongside the Free Syrian Army, which has been backed to the tune of billions of dollars from the U.S. and the UK and is currently being represented as part of the "opposition" camp at the Geneva II peace talks.
This is not the first time the CFR has praised Al-Qaeda and called on the U.S. to get behind the terror group in Syria.
As we reported
in August 2012, Council on Foreign Relations fellow Ed Husain hailed the presence of Al-Qaeda fighters in Syria at a time when the media was still treating their existence as a conspiracy theory. Husain even lauded the "deadly results" that Al-Qaeda militants had been able to achieve in the form of terrorist bombings.
The Council on Foreign Relations is considered to be America's "most influential foreign-policy think tank" and has deep connections with the U.S. State Department. In 2009,
Hillary Clinton welcomed the fact
that the CFR had set up an outpost down the street from the State Department in Washington DC, because it meant "I won't have as far to go to be told what we should be doing."
As we also
recently highlighted
, the United States and NATO powers have routinely supported or turned a blind eye to Al-Qaeda's activities for decades as part of a larger geopolitical strategy centered around using the terrorist groups to destabilize countries to grease the skids for regime change.
Watch a video clip below which shows the very Ahrar al-Sham terrorists that the CFR wants Obama to 'befriend'.
Shelling and Bombings for Iraq: 45 Killed and 82 Wounded
At least 45 people were killed across Iraq, and another 82 were wounded. The air strikes and clashes continued in rebel-controlled areas of western Iraq, while bombings and shootings terrified residents in central and northern Iraq.
In
Anbar
province, insurgents reportedly took over control of more areas today. At least five Iraqi soldiers were
captured
near
Falluja,
when gunmen attacked a checkpoint there. Witnesses
said
as many as 22 soldiers were taken prisoner, and five of them were seen in a video that has surfaced. Separately, a blast at a home
killed a woman and her three children
. Artillery or rocket fire left another
three dead and 42 wounded
, according to hospital officials. Security forces
believe
that about 80 percent of the population has fled Falluja. Meanwhile,
three gunmen
were killed in
Ramadi
.
A roadside bomb in
Abu Ghraib
left
two dead
.
Turkey.....
Turkish Lira Soars Over 1000 Pips In Hours On Central Bank Intervention Suspense
Submitted by Tyler Durden on 01/27/2014 11:43 -0500
As
we noted earlier,
the "surprise" factor of the Turkish Central Bank's (CBT) emergency meeting is seeming to have the desired effect as the Lira has
rallied over 1000 pips since the announcement
. Officially there has been no intervention and, despite Erdogan's political pressure on the CBT not to raise rates (because of the "interest rates lobby")
Barclays (as we noted here)
and most other banks are expecting more conventional dramatic interest rate hikes
(since everyone knows the FX reserves are running dry)
:
*TURKEY NEEDS TO RAISE O/N RATE 300BPS FOR MKT EFFECT: JPMORGAN
However, JPMorgan adds that it "strongly doubts this will regain investors confidence"and Finansbank warns it has "significant doubts" that the CBT will deliver. And this is what the rest of the market thinks...
Goldman Sachs (Ahmet Akarli, Kasper Lund-Jensen)
Turkey to begin "clear, decisive" tightening cycle tomorrow, other measures may include draining TRY from system, adding FX liquidity or FX swap lines
Capital controls unlikely at this stage after short-lived attempt to introduce Tobin tax in 2006
It is not exactly clear how the CBRT will play its hand at this juncture. Our best guess is that tomorrow's MPC meeting will mark the beginning of a clear and decisive tightening cycle. Although our current forecast is for the non-PD O/N lending rate to reach 10% (from the current 7.75%) by end-year, it is not clear how far the policy adjustment needs to go to stabilise the TRY and prevent additional under-performance relative to EM peers. More substantive tightening may ultimately be necessary given Turkey's large external imbalances, high and accelerating inflation and the CBRT's weak inflation credentials. Here, consistency and credibility of the CBRT's policy decision will be crucial
Nomura (Olgay Buyukkayali)
Sees "meaningful hike" and a "more simple policy" adopted at tomorrow's meeting
Marginal funding rate to rise 200bps to 9.75%, with hawkish bias, policy makers to keep this as only funding rate for next few mos.

Standard Bank (Timothy Ash)
Needs 300bp rate increase to shore up TRY, with more to come
Finansbank (Inan Demir)
Finansbank has "significant doubts" that the central bank of Turkey will deliver substantial tightening at an extraordinary meeting tomorrow, citing its "less than perfect" track record in responding to routs of the lira, according to chief economist Inan Demir.
In 2006, cenbank declined to raise rates at monthly meeting then held extrardinary meeting to announce 175bp rate increase, which failed to stop lira decline and was followed by another emergency meeting with a 225bp increase: Finansbank
In Oct 2011, cenbank raised upper rate 350bps to 12.5%, but continued to fund market at lower, 1-week repo rate, leaving currency under pressure: Finansbank
JPMorgan (Yarkin Cebeci)
Overnight lending rate may rise to 9.75%
"Strongly doubt" that this would suffice to regain investor confidence
Turkey needs to raise overnight rate 300bps for desired market impact if it keeps so-called interest rate corridor at tomorrow's extraordinary monetary policy meeting, Yarkin Cebeci, an analyst at JPMorgan Chase & Co. in Istanbul, says in e-mailed report. * Bank may shift interest rate corridor, or push upper end by 200bps, bringing overnight lending rate to 9.75%
Given "uncertainties that would persist, we strongly doubt that this would suffice to regain investor confidence":
"Central bank could be forced to deliver further hikes in the coming weeks"
Deutsche Bank (Alan Ruskin)
* Market looking for "serious" interest rate hike
UBS (George Magnus)
* Timing suggests something other than rates adjustment, may announce capital controls
* CBRT has been under pressure not to raise rates; Erdogan remarks that current events part of an international rates conspiracy
Capital Economics (William Jackson)
* Increase in overnight lending rate to 9% "most likely outcome," although unclear whether bank will be able to defy government pressure not to raise rates
* Bank appears to have lost credibility with market
* Societe Generale (Benoit Anne)
* Rates need to rise by at least 100bps, ideally 200bps
* Expects other central banks to also step back into FX market, including Brazil BCB and India RBI
* BBH (Marc Chandler)
* Capital controls are a possibility, could take "many different forms
* 100bp rate increase would be ''nice,'' market would press for more
( Wondering which Central Banks intervened on behalf of the turkish lira ? )
The Turkish Lira's Surreal 1500 Pip, Six-Hour Roundtrip
Submitted by Tyler Durden on 01/27/2014 07:16 -0500
The last time the Turkish Central Bank announced,
after the fact
, it has failed to intervene decisively in FX markets, the country's currency collapse became a vivid example of what happens when monetary collapse looms and the monetary authority is unable to do anything about it. This morning, things got even more surreal after the Turkish lira cratered from 2.32 to a record low against the dollar, just shy of 2.39, when at 5:30 Eastern time, the Turkish CB decided to do what Draghi, Bernanke
et al
are so good at doing: threaten with some unknown future action, in the process spooking everyone into covering shorts. To wit:
TURKEY CENTRAL BANK TO ANNOUNCE DECISION MIDNIGHT TOMORROW
TURKEY CENTRAL BANK TO HOLD EXTRAORDINARY MEETING TOMORROW
TURKEY CENTRAL BANK MONETARY POLICY COMMITTEE TO MEET TOMORROW
What happened next was the most dramatic ramp in the USDJPY since December 30 for sure, and perhaps in history, when the pair plunged by 800 pips in the matter of hours.
The Turkish lira rebounded strongly Monday after the central bank said it would schedule an extraordinary policy meeting on Tuesday to evaluate recent developments and take necessary measures to ensure price stability.




In a statement, the central bank said the decision would be published midnight local time (2200 GMT) on Tuesday. The news appeared to be interpret as a signal that Ankara would raise interest rates aggressively, sending the lira 2% higher at 1100 GMT.




Analysts said that failure to deliver significant increase in interest rates could spark a broad selloff. "They have to hike…and aggressively," said Tim Ash, emerging markets economist at Standard Bank in London.

...

Last week, the central bank intervened directly in the currency markets for the first time in two years in an attempt to shore up the lira by spending precious foreign currency reserves.
Well, the hopes and prayers of the entire EM and DM world are now in the hands of Turkey. Make us proud, oh not quite European nation's central bank and part with some more of your USD reserves in a way that would make Argentina proud. Hopefully in the process PM Erdogan does not do to you what he has so far done to anyone who has questioned his authority or inquired into corruption charges involving the Turkish oligarch: hand them a pink slip.
Turkish Lira Stages Gigantic Turnaround After Central Bank Announces Emergency Meeting
It's a wild day in Turkey.
Earlier the Turkish Lira was getting crushed. Now the Lira is rallying against the dollar. The move comes as the Central Bank of Turkey announced that tomorrow
it will hold an emergency session
in order to stem the currency decline.
And....
Turkey's central bank calls emergency meeting as lira loses value for 11th straight day
(Photo: Reuters)
27 January 2014 /TODAYSZAMAN.COM, İSTANBUL
Turkey's central bank says its monetary policy committee will hold an emergency meeting as the Turkish currency, the lira, continues to weaken against foreign currencies.
Turkey's lira continued its downward slide on Monday for the 11th straight day -- the longest streak since 1996 -- and fell to a new record low of 2.39 against the US dollar despite the central bank's intervention in foreign exchange markets to defend the currency.
However, after the Turkish Central Bank announced on Monday afternoon that it will hold an extraordinary meeting on Tuesday to discuss the currency's situation, the lira went back to 2.33 against the US dollar.
The lira's steep decline comes amidst a similar free fall in other emerging market currencies against the greenback. The South African rand, the Russian ruble and, especially, the Argentinean peso, which fell 13 percent Thursday, led the losses in value of emerging country currencies on Friday.
The Turkish currency has been falling steadily amid concerns that a bribery and corruption scandal that has ensnared people close to Prime Minister Recep Tayyip Erdoğan might destabilize the government.
The lira tumbled beyond 2.39 to the dollar on Monday, meaning Turks now need more than twice as many liras to buy dollars as they did during the currency's peak six years ago, a costly decline for a nation heavily dependent on imports. Bankers said the central bank sold around $3 billion on Thursday in its first direct intervention in the foreign exchange market in two years, but the move did almost nothing to calm the markets.
The Turkish Central Bank's net foreign exchange reserves stand at around $34 billion, economists estimate, which means it can sustain dollar sales at current levels for weeks rather than months although the bank has said all of its reserves, including those held with it by commercial lenders, could be tapped if needed. Its gross reserves stood at $107 billion as of last Friday.