Karzai gets tough ..... declares US should talk with Taliban or go gome . releases civilian death report
http://news.yahoo.com/afghan-president-says-u-start-talks-taliban-leave-130113042--sector.html
By Mirwais Harooni
KABUL (Reuters) - President Hamid Karzai appeared to stiffen his resolve on Saturday not to sign a security pact with Washington, saying the United States should leave Afghanistan unless it could restart peace talks with the Taliban.
"In exchange for this agreement, we want peace for the people of Afghanistan. Otherwise, it's better for them to leave and our country will find its own way," Karzai told a news conference.
The president said pressing ahead with talks with the Taliban, in power from 1996-2001, was critical to ensure that Afghanistan was not left with a weak central government.
"Starting peace talks is a condition because we want to be confident that after the signing of the security agreement, Afghanistan will not be divided into fiefdoms," he said.
Most diplomats now agree that Karzai is unlikely to sign the Bilateral Security Agreement (BSA) that would allow for some form of U.S. military presence in Afghanistan after the end of 2014, when most troops are due to leave.
Along with reviving peace talks with the Taliban, Karzai is also demanding an end to all U.S. military operations on Afghan homes and villages, including strikes by pilotless trones.
The United States has threatened to pull all of its troops out unless a deal is signed in good time, but embassies are examining alternative solutions behind the scenes that would enable the NATO-led mission to remain.
Karzai's defiant tone struck a chord with those in the West who have already decided that further discussion with the Afghan president may be pointless and waiting for his successor to be elected is the best option.
"The more people speak about it being signed after the election, the more irrelevant he becomes," said one diplomat. "Sad as it is, we might have to bank on the next guy."
But representatives from some countries say this would not leave enough time for them to prepare for a post-2014 mission. Afghans are due to vote in a presidential election on April 5, but it could take weeks for Karzai's successor to assume power if a run-off round is required.
Karzai initially agreed to a text of the pact in November and an assembly of elders called on him to sign it. But he has since refused to sign.
In his comments to reporters, the Afghan president also denounced the use of advertising - some paid for by the United States - that lobbies for signature of the BSA.
"To harm the psyche and soul of the people of Afghanistan, there is serious propaganda going on," said Karzai, referring to the advertisements broadcast for weeks by local media but now taken off the air.
"No pressure, no threat, no psychological war can force us to sign the BSA. If they want to leave, they should leave today. We will continue our living."
Western Officials Say Report Sounds Similar to What Taliban Said
by Jason Ditz, January 25, 2014
The Karzai government his
issued a new report detailing
its on-the-ground findings in the January 15 US air strikes in Parwan, fueling anger among US and NATO officials and warnings of "growing doubts" about Karzai's fitness to rule.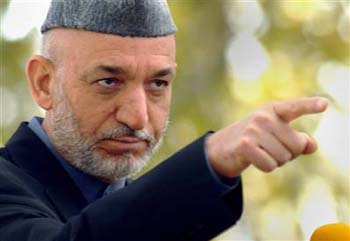 The report is in keeping with previous statements from officials involved in the probe, confirming the eight hours of US air strikes killed at least 12 civilians, and potentially as many as 17. NATO initially put the figure at zero, but revised it to two the day of the attack. They also promised investigations but haven't issued any new statements.
And while plenty of Afghans are mad about the civilian deaths, that anger seems to pale in comparison to US anger about those deaths being publicized.
There is no real dispute of the facts among Western diplomats, but they are complaining that the report sounds similar to the narrative of Taliban statements about the US strike, and reflects the Karzai government's hostility toward the occupation forces.
"We have a lot of Afghans in the government who want us to leave," complained one EU diplomat. "I think we're all beginning to realize that."
Karzai used the report as an opportunity to reiterate his opposition to a Bilateral Security Agreement (BSA) that would keep the occupation going "through 2025 and beyond." Karzai added in a statement that he wants the US to
start peace talks with the Taliban
, or failing that to just leave outright.
Iran......
US 'Dismantling' Rhetoric Ignores Iran's Nuclear Proposals
Iran's pushback against statements by Secretary of State John Kerry and the White House that Tehran must "dismantle" some of its nuclear program, and the resulting political uproar over it, indicates that tough U.S. rhetoric may be adding new obstacles to the search for a comprehensive nuclear agreement.
Iranian Foreign Minister Mohammad Javad Zarif said in an interview with CNN's Jim Sciutto Wednesday, "We are not dismantling any centrifuges, we're not dismantling any equipment, we're simply not producing, not enriching over five percent."
When CNN's Fareed Zakaria asked President Hassan Rouhani, "So there would be no destruction of centrifuges?" Rouhani responded, "Not under any circumstances. Not under any circumstances."
Those statements have been interpreted by US news media, unaware of the basic technical issues in the negotiations, as indicating that Iran is refusing to negotiate seriously. In fact, Zarif has put on the table proposals for resolving the remaining enrichment issues that the Barack Obama administration has recognized as serious and realistic.
The Obama administration evidently views the rhetorical demand for "dismantling" as a minimum necessary response to Israel's position that the Iranian nuclear program should be shut down. But such rhetoric represents a serious provocation to a Tehran government facing accusations of surrender by its own domestic critics.
Zarif complained that the White House had been portraying the agreement "as basically a dismantling of Iran's nuclear program. That is the word they use time and again." Zarif observed that the actual agreement said nothing about "dismantling" any equipment.
The White House issued a "Fact Sheet" Nov. 23 with the title, "First Step Understandings Regarding the Islamic Republic of Iran's Nuclear Program" that asserted that Iran had agreed to "dismantle the technical connections required to enrich above 5%."
That wording was not merely a slight overstatement of the text of the "Joint Plan of Action". At the Fordow facility, which had been used exclusively for enrichment above five percent, Iran had operated four centrifuge cascades to enrich at above five percent alongside 12 cascades that had never been operational because they had never been connected after being installed, as the International Atomic Energy Agency (IAEA) had reported.
The text of the agreement was quite precise about what Iran would do: "At Fordow, no further enrichment over 5% at 4 cascades now enriching uranium, and not increase enrichment capacity. Not feed UF6 into the other 12 cascades, which would remain in a non-operative state. No interconnections between cascades."
So Iran was not required by the interim agreement to "dismantle" anything. What Zarif and Rouhani were even more upset about, however, is the fact that Kerry and Obama administration spokespersons have repeated that Iran will be required to "dismantle" parts of its nuclear program in the comprehensive agreement to be negotiated beginning next month.
The use of the word "dismantle" in those statements appears to be largely rhetorical and aimed at fending off attacks by pro-Israel political figures characterizing the administration's negotiating posture as soft. But the consequence is almost certain to be a narrowing of diplomatic flexibility in the coming negotiations.
Kerry appears to have concluded that the administration had to use the "dismantle" language after a Nov. 24 encounter with George Stephanopoulos of NBC News.
Stephanopoulos pushed Kerry hard on the Congressional Israeli loyalist criticisms of the interim agreement. "Lindsey Graham says unless the deal requires dismantling centrifuges, we haven't gained anything," he said.
When Kerry boasted, "centrifuges will not be able to be installed in places that could otherwise be installed," Stephanopoulos interjected, "But not dismantled." Kerry responded, "That's the next step."
A moment later, Kerry declared, "And while we go through these next six months, we will be negotiating the dismantling, we will be negotiating the limitations."
After that, Kerry made "dismantle" the objective in his prepared statement. In testimony before the House Foreign Affairs Committee Dec. 11, Kerry said the US had been imposing sanctions on Iran "because we knew that [the sanctions] would hopefully help Iran dismantle its nuclear program."
White House spokesman Jay Carney dismissed Zarif's comment as "spin" on Iran's commitments under the Joint Plan of Action "for their domestic political purposes".
He refused to say whether that agreement involved any "dismantling" by Iran, but confirmed that, "as part of that comprehensive agreement, should it be reached, Iran will be required to agree to strict limits and constraints on all aspects of its nuclear program to include the dismantlement of significant portions of its nuclear infrastructure in order to prevent Iran from developing a nuclear weapon in the future."
But the State Department spokesperson, Marie Harf, was much less categorical in a press briefing Jan. 13: "We've said that in a comprehensive agreement, there will likely have to be some dismantling of some things."
That remark suggests that the Kerry and Carney rhetoric of "dismantlement" serves to neutralize the Israel loyalists and secondarily to maximize US leverage in the approaching negotiations.
Kerry and other US officials involved in the negotiations know that Iran does not need to destroy any centrifuges in order to resolve the problem of "breakout" to weapons grade enrichment once the stockpile of 20- percent enriched uranium disappears under the terms of the interim agreement.
Zarif had proposed in his initial power point presentation in October a scheme under which Iran would convert its entire stockpile of 20-percent enriched uranium into an oxide form that could only be used for fuel plates for the Tehran Research Reactor.
US officials who had previously been insistent that Iran would have to ship the stockpile out of the country were apparently convinced that there was another way to render it "unusable" for the higher-level enrichment necessary for nuclear weapons. That Iranian proposal became the central element in the interim agreement.
But there was another part of Zarif's power point that is relevant to the remaining problem of Iran's stockpile of low-enriched uranium: Iran's planned conversion of that stockpile into the same oxide form for fuel rods for nuclear power plants as was used to solve the 20-percent stockpile problem.
And that plan was accepted by the United States as a way of dealing with additional low-enriched uranium that would be produced during the six-month period.
An element included in the Joint Plan of Action which has been ignored thus far states: "Beginning when the line for conversion of UF6 enriched up to 5% to UO2 is ready, Iran has decided to convert to oxide UF6 newly enriched up to 5% during the 6 month period, as provided in the operational schedule of the conversion plant declared to the IAEA."
The same mechanism – the conversion of all enriched uranium to oxide on an agreed time frame — could also be used to ensure that the entire stockpile of low-enriched uranium could no longer be used for "breakout" to weapons-grade enrichment without the need to destroy a single centrifuge. In fact, it would allow Iran to enrich uranium at a low level for a nuclear power program.
The Obama administration's rhetoric of "dismantlement", however, has created a new political reality: the US news media has accepted the idea that Iran must "dismantle" at least some of its nuclear program to prove that it is not seeking nuclear weapons.
CNN Anchor Chris Cuomo was shocked by the effrontery of Zarif and Rouhani. "That's supposed to be the whole underpinning of moving forward from the United States perspective," Cuomo declared, "is that they scale back, they dismantle, all this stuff we've been hearing."
Yet another CNN anchor, Wolf Blitzer, who was an official of the American-Israel Public Affairs Committee before becoming a network journalist, called Zarif's statements "stunning and truly provocative," adding that they would "give ammunition" to those in Congress pushing for a new sanctions bill that is clearly aimed at sabotaging the negotiations.
The Obama administration may be planning to exercise more diplomatic flexibility to agree to solutions other than demanding that Iran "dismantle" large parts of its "nuclear infrastructure".
But using such rhetoric, rather than acknowledging the technical and diplomatic realities surrounding the talks, threatens to create a political dynamic that discourages reaching a reasonable agreement and leaves them unresolved.
Iran's IRGC commander dismisses U.S. military threat
English.news.cn

2014-01-26 04:22:21
TEHRAN, Jan. 25 (Xinhua) -- Iranian Islamic Revolution Guards Corps (IRGC) chief commander dismissed Saturday what he called U.S. threat of military action against Tehran over its controversial nuclear program, Press TV reported.
Major General Mohammad-Ali Jafari called the threat "ridiculous " and said wise U.S. politicians would not keep the option on the table, admonishing U.S. Secretary of State John Kerry, who put forward such a possibility, to stop repeating "bankrupt strategies such as the use of military power."
"You could never understand the extent of the invasive capacity of the Islamic republic of Iran," Jafari said, adding a direct battle with the United States is something "the revolutionary people" wanted.
Jafari's remarks came in response to earlier comments by Kerry, who said Thursday that the military option was still on the table if Iran did not live up to its nuclear commitments under the Geneva deal it signed with six world powers in November.
Also, a senior Iranian lawmaker said Saturday that the United States is not capable of launching an attack against Tehran.
Chairman of the Majlis (parliament) National Security and Foreign Policy Commission Alaeddin Boroujerdi said the U.S. threat of a military option is "ridiculous," warning that any warmongering by Washington would jeopardize its interests in the Mideast region.
Syria......
Lavrov says 'no talks with Islamist militants in Syria'
Published time: January 26, 2014 18:49
Amid the Geneva 2 peace conference, Russian Foreign Minister Sergey Lavrov stated that no talks will take place with terrorists in Syria. Meanwhile, UN mediator Lakhdar Brahimi hopes aid will enter the besieged city of Homs on Monday.
"We refuse to have talks and do not recommend other parties to hold talks with them over principled considerations," Lavrov said in an interview with Russia's NTV on Sunday.
The minister noted that Jebhat an-Nusra, the Islamic state of Iraq and Levant, and other Al-Qaeda branches cannot be involved in the peace process while militants "rampage and commit terrorist acts [in Syria]."
Lavrov has expressed doubts about including the recently established Syrian Islamic Front - a Sunni Muslim organization of Islamist rebel groups fighting against the Assad government - in the peace process.
The Islamic Front includes organizations that were directly involved in a massacre that killed at least 32 civilians in Adra, Lavrov said, and "some or another structure can hardly be imagined to be a partner in peace talks."
"Militants are flowing like communicating vessels between the Islamic Front, Javhat al-Nusra, the Islamic State of Iraq and the Levant - they go to where more money is paid," Lavrov said.
"It is important that political process would be accompanied with a union of sound forces, which think about their homeland, but not about creation of a Halifat in the Middle East or North Africa in order to unite them in different ways and help them combat terrorism," he continued.
'The goal is to combat terrorism'
Lavrov stated that Russia, along with all other G8 members - the US, the UK, France, Germany, Italy, Japan, and Canada - believe that "extremists and terrorists call the tune increasingly in different Syrian regions."
He recalled British Prime Minister David Cameron's proposal at the G8 summit in Northern Ireland's Lough Erne in June 2013 to include an appeal to the Syrian government and opposition in the final summit declaration. All G8 partners, including Russian President Vladimir Putin, supported the proposal.
The task of combating terrorism is "becoming higher priority with due account of the scale of terrorism threat that grows in Syria and already spreads on Iraq," the Russian foreign minister said.
The final goal "is to attain political accord between the Syrian government and reasonable, secular and patriotic opposition as quickly as possible and along with political settlement help them to unite for fight against these terrorists," the minister continued.
Prisoners' release, humanitarian aid discussed at Geneva 2
The third day of Geneva 2 peace talks focused on the fates of the thousands jailed, kidnapped or missing in Syria. The government and opposition delegations agreed to release about 7,000 prisoners, including 2,000 teenagers, Interfax reported, citing official sources close to the negotiations.
The delegation of the Syrian opposition said before the talks started on Sunday that the National Coalition has already prepared a list of prisoners. The government delegation demanded the opposition to provide a list of people who have been kidnapped by militants during the ongoing conflict.
"The opposition agreed to collect such data and provide it to the government. We hope that these promises will be fulfilled" UN mediator Lakhdar Brahimi said during a Sunday press conference.
Another issue discussed on Sunday was the arrival of an aid convoy arriving to the besieged city of Homs. Brahimi said he hopes women and children will be able to leave the city on Monday.
"…Other civilians are also welcome to leave, but the government needs a list of their names first," Brahimi said. "So hopefully, starting tomorrow, women and children will be able to leave the old city in Homs. And I hope that the rest of the civilians will be able to leave soon after that."
The delegation of the Western-backed opposition attempted to talk about delivering aid to different areas. However, President Assad's media advisor, Bouthaina Shaaban, told RT Arabic that the government has relevant structures in place to deal with such issues.
"In 2013, the Syrian government had a plan to deliver aid to all affected areas. But terrorists used snipers who killed people, and blocked roads, not even allowing the Red Cross mission to drive to the affected areas."
"In order to solve the problem of where to send the convoy [with humanitarian aid], we do not need to go to Geneva and carry out an international peace conference. We also have a plan [of humanitarian aid delivery] for 2014 and we have started to implement it" she said.
US Secretary of State John Kerry's delusions continued as he arrived in Montreux, Switzerland to open the "Geneva II" talks on the ongoing conflict in Syria. Having successfully bullied UN Secretary General Ban Ki Moon into rescinding the invitation previously extended to Iran to attend, Kerry proceeded to bully and
blunder his way
through the pre-opening of the conference.
"We need to deal with reality here," Kerry said on the eve of the conference. "Bashar Assad will not be part of that transition government."
Kerry's pressure on Ban to uninvite Iran to the conference — though Iran is far more affected by the crisis than the majority of countries invited to participate — was based on Iran's refusal to endorse the pre-condition of support for "regime change" in Syria as the goal of the conference. At least "regime change" was the US interpretation of the Geneva I Communique issued after that conference in 2012.
However the US appears to be purposely misinterpreting the statement made after the Geneva I conference. According to the
Communique
signed after that conference, there is no demand that Assad must leave office. At most, the agreement calls for:
The establishment of a transitional governing body which can establish a neutral environment in which the transition can take place. That means that the transitional governing body would exercise full executive powers. It could include members of the present government and the opposition and other groups and shall be formed on the basis of mutual consent.
If anyone is violating the letter and spirit of the Geneva Communique, it is the US/Saudi side. The US government demanding that Assad must go clearly violates this statement in the Communique:
The sovereignty, independence, unity and territorial integrity of Syria must be respected.
Therefore if any country should be disqualified from participation in Geneva II on the basis of refusing to observe to the Communique issued at the end of Geneva I, it should be the US and any other nation demanding the overthrow of the current Syrian government as a pre-condition to further talks.
That would of course also include the Saudis, who win the chutzpah award for foreign minister Prince Saud al-Faisal's
statement
that Assad can have no role in the political transition in Syria because his hands are "stained in blood." This from an official whose government has
spent billions
of petrodollars injecting foreign radical jihadists and human
organ-eaters
into Syria to battle the government there.
Likewise the Qataris, who have also
spent billions
on their rent-a-jihadist fight against Syria and who most recently have spent an as-yet untold amount
hiring a group of attorneys
to "discover" evidence of Syrian government torture on the eve of the Geneva II conference. The timing of the release of this information is a practice that recalls the chemical attack in East Ghouta on the eve of the arrival of a UN chemical weapons inspection team at the invitation of the Syrian government.
That attack and the US claim that is was without a doubt perpetrated by the Syrian government, drove the US to the brink of a military attack on Syria last summer. Though doubts persisted as to Syrian government culpability at the time — and the US administration provided no evidence — the US and its "Friends of Syria" allies would brook no dissent.
Just weeks ago, however, a study conducted by a team of experts from MIT
concluded
that due to the primitive design of the chemical munition rockets, it would have been physically impossible for them to have been fired from Syrian government-held territory as the US government had claimed. How long before we hear the same conclusion over this latest
Qatari-funded "discovery"
? Which is not to say that there has not been brutality committed by both sides, we should not forget.
One need not endorse the current Syrian government to appreciate Syrian foreign minister Walid al-Moualem's retort to John Kerry's arrogant claim to decide who should or should not govern Syria:
No one, Mr. Kerry, in the world has the right to give legitimacy or to withdraw legitimacy from a president, a government, a constitution or a law or anything in Syria, except Syrians.
Indeed. And so it begins, Geneva II. Start making plans or III, IV, and so on, because this conference is a farce.


Sides to Discuss Prisoner Swap, Aid Access on Sunday
by Jason Ditz, January 25, 2014
The direct talks between Syria's government and the opposition Syrian National Coalition (SNC) continue to move forward today, and for the first time they
sat in the same room
with one another.
Friday marked the beginning of direct talks, though at the time the SNC would only meet in the same room in the government agreed to regime change, and the talks almost ended outright there.
Today, UN Special Envoy Lakhdar Brahimi says the two sides were in the same room, but at different tables, and he was at a third table in the middle ferrying messages back and forth, adding "
we have not achieved much, but we are continuing
."
Reports are that the three hours of talks centered around the possibility of aid corridors for Homs, and a deal on that could be reached Sunday. The two sides are also expected to discuss prisoner exchanges on Sunday.
Monday is where things get tough, as that's the day the SNC is planning for discussion of a "transitional government," which is to say they are hoping to convince everyone at the conference that they should establish a new, SNC-dominated regime.
Non-Syrians Should Leave Unless They're On the Right Side
by Jason Ditz, January 24, 2014
Everyone agrees that the big problem in the Syrian Civil War is all those pesky foreign fighters, and everyone agrees that a key step toward a solution would be the fighters who aren't on their side should immediately go.
Saudi Prince Turki al-Faisal was the first out of the gate, saying that
Shi'ite militias from Lebanon and Iraq should
be made to leave, via UN resolution if necessary. No mention was made of the huge armies of foreign Sunni Islamist fighters being bankrolled by the Saudis themselves.
Iranian Foreign Minister Javad Zarif's comment was a little less blatant, as he urged
foreign fighters in general
to leave, though with Iran openly supporting the aforementioned Shi'ite militias, the comments are clearly more centered around the Sunnis they're fighting.
Iran's version of the statement was non-specific enough that Jordan and Turkey, both backers of the Sunni side, were able to
sign off on it unaltered
, though likewise it is clear that for every nation the lesson is clear: foreign fighters who are on the other side should be leaving immediately, and their own side isn't nearly as big of a problem.
Iraq......
69 Killed, 84 Wounded in Fresh Iraq Attacks
At least 69 people were killed across Iraq, and another 84 were wounded. Again, as in recent days, many of the casualties were in Anbar province, where some of the residents claim government shelling against insurgents is actually killing civilians.
In Anbar province:
Elsewhere: