Iraq......
http://oilprice.com/Latest-Energy-News/World-News/Iraq-2014-Budget-will-Collapse-without-Kurdish-Oil-Income.html
Haider al-Abadi, the head of the Iraqi parliament's treasury committee,
told Reuters
that unless the northern Kurdistan region pays oil export revenue to the national treasury in Baghdad this year, the projected 2014 budget will collapse.
If the Kurdish Regional Government (KRG) once again refuses to pay the oil revenue owed then the only available option left to Baghdad would be to
halt all state spending
, which amounts to about 17% of the whole country, in the region.
This news was announced during a month that has seen the conflict between Erbil and Baghdad intensify after the KRG began to export oil to Turkey via a
new pipeline
, completely outside of the central government's control. Last week, in response, Abdul Kareem Luaibi, the Iraqi oil minister, threatened to seek legal action over against any foreign entity involved in the
"smuggling" of Iraqi
oil out of Kurdistan.
Abadi explained that state spending was rising sharply due to increases in pensions, public sector wages, child benefits, and student allowances, and that the draft budget for 2014 would have a deficit of about 21 trillion Iraqi dinars ($18 billion). This deficit assumes that the KRG will pay revenue earned from oil exports of 400,000 barrels a day, even though current exports are only at 255,000 barrels a day. If the KRG pays nothing then the deficit will be untenable and collapse.
In 2012 the Kurds exported 61,000 barrels a day via a pipeline controlled by Baghdad, with revenues earned going straight to the central government, however last year the Kurds began to export their oil independently via trucks and ceased to pay oil export revenue.
Abadi warned that Kurdistan risked losing its cut of state spending. "They are not contributing, so why should they get something out of it? At the moment we have a deficit of 21 trillion. If you add 15 to 16 trillion to it (the amount expected to be lost if the KRG doesn't pay its oil export revenue), the budget will collapse."
Abadi stated that the new budget
must be passed
before the Iraqi parliament is dissolved in preparation for elections on the 30th of April, warning that it would very hard to gather the minimum number of 163 members needed out of the total 325 during an election campaign. He also accused the Kurds of trying to delay the talks and drag them out so that the decision will not be made until after the election, by which point the KRG will already of been able to pocket a large sum of its oil export revenues whilst still receiving its share of state spending from Baghdad.
House of Oil Cards ?
Maliki Also Plans to Split Anbar in Half
by Jason Ditz, January 21, 2014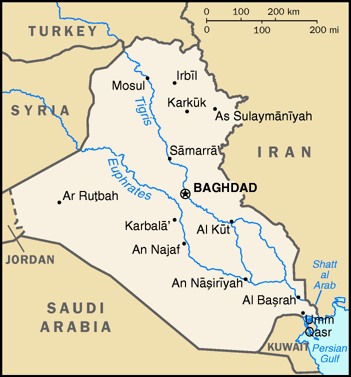 Tuz Khormato Province will be split roughly in thirds ethnically between Kurds, Arabs and Turkomen, giving the Turkomen a serious chance at political influence in the area. Ninevah Plain Province will include a large Christian population, and
roughly mirrors Christian hopes
for an autonomous region.
This isn't just Maliki being conciliatory to minorities, but is also an attempt to set up a buffer between Iraqi Kurdistan and other provinces, and set up independent provinces outside of the Kurdistan Regional Government's purview but in territory they had sought to annex.
The third decision is perhaps the oddest, carving a new Sunni majority province out of the already Sunni majority Anbar Province. The Fallujah Province will center around al-Qaea-occupied Fallujah, an odd decision since Fallujah was itself just on the outskirts of Anbar provincial capital of Ramadi.
A series of bombings in central Iraq that killed from 18 to 28 people on Monday were carried out by al-Qaeda linked fighters, according to government officials. It is believed that the militants have enough weapons to storm the country's capital, Baghdad.
"The weapons that were brought inside Fallujah are huge and advanced and frankly enough to occupy Baghdad," the deputy interior minister, Adnan Al Asadi, said in a speech, adding that Iraqi forces are still fighting "fierce battles" there and in Ramadi. He did not elaborate on the type or quantity of the weapons, the National daily reports.
According to tribal sheiks and witnesses of bombings carried out by al-Qaeda-linked militants, they are getting extremely authoritative in the cities, where the bombings happened. They have set up Islamic courts, kidnapped senior officials, police officers and tribal sheikhs, and broadcast calls over mosque loudspeakers for others to join them in the fight against Iraqi security forces, according to the paper.
"Daash does not accept anything that we decide," said one tribal sheikh, who spoke on condition of anonymity for fear of being targeted by militants. "They want everybody to work under their command, under their regime."
A series of five car bombings across Baghdad killed 17 people and wounded 49, Alsumaria TV reported.
In Ramadi city, a journalist working with the independent Fallujah TV station was shot dead while reporting on the conflict between security forces and radical fighters, security officials said.
Last month, militants of the Islamic State in Iraq and the Levant (ISIL) took control of the city of Fallujah, as well as vast areas in Ramadi, the capital of the Sunni-dominated western province of Anbar.
Sectarian tensions arose in Anbar after soldiers loyal to the Shiite-led government cleared out a Sunni protest camp in Ramadi.
The violence in Anbar has raised the prospect of a return to the sectarian bloodshed that pushed Iraq to the brink of civil war in 2006 and 2007.
According to UN estimates, 8,868 people were killed in 2013, the highest annual death toll in five years.
Interior Ministry Says Ramadi Assault Aims to Stall Invasion
by Jason Ditz, January 20, 2014
Yesterday, Iraqi officials were presenting the military offensive against al-Qaeda in Iraq (AQI)-held portions of the city of Ramadi as
part of an effort
that would eventually "destroy terrorism" nationwide.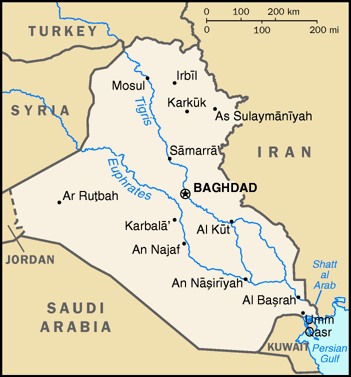 Today, officials had a much more bleak outlook, with Deputy Interior Minister Adnan al-Asadi saying that AQI has "major firepower" and that their weapons are "
huge and advanced and frankly enough to occupy Baghdad
."
Interior Ministry spokesman Saad Maan Ibrahim later confirmed the assessment, saying that the whole reason for the offensive on Ramadi yesterday was that "if the operation by security forces was delayed for a few weeks, there would've been an assault on Baghdad."
Clashes continue across the Anbar Province, and AQI retains virtual control over Fallujah, with local tribes attempting to unseat them. The Interior Ministry's comments suggest that all Iraq's military can do for now is try to keep them contained.
Syria......
All kinds of hell breaking loose today - right before Geneva 2 !
Opposes Any Negotiated Settlement
by Jason Ditz, January 21, 2014
The sudden invitation and uninvitation of Iran to the Geneva II peace talks, set to begin Wednesday in Montreaux, have stirred up quite a bit of acrimony on their own, but the situation is getting much worse, and the talks much more pointless.
Now the only rebel faction involved in the talks, the Syrian National Coalition (SNC), has lost its large internal party, the Syrian National Council, which is
withdrawing from the talks, from the coalition, and from participation
in the international community's dealings in general.
The Council is citing its objections to the Geneva II talks as a reason for its decision, saying it rejects any negotiated settlement with the Assad government. This leaves the already small SNC even more irrelevant among the rebels.
Yet the SNC remains literally the only show in town in Montreaux, as the much larger Islamist factions have likewise rejected the talks and in many cases weren't even invited.
The US insists the goal of the talks is to impose regime change to "end the violence," but with materially all of the rebel combatants uninvolved in the conference there's no reason to think it's going anywhere.
Al-Qaeda slaughters on Syria's killing fields
More than 1,000 Syrians flee al-Qaeda-linked group as they mow down children and behead prisoners in cold blood.
Syrian who fled Jarabulus found refuge across the border in Karkamis, Turkey [Isabel Hunter/Al Jazeera]
Karkamis, Turkey - Al-Qaeda fighters have struck a bloody blow in scenes of medieval violence in Syria's northern border-town of Jarabulus. Fighting came to a head on January 17, between rebel groups Liwa al-Tawhid Brigade and the al-Qaeda-linked Islamic State of Iraq and the Levant (ISIL) in the town, when reinforcements arrived from Raqqa and reclaimed the city in a brutal four-hour battle.
By nightfall, at least 10 men had been beheaded, their heads mounted on spikes, and more than 1,000 refugees fled the 3kms across the border to Turkey.
It's a shocking turn of events for residents and Free Syrian Army (FSA) fighters alike, who just a week ago believed they were hours away from expelling the al-Qaeda group from their city altogether after surrounding the last 40 fighters in the city's cultural centre.
But when an ISIL car bomb killed 33 people - all women and children - the FSA brigade called for backup. Instead, what arrived was a 70-car ISIL convoy from Raqqa, an ISIL stronghold 160kms to the south-east. Fighters say half of the militants wore their usual black uniform and half wore camouflage like the FSA, and were uncharacteristically clean-shaven. The disguised fighters tied white bands around their arms to distinguish themselves from the real FSA.
Beheadings
More than 100 men were taken from their homes and escorted to the main square for what turned into a bloodbath.
Muhammad Jader, 22, and his uncle Ali, 35, were among those arrested.
"They lined us up against the wall," Jader told Al Jazeera, "and the emir told them not to waste bullets. Suddenly they grabbed one guy and pinned him down on his stomach. Then one man from ISIL put his knee on his back, shouted 'Allahu Akbar' and cut off his head with a knife."
"They chose people at random to kill," he said. "There was no logic."
One was beheaded because they found cigarettes in his pocket.
Approximately 40 men were mowed down by a spray of automatic gunfire in a show of reckless and wanton violence.
The surviving men were then questioned about their connections to the FSA - even giving the rebels a glass of water earned the person a death sentence.
Shocked and shaking, the two men could barely believe they had survived, but despite being released, they knew they were still being hunted, so they made a break for the border.
Six of the beheaded were from the Jader family, one of the first to rise up against ISIL in the city. Contrary to initial reports, the men were not leaders of the battalion, but were targeted for their family ties.
They have been identified as Hussein Jader, 18; Ahmad Jader, 20, a soldier who had defected from Bashar al-Assad's army; Murat Kirkez Jader, 25; Amar Jader, 40; Ibrahim Jader, 55; and Abdo Jader, 60.
In addition to the Jader family, the Jubanat clan was also targeted in the revenge killing. Ali told Al Jazeera that 12 women and children, including a two-year-old, were found slaughtered in their house. Neighbours say ISIL came for the men but massacred the family in their absence.
Al-Qaeda's extreme tactics goes a long way to explain how they have reclaimed much of the territory in northern Syria. Despite being fewer in number than the opposing rebel factions, their use of terror and increasing use of attacks on civilians is winning out.
Now controlling the entirety of Jarabulus, ISIL has called upon international NGOs previously active in the area to restart their operations.
However since the violence began, streams of civilians have crossed the border into Turkey.
Aid organisations say more than 1,000 people have arrived in the past few days, with many more fleeing to neighbouring towns in Syria.
'They killed everyone'
Most of the refugees are from the internally displaced persons (IDP) camps that surround Jarabulus.
A Syrian refugee looks at his home in Jarabulus from Karkamis camp in Turkey[Al Jazeera]
UK-based Christian NGO World Vision, works in the four IDP camps in the city. Response Leader and Country Director Michael Butt said people started to leave after the car bomb on January 15. He said, "25 percent of the IDPs from Youth Camp have left, 75 percent from the 'Agricultural Bank' Camp and 50 percent from Stadium Camp [have left]."
In a small, makeshift community centre across the border in Karkamis, approximately 250 men, women and children await help.
Women and children sleep in the cramped, sparse but warm space, while the men stay outside in the street and all share just two toilets.
Mohammed Sulaiby carried his 75-year-old mother, Suad, on his back from Jarabulus because she is too weak to walk. A diabetic, Suad hasn't had insulin for days - her blood sugar level has reached dangerous levels, her son said.
"People don't have money and it's expensive here," he told Al Jazeera. "We've been here for three days and no one has helped us. The children are sick and everyone is hungry."
A spokeswoman from AFAD, Turkey's Disaster and Emergency Management Committee, said it is the responsibility of the refugees to register themselves with the organisation.
She said, "We are dealing with the problem, but they need to apply to us. Karkamis Camp may be full, but then we can bus them to other camps."
But this does little for 20-year-old Wafa Turkmani, who is a mother of one, four months pregnant, and has no idea where to go next.
Like many of the families who have crossed the border, all she wants is to get into a Turkish government camp, but said she has been told to fend for herself. "We went to Nizip at first," she said, "but the Turkish official there said we had to come back to Karkamis. He told us we had two options - either go back to Syria, or stay with relatives or friends in Turkey because the camp is full."
"We are here alone with no food and no money, and why would we go back to Jarabulus? They killed everyone and put their heads on spikes. We're terrified."
Kurdish Administration Dubs Region Rojava
by Jason Ditz, January 21, 2014
Dubbed Rojava (the traditional Kurdish name for the region), the Kurdish government will be centered in the capital city of Qamishli, along the border with Turkey, and is preparing a new constitution.
Turkey has previously threatened "action" against Kurdish autonomy, which is the exact opposite result from what they envisioned the Syrian Civil War producing. The Syrian rebels have also claimed autonomy is "hostile" to their goal of conquering the whole nation.
The Kurdish factions has initially envisioned the administration as keeping Syrian Kurdistan out of the civil war and reintegrating with the eventual winning side, but as the war continues to stalemate they seem to be setting up a more or less permanent autonomous region.
http://www.zerohedge.com/news/2014-01-21/peace-talks-chaos-greeks-refuse-refuel-syrian-flight
( Just a total ball of confusion.....)
Peace Talks In Chaos As Greeks Refuse To Refuel Syrian Flight
Submitted by Tyler Durden on 01/21/2014 08:24 -0500
The Syrian peace talks - much heralded by investors and politicians worldwide as a brave step towards a better future - are on the ropes this morning. Following the UN acquiescence to the US demand that they rescind Iran's invite to the so-called Geneva II conference,and yet another suicide bombing in Lebanon, this morning's incredible SNAFU is thanks to the Greeks:
GREECE REFUSES TO REFUEL SYRIAN GENEVA TEAM AIRCRAFT: SYRIA TV
SYRIAN AIRCRAFT DELAY CANCELS MEETING WITH UN'S BAN: STATE TV
The peace accord set to begin tomorrow will be delayed and are in further jeopardy as CNN reports further evidence of Syrian President al-Assad systematically killing and torturng around 11,000 people.
Via Reuters,
...




U.N. Secretary-General Ban Ki-moon's unexpected, last-minute decision on Sunday to invite President Assad's main foreign backer Iran - only to withdraw the invitation a day later - proved a diplomatic fiasco, undermining talks that are already given little chance of success.

...

The peace conference set to begin on Wednesday will include the first talks between Assad and his opponents. But hopes of a breakthrough are negligible at a time when fighting has escalated and neither side shows any sign of retreating from its demands or being able to end the war with a victory.

...




It has been 18 months since a previous international peace conference in Geneva ended in failure, and all other diplomatic initiatives have also proven fruitless.




"At best, Geneva 2 will reconfirm agreements made during the first Geneva conference, call for ceasefires, maybe prisoners swap and so on," said one Western diplomat.




"At the same time, those taking part in the talks are de facto giving legitimization to Damascus. They are talking to Assad's government on the other side of the table.




"And so the show would go on while Assad stays in power."
Via The Times of India,
Former international prosecutors said Tuesday they have evidence from a defector proving that the regime of Syrian President Bashar al-Assad has systematically killed and tortured around 11,000 people.




A report by three top investigators commissioned by Qatar, which backs the Syrian rebels, examined thousands of pictures said to have been smuggled out by a former military police photographer.




The report, which was first released in Guardian and on CNN, shows evidence of starvation, strangulation and beatings, and features pictures of emaciated corpses with livid wounds.
So amid all of this one has to wonder if those warships that the US moved into position to "rescue stranded US citizen if a Sochi even happened" is nothing more than cover for a build up in front of Syria.
http://rt.com/news/syria-kurds-autonomy-geneva-989/
Syrian Kurds declare autonomy on eve of Geneva 2
Published time: January 21, 2014 22:43
Edited time: January 21, 2014 23:16
Syrian Kurds declared an autonomous provincial government in the country's northern territory on Tuesday, according to reports. The move comes ahead of the Geneva 2 peace talks, where they will not have direct representation.
A municipal council will run the territory's affairs from one of three administrative districts. The body will have its own president and ministers of foreign affairs, defense, justice, and education, Reuters reports citing the Syrian Observatory for Human Rights. The British monitoring group said that elections will be held in four months.
Kurds have used the confusion and chaos of the Syrian civil war as an opportunity to assert more control over the northeastern area of the country.
The announcement came following a meeting of the Legislative Assembly of the Democratic Autonomous Government of Western Kurdistan, "attended by all members of the Assembly which is made up of 52 parties, civil society organizations, youth and women's movements and 15 independent individuals," Firat news agency reported.
The formulation of an autonomous governmental body follows requests - which were ultimately denied - for a Kurdish delegation at the Geneva 2 peace talks in Switzerland, separate from the Syrian government and opposition.
The dominant political party in Kurdish Syria, the Democratic Union Party (PYD), blamed regional powers like Saudi Arabia and Turkey, as well as the United States, for blocking its attempts to take part in the convention, which seeks to smooth tensions between warring factions fighting in the country.
In Syria, Kurds make up around one-tenth of the population, and have suffered repression for decades. Since the outbreak of civil war in 2011, Kurds have largely had to fight on their own, as President Bashar Assad's government has focused on fighting against militants and Islamist groups.
Some Kurdish parties will attend the Geneva talks as entities of the Western-backed National Coalition, though the PYD rejected adhering to any resolutions that are reached in Switzerland.
The talks, set to begin Wednesday, have been preceded by acrimony following a rescinded United Nations invitation to Iran and evidence that appears to implicate the Syrian government in the torture and killing of thousands of detainees.
The PYD is allied with the Kurdistan Workers' Party (PKK), which has criticized the peace talks for being a choice between two evils for Kurds. The PKK has fought Turkey for over three decades, leading to the deaths of 40,000 people.
"At a time when all sides are being invited to the conference, the Kurds' demand for participation has been overlooked," the PKK said in a recent statement.
The Syrian opposition's "attitude is no different from that of the (President Assad's) Baath regime. They don't take seriously the demands of the Kurdish people, just like Turkey's attitude."
The PKK likened the Geneva 2 conference to the Treaty of Lausanne in 1923, which is responsible for the modern Iran, Turkey, Iraq and Syria borders, leaving Kurds' ethnic homeland splintered among the four countries.
Kurds "lived one century suffering the outcomes of Lausanne," the statement said. "Therefore, they will not allow Geneva 2 to be another Lausanne for them."
http://rt.com/news/jihadists-sharia-law-syria-980/
Al-Qaeda-linked jihadists impose Islamic rules, ban music, shisha in Syrian province
Published time: January 21, 2014 18:20
An Al-Qaeda-linked group has issued new decrees restricting the personal freedoms of the Syrians in the areas under its control in Raqqa province. New laws prohibit music and smoking cigarettes and shisha. Violators will be "punished by sharia law."
The Islamic State in Iraq and the Levant (abbreviated as ISIS or ISIL) has issued four statements that decree new laws on Monday. The new laws come into force three days later, the group said, i.e. January 23.
Starting on that day, women are obliged to wear the niqab, or full face veil, and cover their hands with gloves. They will also not be allowed in public without a male guardian. Walking late at night will also be prohibited for the women of Raqqa, the first and only city to have fallen completely under the jihadist group's control.
"Any sister who does not comply with this moral code will be punished by the rules of sharia, her male guardian will also be punished," reads the statement, cited by the Syrian Observatory of Human rights.
In its second statement, the jihadist group has also prohibited music from being played in public and photographs of people being posted in shop windows.
It has also declared selling music CDs or musical instruments illegal, and the playing of scandalous music in cars or shops will be strictly forbidden.
The ISIL has explained the ban saying that musical instruments and singing are "proscribed in Islam because they distract from remembering God and the Quran."
The sale of cigarettes and shisha water pipes has also been banned across the beleaguered province.
"Whoever insists on selling these products will have the quantity in his possession burnt and will be punished under sharia law," reads the third statement.
The group demands that all shop owners shut their stores 10 minutes prior to calls to prayers and absolutely all men must head to the mosque and "fulfill God's commandment rather than sitting in the street and talking while Muslims are in their mosques."
"Whoever is found outside at the time of prayer" will be punished.
The Islamic State of Iraq and the Levant retook full control of the Syrian city of Raqqa, after fierce fighting for the northern provincial capital on January 14. Clashes between ISIL and coalitions of rival Islamist and moderate rebels erupted nearly two weeks ago.
The group is
holding hundreds of rival rebels
, activists and journalists captive, among them Westerners, the Syrian Observatory for Human Rights said last week.
In its
report
in December, Amnesty International accused an Al-Qaeda-linked jihadist group of abductions, torture, killings, sharia courts, and secret prisons with "inhuman" conditions. The report revealed victims included children as young as eight.
Dubious defector's claims emerge after think tank called for "realpolitik" ploy
Paul Joseph Watson
Infowars.com
January 21, 2014
Following an influential think tank's call for a humanitarian "realpolitik" stunt to be pulled to weaken President Assad's position, a report has miraculously emerged just 24 hours before the start of the 'Geneva II' conference which alleges systematic torture and abuse by Assad's regime.
According to the BBC
, the report was "commissioned by Qatar," which has been an enthusiastic backer of the opposition rebels since day one. It alleges that 55,000 digital images of 11,000 detainees show evidence of torture, starvation and execution. The images were reportedly smuggled out of Syria by a defector named Caesar.
"Caesar" was apparently happy to take photos of dead bodies for years before releasing them to be made public just 24 hours before the start of Geneva II. The photos were investigated by a legal team comprising of the prosecutors of ex-Yugoslavian President Slobodan Milosevic and President Charles Taylor of Liberia.
Having failed to topple Assad by force, the west is now firmly intent of dragging Assad before the International Criminal Court, or flooding the country with UN "humanitarian" observers who will later be used as pawns to weaken the ability of the Syrian Army to fight the deluge of Al-Qaeda militants sent to destroy Syria by the likes of Qatar, Saudi Arabia and Turkey.
Given the history of the role of defectors in greasing the skids for war, we'd be naive not to be suspicious.
Remember Curveball?
He was the "defector" whose fabricated claims about weapons of mass destruction led to the deaths of hundreds of thousands of Iraqis.
The BBC's Jim Muir even admits that the report is politically motivated, "the commissioning of the report by Qatar, and its release just before the Geneva II talks," but still gives it credence anyway.
The report also arrives just days after the results of an MIT study were published which attracted virtually no mainstream media attention in the west whatsoever. The study concluded that the chemical weapons attack on Ghouta, which almost served as the pretext for a US military invasion of Syria, could not possibly have been launched from government-controlled areas.
Isn't it interesting how much credibility the mass media is affording to one dubious and agenda-driven defector while completely ignoring the results of a major study conducted by numerous unbiased experts?
The timing and agenda behind the report is transparent and cynical, it is designed to grease the skids for a "humanitarian" invasion of Syria while weakening Assad's position at the negotiating table.
The report also arrives just days after the Atlantic Council, an influential Washington DC think tank which basically serves as a revolving door to the White House, published an article calling for a "realpolitik" PR stunt in order to re-invigorate support for toppling Assad.
The article, entitled
Syrian Peace Talks: What is Achievable Near Term?
, written by former State Department advisor Frederic Hof, argues that NATO should demand that Assad allow UN inspectors unfettered access to the country in a repeat of the very conditions that preceded the invasion of Iraq – all in the name of "humanitarianism" of course. Hof's lament that the US did not launch an aggressive military attack on Syria last year is palpable.
The Atlantic Council's James Rupert
summarizes the piece
by writing that it calls on the US to address "the humanitarian catastrophe of millions of Syrians uprooted or brutalized by the civil war….for reasons of realpolitik as well as humanitarianism."
"Realpolitik" is a pejorative term often implied to mean political maneuverings that are coercive, amoral, or Machiavellian.
Rupert and Hof might just have got their wish granted with the release of today's dubious and politically timed report, which could help lay the groundwork for another "humanitarian" war in the region to follow the catastrophe that has unfolded in Libya.
http://landdestroyer.blogspot.com/2014/01/us-feigns-horror-over-cooked-up-report.html
US Feigns "Horror" Over Cooked-Up Report on Syrian War They Engineered
Qatar - chief financier of Al Qaeda in Syria - commissions "report" on atrocities published just ahead of Geneva conference.
Update: Further details have emerged regarding the authors of the report. It was produced by British law firm
Carter-Ruck on behalf of Qatar who funded it (
CNN
). Carter-Ruck had in the past defended Saudis suspected of funding Al Qaeda.
ABC's "
U.S.: Saudis Still Filling Al Qaeda's Coffers
," would report that Yasin al Qadi was being represented by Carter-Ruck against US charges filed just after 9/11 claiming he was financing Al Qaeda. It should also be noted that Yasin al Qadi is a close ally of US' partner in the Syrian conflict, Recep Tayyip Erdogan of Turkey. The suspicious report, conveniently released just a day before the Geneva conference, emerging from a tangled web of state-sponsored terrorism and dubious Western law firms only further taints the West's image as they go into "peace talks" regarding Syria.
....
January 22, 2014 (LD) - As with every Western-backed conference assembled regarding Syria, dramtic fabrications revealed just ahead of proceedings are intended to give them and their predetermined outcomes both gravity and "urgency." Upcoming "peace talks" to be held in Switzerland are no exception. A report cooked up by the unelected dictatorship in Qatar is based on an anonymous source, codename "Caesar," and remains admittedly unverified.
The BBC's report, "US and UN express horror at Syria torture report," claims:
The report, by three former war crimes prosecutors, is based on the evidence of a defected military police photographer, referred to only as Caesar, who along with others reportedly smuggled about 55,000 digital images of some 11,000 dead detainees out of Syria.
The BBC then reveals the propaganda value the report is intended to serve in upcoming talks by stating:
US state department spokeswoman Marie Harf said it "underscores that it makes it even more important that we make progress [at Geneva II]. The situation on the ground is so horrific that we need to get a political transition in place, and we need to get the Assad regime out of power."
Of course, spokesman for UN Human Rights Chief

Navi Pillay would admit the report remains unverified (emphasis added):
Rupert Colville, spokesman for UN human rights chief Navi Pillay, told AFP: "This report is extremely alarming, and the alleged scale of the deaths in detention, if verified, is truly horrifying.
Codename Caesar, Codename Curveball
Image: From Independent's "Man whose WMD lies led to 100,000 deaths confesses all: Defector tells how US officials 'sexed up' his fictions to make the case for 2003 invasion." In retrospect, the corporate-media has no problem admitting the insidious lies that were told to justify the invasion and occupation of Iraq - the lead up to the war was another story. A verbatim repeat of these admitted lies are being directed at Syria amidst the West's failure to overthrow the government with terrorist proxies.
Readers must recall another codename, that of Iraqi informant "Curveball" whose lies would lay the rhetorical foundation for the invasion and occupation of Iraq. The UK Independent's article,

"

Man whose WMD lies led to 100,000 deaths confesses all,

" would recall:
A man whose lies helped to make the case for invading Iraq – starting a nine-year war costing more than 100,000 lives and hundreds of billions of pounds – will come clean in his first British television interview tomorrow.
"Curveball", the Iraqi defector who fabricated claims about Iraq's weapons of mass destruction, smiles as he confirms how he made the whole thing up. It was a confidence trick that changed the course of history, with Rafid Ahmed Alwan al-Janabi's lies used to justify the Iraq war.
And once again, a disingenuous West along with a complicit UN is going into a so-called "peace conference" with unverified allegations designed to manipulate public perception on the most visceral levels, circumventing facts, logic, and reason, to bolster their position in a conflict they themselves engineered and are still purposefully perpetrating with the hopes of
achieving
long-desired "regime change."
The ongoing conflict in Syria was engineered by the West and its regional allies as far back as 2007, revealed by

Pulitzer Prize-winning journalist Seymour Hersh in his article,

"

The Redirection: Is the Administration's new policy benefiting our enemies in the war on terrorism?

" which prophetically stated (emphasis added):
"To undermine Iran, which is predominantly Shiite, the Bush Administration has decided, in effect, to reconfigure its priorities in the Middle East. In Lebanon, the Administration has coöperated with Saudi Arabia's government, which is Sunni, in clandestine operations that are intended to weaken Hezbollah, the Shiite organization that is backed by Iran. The U.S. has also taken part in clandestine operations aimed at Iran and its ally Syria. A by-product of these activities has been the bolstering of Sunni extremist groups that espouse a militant vision of Islam and are hostile to America and sympathetic to Al Qaeda."
It is now admitted that Al Qaeda comprises almost entirely all of the militants fighting the Syrian government, many of whom are foreigners crossing into Syrian territory with NATO's aid.
UN Officials Feign Anger at Iran After Giving in to US Pressure
by Jason Ditz, January 20, 2014
Facing growing US anger, the United Nations has done a complete about-face on yesterday's
invitation
for Iran to attend the Geneva talks. The UN has now officially
uninvited
Iran.
Russia had been pushing for Iran's inclusion in the talks for months, and UN Secretary General Ban Ki-moon offered the last second invitation more or less out of the blue yesterday, leading to furious US State Department reactions and a threat from what few Syria rebels were planning to attend in the first place to
withdraw
if Iran wasn't uninvited by 2 pm today.
The UN, apparently unwilling to live with the egg that's plainly on their face after the past 24 hours, followed up their uninvitation with an feigned condemnation of Iran for refusing to endorse the US calls for regime change in Syria.
Iran had never suggested they were going to accept the US calls in the first place, and that was a chief reason the US opposed their invitation, insisting that the only people who could attend the talks were those who had accepted regime change as the goal, and also the Syrian government itself and Russia, who both oppose the plan.
It isn't clear if the UN met the 2 pm deadline imposed by the rebels, and this could well give them an excuse to withdraw from the talks at the last minute, since they were never keen on attending in the first place. The talks are not expected to accomplish much of anything, with the US and friends insisting the goal is regime change and the Assad government suggesting that maybe the growing takeover of al-Qaeda was also worth discussing.
Iran......
Iran begins enrichment cap as nuclear deal with world powers takes effect
Start of interim nuclear agreement gives negotiators six-month opening and a rare moment of optimism in troubled region
Five years after President Barack Obama came into office pledging to reach out to Iran, the
combination of painstaking back-channel talks
and formal negotiations is yielding its first concrete results: Monday saw the Islamic Republic begin implementation of
the interim deal
signed Nov. 24 in Geneva, capping its uranium enrichment and stockpiles of fissile material that could be used to quickly build a bomb.
International Atomic Energy Agency inspectors confirmed on Monday that Iran has begun fulfilling its agreement with the P5+1 (the U.S., Russia, China, France, the U.K. and Germany) by disconnecting centrifuge cascades that have, for the past three years been used to enrich uranium to 20 percent U-235 — technically far closer to weapons-grade than the 3.5 percent enriched uranium used to fuel electricity-producing reactors. Iran has also begun diluting its existing stockpile of 20-percent uranium and is providing unprecedented access to IAEA inspectors to verify compliance with these and other curbs on the Iranian nuclear program.
The quid pro quo for Iran's cooperation is modest sanctions reduction by Western powers - on Monday, both the EU and the U.S. said it would start easing some restrictions on Tehran . While many of Iran's concessions are front-loaded (although some will come in increments), sanctions relief will take effect more slowly. Over the next six months, about 4 percent of the $100 billion in Iranian oil revenues currently stuck in foreign banks will be doled out to Tehran in monthly installments, beginning with $550 million on Feb. 1. As Gary Samore, a former senior U.S. nonproliferation official who is now at Harvard's Belfer Center,
wrote recently
, "In essence, the P5+1 is paying Iran to dispose of its stockpile of 20 percent enriched uranium on the basis of performance. Either side can halt the process at any time without having expended all of its chips if the other side doesn't deliver."
Opposition to the deal on Capitol Hill may be reinforced by the fear that, in an election year, the American Israel Public Affairs Committee — which takes a hawkish line on Iran — might punish candidates it deems soft on Tehran's nuclear program. U.S. skeptics fear that it will be difficult to quickly ramp up sanctions on Iran if the interim deal falls apart or does not lead to a more substantive agreement. However, multinational sanctions against Iran may have already reached their peak. All sanctions unravel over time — remember Iraq in the 1990s — and without the Holocaust-denying former President Mahmoud Ahmadinejad on the world stage, Iran is no longer an easy target for punishment. It's hard to imagine Ahmadinejad hobnobbing at the annual World Economic Forum in Davos, Switzerland, that Rouhani and his urbane foreign minister, Javad Zarif, will be attending at the end of this month.
And it's important to note that the most painful Iranian sanctions — those that target its banking and energy sectors — are based on the U.S.'s using economic penalties to force compliance from the countries that do business with Iran. It's far from clear that if Congress passed new sanctions while Iran was deemed to be reasonably compliant with the Geneva deal that the likes of China, Russia, India and Turkey would simply do Washington's bidding.
Iranian officials, including Rouhani, who engineered a suspension of enrichment from 2003 to 2005 when he was Iran's chief nuclear negotiator, have stated repeatedly that Iran's right to the full nuclear fuel cycle is nonnegotiable. The
interim Geneva agreement specifies that the endgame will include
"a mutually defined enrichment program with practical limits and transparency measures to ensure the peaceful nature of the program." The next round of talks, due in February, will begin trying to reach that mutual definition.
With a nuclear program that dates to the 1950s, Iran has already achieved the technical capacity to build nuclear weapons if it chooses to do so. The current U.S. intelligence assessment holds that Iran's leadership has not yet made a political decision to build the bomb and further concludes that Tehran's decision-making in this regard will be shaped by rational cost-benefit analysis. It's that premise that appears to have guided the Obama administration's approach to Iran, mustering unprecedented international support for sanctions and diplomacy. But maintaining that unity also requires negotiating from a position that reflects an international consensus on what should be demanded of Iran.
Advocates and skeptics are equally well aware that success in moving toward resolving the nuclear standoff could open the way to a wider U.S.-Iranian detente, with important regional consequences — not all of which are welcomed by such longstanding U.S. allies as Saudi Arabia and Israel, the Middle East's only current nuclear-armed state. But that's a hypothetical prospect at this stage. For now, the deal that takes effect Monday offers — for as long as it remains in effect — significantly greater verifiable limits on Iran's nuclear work and safeguards against its weaponizing nuclear material. And that, presumably, makes the Middle East a little safer than it was before the agreement took effect.