Syria......
Syrian opposition coalition agrees to attend Geneva 2 peace talks
Published time: January 18, 2014 17:20
Following two days of heated debate, the Syrian National Coalition of opposition forces has voted in favor of going to Switzerland for peace talks scheduled for January 22, Reuters reports.
The National Coalition for Syrian Revolutionary and Opposition Forces, the main Western-back political opposition group, on Saturday agreed to attend the Geneva 2 peace conference. Of the 73 National Coalition members who took part in the vote, 58 backed the motion to attend Geneva 2 and 14 voted against it.
The decision was made in Istanbul, where the deeply divided group has been debating the prospects for its participation in the talks, brokered by the UN, US and Russia.
The tough talks started Friday but were interrupted and postponed. The meeting was complicated by a group of 44 members who threatened to resign over the "lack of transparency" in the recent re-election of the coalition leader Ahmad Jarba, according to Reuters.
Several major Syrian rebel groups also met in Ankara on Saturday to try and agree on a common stance regarding the Geneva 2 talks. The groups decided they "are not against a political solution" and three of them released statements, an opposition source told the news agency. However, there remained some"questions" on the issue, he added.
Earlier, Syrian opposition figure and coalition member Fayez Sara told Al Arabiya he was confident the decision has already been taken in support of the talks.

According to Sara, the National Coalition will go Geneva 2 to defend "the true interests of the Syrian people and the revolution."

The so-called Geneva-2 conference, scheduled to start Wednesday in the Swiss town of Montreux, will bring the Assad government and the opposition to the negotiating table for the first time since the conflict began three years ago.

Syrian government officials have promised to participate in the talks. On Friday, Foreign Minister Walid Moallem said the government was ready to negotiate a ceasefire agreement with opposition forces in the flashpoint city of Aleppo. A list of rebel prisoners has also been drawn up in preparation for a proposed exchange.

The Assad government has insisted on shifting the agenda for the Swiss peace talks from power transition to fighting terrorism. The idea was not welcome by the opposition.

"In these conditions we would be bringing legitimacy to Assad and breaking his isolation. We are giving the regime the biggest platform to tell the world that it is fighting terrorism when it helped create the problem," Jamal al-Ward, head of the Supreme Military Council's military office said speaking to Reuters.

US, Britain and other Western powers had been pressuring the fractured group to go to the peace talks seeing them as the only way out of the crisis.

"The decision on Geneva is a big deal for us. We will not be happy if they say no," a Western diplomat in Istanbul, speaking on the condition of anonymity, told the Washington Post ahead of the voting.

Russia, responsible for bringing the Syrian government to the negotiating table, has long before voiced concerns over who exactly was going to come to Geneva 2, with Sergey Lavrov arguing new groups within the Syrian opposition have lately "sprung up like mushrooms," some of them having ties to terrorist organizations.

Lavrov said the reason behind the National coalition's initial inability to agree upon participation in the peace talks were "inner squabbles between different groups of the coalition, supported by different foreign sponsors."
Comments Undercut Western Efforts to Paint Group as 'Moderate'
by Jason Ditz, January 17, 2014
In between the debates about "
good al-Qaeda and bad al-Qaeda
" in the fighting between Jabhat al-Nusra and al-Qaeda in Iraq (AQI), the other major Islamist rebel faction, the Islamic Front, has gotten
pushed by Western nations
as a potential ally, and the comparative moderates.
Abu Khaled al-Suri, the leader of one of the Islamic Front's top fighting groups, sought to lay out his position clearly,
claiming he considers himself a member of al-Qaeda as well
, and that he believes AQI are not doing the work Osama bin Laden would've wanted.
Suri's comments come as AQI is fighting the Islamic Front in several provinces, and suggest that far from being the moderate Islamists the US could start bankrolling wholesale, he sees the group as simply the more pure al-Qaeda faction in the war.
The comments have fueled speculation that Suri's group will be designated as terrorists because of his open claims of membership in al-Qaeda. Aid workers warn this could really complicate sending aid into northern Syria since they control so much territory, and diplomats warn that it could harm US-Qatari relations, since Qatar is already cheerfully bankrolling Suri.
Experts say Suri's stance was never really a secret, but having gone public with it could be a game-changer, particularly if Ayman al-Zawahiri endorses Suri in an upcoming statement.
http://news.antiwar.com/2014/01/17/kerry-slams-syrias-ceasefire-offer/
( John Kerry plays Don quixote and he tilts at windmills involving Syria... )
Proposal Sought Aleppo Ceasefire, Prisoner Swap
by Jason Ditz, January 17, 2014
Syrian Foreign Minister Walid al-Moallem is
pushing
a plan for a ceasefire in the disputed northern city of Aleppo, humanitarian aid corridors, as well as a prisoner exchange with rebel opposition factions in the area as an attempt at confidence building.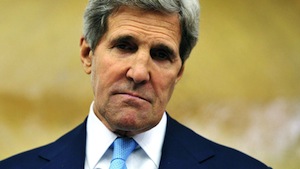 The proposal has
sparked outrage
from Secretary of State John Kerry, who believes that the efforts are aimed at stealing his thunder at next week's Geneva 2 peace talks.
Kerry insisted that the Assad government was engaged in "revisionism" by trying to make Geneva 2 about how to deal with the rise of al-Qaeda across the nation's north.
Kerry even went on to claim that Assad was secretly "funding and ceding territory" to al-Qaeda to fuel fears of al-Qaeda's growing control over the country.
He insisted that the Geneva 2 talks will center around the installation of a transitional government to replace Assad, though with no rebels slated to attend there is no reason to expect that to happen.
http://rt.com/news/syria-lavrov-mualem-geneva-758/
Syria hands over plan for Aleppo ceasefire, readies for prisoner exchange
Published time: January 17, 2014 08:49
Edited time: January 17, 2014 12:27
The Syrian government is ready to negotiate a ceasefire agreement with opposition forces in the flashpoint city of Aleppo, Foreign Minister Walid Moallem has said. A list of rebel prisoners has also been drawn up in preparation for a proposed exchange.
Damascus has handed Moscow a plan for a ceasefire in the city of Aleppo, Moallem announced at a news conference with his Russian counterpart, Sergey Lavrov, in Moscow on Friday.

"Taking into account the role of the Russian Federation in halting the bloodshed in Syria and our relationship of trust, today I have given Minister Lavrov a ceasefire plan for the city of Aleppo," he said. Moallem asked Lavrov to coordinate with his contacts in the Syrian opposition in order to ensure the execution of the new plan, adding that if it is successful it could be implemented in other areas of the war-torn country.
"I really hope all sides will keep to the terms of the agreement. If this happens, then we can implement this plan in other cities."
Moallem asked Lavrov to coordinate with his contacts in the Syria opposition in order to ensure the successful execution of the new plan.
Addressing the issue of the humanitarian crisis in Syria, Moallem said the Syrian government is already working with the UN to deliver aid to "a number of regions." However, the success of the humanitarian program depends on rebel fighters keeping to their pledge not to open fire on humanitarian convoys, he said.
The UN estimates that over 100,000 people have died since the violence broke out three years ago.
'Government forces do not target civilians'
Refuting claims the Syrian Army is bombing its own citizens, Moallem said that such allegations "do not reflect the reality of the current situation." He laid the blame at the feet of terrorist organizations that are being supported by international players.
"According to the constitution, the Syrian government is obligated to protect its citizens and public institutions in Syria. Terrorists and terrorist groups are responsible for these acts of destruction," said Moallem, adding that "these groups are growing in number because of outside support from known states."
Lavrov echoed this opinion, calling accusations that Damascus is carrying out strikes on its own citizens"irresponsible."
"In Syria, civilians are suffering on both sides, but it is totally irresponsible to accuse the government of purposely targeting civilians," said Lavrov. "To make such accusations, serious proof is required."
Both foreign ministers said that opposition representation is absolutely essential for the success of the Geneva-2 talks, which are set to kick off next Monday. They believe the conference will pave the way for the creation of a transitional government to bring an end to the three-year conflict.
The Syrian National Coordination Committee, a faction in the domestic Syrian political opposition, decided to boycott this month's peace conference in Switzerland, UN envoy to Syria Lakhdar Brahimi has said. The Syrian National Coalition – the main political opposition group – is meeting in Istanbul on Friday to decide whether it will attend the Geneva talks.
http://news.antiwar.com/2014/01/16/kerry-geneva-2-talks-will-establish-syria-transitional-govt/
( Messianic John Kerry has a dream.... )
Putin ups arms sales to Assad as rebels fracture
POSTED AT 2:01 PM ON JANUARY 17, 2014 BY ED MORRISSEY
Still wondering who won the standoff last summer over "red lines" in Syria?
Wonder no longer
. Vladimir Putin got Bashar al-Assad a new lease on life a few months ago when he pushed back against Western demands for intervention after chemical-weapons use got so blatant that it could no longer be ignored. Now Russia is trying to make sure Assad succeeds as fast as needed to completely preclude any intervention at all:
In recent weeks

Russia

has stepped up supplies of military gear to Syria, including armored vehicles, drones and guided bombs, boosting President Bashar al-Assad just as rebel infighting has weakened the insurgency against him, sources with knowledge of the deliveries say.

Moscow, which is trying to raise its diplomatic and economic influence in the Middle East, has been a major provider of conventional weapons to

Syria

, giving Assad crucial support during the three-year civil war and blocking wider Western attempts to punish him with sanctions for the use of force against civilians.

The new Russian supplies come at a critically fluid stage of the conflict, with peace talks scheduled for next week in Switzerland, the factious opposition losing ground, and Western support for the rebellion growing increasingly wary of the role played by foreign militants. Syria has even said some countries formally opposed to Assad have begun discussing security cooperation with his government.

Several sources told Reuters that Assad's forces had since December received deliveries of weaponry and other military supplies, including unmanned spy drones known as UAVs, which have been arranged by Russia either directly or via proxies.
This isn't just geopolitics to Putin, although he has to take a great deal of satisfaction in slapping back the US and UK. NATO, led by Barack Obama, intervened disastrously in Libya and the US ended up paying a big price for it in Benghazi (and the French in Mali, for that matter), but that didn't stop Obama and other American politicians from trying the same strategy again to push Assad out. Putin refused to go along, and got fortunate when the political winds changed for Obama and David Cameron. He's obviously not interested in leaving another opening for the West to change their minds.
The other motive for Putin here is strictly mercantile. Russia wants the arms sales, and they're willing to spread the love a little here:
"Equipment has been moving into Syria, and Russia is either bringing it in themselves or sourcing supplies from Black Sea areas like Bulgaria, Romania or Ukraine, where there is surplus stock floating around," the source said. "Suppliers in that region cannot afford to upset the Russians."

Arms trackers say Bulgaria, Romania and Ukraine all have stockpiles of Russian-styled light arms that were produced in the countries dating back to the Soviet era, when factories were set up with help from Moscow.
Putin also wants to protect other economic interests in Syria:
The arms industry source said: "Stuff is definitely coming into Syria, and Russia realizes they have to keep Assad in power if they want to keep a hold of what they have there, especially with oil and gas reserves up for grabs."

Russian oil and gas company Soyuzneftegas signed a $90 million deal with Syria's oil ministry in December for oil exploration and production in a 2,190 square kilometers (845 square miles) bloc of Mediterranean waters off the Syrian coast between Tartous and Banias.
The resurgence of Assad's regime bolsters Russian credibility, even as the civil war within the rebels discredits the West. That was in part the point of
Sir Hew Strachan in his comments
about the incoherence of Obama's military and foreign policies, especially in regard to Syria. Rest assured, Putin isn't suffering from the same problem.
However, he's not terribly adept at public relations, either. The media has focused a lot less today on these developments than on
Putin's comments "welcoming" gays and lesbians to Russia
for the Sochi Olympics … as long as they don't talk about their orientation and "leave children in peace":
"We have no ban on the nontraditional forms of sexual intercourse among people," Putin said in remarks carried by the Interfax news service. "We have the ban on the propaganda of homosexuality and pedophilia. I want to stress this: propaganda among minors. These are two absolutely different things: a ban on certain relations or the propaganda of such relations."

Putin asserted that the idea of legalizing pedophilia has been discussed in some countries.

"There is nothing secret about it, look it up on the Internet and you'll find it straightaway," he said. "Parties have raised the issue with certain parliaments. So what, are we supposed to shuffle behind them like obedient dogs toward unknown consequences? We have our own traditions, our own culture, we treat all our partners with respect and ask for our traditions and our culture to be treated with respect as well."

One more question: Why, a volunteer asked, do Russia's Olympic uniforms contain the colors of the rainbow, the rainbow being a symbol of gay rights?

Don't ask him, the president said. "I didn't design the uniform."
This, of course, is absurd and worthy of scorn — but it's Putin's moves in the Middle East that are the real threat. Too bad few (other than Reuters) seem to be paying much attention.
Addendum: By the way, I'd advise against taking Putin's advice about doing that kind of search on the Internet.
New Leaders Must Be Acceptable to All in Attendance
by Jason Ditz, January 16, 2014
Though all indications are that next week's Geneva 2 peace conference is going nowhere fast, Secretary of State John Kerry's optimism remains boundless, and he
announced
that the talks will end with the framework for installing a transitional government to replace President Bashar Assad.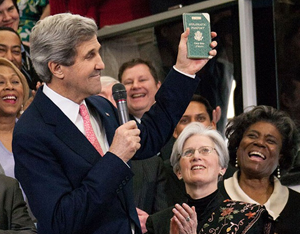 Kerry insisted that the leaders of the new government would have to be acceptable to all in attendance, including the existing government and the opposition.
This suggests the comments were
aimed primarily at coaxing
the rebels into agreeing to attend, since so far none have confirmed they're coming and they'll presumably want some say in a replacement regime.
That said, with most of the biggest rebel factions not even invited, and the rebel "war within a war" picking up pace, the already remote chances of a settlement being reached at Geneva 2 seem to be fading fast.
http://news.antiwar.com/2014/01/16/syrias-nusra-front-claims-credit-for-lebanon-bombing/
Says Attack Was Revenge Against Hezbollah
by Jason Ditz, January 16, 2014
A suicide bomb blast tore through the area near a government building in the north Lebanese town of Hermel today, killing four people and wounding 43 during morning rush hour.
Unlike other suicide attacks, Syria's al-Qaeda-run faction Jabhat al-Nusra wasted no time in claiming the credit for the strike, saying the attack was revenge against Hezbollah for its involvement in the Syrian civil war.
Despite being "against Hezbollah," the four dead were all civilians with no apparent connection to the group, and there is no indication that the decision to hit the site in Hermel went beyond the town's significant Shi'ite population.
The bomb was packed inside a stolen car, and was detonated by the driver. A second man was seen talking to him before the blast and is being sought by Lebanese security forces.
http://news.antiwar.com/2014/01/16/un-al-qaeda-executions-in-syria-may-be-war-crimes/
Mass Executions 'Deeply Disturbing'
by Jason Ditz, January 16, 2014
UN human rights chief Navi Pillay has warned that recent mass executions by al-Qaeda in Iraq (AQI) may amount to "war crimes," particularly with reports of them mass executing prisoners at sites they were about to lose in Raqqa earlier this month.
AQI has been executing captives for months, of course, but as fighting with rival rebel factions has picked up there have been reports of summary executions by the scores several times a week.
Rival rebels that have taken AQI bases where prisoners were held have reported finding large numbers of recently executed people, suggesting AQI just executes people en masse rather than abandoning those sites.
The dead have included a number of civilians, including at least four journalists, but more recently the executions have centered around captured fighters for other factions, including rival al-Qaeda faction Jabhat al-Nusra.
Seeks Assault Rifles and Artillery
by Jason Ditz, January 16, 2014
Iraqi Prime Minister Nouri al-Maliki has issued another request for military aid to the United States, seeking assault rifles and artillery, which US diplomats say could be delivered fairly quickly.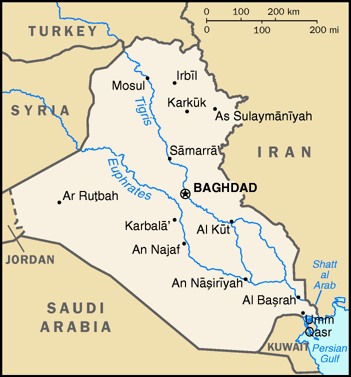 The more controversial request from Maliki is US troops to be deployed to Iraq to train his "counterterrorism" fighters, or failing that train them in Jordan.The deployment of such trainers would mean a de facto military return to Iraq, and even a limited one could have regional implications.
Retired Lt. Gen. James Dubik, one of several officials involved in the creation of the new Iraqi military, touted the ongoing fighting in Iraq as an "opportunity to reinvigorate our partnership," and urged the US to "take that opportunity."
The Obama Administration previously ruled out sending troops to Iraq, but they have often tried to spin sending military personnel as trainers as something less than a military deployment, and the ongoing perception that such deployments increase US influence over its client states means such proposals will likely be considered no matter how plainly unwise they are.
63 Killed, 41 Wounded in Fresh Iraq Bloodshed