Aims to Spin That as Proof of Military Progress
by Jason Ditz, January 23, 2014
Lt. Gen. Mark Milley, a top US commander in occupied Afghanistan, has confirmed that the most recent deadly attack in Kabul is part of a trend of "
high-profile, spectacular
" attacks rising, which has continued since 2012.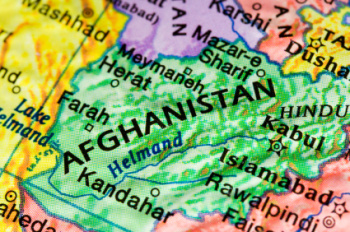 It wouldn't be a Pentagon official talking about Afghanistan, however, if they weren't trying to spin whatever is happening on the ground as proof of military progress in the country.
Lt. Gen. Milley said the attacks reflect the Taliban's "inability to defeat Afghan and foreign soldiers on the battlefield," and are a desperate attempt to create "an atmosphere of fear."
If this sounds familiar, it is because
for years the Pentagon has
been making
similar
claims for years, trying to paint a worsening security situation as a sign they've turned a corner, and that 13 years in everything is going to plan.
Watchdogs Paint Issue as One of Freedom of Speech
by Jason Ditz, January 22, 2014
One an hardly turn on a television or radio in Afghanistan these days without hearing self-proclaimed "public service announcements" urging the audience to support the US occupation, and demand President Hamid Karzai sign off on the Bilateral Security Agreement (BSA).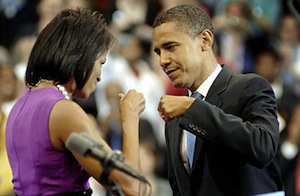 The Afghan government investigated the proliferation of ads, and
unsurprisingly found they are being bankrolled by NATO
, the Pentagon, and USAID. There is now talk of limiting the ads, and one TV spot showing "ordinary Afghans" supporting the occupation has been blocked from future broadcast.
Afghan media watchdogs are expressing concern that this is a dangerous precedent, and that blocking pro-occupation ads paid for by the occupying power is a threat to "freedom of speech."
From the perspective of media companies in Afghanistan, however, this is just about money. In a nation with virtually no economy and a massive occupying force with virtually limitless funds, pro-occupation PSAs are one of the few reliable sources of ad revenue out there.
http://www.nytimes.com/2014/01/22/world/asia/military-eyes-afghan-force-of-10000-or-a-pullout.html?_r=0
WASHINGTON — The Pentagon has proposed to
President Obama
that 10,000 American troops remain in
Afghanistan
when the international combat mission there ends after this year, or none at all, senior government officials said Tuesday.
That figure, debated in recent days within the White House, is the midpoint of a range of 8,000 to 12,000 troops — most of them Americans — that has been contemplated for months as the United States and its NATO allies planned for the long mission's end. Anything less than that, the officials said, would be too few to be able to protect the reduced retinue of diplomats, military and intelligence officials that remain in Afghanistan.
"The proposal is 10,000 or basically nothing, a pullout," said one official, who has been briefed on the plan but spoke on the condition of anonymity about internal administration deliberations.
Both the intelligence agencies and the State Department, who would have personnel remaining in Afghanistan after 2014, back the Defense Department's proposal, the officials said. But it has met resistance among some officials in the White House National Security Council, including Vice President Joseph R. Biden Jr., who question why the choice has to be 10,000 troops or zero, and nothing in between.
About 37,500 American troops are currently in Afghanistan, about twice as many as the number of international forces also there.
Administration officials declined to confirm a report in The Wall Street Journal that the military's plan would call for quickly withdrawing the troops so that none remained by the time Mr. Obama leaves office in January 2017. That is a far more rapid departure than considered previously for residual forces; a still-pending agreement with President Hamid Karzai of Afghanistan would allow for an American presence to 2024.
The Obama administration is eager to maintain some military presence in Afghanistan after this year, especially given the resurgence of Islamist extremists and Qaeda sympathizers that has exploited the United States' withdrawal from Iraq and the regional chaos of the civil war in Syria. But Mr. Karzai could foil any plans, as he has balked at signing a bilateral security agreement negotiated late last year to set out the conditions for a continued American presence in his country.
The White House would not respond to reports of the Pentagon plan, and instead focused on keeping pressure on Mr. Karzai to sign the security agreement — without which any talk of keeping American troops in Afghanistan is moot.
"The president has not yet made decisions about final troop numbers," said Caitlin M. Hayden, a spokeswoman for the National Security Council.
But absent a bilateral security agreement, she said, "then we will initiate planning for a post-2014 future in which there would be no U.S. or NATO troop presence in Afghanistan. That is not a future we are seeking, and we do not believe that it is in Afghanistan's interests."
"The further this slips into 2014, however, the more likely such an outcome is," Ms. Hayden added. Decisions have to be made soon, she said, about issues like base closings and force levels.
Despite the tension now between the United States and Mr. Karzai on the matter, the agreement negotiated included concessions from the Afghans that the Obama administration had not been able to secure from Iraq in 2011, which led to Americans' complete withdrawal from that country.
Chief among them was assurance that American soldiers would not face prosecution in Afghanistan for actions in the course of their duties there. Also, Special Operations forces would be able to conduct antiterrorism raids in private Afghan homes. But Mr. Karzai has since insisted on other conditions, while the United States has refused to reopen negotiations.
http://www.theguardian.com/world/2014/jan/19/karzai-us-afghanistan-air-strikes
Karzai demands end to US air strikes as condition for Afghanistan security deal
• President calls on US to arrange peace talks with Taliban
• Karzai stalling on agreement for troops to stay beyond 2014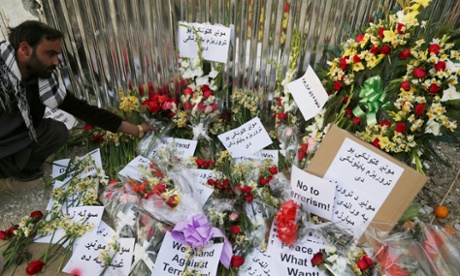 On Sunday hundreds of Afghans gathered outside the Lebanese restaurant, Taverna du Liban, to protest against the assault that killed 21 people. A suicide bomber and two gunmen attacked, killing 13 foreigners, including two Americans, and eight Afghans, all of them civilians. Protesters chanted against terrorism as they laid flowers.
"Today, we stand against terrorist attacks in Afghanistan, and the killing of the civilians by terrorists," said one demonstrator, Salma Alkozai.
Although Karzai has made similar demands in the past, he has recently ratcheted up his condemnations of alleged US failures as Afghans look to an uncertain future. Karzai made Sunday's statement after being presented with the findings of an investigation into a joint Afghan-US military operation last week that resulted in civilian casualties which he blamed on a US military air strike.
The US-led international military coalition, however, provided a sharply different account of what happened during the two-day operation against insurgents in eastern Parwan province, saying it was an Afghan-led effort and carried out at the request of the government.
Karzai convened his National Security Council on Sunday to discuss the Parwan attack. A statement said: "Air strikes are a matter of concern for the Afghan people. The National Security Council said there should be an immediate end to all operations and air strikes by foreign forces."
Karzai sent a delegation to investigate the 15 January air strike in the Ghorband district of Parwan province, which borders Kabul. The delegation blamed the US for ordering an operation it said killed 12 civilians and four Taliban fighters. It further said local authorities were not informed about the operation. The coalition, which is carrying out its own investigation, said the government was not only aware but had requested the operation ahead of the country's 5 April presidential elections, because the area had fallen under Taliban control.
A coalition statement said: "The operation was requested by the governor in response to those conditions. The resulting plan, approved through the Ministry of Defence, was a deliberate clearing operation to disrupt insurgent activity, based on intelligence obtained primarily by Afghan forces."
The coalition said a team of more than 70 Afghan commandos with a few US Special Operations Forces carried out the operation. Senior US military officials, who requested anonymity as they were not allowed to brief journalists about an ongoing investigation, said the commandos came under heavy fire almost immediately. An Afghan commando and a US soldier were killed, they said.
Afghan national security forces had nine US advisers with them when they became trapped by withering fire from residential homes, the officials said.
The coalition statement said: "At that point, the ANSF and coalition advisers were unable to manoeuvre or withdraw without sustaining significant casualties. The combined force required defensive air support in order to suppress enemy fire from two compounds."
One senior US military official said the decision to ask for air support was taken "in extremis" by the Afghan ground commander. The official said two civilians were killed and one wounded.
Karzai has declined to sign an agreement allowing some US forces to stay past the planned withdrawal. The president tentatively endorsed the deal after it was completed last October, but first refused to sign it until after it was approved by a council of tribal elders, known as the Loya Jirga, in November. After the elders approved it, Karzai still declined to sign it, now saying he wanted his successor to decide after the elections.
The US had wanted the deal to be signed by 31 December, because it needs time to prepare to keep thousands of US troops in the country for up to a decade. Nato allies have said they will not stay if the Americans pull out.
The agreement aims to help train and develop Afghan forces, while allowing for a smaller counterterrorism force to pursue al-Qaida fighters and other groups.
Karzai again demanded on Sunday that the US do more to start talks with the Taliban, although an American effort to get them going through intermediaries in Qatar collapsed last summer. The Taliban have refused to talk directly with Karzai, his government or its representatives.
Karzai's statement further warned that the country risked slipping into
feudalism" if his conditions were not met.