http://www.businessinsider.com/india-diplomat-in-us-update-2013-12
India Demands That US Drop Case Against Diplomat Who Was Strip-Searched In New York City
AP Photo/Mohammed Jaffer

India demands that US drop case against diplomat who was strip-searched in New York City
NEW DELHI (AP) — India's foreign minister has demanded that the United States drop a case against an Indian diplomat who was strip-searched after being arrested in New York City.
Deyvani Khobragade was accused of paying her Indian housekeeper far less than she had claimed on a visa application.
An Indian official said Khobragade, a deputy consul general in New York, had accused the housekeeper of blackmailing her last summer.
External Affairs Minister Salman Khurshid told reporters on Thursday that Khobragade should never have been arrested, and that the housekeeper should have been arrested instead.
The case has sparked a diplomatic furor between the United States and India, which is incensed over what it describes as degrading treatment of Khobragade.
'BLACKMAIL'
NEW DELHI (AP) — An Indian diplomat who was arrested in New York City and accused of paying her housekeeper about $3 dollars an hour had claimed the woman blackmailed her over the summer, an Indian official said Thursday.
The case has sparked a diplomatic furor between the United States and India, which is incensed over what its officials described as degrading treatment toward Devyani Khobragade, India's deputy consul general in New York.
The U.S. Marshals Service confirmed it had strip-searched Khobragade and placed her in a cell with other female defendants last Thursday, saying the measures are "standard arrestee intake procedures."
Khobragade was charged with lying on a visa application, saying she paid the housekeeper — an Indian national — $4,500 a month, but actually paid her far below the minimum wage. She pleaded not guilty and was released on $250,000 bail.
The case has sparked outrage across India, where the idea of an educated, middle-class woman facing a strip-search is almost unimaginable, except in the most brutal crimes. In an unusual step, the U.S. attorney in Manhattan publicly defended Khobragade's treatment, and questioned why there was more outrage for Khobragade than for the housekeeper.
On Thursday, an official in India's External Affairs Ministry said Khobragade filed a complaint with New York police and New Delhi police in July, saying the maid had disappeared and was trying to blackmail her. According to the official, the housekeeper said she would not report Khobragade if she agreed to pay her more money and change her visa status to allow her to work elsewhere in the U.S.
New Delhi police issued a warrant for her arrest if she returned to India, the official said. He spoke on condition of anonymity because he was not authorized to speak publicly.
Having a live-in maid or part-time domestic help is common in Indian households, even among the lower and middle classes. A salary of $3 an hour, or around $24 for an eight-hour day, is more than what a well-paid maid would earn in New Delhi or Mumbai.
Typical salaries for a full time, live-in maid range from $100 to $150 per month, with most families also offering lodging, food, clothes and medical assistance.
Khobragade's case has chilled U.S.-Indian relations, and India has revoked privileges for U.S. diplomats in protest. U.S. Secretary of State John Kerry called a top Indian official to express his regret over what happened.
On Wednesday, U.S. Attorney Preet Bharara said Khobragade was treated very well, even given coffee and offered food while detained.
"One wonders whether any government would not take action regarding false documents being submitted to it in order to bring immigrants into the country," Bharara said, making the highly unusual move of issuing a lengthy statement addressing issues not in a criminal complaint. "And one wonders why there is so much outrage about the alleged treatment of the Indian national accused of perpetrating these acts, but precious little outrage about the alleged treatment of the Indian victim and her spouse?"
He also said Khobragade was afforded courtesies most Americans wouldn't get — such as being allowed to make phone calls for two hours to arrange child care and sort out personal matters — after she was arrested by U.S. Department of State agents outside her children's Manhattan school.
Khobragade could face a maximum sentence of 10 years for visa fraud and five years for making a false declaration if convicted. She has said she has full diplomatic immunity. The Department of State disputes that, saying her immunity is more limited to acts performed in the exercise of consular functions. Her work status Thursday was unclear.
Indian consulate spokesman Venkatasamy Perumal said Khobragade was transferred this week to India's U.N. mission, but he declined to comment further, and requests for comment to the U.N. mission's first secretary were not immediately returned.
Department of State deputy spokeswoman Marie Harf said that when such a transfer request is made to the United Nations, the U.N. Secretariat would inform the Department of State. It then would have to be reviewed by appropriate authorities in both places.
Khobragade's lawyer, Daniel Arshack, said he didn't know what she would be doing at the U.N. mission, but "I fully expect her to stay in the U.S."
India retaliated against U.S. diplomats with measures that include revoking diplomat ID cards that brought certain privileges, demanding to know the salaries paid to Indian staff in U.S. Embassy households, and withdrawing import licenses that allowed the commissary at the U.S. Embassy to import alcohol and food.
India Flap derives from America's Gulag Practices and Far-Right Supreme Court
(By Juan Cole)
The militarization of American police and humiliating practices of routine strip and cavity searches are the real culprits in the current diplomatic dispute between the United States and India. Police not only arrested the Indian deputy consul, Devyani Khobragade, who claims diplomatic immunity, on a minor visa and domestic labor charge, they put her in the general prison population and subjected her to a strip search.
Americans think of themselves as brave rugged individualists who enjoy the liberties of an Enlightenment constitution. In fact, they most often are timid and cowed in the face of the world's most powerful government, which increasingly acts like a medieval tyrant. Americans don't seem outraged that the government is spying on them. The government has put 6 million Americans either in prison or under correctional supervision, and has the highest per capita rate of incarceration in the world– more than Cuba, nearly twice that of Russia, and more than 4 times that of Communist China! Only 8 percent of inmates in Federal penitentiaries are there for violent crimes. In many states, former prisoners are stripped of the right to vote. These extreme penal practices of course primarily target minorities and function as a racial control mechanism. (Famously, penalties in the US for using cocaine powder, a favorite in the white suburbs, are much less than for crack cocaine, mostly used by poor minorities.)
Not only does the US have an enormous number of people in jail but they subject arrestees (people not convicted of a crime) to routine strip and cavity searches. Women are often forced to be naked in front of the other inmates and to spread their labia for a policewoman.
These practices have been challenged. The ninth district federal appeals court in California decades ago found LAPD routine body cavity searches unconstitutional. But last year, our Supreme Court– the same one that thinks corporations are people, that doesn't think big money campaign donors should have to identify themselves, and thinks it is all right for traditionally discriminatory states to pass voter suppression laws against minorities– weighed in. It found constitutional
routine strip searches even in minor traffic violations cases
. A guy got a ticket. He paid it off, but it mistakenly stayed on his record. He bought a new house and went out with family to celebrate. He got stopped by police, who ran his registration and found the ticket. They handcuffed him in front of his family and hauled him off to six days in jail during which he was subjected to cavity searches. John Roberts thinks the whole thing perfectly reasonable. (The individual in question is an African-American).
So the strip search to which the deputy Indian consul in New York was subjected was just business as usual in the United States. She is not accused of carrying a weapon or being violent, but rather of underpaying her hired help. That charge is not frivolous, but it wouldn't obviously call for a search in her internal organs.
While police in India sometimes mistreat prisoners, they are behaving illegally when they do so. To have the official policy be to humiliate people routinely is outrageous to people outside the United States, especially where it concerns a woman diplomat who functions as a symbol of the nation.
Khobragade's father said,
"It is not Devyani's insult, but of the nation as she is representing the country. Devyani has been made a target, a scapegoat…. It is the outcome of tussle going on between the Ministry of External Affairs and US State department for the last two years…"
The way our government treats Americans is no longer inspiring to other peoples but rather it appalls them. German Chancellor Angela Merkel accused Barack Obama of running a STASI domestic spying operation via the NSA. (The STASI were the feared East German domestic surveillance organization, which kept files on most citizens and encouraged their neighbors to inform on them). Indian crowds are protesting over having their diplomat strip-searched. The spectacle of the humiliation of once-free Americans by an increasingly tyrannical incipient police state is causing other democracies to cringe in disgust. The way our government treats Americans is no longer inspiring to other peoples but rather it appalls them.
On the other hand, some measures taken by the Indian government in protest have been childish. It removed the barriers in front of the US embassy in New Delhi that prevent suicide car bombers from getting close to the building. It is one thing to tell people to drop dead, it is another to arrange for them to do so. India is a postcolonial rising global power, and the combination of growing pride and confidence and memory of being kept down for two centuries by supercilious Western white Christian colonialists can sometimes make it prickly. Most countries would just have expelled a US diplomat in retaliation, not put up a sign on the US embassy saying "al-Qaeda welcome here."
Kerry 'regrets' treatment of Indian diplomat
US secretary of state phones India official to voice regret over female diplomat who was arrested and strip-searched.
Last updated: 18 Dec 2013 19:37
The treatment of Khobragade lead to protests in India [EPA]
US Secretary of Sate John Kerry has called a top Indian official and voiced regret about the case of an Indian diplomat strip-searched after her arrest last week on charges of visa fraud.
The US State Department said on Wednesday that Kerry made the call and voiced his hope that the incident would not harm US-India relations.
Devyani Khobragade, a deputy consul general in New York, was arrested last week for allegedly paying a domestic worker a fraction of the minimum wage and for lying about the employee's salary in a visa application.
"As a father of two daughters about the same age as Devyani Khobragade, the Secretary empathises with the sensitivities we are hearing from India about the events that unfolded after Ms Khobragade's arrest," State Department spokeswoman Marie Harf said in a written statement.
"In his conversation with National Security Adviser [Shivshankar] Menon, he expressed his regret, as well as his concern that we not allow this unfortunate public issue to hurt our close and vital relationship with India," Harf added.
The White House on Wednesday tried to quell the row with India that has been growing since it emerged that Khobragade was strip searched during her arrest, sparking a fierce backlash.
Cavity searched
White House spokesman Jay Carney said that Washington understood why the issue was such a sensitive one in India, where there has been public outrage, but said the incident did not reflect the broad and healthy cooperation between the two countries.
"The United States and India enjoy a broad and deep friendship and this isolated episode is not indicative of the close and mutually respectful ties that we share," Carney said.
"We understand that this is a sensitive issue for many in India, and we are looking into the intake procedures surrounding this arrest, to ensure that all standard procedures were followed and that every opportunity for courtesy was extended."
An email from Khobragade says she had been repeatedly stripped and cavity-searched by the US authorities.
India ordered a range of measures in reprisal, including recalling identity cards for US consular officials, halting import clearances for the US embassy including for alcohol, and removing barricades outside the US mission in New Delhi.

Police Ignored Consular Immunity, Insist Officials
by Jason Ditz, December 18, 2013
A growing diplomatic row between India and the United States over the mistreatment of deputy consular general Devyani Khobragade, arrested last week on charges of submitting a false visa application for her housekeeper/babysitter.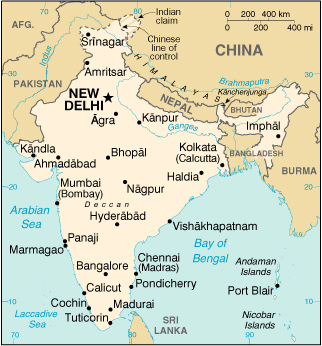 Khobragade, who was released almost immediately after the arrest, reports
she was subjected to
multiple strip searches, cavity searches and swabbings, and that officials ignored her protestations of consular immunity.
The Indian government has issued several formal complaints, and has retaliated by cancelling airport passes for US diplomats. They have also
transferred
Khobragade to the UN Embassy in New York, where she would enjoy even broader diplomatic immunity.
The US State Department, which was involved in Khobragade's arrest and mistreatment in custody, has so far reacted by issuing "warnings" to India that the US expects them to protect the US embassy in New Dehli. India removed a series of
concrete barricades from the area
around the embassy, citing traffic problems they caused.
State Dept Warns India It Expects Embassy Protected
by Jason Ditz, December 17, 2013
A growing diplomatic row over the arrest and strip-searching of a top Indian diplomat in the United States has escalated further, with Indian police
removing security barriers
from the outskirts of the US Embassy.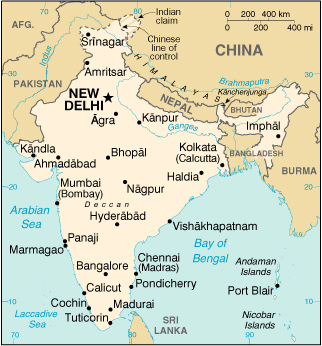 The concrete barricades were intended to keep vehicles from ramming the embassy compound, and were dragged away by police tow trucks earlier today. The embassy remains surrounded by a high wall.
The State Department says it has warned India that it expects them to guarantee the security of the embassy, and declined comment on the "sensitive" issues India is complaining about.
India's National Security Adviser condemned the treatment of Devyani Khobragade, the deputy consul general in New York, saying it was "barbaric." She
was accused of submitting false documents
for the work visa of her housekeeper.