http://www.businessinsider.com/why-afghanistan-is-such-a-mess-in-two-unanswered-questions-2013-12
Why Afghanistan Is Such A Mess, In Two Unanswered Questions
Awkward excuses and befuddled silence greeted him in return.
"We're supposed to believe that you fellas have a plan that's going to end up in a positive way in Afghanistan?" Rohrabacher asked. "Holy cow!"
The unaswered questions, which you
watch at the Wall Street Journal
, speaks volumes about the debacle that is rapidly becoming America's foray into/impending retreat from Afghanistan.
The culprits were Ambassador James Dobbins, the administration's top envoy to Afghanistan and Pakistan, Michael Dumont, the Defense Department's deputy assistant secretary for Afghanistan, Pakistan and Central Asia, and Donald "Larry" Sampler, the assistant to the administrator in USAID's Office of Afghanistan and Pakistan Affairs.
The answers: 113 this year, 2,292 total, and somewhere around
$85 billion for 2013.
(A cursory google search yields these answers from various official sources.)
The idea that U.S. officials didn't have basic facts about the war in Afghanistan on the tips of their tongues seemed apt for a conflict that has fallen off the radar in Washington, where battles over the budget, President Barack Obama's health care program and talks with Iran have eclipsed interest in America's longest war as it winds to a close.
Since former prosecutor John Sopko took over last year as the top watchdog probing U.S. reconstruction efforts in Afghanistan, the organization has honed a pugnacious style that has irked military commanders, grabbed national news headlines and exposed embarrassing lapses in oversight that have cost taxpayers billions of dollars.
http://news.antiwar.com/2013/12/11/us-backs-off-december-ultimatum-for-karzai-pact/
Says January Signing Would Be Fine
by Jason Ditz, December 11, 2013
The Obama Administration imposed an ultimatum on President Hamid Karzai last month: he must sign the Bilateral Security Agreement (BSA) by the end of December, or the occupation will end.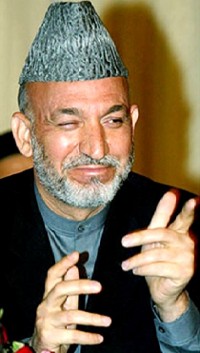 Or it won't end. The White House, apparently noticing that Karzai hasn't budged mid-way through December, is furiously backpedaling, and now says January would be fine too.
Karzai's term in office ends in April, and he's only said he won't sign until after the April election, so the US only needs to back-track a few more times to get themselves in line with what Karzai planned to do at any rate.
Instead of concessions, the US is apparently putting its hopes on India to sell Karzai on the idea of a continued occupation, with officials expressing "confidence" that Karzai would eventually sign off on the deal, and saying India, which Karzai is planning to visit this week, would help.