http://news.antiwar.com/2013/11/25/karzai-wants-gitmo-detainees-freed-issues-other-demands/
( Karzai resorts to extortion.... US should frankly tell him to take a hike .... )
Won't Sign US Pact Without End to Night Raids
by Jason Ditz, November 25, 2013
Over the weekend, Afghan President Hamid Karzai failed to stop the Loya Jirga from delaying the Bilateral Security Agreement (BSA) with the US, but will withhold signing the deal himself pending certain outstanding issues.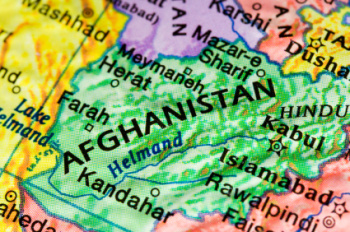 Tonight we're finally
getting a glimpse of what issues Karzai is focused on
, as Afghan and US officials opened up about the matter after today's talks between Karzai and Susan Rice.
Karzai wants all 17 Afghan citizens released from Guantanamo Bay and a full end to night raids, insisting he would never sign the deal if it meant another soldier steps foot into an Afghan home.
Oddly, Karzai had agreed to the language of the deal last week including night raids but only when "absolutely necessary," and there was at the time no mention of
Gitmo detainees
. Karzai's term in office ends in April, and he says the deal should wait until then.
and.....
Karzai lays out conditions for signing US security pact
President says home raids by US troops must end and remaining Afghan Guantanamo detainees must be released
Topics:
Afghanistan's President Hamid Karzai has
refused to sign a security deal
with the United States, the White House said, opening up the prospect of a complete withdrawal of U.S. troops from the war-ravaged nation next year.
Karzai told U.S. National Security Advisor Susan Rice in Kabul on Monday that the United States must put an immediate end to military raids on Afghan homes and release remaining Afghan Guantanamo detainees before he would sign a bilateral security pact, Karzai's spokesman said.
On Sunday, an assembly of Afghan elders called the Loya Jirga endorsed the Bilateral Security Agreement (BSA) under those conditions, and Karzai suggested postponing the signing until after national elections – in which he will not be running – next year.
The impasse strengthens questions about whether any U.S. and NATO troops will remain after the end of next year in Afghanistan, which faces an insurgency by the Taliban and is still training its own military, and
whether they would be immune to prosecution.
The ball is in your court now, and get back to us.
Aimal Faizi
Karzai spokesman
Rice, who made a three-day visit to Afghanistan, told Karzai it was "not viable" to defer signing the deal until after the election, the White House said.
"Without a prompt signature, the U.S. would have no choice but to initiate planning for a post-2014 future in which there would be no U.S. or NATO presence in Afghanistan," a White House statement quoted Rice as saying.
Karzai spokesman Aimal Faizi said the Afghan leader laid out several conditions for his signature to the deal in the meeting, including a U.S. pledge to immediately halt all military raids on, or searches of, Afghan homes.
The BSA includes a provision allowing raids in some circumstances – as in when an American life is directly under threat – but it would not take effect until 2015.
The issue is particularly sensitive among Afghans after a dozen years of war and what some see as a U.S. occupation of their country.
"It is vitally important that there is no more killing of Afghan civilians by U.S. forces, and Afghans want to see this practically," Faizi said.
Karzai also called on Washington to send remaining Afghan detainees at the U.S. military detention center in Guantanamo Bay, Cuba, back to Afghanistan, saying that the Loya Jirga, which convened last week to debate the deal, had endorsed the pact with this condition.
Faizi said Karzai also asked U.S. officials to guarantee that the U.S. would refrain from endorsing any candidate in national elections next year.
He further asked his American visitors to return to the U.S. president with this message: "The ball is in your court now, and get back to us."
U.S. troops have been in Afghanistan since ousting the Taliban regime in late 2001, and there are still 47,000 American military personnel in the country. The U.S. has been in talks with Afghan officials about keeping a small residual force of about 8,000 troops there after it winds down operations next year.
http://news.antiwar.com/2013/11/25/us-threatens-to-end-afghan-occupation/
( After Syria and Iran bluster by US and then perceived public folding of their proverbial tents , Karzai not taking US seriously either ..... )
Rice Warns Karzai: Waiting for Election 'Not Viable'
by Jason Ditz, November 25, 2013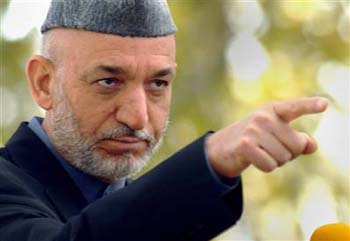 Though Afghanistan's Loya Jirga surprised many by signing off on the BSA over the weekend, the deal isn't final without Karzai's signature, and he's insisting that should wait until the April election to choose his successor.
Rice is said to have told him that waiting until April is "not viable," and the US already set an ultimatum for the end of the year, threatening to withdraw all troops by the end of 2014 if the deal wasn't in place by the end of 2013.
Karzai aides say they don't take the threat seriously, and it's not surprise. Despite President Obama repeatedly raising the "zero option" during talks with Karzai to try to get better terms out of him, the Pentagon has confirmed time and again that leaving isn't even being considered.
The White House reports that Karzai is laying out new conditions for his signature, seeking some unspecified changes to the deal, and while they're insisting on the deal as currently written, there's no reason to think Karzai will capitulate now, having made his position on one of the last major issues of his presidency so publicly clear.
Afghanistan's Karzai rejects elders' advice to back US deal quickly
Karzai says he will not sign agreement until after next April's presidential election
Topics:
An assembly of Afghan elders endorsed a crucial security deal Sunday to enable U.S. troops to operate in the country beyond next year, but President Hamid Karzai left the matter up in the air by refusing to say whether he would sign it into law.
The gathering, known as the Loya Jirga, had been convened by the president to debate the pact which outlines the legal terms of continued U.S. military presence in Afghanistan. It voted in favor and advised Karzai sign it promptly.
But Karzai, in his final remarks to the
four-day meeting
, said he would not sign it until after a presidential election due next April.
"If there is no peace, then this agreement will bring misfortune to Afghanistan," he said. "Peace is our precondition. America should bring us peace and then we will sign it."
The president did not elaborate, but has previously said a free and fair vote is needed to guarantee peace in the country and his spokesman later said Karzai had not changed his mind.
As the meeting ended, assembly chairman Sibghatullah Mojeddedi told Karzai: "If you don't sign it, we will be disappointed." Karzai responded "Fine!" and left the stage.
Failure to clinch the deal could mean a full U.S. pullout, leaving Afghanistan to fight the Taliban insurgency on its own. U.S. troops have been in Afghanistan since leading a drive to remove the Taliban in late 2001.
U.S. officials, including Secretary of State John Kerry and Defense Secretary Chuck Hagel, said the deal must be signed by year-end to begin preparations for a post-2014 presence.
In his remarks, Karzai acknowledged there was little trust between him and U.S. leaders while saying signing the pact was broadly in Afghanistan's interests. Backing from the Jirga, handpicked by his administration, had been widely expected.
Most speakers were muted in their criticism of the thorniest issues in the document, including a U.S. request for immunity for its troops from Afghan law.
Critics say Karzai's recalcitrance on the date might reflect his desire to distance himself from any deal with the U.S. and avoid speculation that he has sold out to the West.
A former U.S. ambassador to Afghanistan, Ronald Neumann, said Karzai is known to use 11th hour demands to press for concessions from the U.S during negotiations.
"He has to be the one ... to sign off on this loss of Afghan sovereignty. He knows intellectually that this is in Afghanistan's interest, but at the same time it's distasteful to him," Neumann said.
Fears of interferance
The deal took a year to hash out and Karzai's about-face threw the entire process into doubt just hours after both sides announced they had agreed on its terms.
Even in Afghanistan, where some view the security agreement with the U.S. with contempt, many officials were unsettled.
Some believe Karzai is simply concerned that the U.S. and other Western countries may attempt to interfere in next year's presidential election. Having served two terms, he is ineligible to run again.
By withholding his signature until after the vote, Karzai could also use ratification as leverage to ensure the U.S. does not try to back a candidate not to his liking.
Opposition leader Abdullah Abdullah, who dropped out of a run-off against Karzai in the 2009 elections, citing concerns about fraud, was among those who shared this suspicion.
"What he is asking for is a guarantee about the elections and most probably his favorite candidate," Abdullah told Reuters.
Karzai accused the international community of meddling during the 2009 election that he won, saying they had tried to encourage Afghans to vote for an opposition candidate.
Others were concerned that Karzai's reluctance to sign the agreement could jeopardize Afghanistan's relations with its international allies and its economic future.
"If we keep talking about signing the agreement after the election, we will lose our biggest ally," said Freshta Amini, an MP from southwestern Nimroz province. But some Loya Jirga members supported Karzai's comment about delaying ratification.
"If the Americans want to sign this pact with Afghanistan, then they should also respect our demands for a transparent election, and peace and security in the country," said Farid Alokozai, provincial council chief in Wardak, outside Kabul.
One cabinet minister close to Karzai said many members of the president's team were unhappy with his decision.
"There are people who want this pact to be signed immediately after the Loya Jirga. But there are spoilers too, who have a lot of influence over the president."
and.....
Karzai refuses to sign security pact until 'US brings peace' despite assembly backing
Published time: November 24, 2013 08:12
Edited time: November 24, 2013 09:25
Afghanistan's national assembly of elders has approved the signing of a security pact with Washington that would leave behind a residual US troop presence after withdrawal in 2014. President Hamid Karzai has said he will not sign the deal immediately.
The Loya Jirga voted in favor of a security deal with Washington that would allow US troops to stay in Afghanistan beyond 2014 to train national security forces, a deputy speaker of the assembly told the BBC. The assembly is made up of 2,500 elders, tribal leaders and other influential figures in Afghanistan.
"Given the current situation in, and Afghanistan's need... the contents of this agreement as a whole is endorsed by the members of this Loya Jirga," Fazul Karim Imaq, a deputy of the loya jirga said, reading a declaration reached at the end of the four-day grand meeting.
"The loya jirga requests the president to sign the agreement before the end of 2013," Imaq said.
President Karzai said he would not sign the deal immediately and that the US needed to bring peace to Afghanistan before any agreement was reached.
"If there is no peace then this agreement will bring misfortune to Afghanistan," Karzai said in an address to the Loya Jirga. "Peace is our precondition. America should bring us peace and then we will sign it."
Washington has criticized President Hamid Karzai's government for delaying the signing of the treaty, insisting there must be a decision before the end of this year. The White House wants to finalize plans of how many troops will remain behind following the scheduled withdrawal of forces at the end of next year.
Secretary of State John Kerry warned Karzai in a telephone call on Friday that delays were"unacceptable" would risk the total withdrawal of US forces.
In the call, Kerry told Karzai that waiting several more months to sign the pact would "make it impossible for the U.S. and allies to plan for a post-2014 presence," said State Department spokeswoman Jennifer Psaki.
24 November 2013
Last updated at
05:34 ET
Afghanistan elders seek US security pact signing in 2013
Afghan elders at a grand assembly in Kabul have called for a security deal with the US to be signed this year.
The pact allows thousands of US troops to remain in Afghanistan once combat operations end in 2014.
But President Hamid Karzai, who wants to delay the deal, told delegates he would only sign it once the US had brought peace to his country.
The US has said it is neither "practical nor possible" to delay the signing.
The Bilateral Security Agreement also has to be approved by the Afghan parliament.
The deal under discussion may see 15,000 foreign troops remain after 2014, although the US says it has not yet taken a decision on any presence.
The soldiers who stay beyond 2014, when most foreign combat forces leave, would primarily train and mentor Afghan forces. Some special forces would stay to conduct "counter-terror operations".
'Tense exchanges'
More than 2,000 elders have been taking part in the grand assembly of elders, or Loya Jirga, meeting behind closed doors in Kabul for the past four days.
"Given the current situation in, and Afghanistan's need... the contents of this agreement as a whole is endorsed by the members of this Loya Jirga," a declaration reached at the end of the meeting said, quoted by AFP news agency.
"The Loya Jirga requests the president to sign the agreement before the end of 2013."
Opening the meeting on Thursday, the Afghan president urged delegates to support the pact, but said he would not sign it until after the election scheduled for April 2014.
The BBC's Karen Allen, in Kabul, says the vast majority of elders wanted the deal signed within a month.
The assembly's chairman, Sibghatullah Mojaddedi, said he will resign his official posts and leave the country if the security deal is not signed by the end of the year.
The past few days have seen tense diplomatic telephone exchanges between US Secretary of State John Kerry and President Karzai, our correspondent says.
Washington insists the deal - which has taken months to negotiate - must be signed before the end of this year in order to secure plans for how many troops will remain in Afghanistan beyond 2014.
State department spokeswoman Jen Psaki said: "We believe that signing sooner rather than later is essential to give Afghans certainty about their future before the upcoming elections, and enable the United States and other partners to plan for US presence after 2014.
"It is neither practical nor possible for us to further delay because of the uncertainty it would create."
Security has been tight for the meeting after a suicide bombing last weekend near the huge tent where it is being held.
The Taliban has branded the meeting a US-designed plot, and has vowed to pursue and punish its delegates as traitors if they approve the deal.