http://news.antiwar.com/2012/11/08/us-initiative-to-set-up-syrian-opposition-council-collapses/
One day before the official start of the conference, opposition leaders selected by the US began to drop out
by John Glaser, November 08, 2012
The Obama administration's initiative to set up a new Syrian opposition council, possibly to serve as an interim government following the fall of the Assad regime,
appeared to have failed
on Thursday before the convention in Qatar even began.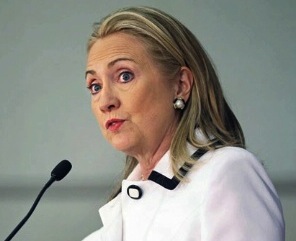 One day before the official start of the conference, at which Syrian opposition activists selected by the State Department were to meet, "three of the dissident bodies included in the US-backed initiative refused to attend," diplomats and opposition figures
told the Daily Telegraph
.
"There are too many people against this initiative for it to work now," said a western diplomat who chose to remain anonymous.
News of the US's latest failure in solving the Syrian crisis came as Turkey said it was aiming to deploy NATO's Patriot missiles on its border with Syria as a response to the alleged cross-border threat posed from Syria. But talk of that threat is incomplete without mentioning the fact that Turkey has been aiding the rebels and aiming for regime change in Syria.
This is only the most recent failure in a catalogue of past US failures to gain control of Syria, going back several decades. But it seemed doomed to failure from the beginning, as the technocrats in Washington have very little local knowledge of the internal dynamics in Syria.
Many opposition activists not included in the Doha meeting expect the effort to be another failed attempt to unify the opposition.
"Right now, the opposition groups are very vague and there's no agreement on who's representing who and what and where," one opposition activist
told
The Cable
last week. "Right now there is a lot of risk that this will be another failed approach that will not achieve anything."
and Assad's response to exile .....
Warns of 'Domino Effect' If Syria Falls to Islamists
by Jason Ditz, November 08, 2012
In an
interview with Russia Today
, the full version of which will be broadcast Friday, Syrian President Bashar Assad has spurned the call by British leaders to accept an offer of exile, saying he has no intention of leaving.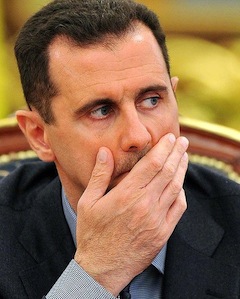 "I was not made by the West to go to the West or to any other country," Assad said, adding "I am Syrian. I was made in Syria. I have to live in Syria and die in Syria." British PM David Cameron said Assad would be given "safe passage" out of Syria
if it meant
an end to the civil war.
Assad also warned that Syria's status as a secular state was vital for regional stability, cautioning that if the Islamist factions in the rebellion took over "it will have a domino effect that will affect the world from the Atlantic to the Pacific."
He also sought to downplay the risk of NATO intervention in the war, saying that the "price of this invasion if it happened is going to be more than the whole world can afford." Though Russia and China have blocked any resolutions supporting war in the UN Security Council, NATO is said to be mulling deployments of Patriot missiles along the border to impose a de facto no-fly zone.
News items pertaining to Iran......
http://www.washingtonpost.com/blogs/worldviews/wp/2012/11/08/map-where-was-the-drone-that-iran-tried-to-shoot-down/
Map: Where was the drone that Iran tried to shoot down?
Above, I've laid a small red line over where the drone might have been. U.S. officials told CNN the drone was over international waters somewhere east of Kuwait; Londoño reports it was 16 miles from Iran's coast. According to international law, Iranian nautical sovereignty extends 12 miles out from its coastline. A smaller blue circle indicates Bahrain, where the U.S. bases its Fifth Fleet, a substantial military presence in the Gulf.
http://www.jpost.com/IranianThreat/News/Article.aspx?id=291114
Obama administration places new sanctions on Iran
PHOTO: REUTERS/JASON REED
WASHINGTON – The Obama administration signaled Thursday that it had no intention of letting up on sanctions pressure against Iran following the reelection of US President Barack Obama.
The United States announced it had sanctioned four individuals and five entities for censorship, including jamming satellite broadcasts and blocking Internet access, in the first foreign policy move since Tuesday's vote.