http://rudaw.net/english/middleeast/iraq/150620141
http://www.zerohedge.com/news/2014-06-15/isis-jihadists-release-shocking-photos-documenting-slaying-1700-iraqi-soldiers
ISIS Jihadists Release Shocking Photos Documenting Slaying Of 1700 Iraqi Soldiers
Baghdad suicide bombings - ISIS / ISIL operating in the Capital already ?
http://www.nytimes.com/2014/06/15/world/middleeast/baghdad-bombings.html
Insurgents set off two bombs in separate incidents in central Baghdad on Sunday, killing as many as 21 people, witnesses said, and breaking a recent although brief lull in attacks in Iraq's capital city.
One attack targeted a market near the Green Zone that sells new and used military uniforms. At the time of the bombing the market was crowded with volunteers seeking to join the fight against insurgents who have swept through much of northern Iraq in the past week. Witnesses at the scene, in the Al-Bab Al-Sharqi area, close to Tahrir Square, said 15 people were killed and eight wounded in the midday attack by a suicide bomber wearing a vest full of explosives; Officials put the death toll at nine.
"I picked up the head of the suicide attacker by my own hands," said Ahmed Al-Fatlawi, 33, who sells clothes and who said two of his friends were killed in the attack. "He was a youth with a big beard."
Earlier, about 7 a.m. Sunday, a car bomb exploded at a bus station in southern Baghdad's Bab al-Sheikh neighborhood, killing 12 people and injuring 30, according to a security official who spoke on the condition of anonymity because he was not authorized to do so publicly.
http://www.bbc.com/news/world-middle-east-27856852
Tweets from Thomas van Linge - FWIW...
Tweets from Mark.....
Tweets from Rami - FWIW....
http://iswiraq.blogspot.com/2014/06/the-battle-for-baghdad-scenarios.html
( I think you are seeing this play out presently...)
http://www.belfasttelegraph.co.uk/opinion/columnists/robert-fisk/iraq-crisis-sunni-caliphate-has-been-bankrolled-by-saudi-arabia-30351679.html
Iraq crisis: Sunni caliphate has been bankrolled by Saudi Arabia
Bush and Blair said Iraq was a war on Islamic fascism. They lost
So after the grotesquerie of the Taliban and Osama bin Laden and 15 of the 19 suicide killers of 9/11, meet Saudi Arabia's latest monstrous contribution to world history: the Islamist Sunni caliphate of Iraq and the Levant, conquerors of Mosul and Tikrit – and Raqqa in Syria – and possibly Baghdad, and the ultimate humiliators of Bush and Obama.
From Aleppo in northern Syria almost to the Iraqi-Iranian border, the jihadists of Isis and sundry other groupuscules paid by the Saudi Wahhabis – and by Kuwaiti oligarchs – now rule thousands of square miles.
Apart from Saudi Arabia's role in this catastrophe, what other stories are to be hidden from us in the coming days and weeks?
The story of Iraq and the story of Syria are the same – politically, militarily and journalistically: two leaders, one Shia, the other Alawite, fighting for the existence of their regimes against the power of a growing Sunni Muslim international army.
While the Americans support the wretched Prime Minister Nouri al-Maliki and his elected Shia government in Iraq, the same Americans still demand the overthrow of Bashar al-Assad of Syria and his regime, even though both leaders are now brothers-in-arms against the victors of Mosul and Tikrit.
The Croesus-like wealth of Qatar may soon be redirected away from the Muslim rebels of Syria and Iraq to the Assad regime, out of fear and deep hatred for its Sunni brothers in Saudi Arabia (which may invade Qatar if it becomes very angry).
We all know of the "deep concern" of Washington and London at the territorial victories of the Islamists – and the utter destruction of all that America and Britain bled and died for in Iraq. No one, however, will feel as much of this "deep concern" as Shia Iran and Assad of Syria and Maliki of Iraq, who must regard the news from Mosul and Tikrit as a political and military disaster. Just when Syrian military forces were winning the war for Assad, tens of thousands of Iraqi-based militants may now turn on the Damascus government, before or after they choose to advance on Baghdad.
No one will care now how many hundreds of thousands of Iraqis have been slaughtered since 2003 because of the fantasies of Bush and Blair. These two men destroyed Saddam's regime to make the world safe and declared that Iraq was part of a titanic battle against "Islamofascism". Well, they lost.
Remember that the Americans captured and recaptured Mosul to crush the power of Islamist fighters. They fought for Fallujah twice. And both cities have now been lost again to the Islamists. The armies of Bush and Blair have long gone home, declaring victory.
Under Obama, Saudi Arabia will continue to be treated as a friendly "moderate" in the Arab world, even though its royal family is founded upon the Wahhabist convictions of the Sunni Islamists in Syria and Iraq – and even though millions of its dollars are arming those same fighters.
Thus does Saudi power both feed the monster in the deserts of Syria and Iraq and cosy up to the Western powers that protect it.
We should also remember that Maliki's military attempts to retake Mosul are likely to be ferocious and bloody, just as Assad's battles to retake cities have proved to be.
The refugees fleeing Mosul are more frightened of Shia government revenge than they are of the Sunni jihadists who have captured their city.
We will all be told to regard the new armed "caliphate" as a "terror nation". Abu Mohamed al-Adnani, the Isis spokesman, is intelligent, warning against arrogance, talking of an advance on Baghdad when he may be thinking of Damascus. Isis is largely leaving the civilians of Mosul unharmed.
Finally, we will be invited to regard the future as a sectarian war when it will be a war between Muslim sectarians and Muslim non-sectarians. The "terror" bit will be provided by the arms we send to all sides.
http://rudaw.net/english/middleeast/iraq/15062014
'Baghdad Secure,' Military Declares, as Insurgents Halt Near Capital
By
Adel Fakhir
4 hours ago
Iraqi Shiite volunteers answering the call to take up arms. Photo: AP
BAGHDAD, Iraq – Insurgents and Islamic militants with fresh battle gains stopped just north of Baghdad; residents of the Iraqi capital reported near-deserted streets and braced for attacks or a siege, as the shaky military reassured citizens that "Baghdad is 100 percent secure."
An army of Sunni Islamic militants has joined up with loyalists of Saddam Hussein's ousted regime and military, capturing Iraq's second-largest city of Mosul and others with lightning speed last week, and heading toward Baghdad with the stated aim of ridding the country of the Shiite-led government of Prime Minister Nouri al-Maliki.
The beleaguered military, which has nearly collapsed after fleeing, and failing to put up a fight for Mosul and other militant gains, has thrown a security belt around Baghdad. The country's top religious Shiite authorities have called for volunteers to fight the insurgents.
"The security situation is confused, with the army and police forces spread everywhere and the streets almost empty of pedestrians and cars," said Samer al-Janabi, a 25-year-old from Abu Ghraib in western Baghdad.
"People here are scared their neighborhoods will turn into battle zones between security forces and the militants," he said, adding that the lockdown on the capital, plus fears of what will happen, has residents stocking up on food and essentials, and prices risen by 10 percent for many goods.
The insurgent juggernaut moving toward Baghdad from the northwest is reportedly an axis of al-Qaeda groups, together with ex-Saddam loyalists and military officers. There are fears they may hook up with the al-Qaeda splinter group, Islamic State of Iraq and Syria (ISIS), which is believed to have forces in and around the capital.
Janabi said that clashes between the Iraqi army and ISIS militants take place on a near-daily basis, even before the new crisis. Now, with the fighting threatening to widen, residents fear getting caught in the crossfire, or being forcefully drafted to fight alongside the Islamists.
The embattled Maliki, who is opposed by the country's large minority Sunnis and Kurds -- and even some of his fellow Shiite groups -- has placed Iraq on high alert but failed to get the quorum in parliament to declare an emergency.
The insurgents, meanwhile, have made gains in the Sunni provinces of Nineveh, Salahaddin, Anbar and Diyala.
According to a security expert, the military fears the presence of ISIS sleeping cells inside the capital.
"The ISIS may activate sleeper cells in an attempt to confuse the security situation in the capital," said the expert, who did not wish to identified.
In Karbala, Iraq's holiest city for Shiites around the world, a spokesman for the religious authorities warned Friday that the aim of the insurgents was to capture all of Iraq, especially Baghdad, Karbala and Najaf.
He said that all Iraqis were targets, not just one group or sect, and called for the country's ever-bickering Shiites, Sunnis and Kurds to close ranks against the approaching enemy.
Muhammad Ali, 35, said that anxiety over the militants nearing the capital had forced him to send his family away to southern Iraq, with only him staying to guard the family home and property.
The insurgents have halted their advance about 100 kilometers north of the capital, or about a two-hour drive.
"Baghdad is restless these days; low-income shopkeepers have closed their shops," said Ali, noting fears of inflation or fuel shortages.
"The movement in the capital is limited. There are a few cars on nearly deserted streets, mainly of volunteers who want to join the security services against the terrorists."
But as Baghdad trembled, a military that has left weapons intact and largely deserted en masse before the insurgent onslaught, gave reassurances that the capital is secure.
Baghdad is "100 percent secure," Brigadier General Saad Maan, a spokesman for the Baghdad Operational Command, said at a news conference. He said that military leaders "are not worried for the capital," and that security forces have made recent gains in areas south and west of Baghdad.
"Baghdad is at its best in terms of security preparedness, and proactive operations have been implemented," the commander reassured.
http://news.antiwar.com/2014/06/14/officials-obama-to-hold-off-iraq-intervention-until-maliki-agrees-to-reforms/
US Pushes for Power-Sharing Deal Mid-War
by Jason Ditz, June 14, 2014
The Obama Administration is
keen to insinuate itself
into Iraq's newest war, but while previous indications were that action could come at any moment, the recent US assessments that Baghdad was not in imminent danger of falling to al-Qaeda has them holding off,
trying to coax a reform deal
out of the Maliki government.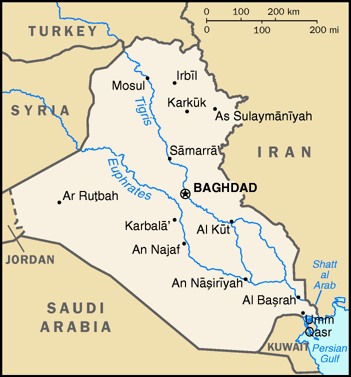 Now US officials insist the administration is going to hold off on direct intervention until they see "clear signs" of government reforms, and a broad power-sharing deal for the new government, which is supposed to be agreed on in the next few weeks.
How they imagine that happening is unclear, as with a good chunk of the country gone post-election coalition building seems to be the least of the Maliki government's concerns, and even if they did seek to comply with the US, it isn't clear who they'd build coalitions with.
That's because the reality is that the Iraq drawn on the map doesn't even exist anymore in any real way. There's little chance of making "coalition" deals with Sunni MPs whose districts are already lost, and with the
Kurds half way out the door to secession
they're probably not eager to be sold on promises by Maliki, made under duress and likely to be ditched at the first opportunity.
In the end the US likely doesn't care so much about reform as the appearance of reform, and as with their ramshackle "unity government" negotiated after Iraq's last election, the administration is likely just looking for anything post-election they can paint as "reform" to justify what is sure to be an unpopular US military involvement.
https://www.middleeastmonitor.com/news/middle-east/12106-iraqi-sunni-scholars-iraqi-rebels-not-isis-who-face-the-iraqi-army
Iraqi Sunni scholars: Iraqi rebels, not ISIS, who face the Iraqi army
Saturday, 14 June 2014 14:58
http://news.antiwar.com/2014/06/14/iraq-claims-victories-but-loses-largest-refinery-to-al-qaeda/
Refinery Still Operating Under al-Qaeda Control
by Jason Ditz, June 14, 2014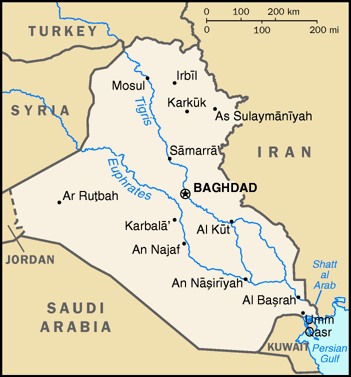 Yet reports that the nation's largest oil refinery, the Baiji facility, has fallen today to AQI undercuts those claims.
Baiji is just outside of Samarra
, and the town is now fully under AQI control.
Interestingly, the refinery hasn't shut down, but is reportedly still operational and being run on orders from AQI, giving them a huge refining capacity for their growing Islamic State of Iraq and Syria (ISIS).
Indeed, while the Maliki government tries to portray its defenses as strengthening, it seems that it is only the Shi'ite militias raised in a call to arms by Grand Ayatollah Ali Sistani
that are doing much in the way of defending
the towns north of Baghdad, and the chances of a quick reversal of AQI's gains seems unlikely.
http://rudaw.net/english/opinion/15062014
ISIS Removed Sykes-Picot Borders, Why Shouldn't the Kurds?
By
Yerevan Saeed
3 hours ago
Kurdish Peshmerga forces are in full control of what they call Kurdistani areas outside the Kurdistan Region. This provides a golden opportunity for them to once and for all to settle their land dispute with Iraq.
The Kurds hoped to regain those lands through the constitutional Article 140, but ten years passed and Baghdad showed no genuine intention to implement that article or settle that issue that means so much to the Kurds.
Now and with Peshmerga forces deployed across Kirkuk province and parts of Nineveh and Diyala, KRG officials have to act wisely. Coordinate with the local tribes, establish contact and effective communications and give assurance and a sense of belonging to some minorities who live in those areas and might be apprehensive of Kurdish control.
The current situation in Iraq is very similar to that of 2003, in term of the total collapse of the Iraqi army and the Kurdish takeover of exactly the same areas they took last week. However back then, they had to withdraw under US and Turkish pressure.
This time, Ankara and Erbil are on good terms. They have strong economic and diplomatic ties as well as longstanding energy agreements. Also unlike 2003, this time there are no US troops in Iraq to replace the Peshmerga in Kirkuk and fill the security vacuum left behind the Iraqi army.
Besides, the Kurds won Kirkuk in a landslide victory in Iraq's provincial elections in April.
Kurds helped rebuild Iraq after Saddam Hussein, hoping that the new "democratic, pluralistic federal Iraq" would yield to their legitimate demands and respects them as equal partners. But the outcome was the same cycle of procrastination, denial of Kurdish rights and a centralized Iraq that was much too dependent on the iron fist of the army, which collapsed before our eyes in the matter of hours.
The Kurds patiently tested all kinds of regimes in Iraq—monarchy, socialism, nationalism, Baathism and finally the so-called post-Saddam democracy, but the story was always the same.
Unlike an unstable, unreliable Iraq, Turkey could be a more secure partner and gateway to the outside world, not only for the Kurdish oil, but also for Kirkuk that is believed to have 9 billion barrels of oil reserves. The Kirkuk-Ceyhan pipeline can be rerouted to Kurdistan, something that can be done under the 2013 energy agreement.
For this, its imperative that Ankara supports the KRG to remain a powerful force in Iraq and Kirkuk in particular. The 50-year energy agreement can be redrafted and include Kirkuk, too.
In the meantime, the KRG can give security and all the citizenship rights to the Turkmen, Assyrian, Arabs, Chaldeans and Yazidis and involve them in local and political affairs of the new areas. In turn, they will stand by the KRG and its bid for an easy control and possible independence.
Finally when the Islamic State of Iraq and Syria (ISIS) bravely declares the end of the 1916 Sykes-Picot borders, why shouldn't the Kurds be able to do the same?
http://rudaw.net/english/business/14062014
File photo of a tanker waiting at the Turkish port of Ceyhan: AFP
ERBIL, Kurdistan Region – Kurdish oil, whose sale was impeded by Baghdad and Washington, has been sold to buyers in Austria and India, an official Kurdish source told Rudaw.
He gave no other details of the sale.
The demonstrated weakness of the Iraqi state, rattled by militants who have taken Mosul, Tikrit and other cities approaching Baghdad, may have diminished concerns about Baghdad's famous blacklist for any firms that buy Kurdish oil exports.
Erbil's bargaining power has risen tremendously, as Baghdad and Washington both look to the Kurdish Peshmerga military as the best hope to stop the dangerous sweep by the mix of Islamic militants and insurgents.
The Kurdistan Regional Government (KRG) and the Iraqi federal government have been embroiled in disputes over the region's oil exports for years now, with the Kurds insisting on going ahead with independent sales, and Baghdad calling them illegal.
The stand-off reached a head when the United Leadership tanker loaded the first million barrels of piped Kurdish oil at Ceyhan on May 22 and set sail for an unannounced destination.
The Iraqi government reacted furiously, bringing an international lawsuit against Turkey and its pipeline operator.
A second tanker, the United Emblem, sailed on June 9, just before an Organization of Petroleum Exporting Countries (OPEC) meeting in Vienna, where Iraqi Oil Minister Abdul Kareem Luaibi threatened "severe measures."
Baghdad's response -- and apparent behind-the-scenes opposition by the United States – had been enough to scare off potential buyers.
Many industry insiders in Kurdistan, weary from years of inconclusive talks with Baghdad, struggle to suppress their delight at recent developments that have upped the KRG's bargaining power.
An oil executive close to the KRG told The Independent newspaper that, "If al-Maliki wants to get the Kurdish army on his side, he knows he has to relent on allowing them oil exports. So people out here are seeing this could draw al-Maliki into the deal they wanted."
http://rudaw.net/english/opinion/130620141
Army's Quick Defeat Mirrors Baghdad's Political Failures
By
Ako Mohammed
yesterday at 11:42
The quick collapse of the Iraqi army in the Sunni areas and parts of Kurdish land is the outcome of Prime Minister Nouri al-Maliki's political failures with the Kurds and Sunnis. His military defeat is the outcome of his unsuccessful management of Iraq and shaky relationship with Iraq's different ethnic and religious groups.
The answer to one simple question is enough to understand what is happening now: Would the Islamic State of Iraq and Syria (ISIS) have been able to occupy Mosul and other areas so easily, had Maliki built genuine and good relations with the Kurds and Sunnis?
The answer is, of course: No.
In Mosul, the Kurdish Peshmerga forces would have been able to defend the city, and they can easily retake it from the Islamic militants now. But neither then nor now do they have orders to move. They see no need to get involved in the war in such circumstances. It can be done only as part of a solid political agreement with Baghdad.
An agreement should be built on three important points: First, the Peshmerga forces must stay where they are now, including the disputed territories they have taken over. Second, Kurdistan's budget, including that of the Peshmerga forces, should be released by Baghdad and sent to Erbil immediately. Third, a clear understanding should be signed between Baghdad and Erbil about the Kurdistan Region's oil exports with the full knowledge and consent of the State Oil Marketing Organization (SOMO).
Without a clear agreement, Kurdish involvement in a war on the side of a government that has lost all legitimacy in the Sunni areas -- and all love among the Kurds -- would be political suicide.
Kurdish leaders should be careful and not fall for rumors spread by some Shia leaders, blaming the rapid advance of the ISIS on a Kurdish plot, a revenge against Maliki for freezing Kurdistan's budget and blocking Kurdish oil exports.
In any multiethnic and multi-faith country, the al-Qaeda and ISIS can wreak havoc and cause violence and bloodshed. And now that they are in Iraq, we should expect more violence between Shias and Sunnis. With his antagonizing policies, Maliki has indeed created a fertile ground for such a scenario.
However, it is not too late.
There is still an easy way to restore the situation. But it needs a clear and healthy mentality in order to work.
The way is this: A return to a genuine agreement on running the country. Power-sharing practiced genuinely, not just with words and deception.
http://english.alarabiya.net/en/views/2014/06/15/ISIS-achievements-in-Iraq-and-Syria-a-gift-to-the-Iranian-negotiator-.html
ISIS 'achievements' in Iraq and Syria a gift to the Iranian negotiator?
A few weeks ago, close associates of Iraqi Prime Minister Nouri al-Maliki sent Washington an S.O.S. message, saying that the time had come to get Maliki out of power in a way that would allow him to save face, or prepare for the prospect of a bloody civil war in Iraq that will only end with the country partitioned, if not fragmented, in parallel with terrible growth in Islamic extremism and devastating sectarian conflict. Washington, as usual under President Barack Obama, took its time and slowly weighed the repercussions of any step it might make in Iraq or Syria for its nuclear talks with Iran.
But today, with the collapse of the Iraqi army in Mosul and the Islamic State in Iraq and Syria's (ISIS) seizure of the Nineveh province, it is time for Washington to start seriously thinking about its available options before it is too late. The first step should be a bilateral understanding with the Islamic Republic of Iran to banish Nouri al-Maliki to a neighboring country that is friendly to Tehran, for example, Oman. This is if Washington really wants to save Iraq from fragmentation. But if the plan is to partition Iraq and hand over south Iraq to Iran as part of the map of regional understandings, then allowing ISIS to grow, as a small mobile army through the Iraqi-Syrian border, could be part of that plan.
How will the Obama administration engage Iran over Iraq, after ISIS routed the Iraqi army and forced it to withdraw from Mosul?

Raghida Dergham
What happened in Iraq this week is shocking. The second collapse of the Iraqi army is reminiscent of its first collapse at the hands of former President Saddam Hussein in particular, when he left it in tatters on the roads without informing the army that he had lost the war. The collapse of the Iraqi army under Maliki did not come from a vacuum. The prime minister came to Baghdad from Tehran under U.S. protection, which claimed that spreading democracy was the purpose of its invasion and occupation of Iraq. The withdrawal of the U.S. troops from Iraq would not have been possible without the success of David Petraeus's strategy known as Al-Sahawat, or the Awakening, where the Americans partnered up with Sunni tribes to combat extremist groups like al-Qaeda and its many offshoots.
Nouri al-Maliki assumed that U.S. protection for him and the Iranians clinging to him equate to support for his dictatorship against all those who oppose him believing he puts Shiites first and Iraq second. In truth, Maliki now offers Iraqi Shiites and Iraq itself as ammunition for out-of-bound wars and cynical U.S., Iranian, or even ISIS-led plans and the plans of all those who stand behind this terrorist organization.
Maliki must step down
It is time for Nouri al-Maliki to step down. He has lost the popular base that makes up the fabric of Iraqi unity, and today, he is begging ordinary people to volunteer to compensate for the withdrawal of the Iraqi army from the fight. Maliki is dismantling the Iraqi army in doing so, whether intentionally or inadvertently.
The problem is that Tehran controls the decision of whether Maliki stays in power or not, and so far, the Islamic Republic of Iran has strongly clung to him.
The Western powers claim that they have started discussions with Iran regarding its regional roles, from Iraq and Syria (and Lebanon), to Yemen. Iran will not abandon Iraq, which constitutes a victory for Tehran provided by the United States of America under George W. Bush through his war on terrorism in Iraq. That war completely eliminated Iraq from the strategic equation with Iran and Israel, and neutralized Iraq from the regional balance of power. Iraq was a precious American gift to both Iran and Israel, but also to Turkey, as Iraq was pacified and withdrawn from strategic equations.
Saddam was a strategic threat
Iran will not stop at having had the strategic threat from Iraq removed as represented by Saddam Hussein. Iran is adamant about domesticating Iraq and placing it in the Iranian barn, and sees that Nouri al-Maliki delivers to Tehran what it wants, which is why it does not want to relinquish him voluntarily. If the choice is between a unified Iraq with no influence for Iran though Maliki and a torn Iraq, Iran will prefer a partitioned Iraq where it would have permanent influence over the south and a way to bring into existence that Shiite belt or crescent - as neocons called it under George W. Bush - stretching from eastern Saudi to Iraq and Iran, and parts of Syria and Lebanon on the border with Israel. Their idea was to divide Arab countries in the context of removing them from the strategic equation with Israel. Their idea was also based on developing the historical principle of peace between Persians and Jews, to contain Sunni dominance and defeat Sunni extremism that was behind 9/11. What happened in the Syrian war during the past three years is part of those calculations, as it is clear today. It is also clear that Tehran is part of that thinking, and sees the regime in Damascus as a guarantee for it in Syria, and would not allow it to fall except if forced to.
Yemen might be the only arena for concessions and compromises between the Western powers - especially the United States - and Iran, which has a role there. Yemen is less important for Tehran than Iraq and Syria, and there is wiggle room there especially in the context of any Saudi-Iranian rapprochement. There are even some in the camp that comprises Iran, Syria, Lebanon, and Iraq who say - to justify Iran's hold over Iraq, Syria, and Lebanon - that the bargaining room involves giving Saudis concessions in Yemen and in Bahrain.
The Obama administration uses drones in Yemen to fight al-Qaeda and its offshoots. This war kills al-Qaeda leaders but not its armies. They do not impact al-Qaeda's base, and for this reason, the victories it brings are illusory.
Furthermore, the alleged victories in the wars in Iraq and Syria against al-Qaeda, al-Nusra, ISIS, or other groups are precarious and they often backfire. This applies also to some extent to recruits in mobile armies and their backers, be they Sunni or Shiite extremists, or individuals, governments, organizations, families, militias, or companies. The Arab actors taking part in fragmenting Iraq, Syria, and Lebanon - no matter their affiliation, claims, or justifications - are collaborators with terrorism and an instrument in the plot to split the Arab region.
Not innocent
In truth, the United States is not innocent of these plans. In the minds of many, it is the side that manufactures and encourages extremism, be it Sunni or Shiite, to divide the Arab region and allow Iran to dominate it, with Israeli collusion. The Kurds have realized that the new map of the Middle East may be the opportunity they have been waiting for the future of Kurdistan. For this reasons, the equations of traditional hostility with Turkey have been upended, and oil-related calculations have risen up the list of priorities to attract Western support for Kurdish ambitions.
While ISIS, with its haphazardness, destructive ideology, and appalling ignorance, spreads from Deir al-Zour to the borders of Kurdistan, achieving its wretched victories, regional and international powers are rushing to take advantage of the situation to further their interests. And while Hezbollah believes itself a strong regional force that even the United States takes into account, and not just Iran, Iraq, or Syria, Hezbollah remains a transient part of illusory victories, because in reality, the Shiite party furthers Iranian interests as conceived by the neocons, that is, as overlapping with Israel's at the expense of Arab interests definitely.
All trans-border armies think themselves as makers of a new history by overturning Sykes-Picot. These are the armies of destroying and abolishing borders. As it seems, no one is standing in their way no matter how much NATO powers pretend to be panicked and no matter how many concerned statements the United Nations make. What is frightening is that there are international forces supporting mobile radical armies in their bid to cross borders, to use them in wars of attrition against traditional armies, with a view to partition existing countries in the Arab region.
ISIS not the response to the plans to fragment the Arab region and strengthen Iranian hegemony but is actually an instrument in those plans, whether ISIS is aware of this or naïvely oblivious to the fact. ISIS is destroying the Arabs and undermining Sunni moderates, because it is part of a sinister project to which it was driven voluntarily or by coincidence. All those extending help to ISIS and similar groups like al-Nusra Front, and other Salafist or Wahhabi militias, are directly contributing to the collapse of Syria and Iraq, no matter how much they think they are making history.
Iraq today is on the brink of collapsing into civil war and partition, if not fragmentation. No one will come out victorious in the coming Iraq war - with the exception of Kurdistan perhaps.
The U.S. rush to withdraw from Iraq in the wake of a war that cost trillions of dollars and hundreds of thousands of lives remains a mystery. The only convincing explanation is, perhaps, that the United States took stock of its own massive oil reserves, which would spare it from needing Iraqi oil if not all of Arab oil. Perhaps the other explanation is that the U.S. defense industries were done testing their new weapons in Iraq. The result is that the United States abandoned Iraq and left it easy prey to anyone willing to take it, after waging a war on terror in Iraqi cities to spare American cities from such a war.
The question now is this: How will the Obama administration engage Iran over Iraq, after ISIS routed the Iraqi army and forced it to withdraw from Mosul? How serious is the Western strategy in the negotiations with Iran regarding Syria? In other words, are ISIS's "achievements" in Iraq and Syria a previous gift to the Iranian negotiator, to propose Iran as a serious partner for the West with a view to eliminate Salafist extremism? The answer is most probably affirmative.
Nouri al-Maliki hinted that he might be willing to allow the U.S. air force to conduct strikes against al-Qaeda positions inside Iraq. For its part, Washington decided to send new weapons to fight terrorism in Iraq.
Turkey has called for an emergency meeting for NATO, after ISIS kidnapped 48 of its citizens in addition to 28 others. Turkey might see ISIS as an opportunity to deepen its military incursion into northern Iraq - even when Ankara is now more than ever open to the idea of establishing the state of Kurdistan.
Iran might be conformable with the ISIS "gift" in the context of its negotiations with the West, but ISIS remains a thorn in Iran's side, both in Iraq and Syria. It will not be easy for Iran to defeat ISIS, regardless of whether it attempts this directly or through its ally Hezbollah. In effect, entrusting the task of fighting ISIS to Hezbollah could lead to mutual exhaustion and attrition - which is sweet music to American ears.
http://english.alarabiya.net/en/News/2014/06/15/Iran-sends-troops-to-Iraq-to-fight-ISIS-insurgents.html
Iran 'sends 2,000 troops' to battle ISIS in Iraq
By Staff writer | Al Arabiya News
Sunday, 15 June 2014
Iran sent 2,000 advance troops to Iraq to help fight an extreme jihadist insurgency effectively seizing control of major cities in the country, a senior Iraqi official told The Guardian on Saturday.
Around1,500 basiji forces crossed the border into Khanaqin, a town in central Diyala province on Friday, while another 500 entered the Badra Jassan area in Wasat province overnight, according to the official, reported the British news website.
It confirmed Friday that Major General Qassem Suleimani, head of the Iranian Revolutionary Guards' elite Quds Force, had arrived to Baghdad to oversee defense operations in the capital.
Iranian President Hassan Rowhani announced Saturday that his country was ready to help Iraq fight the al-Qaeda-inspired Islamic State of Iraq and Syria (ISIS), an extremist-sunni jihadist group effectively controlling major cities in the country.
Additionally, Rowhani declared that he would join forces with long-term enemy U.S. to defeat ISIS militants and local armed men fighting among their ranks.
"We can think about it if we see America starts confronting the terrorist groups in Iraq or elsewhere," Rowhani said when asked if Tehran would collaborate with Washington, Reuters reported Saturday.
Arming civilians
Meanwhile, Iraqi Prime Minister Nuri al-Maliki called on Iraqi citizens to take up arms and defend their country against the insurgency. Other shiite leaders also urged civilians to stand up and defend.
Maliki said his cabinet "praises the willingness of the citizens and the sons of the tribes to volunteer and carry weapons ... to defend the homeland and defeat terrorism," he said in a statement broadcast on state television last Tuesday.
Grand Ayatollah Ali al-Sistani, the highest religious authority for Shiites, urged his followers on Friday to take up arms against Sunni militants advancing toward Baghdad.
Thousands of Shiites answered the call to fight on Saturday, and joined security forces to fight ISIS militants who are advancing in the country with an extreme religious rule.
http://www.counterpunch.org/2014/06/13/two-occupations-ending-in-hopeless-disasters/
WEEKEND EDITION JUNE 13-15, 2014
No Peace and No Democracy
Two Occupations Ending in Hopeless Disasters
U.S. military occupations typically have two aspects, which are, at least theoretically, destructive and productive respectively. The classic U.S. occupation—the one held up as the model by those urging more—was that of Japan, from 1945 to 1952. Its two main missions were "demilitarization" following defeat in war and "democratization." The latter meant the acceptance of a U.S.-dictated new constitution and at least the appearance of popular rule, and general incorporation into the U.S.-led imperialist camp.
Before and during the occupation of Iraq beginning in 2003, some neocons and President Bush himself offered this supposedly grand success story as the template for that project. (John Dower, a leading scholar on the Japanese occupation, pointed out from before the war the absurdity of assuming that the course of events in an advanced, industrialized country of ethnically homogeneous people could be replicated in a developing, ethnically and religiously divided society like Iraq. Bush, he argued, was misusing historical analogy for propaganda's sake.)
The U.S. formally ended its occupation of Japan, while maintaining a vast military presence, in 1952. The economy, largely due to U.S. military special procurements, had finally revived to the 1937 level during the Korean War, then grown to 150% of that level by 1952. There was stability; labor demonstrations and protests against U.S. bases were common and sometimes violent, but there was nothing remotely resembling civil war. It surely was a success story, from Washington's point of view, if not necessarily from the point of view of the Japanese obliged to forego neutrality in the Cold War.
Witness now, eleven years after the Iraq invasion, two and half years of the Pentagon's sulky withdrawal, the fruits of that imperial project. Where is the demilitarization, the pacification, the law and order? Where is the "democracy," or even any credible claim to central authority?
The lid that the secular Baathists had kept on the simmering historical conflicts between Shiite and Sunni, Arab and Kurd, religious and irreligious, was blown off by the occupier, who presided over the de facto division of the country into a quasi-independent Kurdistan seeking ever more autonomy, and the rest of Iraq divided through ongoing ethnic cleaning into exclusively Shiite and Sunni Arab communities.
Estimates of civilian deaths caused by the war between 2003 and 2011 are as high as over half a million. Over half the country's Christians have fled. Over four out of twenty-three million Iraqis have fled the country or are internal refugees. The position of women in society has obviously declined; today headscarves and conservative attire are, if not legally mandatory in public, necessary to escape hostile attention. TheGuardian reported in 2007 that Iraqi women's lives had "become immeasurably worse, both rapes, burnings and murders a daily occurrence." Gay people have it worse. A 2012 Reuters piece notes that while "many gays…had been able to live fairly comfortably in Iraq under Saddam's largely secular rule," hundreds have been murdered since the invasion and regime change of 2003—14 young men in eastern Baghdad alone in three weeks in 2012.
According to a recent article in Lebanon's Daily Star, entitled "Once an Arab model, Baghdad now the world's worst city": "Massive concrete walls, designed to withstand the impact of explosions, still divide up confessionally mixed neighborhoods [in the capital of Baghdad], while the government sits in the heavily fortified Green Zone, which is also home to parliament and the U.S. and British embassies, access to which is difficult for ordinary Iraqis…"
According to Amir al-Chalabi, head of an NGO working to improve Baghdad urban services, the city which was once the wonder of the world "has become deserted, and it suffers from instability. At night, it turns into a ghost town because of the lack of lighting." The standard of living attained under the vilified Baathists has collapsed, and while the oil sector has revived, it provides little employment, now (if we can believe the CIA) at 15%.
The U.S. game plan in Iraq was not to install what would look like a multi-party democratic system post-haste; Paul Bremer, commissar of the "Coalition Provisional Authority in Iraq" from May 2003 to April 2004, publicly opined that a rush towards democracy might damage U.S. interests. (He had initially said, "We're going to be running a colony almost.") It was not U.S. benevolence but massive pro-democracy, anti-occupation demonstrations that forced the U.S. to gradually allow "free" elections (but minus the banned Baathist party, how could they be free?) and the more or less formal transfer of sovereignty in 2009.
The regime of Nuri al-Maliki midwifed into power by the U.S. is corrupt, dysfunctional, and unpopular. Sympathetic to and influenced by neighboring Shiite Iran, it has avoided complete U.S. domination. (It does not, for example, support the U.S. policy of toppling the Syrian regime.) But it is now appealing for U.S. aid in repressing its foes and is dependent on the U.S. for aid. The U.S. is providing $14 billion in F-16 fighter jets, Apache attack helicopters, Hellfire missiles and reconnaissance drones, and al-Maliki can't bite the hand that feeds him.
The regime is dominated by religious-sectarian (as opposed to more secular) Shiites who have elbowed aside top Sunni officials (on grounds of "terrorism") and provoked a massive resurgence of Sunni resistance in the vast province of Anbar . That is where the famous "surge" of 2007 occurred: U.S. forces and Sunni mercenaries united against al-Qaeda, repressing them temporarily.
But all for naught. The al-Qaeda split-off faction called Islamic State of Iraq and the Levant (ISIS) has in recent days rapidly and dramatically taken the cities of Fajullah (site of the deadliest battle U.S. troops have fought since Da Nang, in November 2004), Tikrit (where government troops surrendered to ISIS at their officers' command), and Mosul. Tens of thousands of Iraqi Christians who had taken refuge in the latter city are now fleeing again for their lives.
ISIS now controls territory larger than Israel and Lebanon combined. The U.S. successfully, at the cost of 4488 U.S. soldiers' lives, transformed a secular modern country in which al-Qaeda had no significant presence, and was seen as a terrorist threat to the Baathist state, into an al-Qaeda base a million times the size of bin Laden's puny training camps in Afghanistan.
I wonder what extra dimension of meaning this adds to the many veterans of that imperialist war, effectively brainwashed at some point to think that Saddam Hussein and Osama bin Laden were comrades in arms, and that by toppling Saddam they'd dealt a big blow to al-Qaeda terrorism.
Instead, with the steady inspiring echo of "USA! USA! USA! USA! USA! USA!" in the background, their actions inflated bin Laden's small group into the welter of jihadi armies now controlling sections of at least seven countries.
There is no end to the war launched by George W. Bush in 2003. No end to the pain nor the national humiliation. There is none of the demilitarization or democratization of the "successful" Japanese model. Secretary of State Colin Powell told George W. Bush in the war planning stage that the Pottery Barn rule pertained: "If you break it, you own it." The U.S. has broken Iraq, and now awkwardly shares ownership with Iran, which Washington's been trying to break for years. The war was a total disaster, a catastrophe, a colossal crime that the Obama administration refused from the get-go to investigate and punish. It is hard to see how it even enhanced the global position of U.S. imperialism; it has not even been a great boon for the energy companies. Its chief historical function has been to sicken and terrify the world, convincing it that that the U.S. is run by madmen. Don't you dare fuck with us, is the message, because we are really crazy!
And witness now, eight years, eight months and four days after the invasion of Afghanistan, the fruits of that other imperial project. Let us ask the same questions. Where is the demilitarization, the pacification, the law and order? Where is the "democracy," or even any credible claim to central authority?
The cruel peace that the Taliban imposed on Afghanistan (or at least, 90% of it) from 1996, following eighteen years of incessant civil war, was also destroyed by the occupier from late 2001. Disdaining to distinguish the Taliban from al-Qaeda, the U.S.-Coalition forces bombed them both, causing the Talibs on the plea of tribal elders to abandon the cities including their headquarters of Kandahar and fade into the countryside to regroup and fight another day. Al-Qaeda camps were leveled and an unknown quantity of these militants escaped into Pakistan, along with Taliban who quickly organized support in the latter country, which is now—thanks to the U.S. invasion of its neighbor—plagued with its own Taliban spin-offs fighting the Islamabad regime.
At least 20,000 civilians are thought to have died as a result of the ongoing war. But the Taliban has steadily regained strength and is now capable even of bold strikes in Kabul. It has forged alliances with erstwhile foes such as Hezb-e-Islami (headed by former CIA asset Gulbuddin Hekmatyar). Its success has persuaded military intelligence analysts and top generals that the Afghan War can't be won militarily but there must be a negotiated settlement with the Taliban. (This is notwhat they were saying in the first years of the hopeless war, but a conclusion they've rationally drawn no doubt realizing that for many, many Afghans, the Taliban is far less onerous than the western infidel presence.)
Missile strikes "accidently" wiping out wedding parties. Night time home raids—doors kicked in and all. Drone strikes which, whether or not they hit innocent civilians, terrorize whole regions along the Afghan-Pakistan border causing sleepless nights, heart attacks, miscarriages… This terror-war causes Afghan parliamentarians to walk out and protest every so often. It causes current President Hamid Karzai (if only to affect a strident nationalism and save his own political ass) to periodically lash out at the U.S. The indifference of the foreign troops to Afghans' lives and perceived insults to Afghan culture have produced the ongoing wave of "green on blue" attacks. In the crucible of war, U.S. trainers and the Afghan soldiers they train—the friendliestforces—have reached a toxic level of mutual contempt.
The U.S.-subsidized Afghan National Army, designed to establish and maintain peace, theoretically has 200,000 men (versus an estimated 25,000 Taliban). It is trained by the most modern army in the world. But its annual desertion rate is around 25%, and in serious encounters with the Taliban it's had a tendency to crumble leaving most of the fighting to U.S. forces. It's unlikely that, as the number of these U.S. forces reaches 10,000 or even zero (an unlikely though possible, as occurred in Iraq) and the Afghan army assumes full responsibility to handling the "insurgency," the fighting will appreciably abate.
And democratization in Afghanistan? From the Loya Jirga farce in 2002, in which the U.S. envoy, Afghan-American State Department mentee of Paul Wolfwitz thrust the CIA asset down the Afghans' throats, to the last election in 2009 so plainly fixed to favor Karzai that Peter Galbraith, a U.S. diplomat sent by the UN as a special envoy responsible for elections monitoring, was obliged to resign in protest. Elections in Afghanistan have been mere theatrical events, producing media images of inked thumbs and lines of voters, designed to legitimate the occupation.
Isn't it wonderful, we're supposed to think—whatever else has gone a little wrong—that the Afghan people can finally enjoy democracy? Soon another CIA asset, the winner in the last rigged balloting, Abdullah Abdullah, will ascend to power (or such power as is allowed him) having assured his sponsors that yes indeed, he will sign the agreement for the maintenance of U.S. military presence beyond this year, as demanded by the Obama administration.
As for women coming out from "behind the burqa" (the traditional Pashtun female outfit) thanks to the liberating progressive introduced by foreign occupiers? This is nowhere in sight. The current leadership shares the extremely conservative patriarchal mindset towards women we see in the Taliban. Many women remain in prison for the crime of deserting their husbands or refusing their parents' marriage choices. The occasional death penalty decision meted out from the Afghan Supreme Court for such offenses as alleged conversion to Christianity tells us much about progress of "freedom" acquired under U.S. tutelage over the last dozen years.
No. The most creative defense lawyer trying to defend these two occupations—these twin crimes against humanity—will be hard-pressed to do so, or even to defend them as ultimately vindicated by results. The results, it turns out are horrific.
These occupations, conducted in the name of the people of this country, are a national shame. But they were not the decision of the people, however the people may have been misled by warmongers' disinformation. They resulted from decisions based on geopolitical calculations underlined by an amoral and brainless commitment to U.S. exceptionalism, including the right to slaughter without any international legal consequences.
The consequences are unfortunately not felt at the Hague, in the International Court of Justice that the U.S. refuses to join (on the straightforward grounds that U.S. forces must never be tried by foreigners, possibly falling victim to anti-American sentiment).
The consequences are rather felt in the innumerable ways rage and hatred express themselves, when the most arrogant and vicious attack the most weak and vulnerable. By inflicting such ongoing pain throughout the "Greater Middle East," those secretly praying for another 9/11 seem hell-bent on provoking one, following their last gangbang in Libya and the abortion of the planned Syria assault last August based (once again) on lies. Their failures never deter them. They know they need never apologize. They are assured of employment as cable news "foreign policy experts," fawning interviews and sometimes book sales.
These occupations have been failures, even if if judged by the occupiers' expectations and plans. If judged by common global moral standards, they are world-class atrocities. That they should be followed by an al-Qaeda faction's conquest of much of Iraq and Syria, and the prospect of a Taliban return to power in Afghanistan, is deeply troubling.
But hardly less so than the prospect of an ongoing U.S. berserker rampage designed to instill fear and obedience in a world less and less inclined to fear, respect or obey the exceptional nation, and the One Percent who drive its global aggression.
Syria aspects....
http://english.alarabiya.net/en/News/2014/06/15/Syria-Iraq-coordinate-against-ISIS.html
Syria, Iraq team up, strike ISIS bases
Staff writer, Al Arabiya News
Sunday, 15 June 2014
Syria's army has been striking for 24 hours major bases of the jihadist group Islamic State of Iraq and Syria (ISIS) in coordination with Baghdad's government, Agence France-Presse reported a monitor as saying Sunday.

The strikes against ISIS - which have spearheaded a week-long jihadist offensive in Iraq - have been more intense than ever, said the Syrian Observatory for Human Rights.

"The regime air force has been pounding ISIS's bases, including those in the northern province of Raqqa and Hasakeh in the northeast," which borders Iraq, said the Britain-based group.

Syrian President Bashar al-Assad's regime was responding to the fact that ISIS "brought into Syria heavy weapons including tanks" captured from the Iraqi army, the monitor added.
Syria's Raqqa
In the northern ISIS-held Syrian city of Raqqa, the air force bombed the area surrounding ISIS's main headquarters, as well as the group's religious courts, said the Observatory, adding there were no reported casualties.

Photographs sent by activists in Raqqa that could not be independently verified showed craters in the ground and rubble in front of the main gates of the headquarters, a former town hall.

On Saturday, the regime also bombarded ISIS's headquarters at Shaddadi in Hasakeh in the northeast of the country, home to a frontier crossing from Iraq that is under the jihadists' control.

Observatory director Rami Abdel Rahman said the strikes were the regime's most "intense" against ISIS, and that they were being carried out "in coordination with the Iraqi authorities."
Raqqa, the first and only Syrian city to fall to insurgents since Syria's conflict began more than three years ago, has been a major base for ISIS since it evicted rival rebels including al-Qaeda's Syrian affiliate during infighting this year.
The government in Baghdad has been gearing up for a counter-offensive against ISIS in areas where it and other Islamist militants have advanced in northern Iraq in the past week.
Fighting in Iraq's Tal Afar
As the rapid advance south by ISIS towards Baghdad appeared to slow over the weekend, fierce fighting erupted in the town of Tal Afar 60 km (40 miles) west of Mosul near the Syrian border, security sources and a local official told Reuters.
The insurgent offensive that has threatened to dismember Iraq spread to the northwest of the country on Sunday, when Sunni militants launched a dawn raid on a town close to the Syrian border, clashing with police and government forces.
ISIS, coupled with local rebels wanting an end to Maliki's rule as well as Baathists, shocked Iraq's government when they took over the country's second largest city of Mosul earlier this week.
Pictures distributed on a purported ISIS Twitter account from Salahuddin province appeared to show dozens of men lying on the ground and being shot by groups of gunmen. "This is the fate of the Shiites which Nuri brought to fight the Sunnis," a caption to one of the pictures reads.
279 'terrorists' killed in Iraq
Meanwhile, Iraqi security forces have killed 279 "terrorists" in the past 24 hours, as they push back against a major militant offensive, AFP reported a security spokesman as saying on Sunday.

Maliki's security spokesman Lieutenant General Qassem Atta made the announcement during a televised news conference.
Baghdad bomb
In Baghdad on Sunday, a suicide attacker detonated explosives in a his bomb-laden vest, killing at least nine people and wounding 20 in a crowded street in the center of the capital, police and medical sources said.

At least six people were killed, including three soldiers and three volunteers, when four mortars landed at a recruiting center in Khlais, 50 km (30 miles) north of Baghdad.
Volunteers were gathered by the army to join fighting to regain control of the northern town of Udhaim from ISIS militants.

They were some of the thousands who responded to a call by the country's most influential Shiite cleric to take up arms and defend the country against the hardline insurgents, many of whom consider Shiites as heretics.
ISIS espouses a radical interpretation of Islam, and aims to set up a Islamic caliphate stretching across the Syria-Iraq border. It has been accused of committing widespread human rights abuses in Syria.

Once welcomed in Syria by rebels seeking Assad's overthrow, the well-armed and well-organized ISIS soon gained the Syrian opposition's wrath because of its quest for hegemony and systematic rights abuses.

In 2013, it took part in operations against government forces. But in recent months, it has exclusively fought against the Syrian rebels, who accuse the group of serving the interests of Assad's regime.

A war pitting Syrian rebels against ISIS has killed more than 6,000 people, mostly fighters, since it broke out in January.
http://news.antiwar.com/2014/06/14/moderate-syria-rebels-claim-iraq-collapse-justifies-more-aid-to-them/
Nine Top Rebels Resign Over Lack of Aid
by Jason Ditz, June 14, 2014
With al-Qaeda in Iraq (AQI), the largest rebel faction in Syria, sweeping through Iraq taking city after city, you'd think other rebel factions would be laying low. Instead, rival rebel factions are trying to play the situation as all about them in a bid for new US aid.
Free Syrian Army (FSA) top leader Muhammad Nour al-Khallouf insists it is impossible to separate what is going on in Iraq and Syria, and that only his group can save the region from extremism,
so long as they get ample US weaponry
. At the same time, nine F
SA leaders resigned
to protest the lack of arms.
The reality is that the FSA rarely clashes with AQI anymore, because what little adjacent territory they had is mostly lost, and they have tried lately to focus on the southern front, where AQI so far is not active.
If anything, the aid shipments might be tougher to justify now, as US aid has never been exclusive to the FSA, and has gone to myriad other factions, who often share with one another, and some of those weapons are bound to have found their way to the Iraq war.
http://news.antiwar.com/2014/06/14/car-bomb-kills-30-islamists-in-east-syria-weapons-bazaar/
Rival Rebels Claim al-Qaeda in Iraq Responsible for Strike
by Jason Ditz, June 14, 2014
A major car bombing tore through a weapons bazaar in the east Syrian town of al-Mayadin, about 50 miles down the road from the border crossing into Iraq's Anbar Province.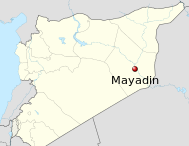 Syrian media reported the bombing
killed 30 "terrorists" and wounded dozens
of others, while rebel officials from the town put the toll somewhat lower, and claimed all the slain were civilians who just happened to be shopping at an arms market in the middle of a civil war.
Still other reports
claimed the attack targeted Jabhat al-Nusra
, an al-Qaeda affiliate who has been fighting over the town with the much larger al-Qaeda in Iraq (AQI), which controls essentially everything to the east of Mayadin up to Mosul and Baghdad as well as many towns to the north and west.
AQI has been keen to chase Nusra fighters out of its territory, or kill them if need be, as it tries to carve out its Islamic State of Iraq and Syria (ISIS), and in the past few weeks has seized several Nusra strongholds in the area.
http://www.jpost.com/International/US-not-considering-strike-against-ISIS-in-Syria-358285
US won't strike against ISIS in Syria
ISIL fighters

Photo: REUTERS
WASHINGTON – US President Barack Obama is not considering military action in Raqqa, Syria, the self-declared capital of the Islamic State of Iraq and Syria (ISIS), a US official told The Jerusalem Post.
"At the moment, the options being considered are focused on Iraq," the official said. "Of course, that could always change."
The terrorist militia ravaging the sovereignty of Iraq is headquartered in Syria, where the group gained strength through the strife of the civil war there.
The US is considering military strikes against ISIS in Iraq, two years after pulling troops from the country after nine years of war.
But the decision not to strike in Syria suggests the Obama administration's priority is to protect the Iraqi government, under threat in its capital of Baghdad, more than to denigrate ISIS's wider operational capacity.
http://www.jpost.com/Middle-East/Analysis-Arab-Winter-is-coming-to-Baghdad-359348
Analysis: Arab Winter is coming to Baghdad
Fighters of the Islamic State of Iraq and Syria stand guard at a checkpoint in the northern Iraq city of Mosul, June 11, 2014.

Photo: REUTERS
Black flags over American tanks, Iraqi heads on public display and women threatened with death should they leave their homes – this is the new caliphate pseudo-state of

the Islamic State of Iraq and Syria

, perhaps short-lived, but, while breathing, the worst of all case scenarios for anyone invested in the Middle East.
If world powers knew in advance that a small, well-organized medieval Sunni militia was aiming to conquer major cities in Iraq, their leaders were evidently not prepared. And if Washington, London and Moscow did not know, then our intelligence capabilities are poorer than one would hope.