Department of Defense Office to


Investigate Bitcoin's Terrorism


Potential
An office within the US Department of Defense is conducting a study into bitcoin and other technologies as a potential terrorist threat, according to news reports.
The move is part of the Combatting Terrorism Technical Support Office (CTTSO) programme aimed to assist the military in understanding if and how various new technologies might be used to threaten US national security.
The
news
first appeared on investment consultant
Bruce Fenton's
blog on Friday, with a link to CTTSO's
request
for vendors to apply as information sources.
Before bitcoin fans get too alarmed, however, the CTTSO's list of technology keywords is over 250 lines long and includes Android, Motorola, social media and virtual reality.
Familiar concept
Users on reddit
mocked
the idea, suggesting myriad other things that could be facilitating terrorist operations. They included food, shoes, US dollars and even the Department of Defense itself.
Bitcoin as a terrorist aid is a familiar trope in regulatory circles by now, to the point where it is mentioned almost as casually as 'Silk Road' in
reports
wishing to highlight digital currency's downsides.
The idea of an instantaneous, almost-anonymous and difficult-to-trace payment network is bound to get attention from any government that uses payment surveillance as a crime-fighting tool.
The strict
KYC and AML
(know your customer and anti-money laundering) rules governing the world's financial institutions, and attempts to stamp out other near-anonymous transfer systems such as
hawala
, are proof that comprehensive international payment tracking is something the authorities value highly.
Treasury investigations
The Department of Defense is also not the first US government branch to take an interest in how terrorists might use digital currencies. The
Department of the Treasury
has conducted its own investigations into bitcoin, but downplayed any threat both in
November
and
March
.
Bitcoin, it said, was too volatile in value and limited in utility to be of use to terrorists, who generally preferred 'real' money anyway.
Since these factors are also a barrier to widespread bitcoin adoption in the mainstream economy, governments will likely be watching digital currency developments for some time to come.
http://www.cryptocoinsnews.com/news/chinese-bitcoin-exchange-fxbtc-closing-510-unprecedented-pressure-peoples-bank-china/2014/05/02
Chinese Bitcoin Exchange FXBTC Is Closing 5/10
Because Of Unprecedented Pressure From
People's Bank Of China
FXBTC posted an announcement to their website earlier today,
5/2/14
. The announcement let FXBTC customers know that FXBTC would be shutting down its site on 5/10/14. Users have until 5/10/14 to withdraw their funds from FXBTC. Unfortunately, withdrawals in Fiat at Chinese banks has been closed, at least to FXBTC customers, for over a month now. Furthermore, FXBTC's volume has been down for weeks now, and I highly doubt that there are many more customers with funds stuck there. FXBTC's announcement comes on the heels of
Chinese news claiming
that the People's Bank of China (PBOC) is renewing their efforts to end the flow of Chinese RMB into Chinese Bitcoin exchanges, after the previous
4/15/14 "soft" deadline
. FXBTC used to be a destination for Chinese Digital Currency enthusiasts because it offered both Bitcoin and Litecoin trading for Chinese RMB.
由于近期央行的政策,我们受到前所未有的压力,包括无法充值提现,导致无法正常运营,决策困难等方面的问题。本网站上线一年多以来,一直深得广大用户支持,虽然经历很多问题,但我们都努力坚持了下来,但这次面临央行的长期封锁,目前来看我们无能为力,历经长期亏损,我们最终决定停止运营FXBTC,为了方便用户提现,我们将开放网站至2014年5月10日,请广大用户在5月10日前尽快提现,之后我们将关闭网站,FXBTC团队再次感谢广大用户长期以来的支持!
Human English translation:
Due to recent changes in PBOC policy, we have faced unprecedented pressure head-on, including the inability to deposit or withdraw which has prevented normal operation and caused issues and caused difficult decisions to be made. The website has been online for over a year, and has continually earned customer support despite running into problems; however, no matter how hard we work, when faced with the PBOC's blockade, we are essentially powerless. After long-term losses, we have finally decided to stop operating FXBTC. In order to convenience customer withdrawals, the site will remain open until May 10th. To the majority of FXBTC users, please withdraw before 5/10 because afterwards the site will be closed. FXBTC's team would like to take this opportunity to thank all of our users's long term support, once again!
FXBTC first received notice on 4/2/14
that their commercial bank would no longer be serving them. That day, multiple other Chinese Bitcoin exchanges had similar announcements; all of the Chinese Bitcoin exchanges cited phone conversations with the local branch of their Chinese bank. FXBTC took the opportunity to tell the public that the
Notice on Further Strengthening Bitcoin Risk Prevention
was very real. However, once 4/15/14 passed, some Chinese Bitcoin exchanges were still operating with a combination of vouchers and codes for withdrawals and deposits on the fiat side, as opposed to bank transactions. The PBOC was not happy with this, and starting 4/22/14 was having interviews/inquiries with Chinese banks, 3rd party payment processors, and Bitcoin exchanges in a bid to clarify their position:
To completely cut off funding to Chinese Bitcoin Exchanges
. Since last week's most recent "Chinese Bitcoin ban" (There is still no Chinese Bitcoin ban), FXBTC is the first official casualty. However,
CryptoCoinCharts shows
that FXBTC's volume has been stagnant since their 4/2/14 announcement. Some Chinese Bitcoin exchanges are adapting; others are not. However, all across the board, BTC/CNY trades' volumes are stagnating. CNY to BTC trades used to account for double digit percentages of total Bitcoin exchange volume; presently,
it is sitting at 7%
and shrinking.
Other Chinese Bitcoin exchanges are also facing identical pressure from the PBOC. Generally, different banks and 3rd party payment processors in China have interpreted the PBOC's statements in their own way. This is the reason why some, larger, Chinese Bitcoin exchanges were able to maintain quasi-normal operations despite continued PBOC pressure. The newest, more personal pressure, in the form of interviews and a stated mission statement is forcing Chinese Bitcoin exchanges to adapt, or die out. Chinese Bitcoin exchanges have to rely on new, often buggy, methods to accept Chinese RMB deposits. Some Chinese exchanges are moving their sites, and presumably their banking, offshore. Others are planning to set up
physical ATMs
or to release software that Chinese Bitcoiners can use to trade on the ground in China without any bank interactions. Understandably, the PBOC is only able to pressure parts of the financial sector into severing their connections with Chinese Bitcoin exchanges. Bitcoin transactions, and even Bitcoin trading, is not banned in China; the thing that is banned in China is capital flight.
http://www.cryptocoinsnews.com/news/dojs-operation-choke-point-driven-30-industries-bitcoin/2014/05/01
The DOJ's "Operation Choke Point" Has Driven 30
Industries To Bitcoin
You may have heard of Operation Choke Point over the last year in reference to payday lending, and more recently in reference to firearm sales and porn star personal accounts. The gist of it is this: The Department of Justice (DOJ) is strongly encouraging banks and third party payment processors to close the accounts of individuals and businesses associated with certain high-risk merchant categories such as payday/online lending, firearms/ammunition sales, and pornography, and even dating services. Essentially, the DOJ has tasked banks and third party payment processors, such as PayPal, with "choking" out specific industries by slowly but continually constricting their access to financial services.
A

ccording to The Hill, the DOJ encourages banks and third party payment processors to drop these high-risk clients by "flooding payments companies that provide processing service to those industries with subpoenas, civil investigative demands, and other burdensome and costly legal demands." The American Banker reveals, in their timeline of Operation Choke Point, that the subpoena flood started shortly after Operation Choke Point's inception in March 2013. The subpoenas went to banks and payment processors large and small: Everything from the $343 million-endowed National Bank of California to the $220 billion-endowed PNC Financial Services Group. By fall of 2013, the Justice Department had pressured some banks into settling with the government. The DOJ used these settlements as a template to further strongarm other banks into compliance. The DOJ is targeting 30 high-risk industries, as labeled by the Federal Deposit Insurance Corporation (FDIC) in 2011, in a report titled "Managing Risks in Third-Party Payment Processor Relationships."
The FDIC's list of 30 high-risk merchant categories that are currently being pursued by the DOJ.
Ammunition Sales

Cable Box De-scramblers

Coin Dealers

Credit Card Schemes

Credit Repair Services

Dating Services

Debt Consolidation Scams

Drug Paraphernalia

Escort Services

Firearms Sales

Fireworks Sales

Get Rich Products

Government Grants

Home-Based Charities

Life-Time Guarantees

Life-Time Memberships

Lottery Sales

Mailing Lists/Personal Info

Money Transfer Networks

On-line Gambling

PayDay Loans

Pharmaceutical Sales

Ponzi Schemes

Pornography

Pyramid-Type Sales

Racist Materials

Surveillance Equipment

Telemarketing

Tobacco Sales

Travel Clubs
Payday and Online Lenders
In America, most of the mainstream media has been focused on Operation Choke Point's attempt to gag and bind the payday loan industry, which is legal in 36 states and certainly no Saint to the Bitcoin community. New York Financial Services Superintendent Benjamin Lawsky also made choking actions in his own state, where four of the nation's largest banks reside, when he instructed New York banks to be wary of unlicensed online lenders and cracked down on licensed lenders that were violating New York's own interest-rate cap. On the topic of edging payday lenders out of his state, Lawsky had this to say: "We want to make payday lending into New York, over the Internet, as unappetizing as possible." When announcing New York's acceptance of Bit-License applications, Lawsky had this to say: "…the fact is that virtual currencies are unlikely to disappear entirely. They will likely continue to exist in one form or another. As such, turning a blind eye and failing to put in place guardrails for virtual currency firms while consumers use that product is simply not a tenable strategy for regulators. Our overarching goal is to balance creating appropriate regulatory protections without stifling beneficial innovation in the development of new payments platforms." Bitcoin is certainly capable of being used in newly developed payment platforms that won't have any trouble staying under New York's interest-rate cap. On the topic of Bitcoin and loans, BTCJam has recently moved to the United States.
Guns and Drugs
Bitpay previously shut down the account of Central Texas Gun Works because bitpay's ToS specifically bans gun sales and gun services. It is unclear whether or not bitpay enforces this ban because their bank requires it, or for other reasons. Infamous marketplace Silk Road also bans firearms and ammunition sales, though for ideological reasons. CoinVoice now provides the Bitcoin payment processing for Central Texas Gun Works; on the other side of the country, Coinbase also allows gun stores to accept Bitcoin with their merchant services. Info Wars reports that banks such as Bank of America have also denied firearm related businesses without any substantiated or legal reasoning in connection with Operation Choke Point. One budding industry that is not mentioned by the FDIC or targeted by Operation Choke Point is none other than the marijuana industry, which has been choked out of financial systems since its inception and is now starting to embrace Bitcoin. However, Coinbase and bitpay have both expressed their unwillingness to work with legal marijuana distributors. Likewise, drug paraphernalia sellers that accept Bitcoin are doing so without banks or third party payment processors (in this case, Bitcoin payment processors) because they have long since been choked out of the financial system, despite their technically legal offerings. As you can see, Bitcoin payment processors also feel the pressure from Operation Choke Point.
Porn and Dating Services
More recently, reports have started to circulate regarding porn stars having their personal bank accounts closed. The most recent article from Al Jazeera reveals that PayPal, along with Chase, has also been inexplicably shutting down the accounts of porn stars. Furthermore, PayPal has been tight-lipped on the reason for these account closures, and Operation Choke Point hasn't been explicitly mentioned, at least by Al Jazeera. Porn stars first started reporting to the media that their personal accounts were being closed in early 2013 with Xbiz reporting that hundreds of porn stars have been affected. The DOJ doesn't have to worry about bitpay and firearm/ammunition sales; however, bitpay has proven to be an incredible ally to the porn industry and has led Bitcoin's charge into the high chargeback industry. Porn.com and nowVerotel both accept Bitcoin using bitpay; both are able to charge lower fees without the risk of chargeback. OKCupid has been using Bitcoin for over a year now… Almost as long as the DOJ has been unintentionally pushing these industries towards Bitcoin. Every industry in the world can benefit from Bitcoin Blockchain technology; it's just that these 30 have been given a forceful push by the government.
http://www.pcworld.com/article/2150920/robocoin-atms-will-send-bitcoins-to-phone-numbers.html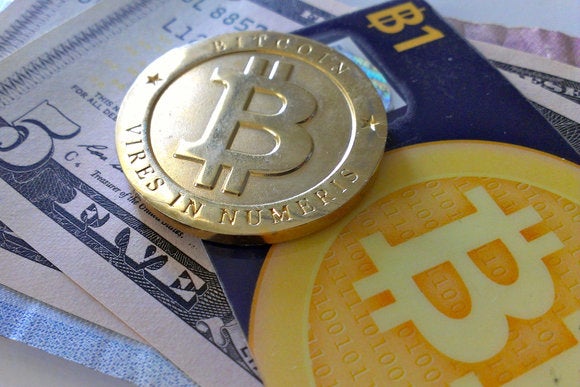 Robocoin ATMs will send Bitcoins to phone numbers
Leading Bitcoin ATM manufacturer Robocoin is upgrading its network of machines with bank-style features, including the ability to send funds to phone numbers.
The Las Vegas-based company, which launched the world's first Bitcoin ATM in Canada last October, said its ATMs in 13 countries will allow users to buy bitcoin or get cash in 12 currencies easily.
It's billing the new Robocoin Bank as "the fastest way to send cash worldwide."
The ATM services, which will launch this summer, will include the ability to store, access and send bitcoins from any ATM, or "branch," as the company is now calling them. They can also transfer bitcoin instantly without users having to wait for confirmation on the blockchain, the public ledger of transactions in the cryptocurrency.
The machines will also let customers withdraw cash from their bitcoin holdings.
In a move the company believes will disrupt the remittance industry, users will be able to send money to people by addressing it to a phone number instead of a Bitcoin address. If recipients don't have Bitcoin accounts yet, the funds will wait for them at their local machine.
For security against fraud, the ATMs will use three ways to authenticate users: a phone number that acts as a username, a PIN and palm-vein scans.
The manufacturer is hoping its revamped approach, as well as use of banking terms like "deposits" and "withdrawals," will broaden the appeal of Bitcoin beyond early adapters.
"The new Robocoin Bank removes the pain and the barrier to entry," Robocoin CEO Jordan Kelley wrote in an email.
"No longer do customers have to worry about private keys and public addresses. With the Robocoin Bank, customers deposit into their Robocoin Account and send money between phone numbers, not public keys, which will yield incredible network effects."
Bitcoin transfers have relied on public-key cryptography, which uses secret codes to verify a user's ownership of bitcoins. Private keys are matched to Bitcoin addresses, unique identifiers that allow users to receive the digital currency.
The Robocoin Bank will enable faster and easier transactions than before, Kelley added.
Robocoin did not immediately respond to a request for information about the bank's fee structure.
Japan become one of the latest countries to receive a Robocoin ATM when importing company Raimu unveiled in April
the first of three
it ordered from the U.S.
The machine is expected to be set up in the busy Shibuya district of Tokyo this month, according to Raimu.
http://www.cbc.ca/news/canada/saskatoon/saskatchewan-s-first-bitcoin-atm-opens-in-saskatoon-1.2631287
Saskatchewan's first bitcoin ATM opens in Saskatoon
Located inside Calories restaurant, ATM exchanges digital currency for Canadian dollars
CBC News
Posted: May 04, 2014 9:24 AM CT
Last Updated: May 04, 2014 9:24 AM CT